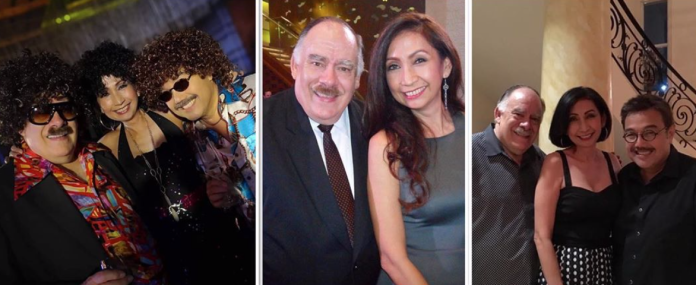 Fashion designer Curata and his partner, Bob Miller, had always been larger than life. Together they would effortlessly boost the glamour and fun level of any party. People just naturally gravitated towards them. Truth be told, when I was once upon a time in charge of organizing such events for my employer and anxious about not gathering a stellar crowd, that nervous feeling in the pit of my stomach wouldn't disappear until I caught sight of Ito and Bob.
Our friendship continued as we would bump into each other regularly, each encounter peppered with bursts of laughter and giggles while Ito would reach for his little camera for the obligatory Facebook-worthy selfie. I was witness to their signature charisma and warmth at memorable thematic dinners hosted at their home, where each of us guests felt like a VIP. Ah, such memorable parties they were!
The author's most memorable fashion moments as Ito's muse and friend
But the more precious moments were the relaxing afternoons the three of us would spend at Ito's atelier in their home, just chatting and dissecting the problems of the world as I fitted the gowns Ito created. Being one of Ito's muses for three consecutive years was the ultimate privilege. I was proud to be an Eliza Doolitle who was transformed into a Hungarian princess for one night. I was proud to walk into the ballroom with head held high, my train falling in luxurious folds as I showed the world my friend's genius and creativity.
When I left in 2017, I did so with a heavy heart, knowing I was leaving all my friends behind. But Ito and Bob showed me that friendship knew neither time nor distance. It touched me no end when they hosted a lavish welcome dinner for me at their home on my first visit back to Manila. I saw them again on my next visit, and the next. Until finally, last December, because of our busy schedules, we saw each other only very briefly at Linda Ley's birthday party, with hurried promises to get together during my next visit in May this year.
Remembering the fun parties and warm moments spent with Bob
The world has changed since then, and obviously there will be no next visit any time soon, at least not in May. And when the time comes and all this is over, I grieve because I will fly back to Manila knowing how different it will be without them. It's truly the end of an era in more ways than one, but it comforts me knowing Ito and Bob are together in each other's arms, in heaven.
Ito Curata died on March 27, 2020, and Bob Miller very soon after, on April 7. The long-time partners succumbed to the COVID-19 virus.