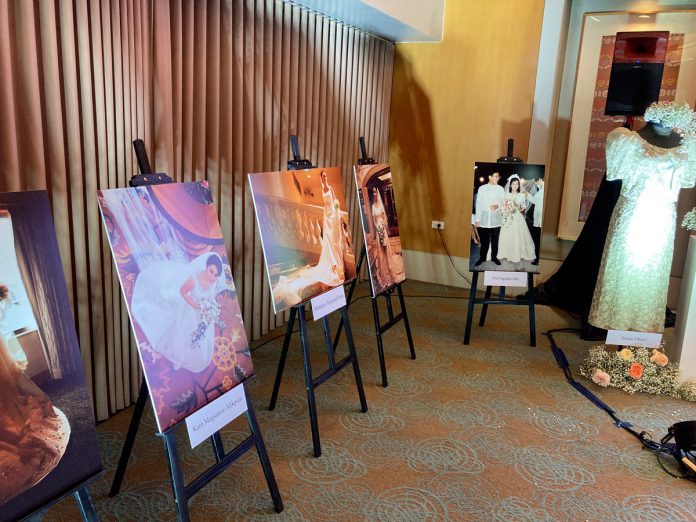 Friends gather for a tribute to the late pillar of Philippine fashion—and 'a partner in life'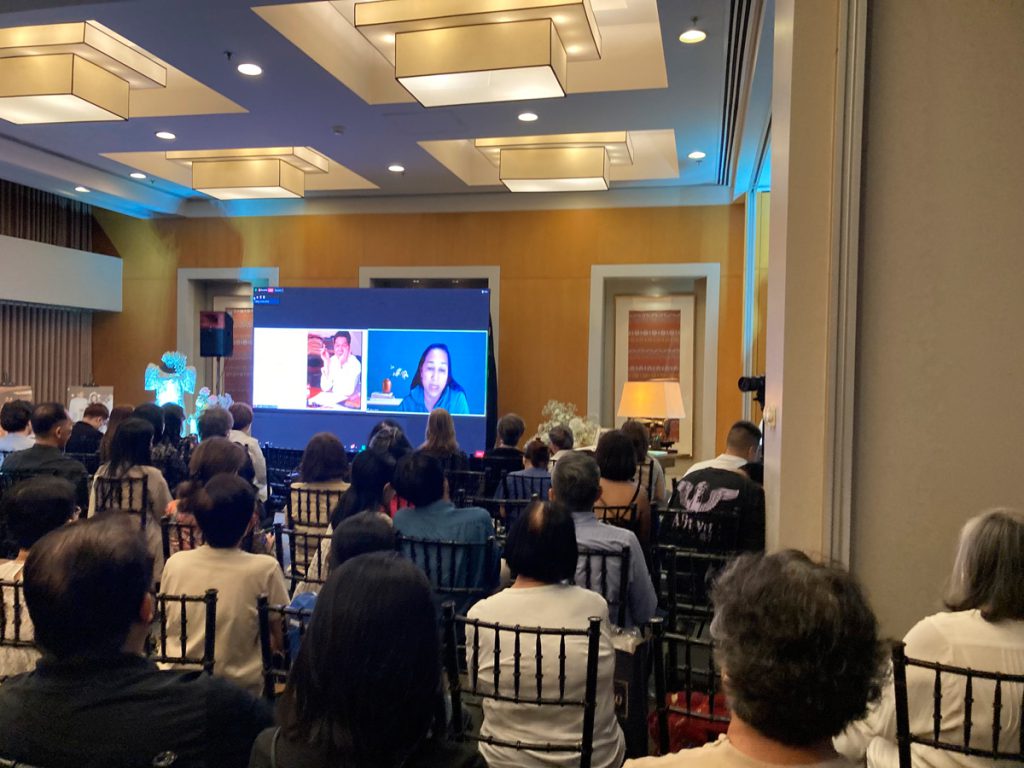 Veteran journalist, former Philippine Daily Inquirer Lifestyle editor, and now editor in chief of the features website TheDiarist.ph Thelma Sioson-San Juan first met fashion designer Auggie Cordero in the 1970s, when, as a hotel intern, she ended up ironing his clothes for a fashion show. That marked the beginning of a friendship that was to last almost 50 years, full of adventures and long conversations on fashion and everything else, as well as shared dreams and advice through the many stages of both their lives.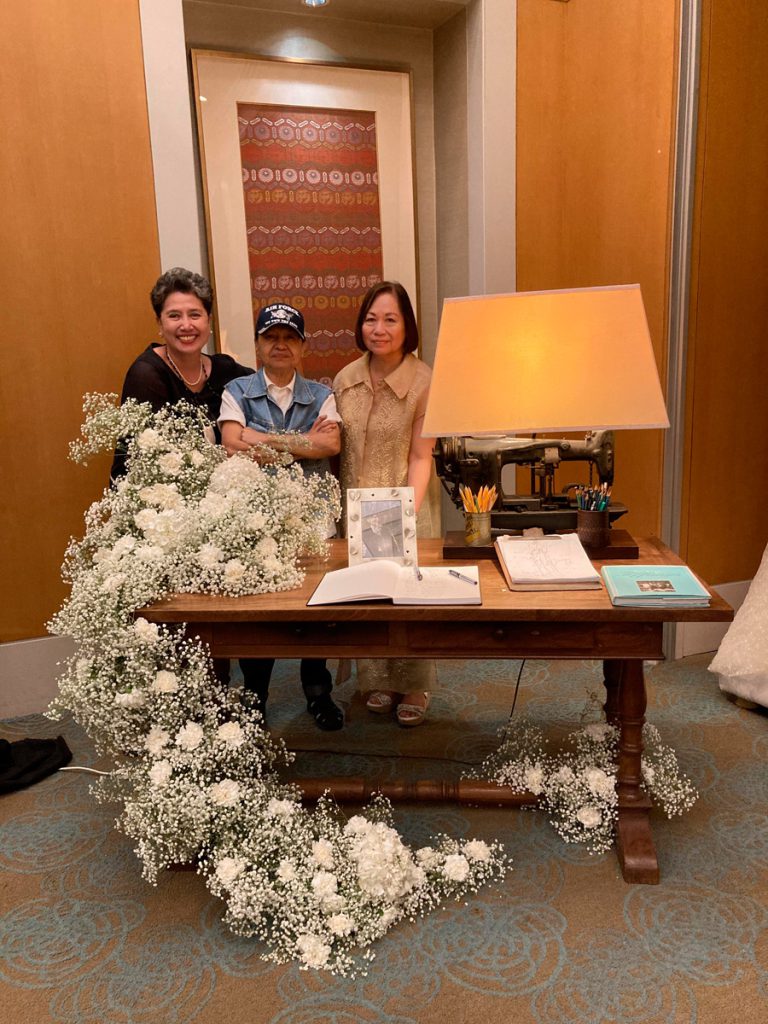 Thus, after Auggie passed away on Oct. 21, 2022, Thelma was one of very few people allowed at the private wake, and she was determined to put together a tribute for her dear friend, a quiet but consistent fashion maverick who shunned publicity, but maintained the highest level of artistry and professional integrity. As his generations of brides and clients would attest, wearing an Auggie Cordero made one feel like the most beautiful and well-dressed woman in the room, whether it be his Audrey Hepburn-inspired ensembles, chic suits, dramatic gowns, or contemporary Filipiniana.
The tribute was held at a function room of One Rockwell on Dec. 13, Tuesday afternoon. Thelma received generous support from Auggie's sister Neng, as well as retail king Ben Chan, whom Auggie helped introduce to the world of fashion, and Menchu Menchaca Soriano, one of Auggie's first models and muses.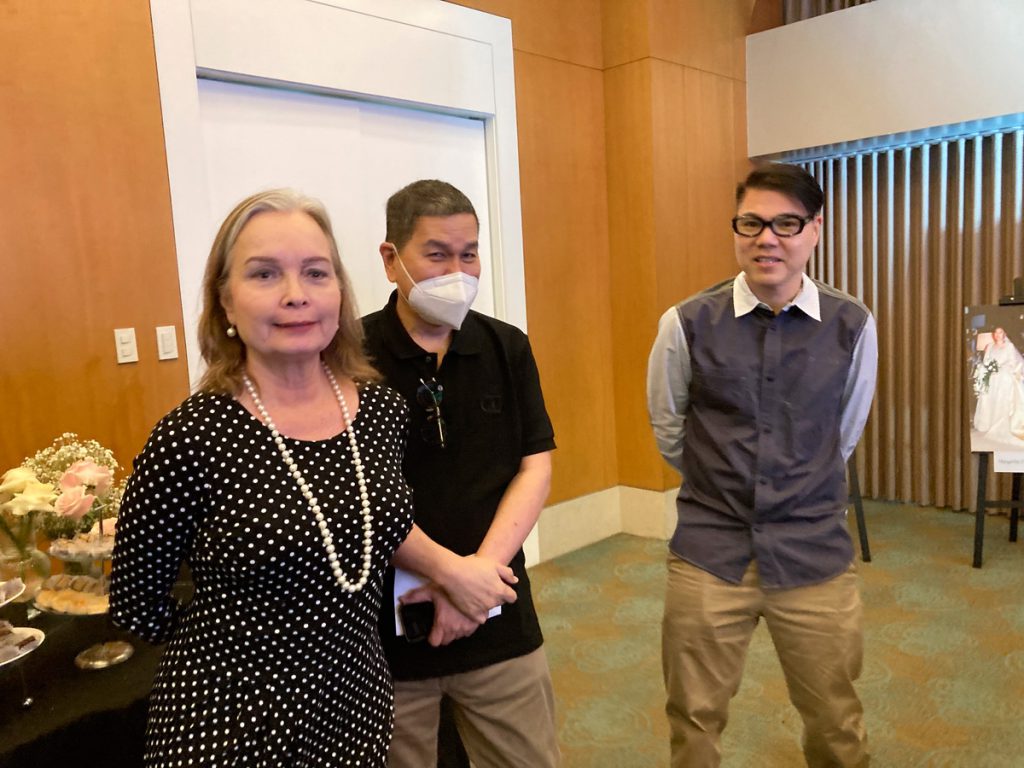 Around 100 people gathered for "Auggie Cordero: Friends' Tribute," and only the designer's name was on an acrylic sign outside the venue entrance. Inside, a 2- by 3-meter LED screen had been set up, along with four of Auggie's intricately beaded gowns on mannequins topped with flowers, which designer Tonichi Nocom graciously helped set up. To the right of the screen was Auggie's familiar wooden work desk, with its sharpened pencils, distinctive table lamp with an old sewing machine as a base, sketches from his own hand, and a portrait of the designer.
Baby's breath and roses in peach, pink, and yellow decorated the room, as did large photographs of Auggies many brides, mounted on easels: Margie Moran Floirendo, Katherine Tan, Sallie Laurel Lopez, Viel Aquino-Dee, Liza Macuja-Elizalde, Kara Magsanoc-Alikpala, Monique Trinidad-Toda, Margarita Ongsiako-Tan Climaco, the late Maggie Go, Pin Cojuangco-Guingona, Christina Oben-Nazareno, Laurie Jimenez Westfall, Nina Lagdameo, Maya Batac Lagdameo, Rina Go, Jennifer Jane Go, Maia Lagdameo Alvarez, and Tess Oben-Reyes.
Director Jackie Aquino also arrived before the official event began at 3:30 to help direct the technical crew. Food came from friends like Rina Go, and Destileria Limtuaco's Olive Limpe-Aw arrived dressed in a Chanel-inspired Auggie suit, bringing along a full bar featuring the company's special liqueurs for guests to enjoy.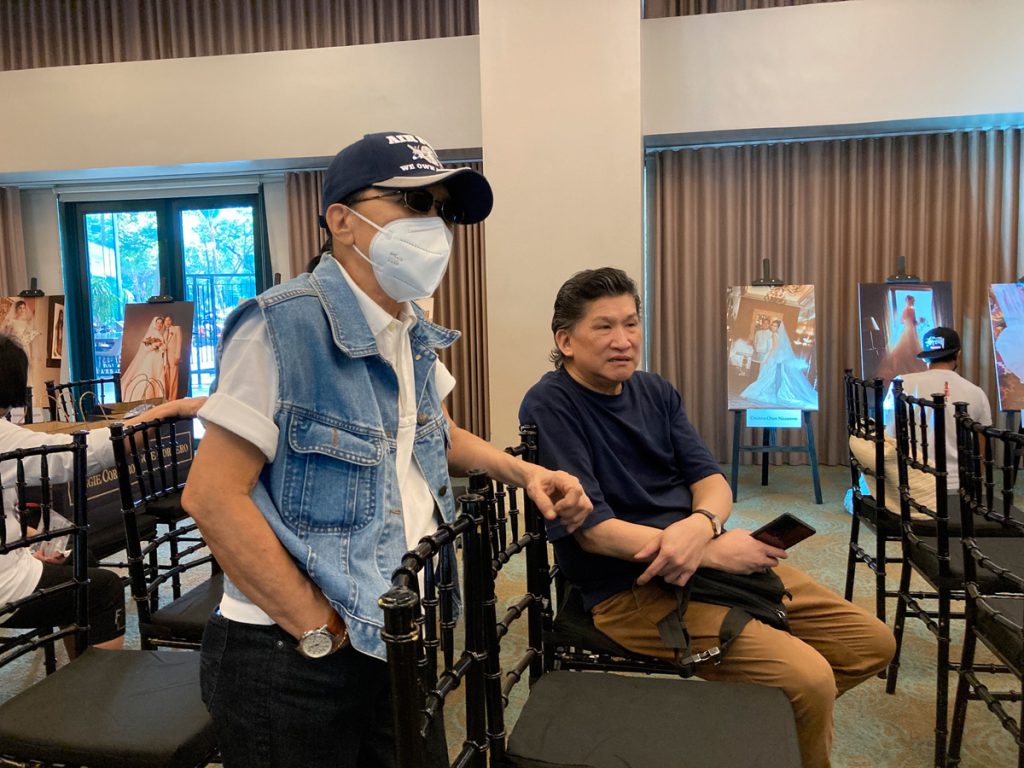 The event began with a video of the Inquirer Face-Off fashion show in 2007, Auggie's last big group show, which featured his dramatic creations worn by models Joann Bitagcol, Raya Mananquil, Tweetie de Leon Gonzales, Marina Benipayo and may others. A short video on the designer's beginnings and contributions to the industry followed, featuring Auggie and other designers, in magazine features, and presenting some beautiful creations inspired by Chanel, Saint Laurent, and Hollywood style icon Hepburn, an Auggie favorite.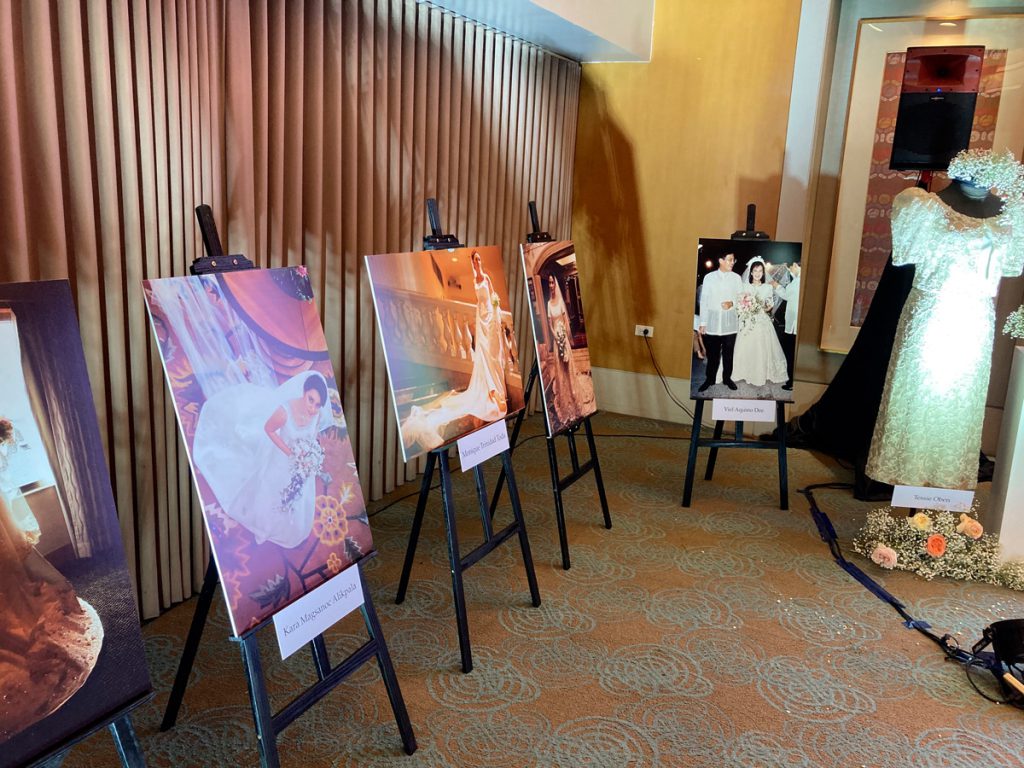 Live testimonies from friends followed. Model France Dionisio and Ben Chan shared lessons learned from their old friend, while designer Lulu Tan-Gan remembered Auggie's big heart.
Menchu Menchaca Soriano, Margie Moran Floirendo, and Joyce Oreña recalled being mentored and encouraged by Auggie. Documentary producer Kara Magsanoc Alikpala remembered how she and her mother, late journalist Letty Jimenez-Magsanoc, went to Auggie for clothes and comfort, while favorite bride Margarita Ongsiako Tan Climaco and family friend Kenneth Go remembered him as part of the family. Designer Oskar Peralta, a friend since ethe 1960s, recalled their early days, while fashion stylist and Thelma's son JJ San Juan reveals how he learned about fashion from Tito Auggie. Close friend Maryann Ojeda talked about Auggie's friendship with her sister Marilen, and a Zoom testimony from model Anna Bayle in New York wound up the memories.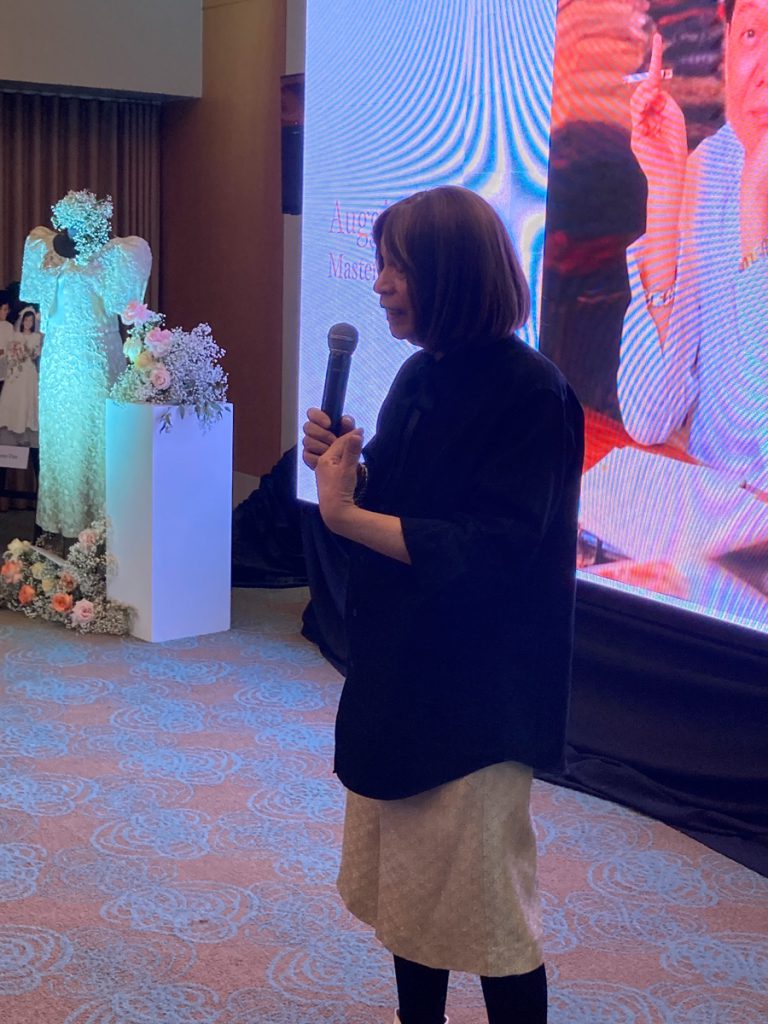 Thelma then spoke to recall her lifelong friendship with Auggie, "a life partner," alongside Neng, before introducing a final Zoom message from Auggie's oldest sister, Zeny and husband Larry Cole, who thanked guests for the warm words.
Closing the tribute were recorded video messages from more friends: designer JC Buendia, Mike de la Rosa, Loretto, and Tonichi Nocom; close friends Rina Go and journalist Melinda Quintos de Jesus; Auggie "protégé" Larry Leviste; director Joey Reyes; model Nol Cueto; and finally, Marilen Ojeda. The video ended on an emotional note, showing the door of Auggie's atelier opening and closing for one final time. Auggie's face appeared on the screen, and as Moon River rose to a final crescendo, the audience was asked to give Auggie Cordero one final standing ovation—in gratitude for being a pillar of Philippine fashion and an unforgettable, well-loved friend. – Alya B. Honasan