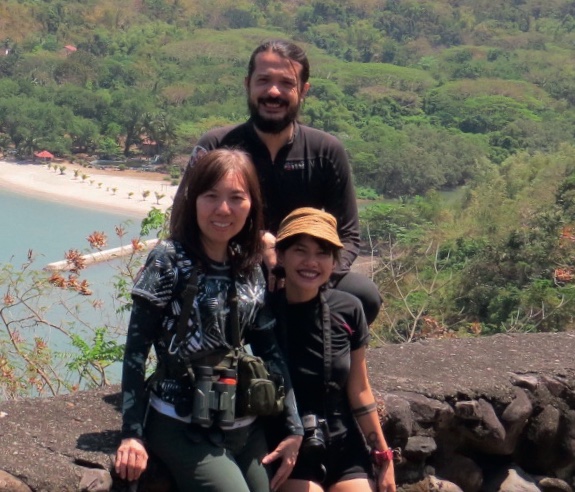 I thought that after I passed half a century of existence in this world, I'd be pretty much settled in my likes and dislikes, hobbies, passions. I figured I knew myself quite well already. However, in the past couple of years, a childhood love for birds was rekindled and I'm now an avid birder, waking up at 3 or 4 am when I'm a night owl, buying sports shoes I would never have been caught dead wearing in the past, and sporting military green camo shirts and pants which I used to find blechhh and unfashionable. I never wore caps or hats before because they flatten my coiffure, but now…
As if that wasn't enough, another life-changing moment transpired during a birding sortie. I was assigned to hitch with a couple, Rocco and Monique. We met up around 3 am and decided to go to a Jollibee drive-through for breakfast. As we made our way to the payment window, Monique jerked in her seat and this conversation ensued:A distraught Monique: Oh nooo, we forgot to give them our containers!
A distressed Rocco: Ay, it's too late! They're probably preparing the food already.
Then they remembered they had a guest, and Monique gave me a sheepish look. "Sorry about that. It's just that we have this thing we do. We're into zero waste." "What's that?" I curiously asked. "Uh-oh, don't get her started," warned Rocco. Well, I didn't heed his warning, hehe.
That day I learned three shocking things. First, what I thought was paper, like carton boxes and rice wrappers, actually had a thin plastic lining! I had to see for myself, so I bought take-out rice from a popular fast food, and wet it. Lo and behold, there really was a thin film of plastic as the paper disintegrated. Paper manufacturing, aside from cutting down trees, uses more water and energy to produce. I did not know that. Second is being told that the first thing that goes in an ecobrick is the plastic label of the bottle itself. Whaaaa? I always thought the labels were printed on the containers.
In case you don't know what an ecobrick is, it's any plastic bottle you clean and dry then pack tightly with non-biodegradable plastic. These are then used to make structures like tables, benches, garden décor, and even houses.
Third, dish sponges have plastic! This was the first thing I changed—I got loofahs. They dry fast, clean well, and last longer. This was just the tip of the iceberg. Monique added me in a local FB forum called Buhay Zero Waste (BZW), and I entered a different world where people make efforts to keep their trash out of the landfill. What excited me the most was the amazing creativity of people who upcycle and repurpose (two new words in my vocabulary).
Now that I am made aware, something strange happened to me when I went to the supermarket. I started to cringe. As I walked down the aisles, I saw so much plastic, the light reflected on them sort of blinded me, making me squint, my senses assaulted. What is going on?
Bea Johnson, guru of the Zero Waste Movement, shares the 5Rs:
REFUSE
REDUCE
REUSE
RECYCLE
ROT
Monique made it very clear the first thing to do is not to ecobrick or recycle, but to refuse. I still believe we need the convenience plastic brings to our lives. The issue is single-use, the kind you use once for a few seconds or minutes, then discard. We can do without straws. When buying small items in convenience stores, why not just put them in our bag or pocket rather than in little plastic supot? In the wet market, why not just bring a container and put the food directly in them without the cling wrap or flimsy plastic bags? I refuse plastic/paper bags in stores and use my ecobags instead. I have my personal plastic and wooden spoon and fork sets in my purse, and a collapsible silicone cup so I can refuse disposables.
Well, 100 percent zero waste is impossible, and there are things I cannot give up like Nathaniel's pandan buko juice, my regular fix of Snickers chocolate, and Häagen-Dazs almond popsicles, so I reduce the number of times I purchase them. I made them special treats to look forward to. I'm decluttering and giving away stuff. I don't want to buy any more clothes, shoes, or bags—just use the ones I have until they're worn out. I buy in bulk so I don't have too many of the little containers. I love pens, but I need to cut down on the purchasing. I'll stick to refillable Whiteboard markers and crayons or color pencils once my stocks of markers run out. Buhay Zero Waste Preloved was established with the concept that one man's trash is another man's treasure, and it is very interesting to go through the posts seeing what trash people give away and who wants them. Many baffling cases, hehe.
Then there's no. 3, reuse. My mother and many Chinoy and Asian parents, I'm sure, are experts on this. Either use something again for its original purpose, or be creative and have it fulfill a different function. I learned two new words: repurpose, which means using something for a different purpose other than its original purpose, and upcycle, meaning to reuse something in such a way that the final product is of higher value or quality than the original.
So I do the usual—ecobags, water bottles, cotton rounds, beeswax wraps, cloth rags, washable panty liners/pads, any container that can be reused to put other stuff in—and then there's the exciting part, where creative juices flow!
Step 4 is to recycle what you can't refuse, reduce, or reuse. See? It's not the first step. The way things are in our garbage collecting system, I wonder sometimes if my segregating has any worth at all. Monique told me going straight to the recyclers is better. I was also told not everything is recyclable. I don't quite understand this, so I just try to do steps 1 to 3 as much as I can.
The final step is rot. Okay, I can't talk about this because I haven't started yet. I've read about vermicomposting, which involves worms and the Bokashi bucket which relies on bacterial fermentation. For now, my maid has started a small garden in our laundry area growing our own basil, cilantro, etc. Apparently, growing your own food is also part of zero waste.
I ask myself sometimes how long can I sustain my attempts at zero waste, and if I am making a difference at all. Ecobricking is a penance. It is hard work to wash and dry plastic before stuffing them in the ecobricks, but it does make me mindful of my purchases. If I refuse a straw or plastic bag, someone will take it. I have had instances where I just threw stuff in the trash can, but a few minutes later went back in to retrieve it. It can get tiring and frustrating. What keeps me going, though, is the knowledge that no matter how infinitesimal the effect may be on our planet, at least I try. It does make me feel good about myself.
"Clear glass jars" photograph courtesy of www.pexels.com
Photographs by Gwen So