Born and raised in Manila, Jayme Natividad spent long years studying culinary arts and working in the kitchens of some of the top restaurants in the United States. After graduating from the International Culinary Academy in Pittsburgh, Pennsylvania, he worked for the two-star brasserie Balthazar in SoHo, Manhattan; three-star Gramercy Tavern; Otto Enoteca Pizzeria and Lupa by celebrity chef Mario Batali; and Postrio by the Austrian-born celebrity chef Wolfgang Puck.
Among the things Chef Jayme does in the kitchen are curing meats, a skill taught to him by top chefs Zach Allen and Wade Moises, and cooking pizza, pasta, and other Italian dishes. But ask him to name his comfort food, and he will gladly tell you that it is his maternal grandmother Thelma Aranda Roco's Onion Braised Chicken, which he fondly calls Chicken a la Roco.
Growing up, Chef Jayme spent Sunday lunches, right after Mass, with his grandmother in her house in Quezon City. It was like a fiesta, with his titas, titos, and their families coming over for the regular get-togethers. Lunch would extend to merienda and even early dinner, and the festive food included bacon made from scratch, tapa, nilaga, and grandma's version of lengua, which was like asado with brown sauce, mushroom, and saba bananas. His favorite, though, has always been her Chicken a la Roco, which had caramelized onions in it.
"My tita puts beer in the chicken. I put wine with tarragon and oregano in mine, and serve it with mashed potatoes, Baguio beans, and carrots," explains Chef Jayme, whose titos include veteran actor Rafael "Bembol" Roco.
CHICKEN A LA ROCO
(ONION BRAISED CHICKEN)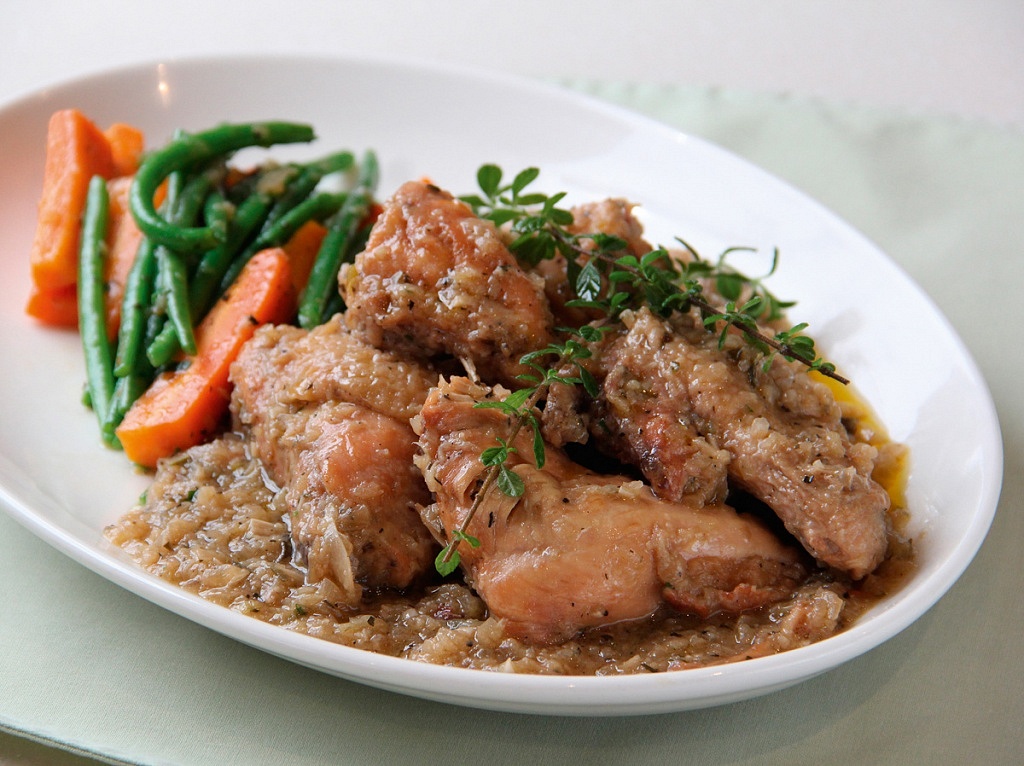 60 grams green beans
60 grams carrots
1 whole chicken, cut into quarters
Salt and pepper to taste
1/4 cup all-purpose flour
1/2 cup olive oil
2 cups onion, finely chopped
3 Tbsp garlic, minced
1 cup leeks, diced
1 cup white wine
1 tsp thyme
1 tsp rosemary
3 pcs bay leaf
1 Tbsp Worcestershire sauce
1 cup chicken stock or water
1 Tbsp butter
1 Tbsp fresh tarragon, chopped
Blanch green beans and carrots separately in boiling, salted water. Cook until al dente. Shock in ice water to stop cooking. Set aside.
Season chicken with salt and pepper to taste. Dust lightly with flour.
Heat up a pan large enough to fit all ingredients. Add oil. Sear chicken and brown all sides. Remove from pan. Set aside.
Add onions, garlic, and leeks to the pan. Sweat them until the onions are opaque. Season as you go to build the flavor. Add white wine and cook until reduced in half. Add thyme, rosemary, and bay leaf.
Add the chicken, Worcestershire sauce, and stock.
Bring to a boil and simmer. Adjust seasoning. Cover for 30 minutes. Check every now and then and stir to make sure that the ingredients do not stick to the bottom. Cook for another 20 minutes. Adjust seasoning. Add butter to finish.
Reheat green beans and carrots in a pan with olive oil or butter. Season carrots and green beans with salt and pepper to taste.
Serve on a platter with vegetables and sprinkle with tarragon.
Photographs by Rafael R. Zulueta
This article originally appeared on Asian Dragon's October-November 2017 issue, available for order on Facebook and Lazada, or downloadable from Magzter.