As a Junior Master Chef finalist who made a mark on local television when she joined the reality show and impressed the chef judges, Louise Mabulo can cook anything—and she does. She cooks gourmet dishes like professional adult chefs do, but her passion is really her native Bicolano dishes, such as Bicol Express and laing.
The only child of Mayor Fermin Mabulo of San Fernando, Camarines Sur, and Michelle Mabulo, a registered nurse, Louise has her own farm in her hometown, where she raises her own cattle and poultry and grows her own vegetables and fruits. She also has her own kitchen laboratory, where she cures bacon and other meats, cooks to her heart's desire, and teaches, too.
The young chef is adept at different types of cuisines, but her native Bicolano cuisine is closest to her heart. She cooks traditional dishes, but also likes to experiment in the kitchen to give recipes a contemporary twist. For the very first Madrid Fusion Manila at the SMX Convention Center in 2015, she even demonstrated two exciting Bicolano-inspired dishes for Breville Philippines—'Bicol Express Paella' and 'Laing Croquetas'—which exhibit-goers got to taste.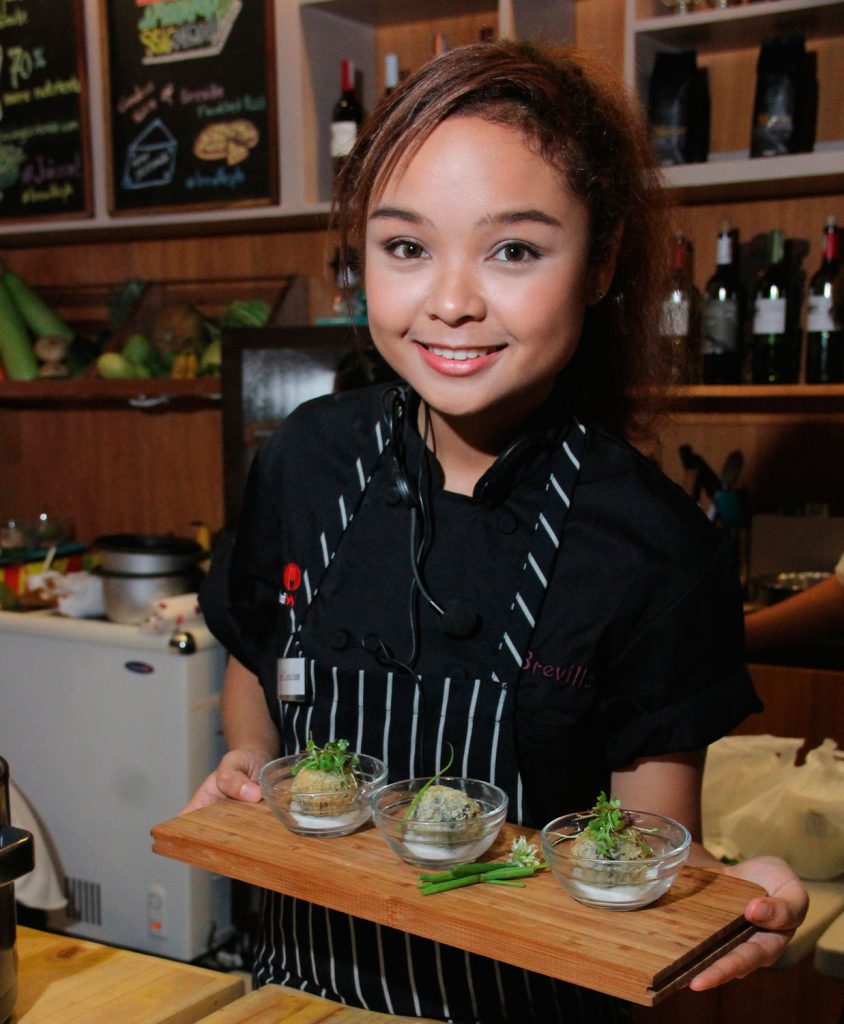 'LAING CROQUETAS'
For the rice:
Cooking oil
4 cloves garlic, minced
1 pc onion, minced
1 thumb-sized segment ginger, minced
2 pcs siling pansigang (finger chili), sliced
2 Tbsp patis (fish sauce)
1 cup rice
1 cup white wine
Gabi (taro) leaves
Tinapa (smoked fish), flaked
1 cup coconut milk
1/4 cup cream
Shrimp stock
In a paellera, heat oil, and sauté garlic, onion, ginger, and sili until lightly browned.
Season with fish sauce, and add rice. Stir until rice is evenly coated.
Pour in wine and allow to simmer.
Sprinkle in torn gabi leaves and tinapa flakes.
Pour in coconut milk and cream. Give the mixture a gentle stir to allow the coconut milk to wilt the taro leaves.
Add some shrimp stock to loosen the rice, if necessary. Stir occasionally while the rice cooks. Cook until rice is done, seasoning to taste as needed.
For the croquetas:
Tinapa flakes
Softened and whipped cream cheese
Grated lemon zest
Flour for dredging
1-2 eggs, beaten
Breadcrumbs
Oil for frying
Scoop some rice. Flatten out in your palm.
Fill the center with tinapa flakes, cream cheese, and lemon zest. Form into a ball.
Dredge rice ball in flour, dip in beaten eggs, then roll in breadcrumbs.
Fry in hot oil until golden brown. Remove and drain off excess oil on paper towel.
For the cheese sauce:
Softened cream cheese
Grated lemon zest
Salt to taste
Spring onion, chopped
Cream the cheese to incorporate air.
Season with grated lemon zest, salt, and spring onion. Mix well.
To assemble, spoon some cheese sauce into small bowls. Top with golden croquetas. Garnish with microgreens. Serve. AD