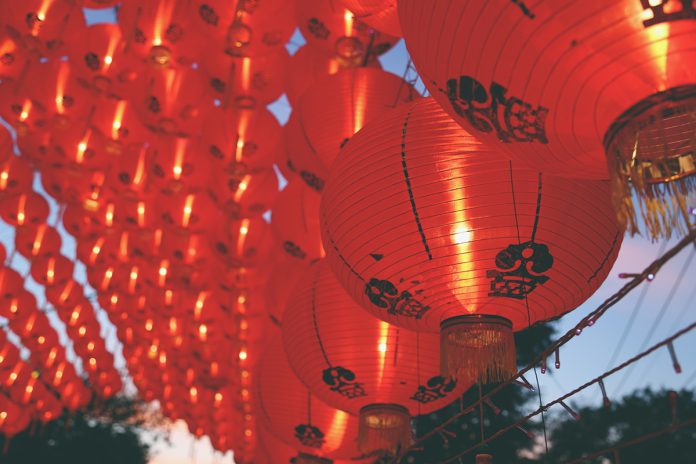 With multi-course set menus, golden pearls, and plenty of tikoy
Running from January 22, 2023 to February 9, 2024, the Year of the Water Rabbit is said to be a year of peace and success, two things we could all use after enduring global challenges like the economic crisis and ongoing pandemic.
High-end hotels and luxury brands put you in a celebratory mood with Chinese New Year packages too good to pass up. Gather family and friends and cheer to auspicious days ahead with rich multi-course set menus, stylish ensembles and accessories, and practically every iteration of tikoy.
Diamond Hotel Philippines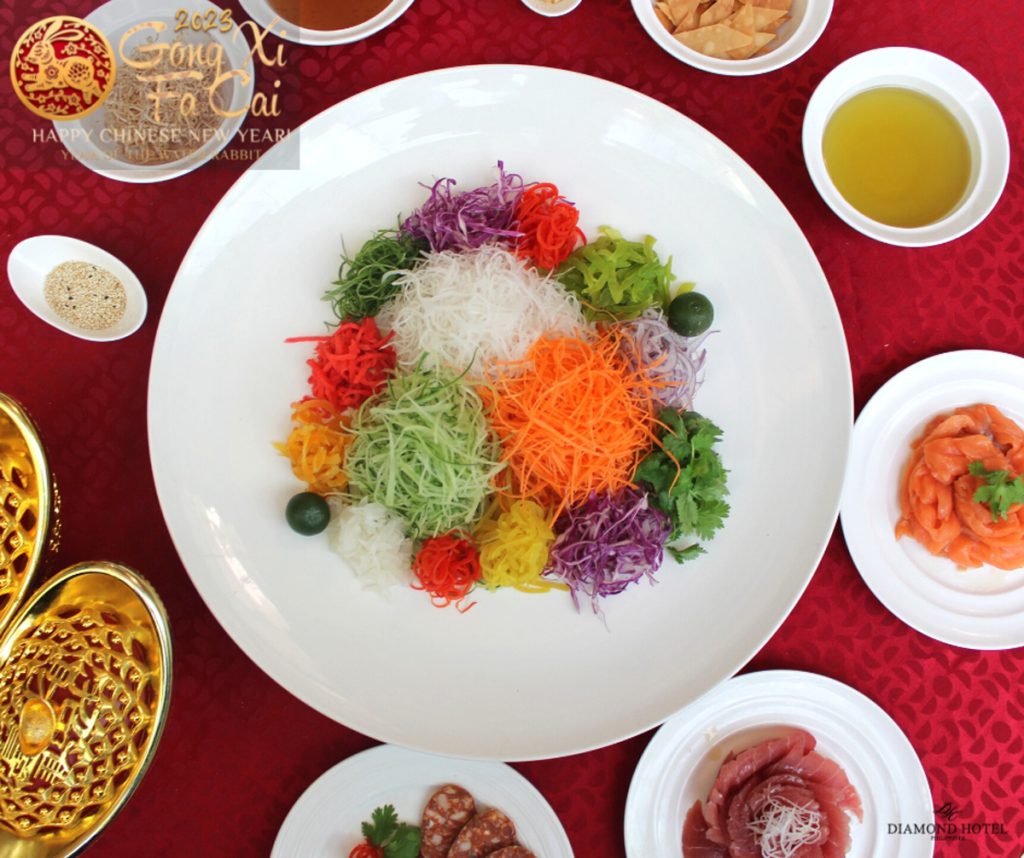 Revelers at Diamond Hotel Philippines can expect a mouthwatering feast at the Corniche, with generous lunch and dinner buffets courtesy of Chef Yang Ying. Ongoing till January 22 are sumptuous selections and Chinese New Year favorites for P3,500 net per person. Spend a minimum P7,000 at Corniche and you get to pick a prize from the Prosperity Tree.
If set menus are more your thing, ask for Corniche's Lucky Chinese Set Menus at P16,800 net each. Available till the end of January, the two special menu sets can feed a party of five and are available for lunch and dinner. Advanced table reservations are required.
Planning to welcome the New Year at home? Call to order the Yu-Sheng platter, Lucky Chinese Set Menus, and Savory Chinese Platters. Place your orders through onlineshopping.diamondhotel.com. Available until the end of January.
Diamond Hotel Philippines, Roxas Boulevard corner Dr. J. Quintos Street, Manila. For reservations call (02) 8528-3000 ext. 1121 or email restaurant_rsvn@diamondhotel.com.
Salvatore Ferragamo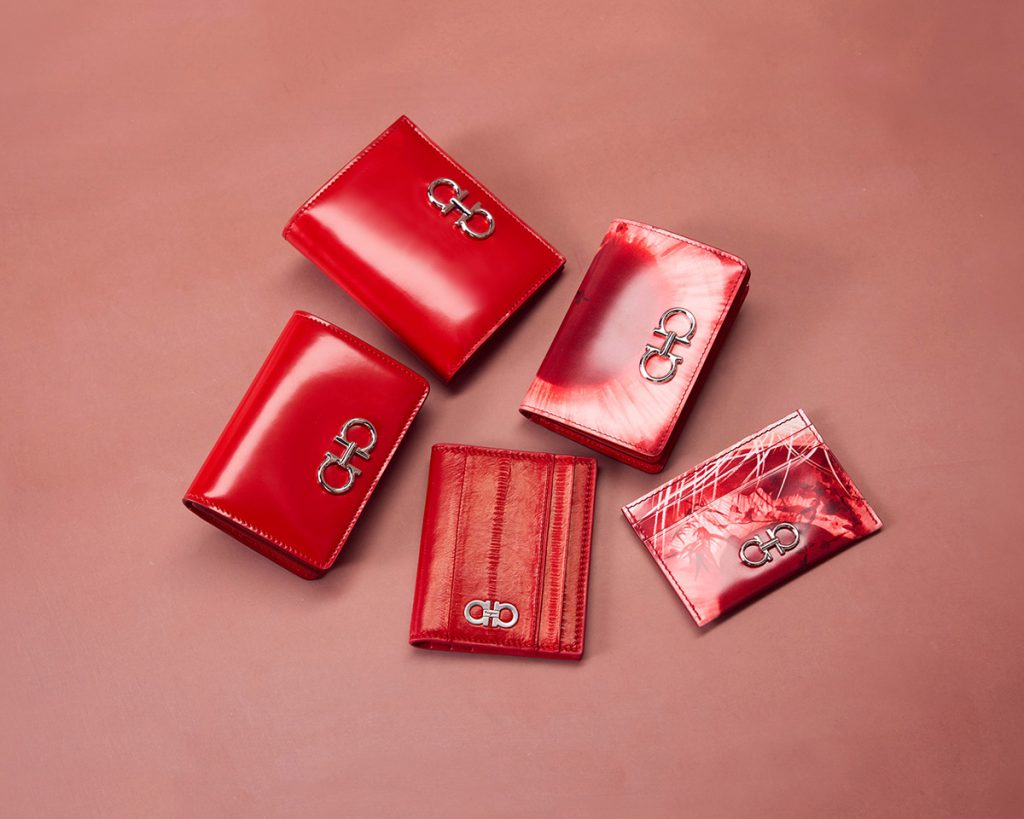 Raring to welcome the Water Rabbit but have nothing to wear? Head over to Salvatore Ferragamo, where a tastefully edited capsule collection inspired by the auspicious animal and Lunar New Year awaits.
Creative Director Maximilian Davis does not disappoint with his silk foulards, shirts and skirts, crewneck sweater, city jacket, and soft cotton T-shirts. Low-top sneakers, the Gancini buckle belt, small leather goods, and signature carryalls including the Trifolio and Studio bags help complete your look.
Salvatore Ferragamo is at Greenbelt 4, Rustan's Shangri-La, and Rustan's Makati. Shop Salvatore Ferragamo online at Trunc.ph and Rustans.com. Visit www.ssilife.com.ph or follow @ssilifeph on Instagram.
Jewelmer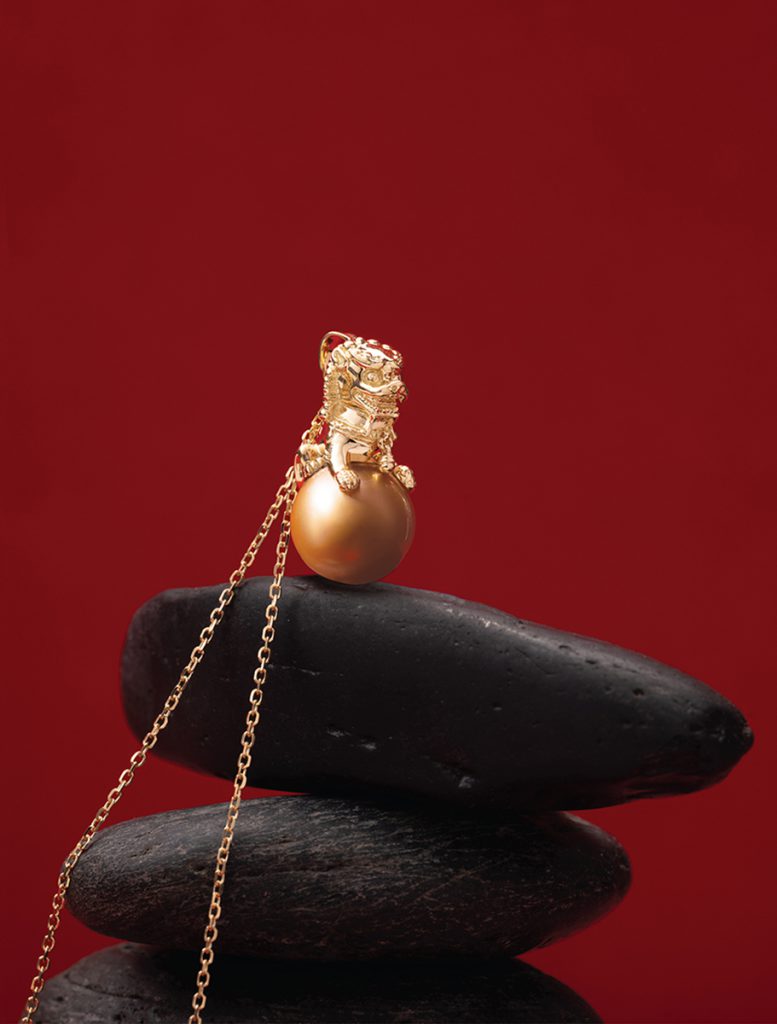 Here's a gift you'd gladly give and receive. Jewelmer's Four Blessings creations feature necklaces bearing pendants that symbolize luck and prosperity—from the mighty dragon and Lunar New Year lion to two fishes and a frog with a coin in its mouth.
The centerpiece, of course, is Jewelmer's signature golden South Sea Pearl. The epitome of understated elegance, it adds polish and class to even the simplest wardrobe.
jewelmer.com, Facebook.com/jewelmer, @jewelmer on Instagram
Marco Polo Ortigas Manila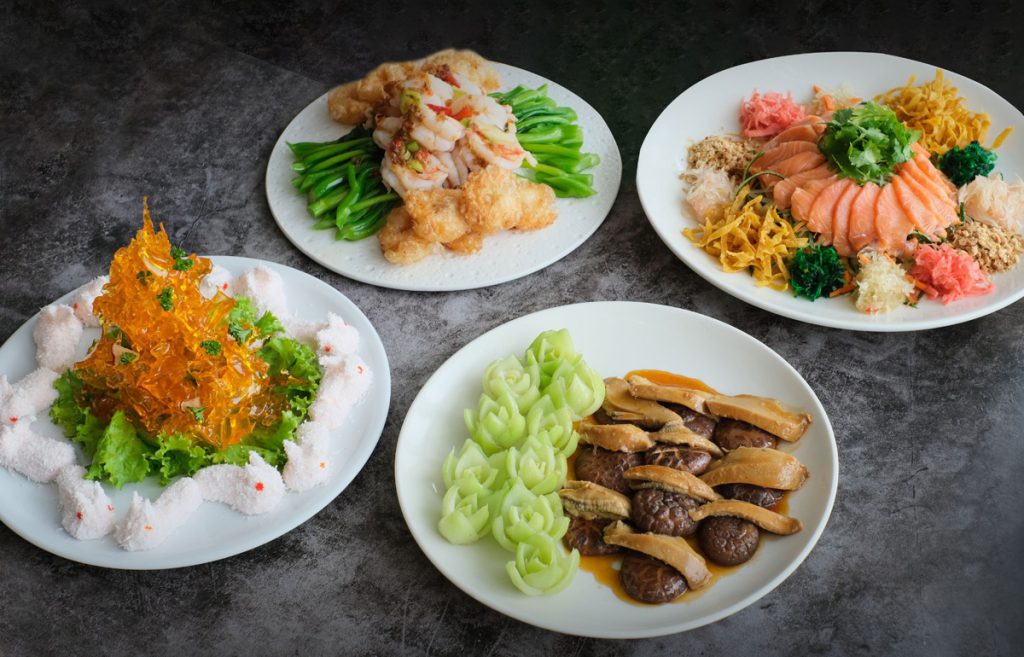 No Chinese New Year is complete without nian gao or tikoy, and at the Marco Polo Ortigas Manila, the sticky rice cake that represents good luck and happiness is available in four delicious flavors: Double Gold Bar Nian Gao (P2,598); Double Flavored-Red Dates Sugar and Fortune Orange (P2,598); Red Dates Sugar Round Tikoy (P1,898); and Fortune Orange Round Tikoy (P1,898). Stock up on this seasonal treat till January 22.
If it's a full meal you want, Lung Hin hits the spot with its Lucky Rabbit Chinese New Year Set Menu. The 10-course menu includes Salmon Yu Sheung; Sea Moss Soup, Pork, Dried Oyster, and Lotus Root; Work Fried Prawn in XO Sauce and Golden Crispy Prawn; Braised Calmex Mexico Abalone, Japan Shiitake Mushroom in Abalone Sauce; Baked Fresh Scallop with Cream Cheese Sauce; Steamed Lapu-Lapu Fillet, Shredded Pork; Mushroom and Red Date; Hong Kong-Style Roasted Duck; Braised Fu Noodle and Dried Fish; Rabbit Marshmallow; and Ginger Tea-Sweetened Soup with Black Sesame Glutinous Dumpling. Available till January 22, the special menu can be yours for P52,888 for a party of 10 or P26,888 for a group of five.
Marco Polo Ortigas Manila, Ortigas Center, Meralco Avenue and Sapphire Street, Pasig. (02) 7720-7777.
New World Makati Hotel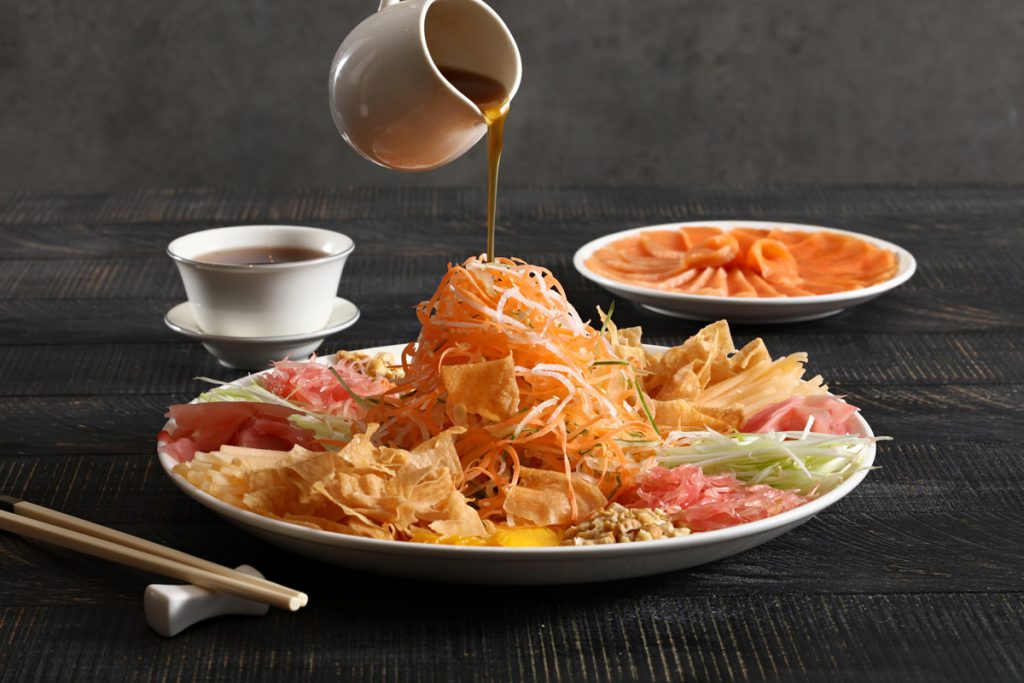 For a full-on Chinese New Year experience, consider celebrating at the New World Hotel Manila, where you can begin the Year of the Water Rabbit from the comforts of your Deluxe Room or Residence Club Deluxe Room. Available till January 22, the auspicious room packages start at P8,888 net and include breakfast for two, as well as a box of Jasmine's signature handcrafted tikoy.
And speaking of tikoy, the hotel offers the Chinese New Year staple in round (P1,088) and koi fish (P1,188) shapes. Bulk orders get a 20% discount with a minimum of 50 boxes, while Club Epicure members receive a 10% discount.
Want a sticky sweet alternative? Try the Mandarin Orange Chocolate Cake, a swoon-worthy dessert of vanilla cremeux white chocolate mousse cake filled with orange jelly mandarin disk and orange segments, finished in red shiny glaze. Give the hotel a 48-hour lead time, and this amazing cake can be yours for P1,388.
As for the main course, Jasmine covers all the bases of feasting on the Lunar New Year. Set menus start at P10,888 for a party of four, the All-You-Can Eat Dim Sum costs P1,688 per person, and a gathering of 50 can be arranged for P195,250 net.
New World Makati Hotel, corner Makati Avenue and Esperanza Street, Ayala Center, Makati. (02) 8811-6888.
Edsa Shangri-La Manila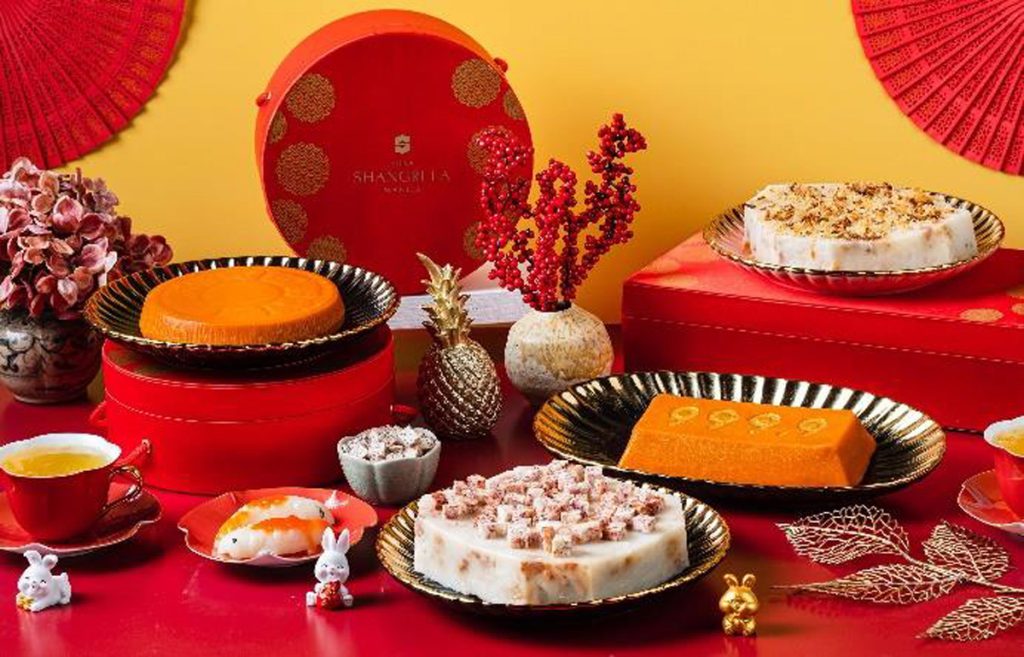 How many ways can you enjoy tikoy? Five, if you're at Edsa Shangri-La Manila. At Summer Palace and Lunar New Year Lobby Counter till February 5, the sticky Chinese New Year treat comes in tea, taro, and radish flavor, as well as fish and gold bar shapes. Rates start at P1,688.
The hotel also offers a delectable selection of sweets and savories for the discerning palate. For the former, visit The Bakeshop and ask about the Mandarin Chocolate Torte and a Water Rabbit Carrot Cake. Priced at P1,650 each for a whole cake, they're the perfect way to end a Lunar New Year feast. For the latter, Summer Palace makes an ideal family reunion venue, with its authentic Cantonese set menus good for a party of 10. Choose among Wealth (P23,880++), Prosperity (P33,880++), and Longevity (P53,888++). Available till February 5.
Edsa Shangri-La Manila, 1 Garden Way, Ortigas Center, Mandaluyong. (02) 8633-8888.
Waterfront Cebu City Hotel and Casino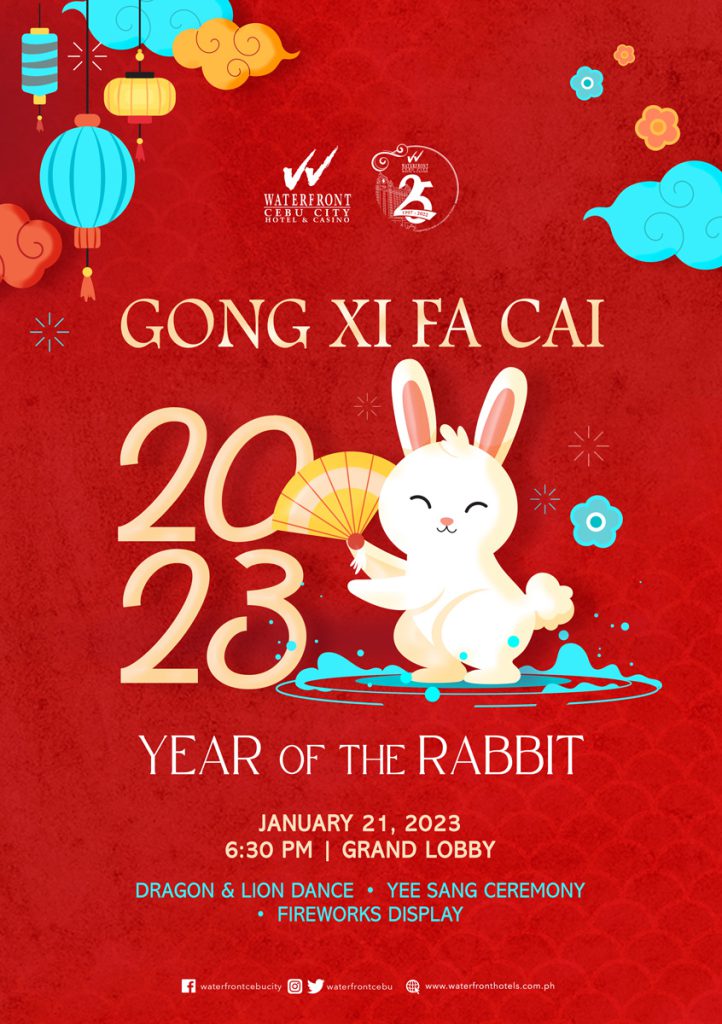 Don't count Cebu out when it comes to celebrating Chinese New Year. At Waterfront Cebu City Hotel and Casino's Tin Gow, merry-makers can feast on Yee Sang for lunch or dinner. The ceremonial dish that symbolizes prosperity, good luck, great health, and all things auspicious is available in prawn, salmon, and abalone.
Tin Gow is also where you can score tikoy in lotus, brown sugar, pandan, and ube flavors. Take some home for P380 each.
Waterfront Cebu City Hotel and Casino, 1 Salinas Drive, Lahug, Cebu City. (032) 232-6888.
CITY OF DREAMS MANILA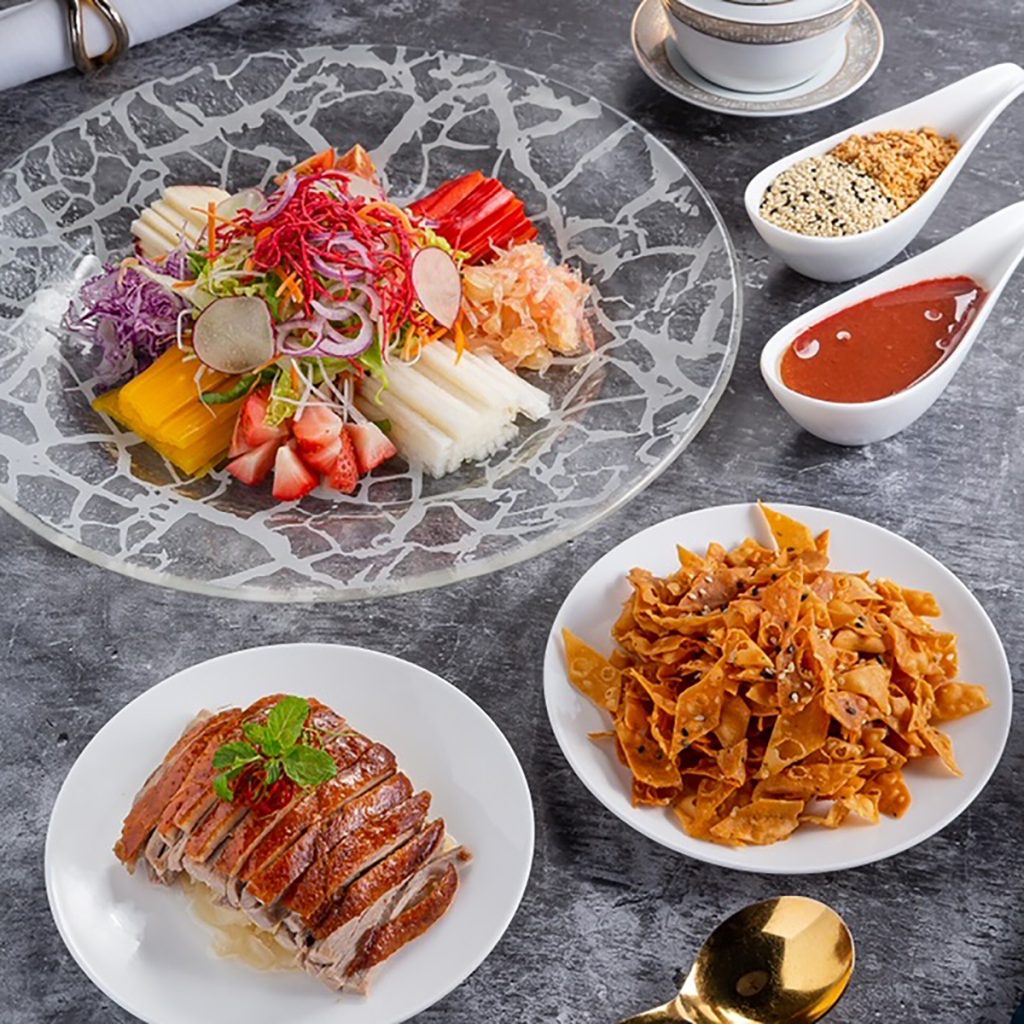 Can't get enough of the Chinese New Year? At City of Dreams Manila, the celebration stretches beyond January 22. At the award-winning Cantonese restaurant Crystal Dragon, the Lunar New Year Menu can be had for lunch or dinner till January 29. Ask for the Prosperity Roasted Duck with jellyfish, crispy vegetables, and plum dressing. At P1,600++, it feeds a party of five and is served in spectacular fashion. Imagine ingredients tossed high up while well-wishes are recited to diners. Incidentally, the roasted duck symbolizes wealth, abundance, and fertility; the flour crisps prosperity, while the plum dressing denotes sweetness and harmonious family relationship.
If it's pure prosperity you're after, there's Steamed Duo Flavor Live Grouper with signature tofu and Roasted Crispy Spring Chicken with supreme soy sauce. Crispy Taro and New Year Cake Pillow are for those seeking luck and togetherness.
Available till January 24 is TungLok Signatures' Prosperity Yu Sheng Salad. Popular in Singapore, this dish that signifies blessings and fortune is prepared with salmon, fresh vegetables, fruits, and other ingredients, each representing a wish during the toss while auspicious expressions are being recited. Remember, the higher the toss, the greater one's fortune! At P2,888, it's perfect for a group of 6-8.
For more fortune, longevity, prosperity, happiness, and harmony, visit Red Ginger, which offers these blessings in the form of mouth-watering a la carte dishes: Fortune Lao Sheng, a chicken salad with plum dressing; Longevity Noodles, consisting of egg noodles with crispy pork belly, and quail eggs; braised Prosperity Pork Knuckle with king mushrooms;
Happiness Prawn and Squid stir-fried in curry XO sauce; and Harmony Coconut, a mix of coconut jelly and ice cream. Available till February 5.
City of Dreams Manila, Entertainment City, corner Macapagal Avenue, Aseana Avenue, Parañaque. (02) 8800-8080.