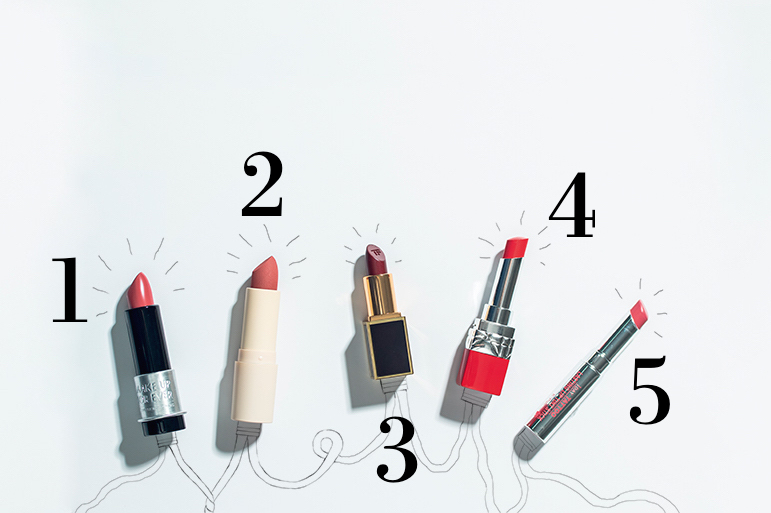 It's time to update the make-up bag with long-lasting but easy-to-wear lipsticks that still pack color. Chuck out the old tubes of color and bring in these trusty sticks that will do wonders for one's pout.
1. Make Up For Ever Artist, Rouge Light
A lasting yet lightweight lippie that provides hydration and luminous finish without falling short on pigmentation. Its gorgeous texture slides smoothly onto the skin, and its glossy polish gives an effect of plump, kissable lips.
2. Sunnies Face, Fluffmatte
Yes, the hype is real. This locally developed lipstick line consists of universally flattering hues and an intense pay-off in just one swipe. While most matte formulas tend to dry out the skin, Sunnies Face's version is surprisingly pleasant to use. Its very affordable price is just a bonus!
3. Tom Ford, Lips & Boys
A mini lipstick for grown-ups, Tom Ford's clutch-size lippies give you perfection wherever you go, whatever bag you're using. It offers an extensive selection of hues and formulas for all styles and preferences, while keeping some things constant: comfort and luxury.
4. Rouge Dior, Ultra Rouge
Pigmented and weightless—two opposite qualities that make this formula a total knockout. Dior's new premium lipstick range offers exceptional wear and color pay-off, and a hydrating formula that won't drag or tug the skin.
5. K-Palette 1Day Tattoo, Lasting Lip Tint Stick
If you're all about effortless, natural-looking beauty, a sheer formula will work best for you. This lip tint gives a subtle flush of color while it softens, hydrates, and protects the lips throughout the day. It's no softie; this tinted balm stays on for hours while giving you a healthy sheen for a fuller-looking pout.
Photograph by Paulo Valenzuela
This article originally appeared on Asian Dragon's December 2018-January 2019 issue, available for order on Facebook and Lazada, or downloadable from Magzter.