By Maureen Tañedo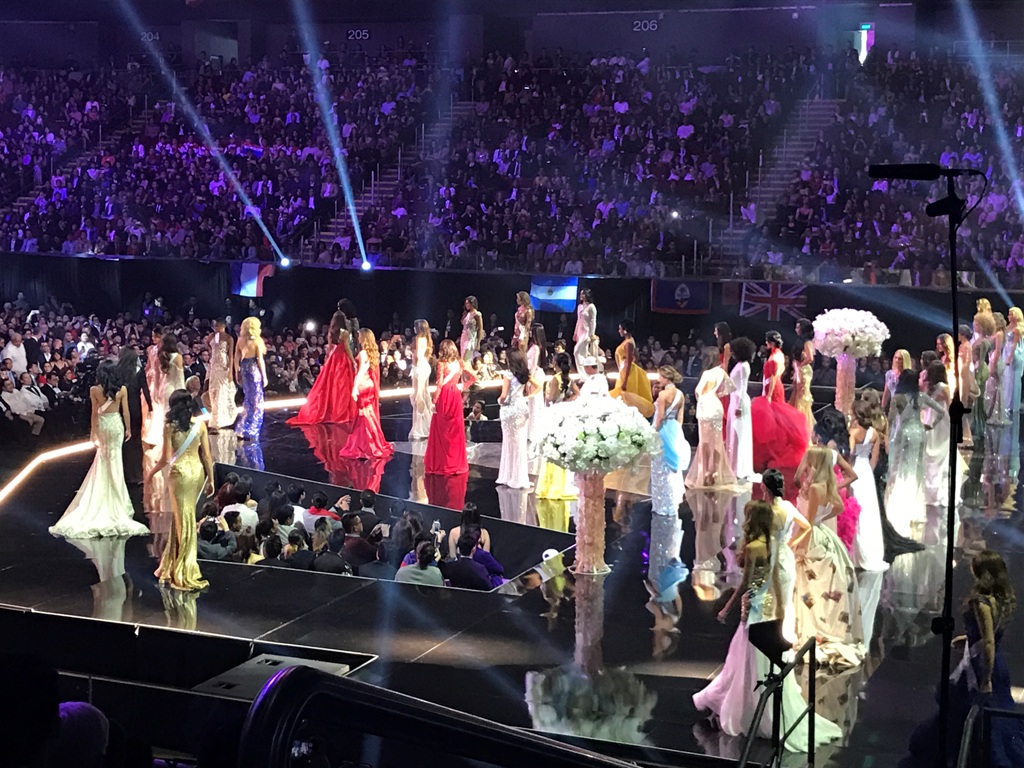 French beauty Iris Mittenaere has just ended France's 64-year Miss Universe drought (and you thought 42 years for the Philippines was long enough!). An accomplished young woman from Lille, Iris is studying to become a dental surgeon, which she tied in very nicely with her response in the Final Q&A round. Iris delivered a humble, complete answer in her light, cheerful voice, with a charming candor unique to her that night.
If you have read at least just a few of the tons of articles leading up to the 65th Miss Universe pageant, the Philippines' third hosting of the pageant almost didn't happen. Although our dream back-to-back win didn't come into reality, pageant fans and spectators seem incredibly pleased with the results, and more importantly, a wonderful show put on by the Philippines.
Asian Dragon gives you some insider tidbits from the live show:
About 30 minutes before the telecast, Steve Harvey's pre-show booster came out to work up the crowd and coach the audience on key moments to really, really cheer. The global audience certainly delivered where it mattered!
Lead choreographer Lu Sierra was so involved in the production. With a large white flower in her ear, she sauntered onto the stage every commercial break to talk intensely with the candidates, give them reminders, and at one point, even offer some water to the candidates.
American rapper Flo Rida opened the show along with all 86 candidates' introduction.
Former Miss Universes Dayanara Torres and Sushmita Sen were definitely darlings of the crowd, owing to their Filipino connection.
The show's updated format and the composition of the judges, with three former Miss Universes, including Angola's first Miss Universe Leila Lopes, reality TV show star and former model Cynthia Bailey, PAPER editorial director Mickey Boardman, and theatrical, TV and film producer Francine LeFrak, told us a lot about how different IMG's Miss Universe is from Donald Trump's. Winners will now have to be articulate, with a strong sense of self, a confident woman with substance, and maybe even an interesting story or two.
Our beautiful representative, Maxine Medina, expectedly had the lion's share of the crowd. I didn't realize how good it would feel to cheer for her alongside a completely sold-out hometown crowd! The last time I felt this close to other Filipinos was when I watched a live Pay-Per-View of Manny Pacquiao dethroning Golden Boy Oscar Dela Hoya in 2008.
Among my favorite demonstrations of the mostly Filipino crowd were the crazy, super loud roar of the crowd when our delegate was called last to the Top 9, the electric "Go Maxine! Go Maxine!" chants after she was announced in the Top 6, and finally, the supportive "Haiti! Haiti!" chants while waiting for the winner to be announced.
By the middle of the show, I had gotten quite tired of hearing about Steve Harvey's mistake last year. The script had really milked the joke for all it's worth. It was also quite interesting to see Steve stumble on a few lines from the teleprompter, which he was able to save through his expert adlibbing. I miss the good old days of Miss Universe hosts Bob Barker, Bob Goen, even Jack Wagner—but Steve does bring a fresh, more casual vibe to the pageant.
Boyz II Men, another frequent Philippine visitor, was a sentimental throwback to the '90s with a medley of some of their biggest hits, "On Bended Knee," "I'll Make Love To You," and "End of the Road," during the Top 3 Final Look. While they've long been reduced to a trio, they still have the same smooth harmonies.
One attention-grabbing spectator in a beautiful red gown was hilariously chanting, "78, 79, Haiti (80)!" prior to the announcement of winners. Ah, Filipino humor at its finest!
As soon as the credits rolled, we spotted our "forever Miss Universe" Pia rushing to Maxine's side to reassure her of a job well done. For all the bashing Maxine has had to endure from her harshest critics, her fellow Filipinos, she did a great job making it all the way to the Top 6 on her own merit. She was contagiously energetic in a light green Yamamay two-piece halter bikini, and stunning and graceful while invoking a classic Hollywood vibe in a shimmering, silver and red Rhett Eala gown. Yes, her Question & Answer performance likely caused her exclusion from the Top 3, but Maxine gave it a good fight for the country and she deserves our gratitude and support!
Pageant fans would know that few host countries can display the same fervent cheer in each step forward and then the same graciousness after a loss. We should be happy, and we should be proud! Filipinos made Miss Universe their own—for the third time, and likely not the last time, in history.