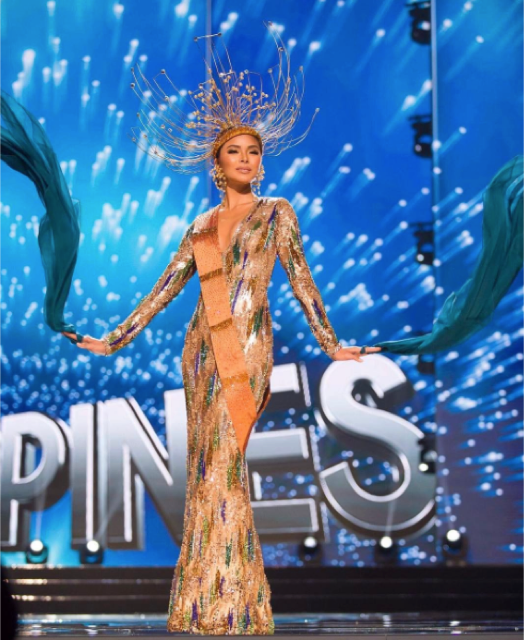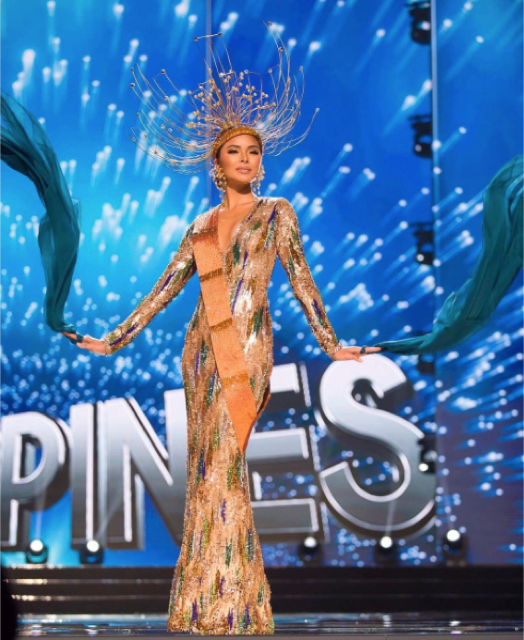 Miss Universe Philippines Maxine Medina in her Mindanao-inspired national costume (Photo courtesy of Maxine Medina's Instagram account)
By Chesca de la Cruz
Beautiful, regal, and confident—Miss Universe Philippines Maxine Medina looked every inch like royalty in her national costume, which she debuted during the preliminaries.
Asian Dragon spoke with Rhett Eala, who designed Medina's costume and other gowns for the pageant. The celebrated Filipino designer shares, "Mindanao was my inspiration for the dress. I though of gold and also Charlene Gonzales' costume the last time Miss Universe was held here in the Philippines—she was also in gold." It took Eala's team three months to complete the beadwork for the dress alone.
The whole ensemble was conceptualized to depict and promote the colorful culture of Mindanao, as well as the country's lush marine life.
Jewelmer Joaillerie, Medina's jewelry provider for the pageant, designed the headpiece inspired by the vinta (traditional boat in the Southern Philippines), with coral-like clusters of genuine, natural golden South Sea pearls. Eala took charge of the finishing touches.
It was reported that Medina's Jewelmer headdress and earrings alone cost more than one million pesos. Jewelmer Joaillerie is a producer of the rare golden South Sea pearls.
What did you think of Maxine's national costume?