Plant touches of Greenery, the Pantone Color of 2017, into your wardrobe to ring in an auspicious Year of the Fire Rooster.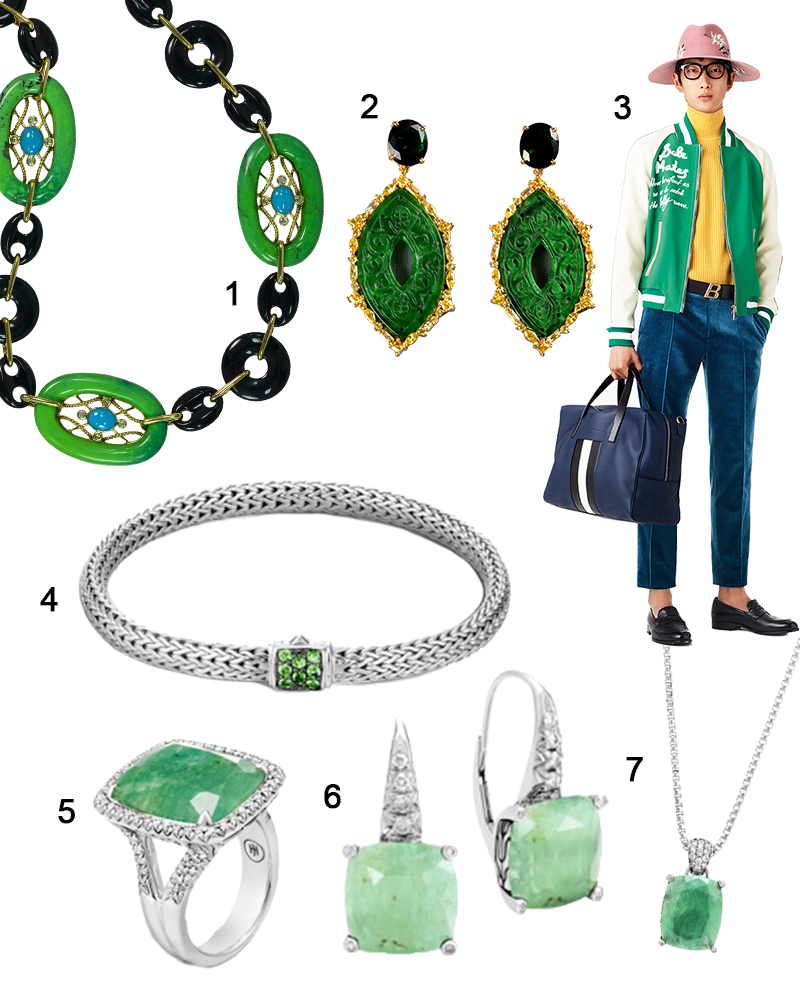 1. Jul B. Dizon Onyx and green turquoise links with diamonds 2. Tim Tam Ong 'Grace' handcrafted earrings with emeralds, carved jade, and citrine 3. A look from Bally Men's S/S 2017 collection 4. John Hardy Classic Chain silver bracelet with Tsavorite 5. John Hardy Classic Chain magic cut silver ring with 20x15mm emerald and diamonds 6. John Hardy Classic Chain magic cut drop earrings with emeralds and diamonds 7. John Hardy Classic Chain magic cut emerald pendant
Pantone has announced Greenery as its Color of the Year for 2017. This shade of green is symbolic of hope and new beginnings—a reflection of a desire to "disconnect" from a tense world and go back to nature. The calming hue is an expression of growth, renewal and fertility. It reflects the environment and is emblematic of the pursuit of personal desires and verve.
Green is also the color of jade, a special stone that carries a sweet, light, and nourishing energy with a soothing purity about it.
In feng shui, jade is considered as a symbol of good luck and is oftentimes used for protection. Jade charms and carvings employ various purposes like attracting more friends and creating wealth.
From precious stones to eye-catching statement apparel, usher in the Year of the Fire Rooster with touches of lush Greenery. Gong Xi Fa Cai!