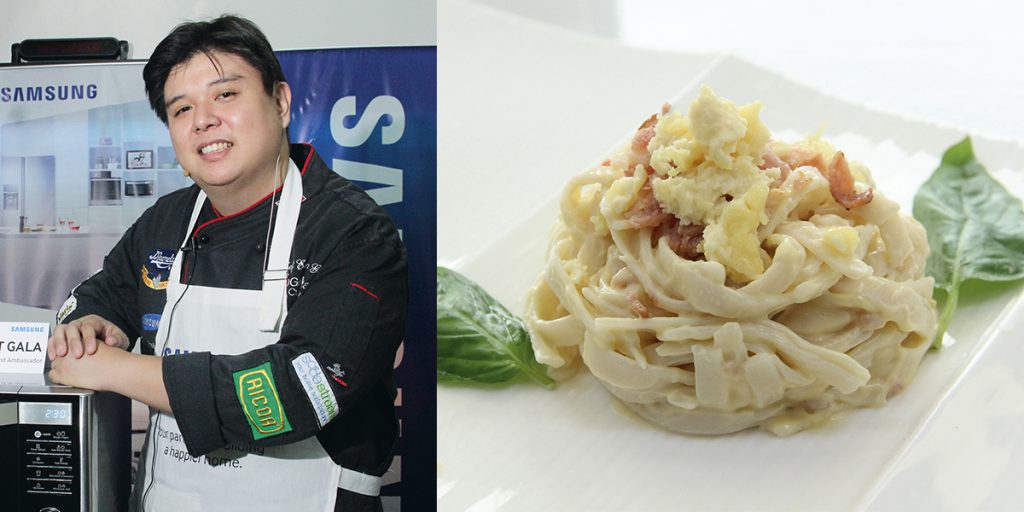 Being the son of culinary icon Sylvia Reynoso Gala, Ernest Reynoso Gala naturally grew up with good food in the kitchen every day of his and his sister Morella's life. Besides preparing delicious meals for the family, his mom handles cooking and baking classes in her own culinary school in Pasig City, and lots of today's most famous chefs and culinary luminaries were at one point her student. Growing up in this environment, Ernest found it easy to decide that he wanted to become a chef. So he assisted his mom in class, took up culinary arts, and opened his own culinary school—GalaStars Culinary School—right beside his mom's.
Like his mom, he teaches different culinary subjects, ranging from baking and dessert-making to cooking various types of cuisines, holiday fare and, yes, even family heirloom recipes. When he conducted a special series of hands-on cooking classes for Samsung Digital Appliances' Fifth Cooking Workshop, Chef Ernest included the recipe of Easy Carbonara. It's his Filipino-style interpretation of the original carbonara recipe, which goes back to World War II, when soldiers captured by Americans cooked their food in a big pot using wood (carbon), and one time added eggs, milk, pasta, bacon, and leftover cheese into the pot to come up with Pasta Carbonara.
Chef Ernest innovated on the classic pasta recipe, and came up with this "short cut" that's both delicious and easy to prepare. He makes it every time he goes to his friends' homes, because it's their special request. It has, therefore, become somewhat of an heirloom recipe for him, and he shares it with everyone who wants a taste of it.
CARBONARA
250 g fettuccine or spaghetti
1/4 c mayonnaise
1/4 c cheese pimiento spread
1 can Campbell's Cream of Chicken Soup
1/2 c grated quick-melt cheese
1/2 c chopped bacon
Cook pasta according to package directions. Drain and set aside.
Prepare the sauce. Combine mayonnaise and cheese pimiento in a microwavable bowl. Add cream of chicken soup and mix well. Cover with plastic wrap. Place in a Samsung smart oven, set to Microwave mode at 600W for two minutes.
Remove plastic wrap and mix again. Put plastic wrap back in place and place in smart oven again. Set to Microwave mode at 600W for 30 seconds to one minute.
Remove, and toss well in cooked pasta.
Top with grated quick-melt cheese and bacon bits.
Photographs by Rafael R. Zulueta
This article originally appeared on Asian Dragon's October-November 2016 issue, available for download on Magzter.