When baking expert Chef Dorothy Ferreria was a kid, one of her favorite desserts was leche flan. She loved the local custard cake, which her family would buy from the neighborhood bakery. Eventually, though, she was no longer contented and wanted to make her own. The youngest of four kids, Chef Dorothy often found herself helping out in the kitchen. Constant exposure to and personal participation in the cooking process sparked her interest in the culinary arts. She displayed particular interest in baking and pastry arts.
She started with mixes for chocolate cupcakes and butterscotch bars. She used both locally manufactured cake mixes as well as imported ones that her mom bought for her.
Not too long after, she graduated from mixes, enrolled in cooking and baking classes, and started baking on a regular basis.
Now that she runs her own cooking school and is recognized as one of the baking experts in the country, Chef Dorothy Ferreria returns to her childhood favorite and gives it a leveled-up gourmet interpretation. She combines leche flan with ube cake and tops it with macapuno strips. The thing about the recipe is that it works like magic. You make the caramel syrup, pour it in the rectangular mold, mix the flan, pour it over the syrup, whip up the ube cake, pour it over the still liquid flan, then bake. When you invert the cake, it's perfectly layered. The flan and the chiffon cake do not mix!
'UBE MACAPUNO LECHE FLAN' CAKE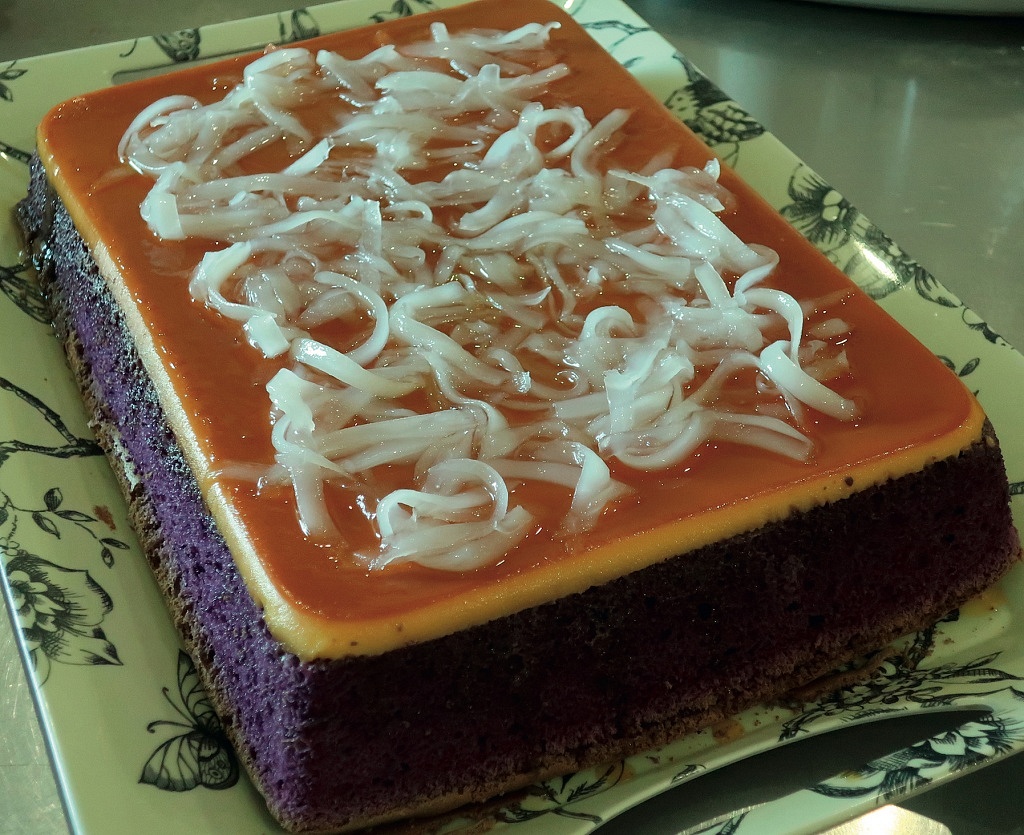 For the caramel:
1-1/4 cups white sugar
1/4 cup water
Pinch of cream of tartar
Preheat oven to 350˚F.
In a large frying pan, combine sugar, water, and cream of tartar. Mix well with a spoon, and then place over medium heat. Do not disturb the mixture anymore when it is already over direct heat. Allow to caramelize to a light golden brown.
Immediately pour caramel syrup into a 9×13-inch rectangular baking pan (three-inch high). With the help of a kitchen towel, tilt the pan so as to encourage the caramel to completely cover the bottom of the pan.
Set aside.
For the leche flan:
6 egg yolks
1 whole egg
1 tsp vanilla extract
1 cup evaporated milk
1 cup condensed milk
Combine all ingredients in a large mixing bowl. Mix well.
Strain the flan mixture directly into the caramel-lined baking pan with the use of a piece of cheesecloth or a fine strainer. Set aside.
For the chiffon cake:
2-3/4 cups sifted cake flour
2/3 cup white sugar
1 Tbsp sifted baking powder
1/2 cup corn oil
8 extra large egg yolks
2/3 cup water
1 tsp fine salt
4 tsp McCormick violet liquid food color
8 extra large egg whites
1/2 tsp cream of tartar
2/3 cup white sugar
For topping:
1 bottle macapuno preserve
Blend the cake flour, sugar, baking powder, corn oil, egg yolks, water, salt, and food color. Beat with a wire whisk until smooth and lump-free. Set aside.
In another large mixing bowl, beat egg whites and cream of tartar together using an electric mixer until mixture is frothy. Gradually add sugar while continuing to beat at medium speed until egg whites are stiff but not dry. Quickly but thoroughly fold egg yolk mixture into the beaten egg whites.
Carefully pour cake batter into the baking pan with the caramel syrup and leche flan mixture. Do not worry that the batter and the flan will mix. Due to the denser volume and heavier weight of the flan, it will sink to the bottom on its own. Do not tap the pan.
Bake for 1 hour and 25 minutes using a water bath. (Place baking pan in a larger tray pan with high sides, then pour hot water into the tray pan before baking.)
When done, allow the cake to cool in its pan together with the water bath.
Unmold cake carefully and top with macapuno. Chill before serving.
Photographs by Rafael R. Zulueta