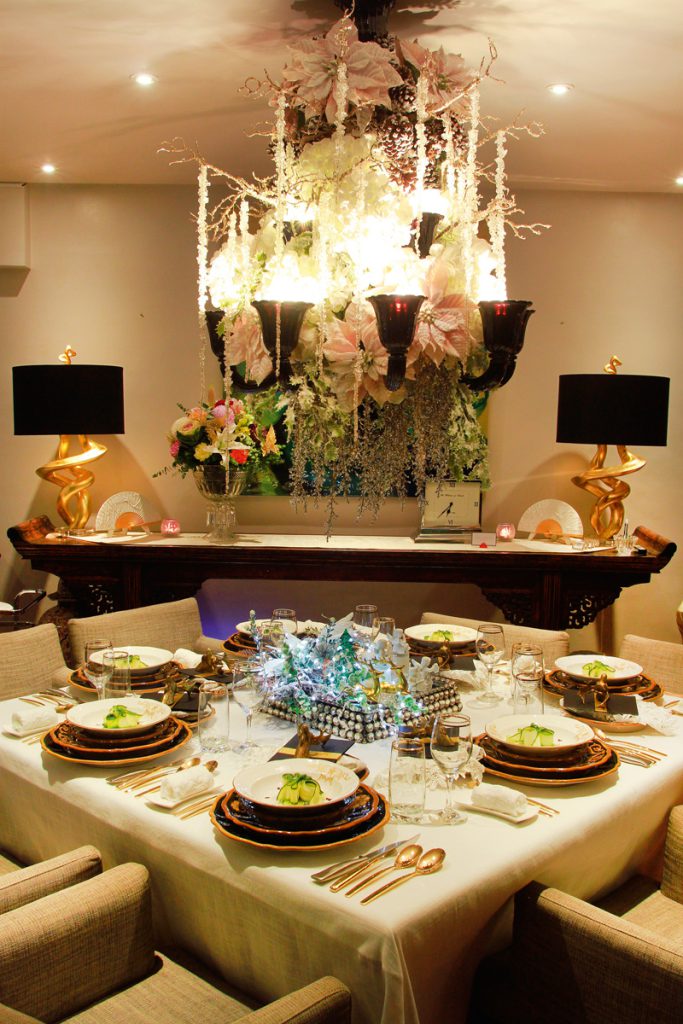 There's always something new and dramatic each time one is invited for a meal at the home of entrepreneur Baby Cruz-Vazquez. There's all that attention to detail, from the table setting and centerpiece, menu cards, name cards, and an appetizer bar, to a well-stocked pantry of china, stemware, silverware, table linens, choice wines, and a waiter at one's beck and call.
Before the rush of holiday parties, she and her husband, real estate developer Dr. Daniel Vazquez, hosted an intimate dinner for friends at their condominium. The table centerpiece was a gem-encrusted tray that sparkled with crystals and ceramic angels. The black-and-gold menu card picked up the colors of baroque-patterned plates.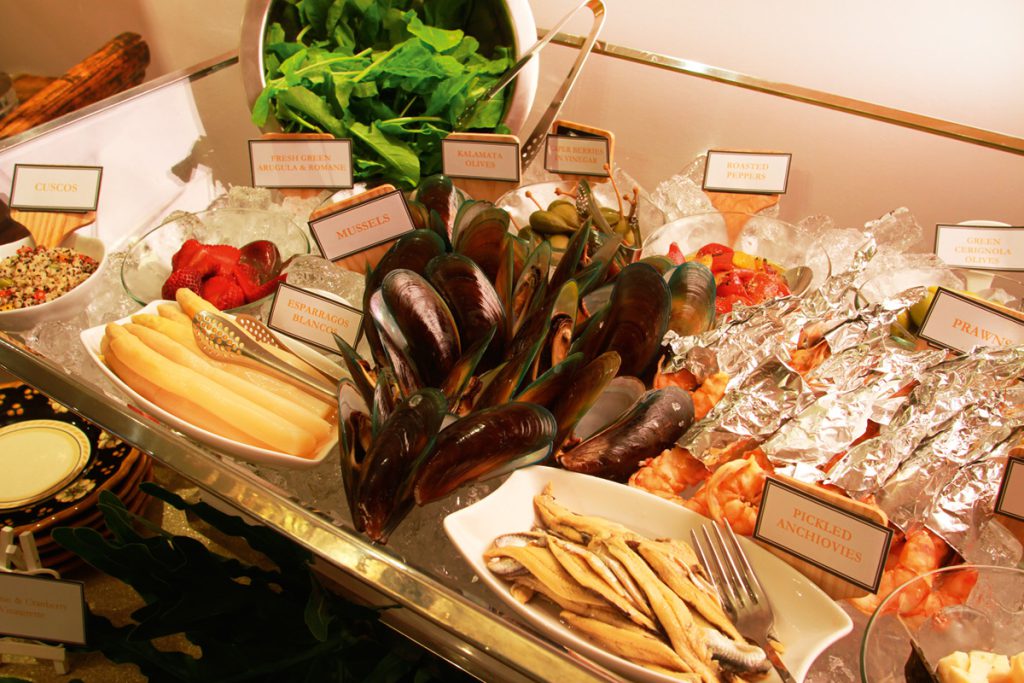 The main appetizer station and salad bar were arranged inside a glass aquarium filled with corn crackers, smoked salmon, and jamon Serrano flown in from Hong Kong for the dinner. The salad bar served the simplest but finest ingredients of clams, prawns, couscous, fresh green arugula and romaine lettuce, and condiments of pickled artichokes, caper berries in vinegar, kalamata olives, roasted peppers, white asparagus, green cerignola olives, marinated kesong puti, and pickled anchovies.
"That glass aquarium is a conversation piece. I've used it to serve dessert and cold cuts—anything on ice," said Vazquez.
The dinner began with zucchini soup with coconut milk, followed by salmon with pomegranate-balsamic glaze, roasted leg of lamb with aubergine and red cabbage slaw, and roast chicken stuffed with chestnuts. The dessert was homemade cranberry sorbet in sugar-laced pancakes.

For a dinner of six guests, Vazquez prepares two days in advance. Her assistant will ask the dietary restrictions of guests and if the companions prefer chicken, fish, steak, or lamb.
Last summer, the same group of guests had assorted cheeses and aubergine, truffle cream of mushroom soup, linguini with caviar, calamansi sorbet with orange essence to cleanse the palate, and a main course of baked sole fish fillet with butter caper sauce and Wagyu porterhouse steak with foie gras and artichokes.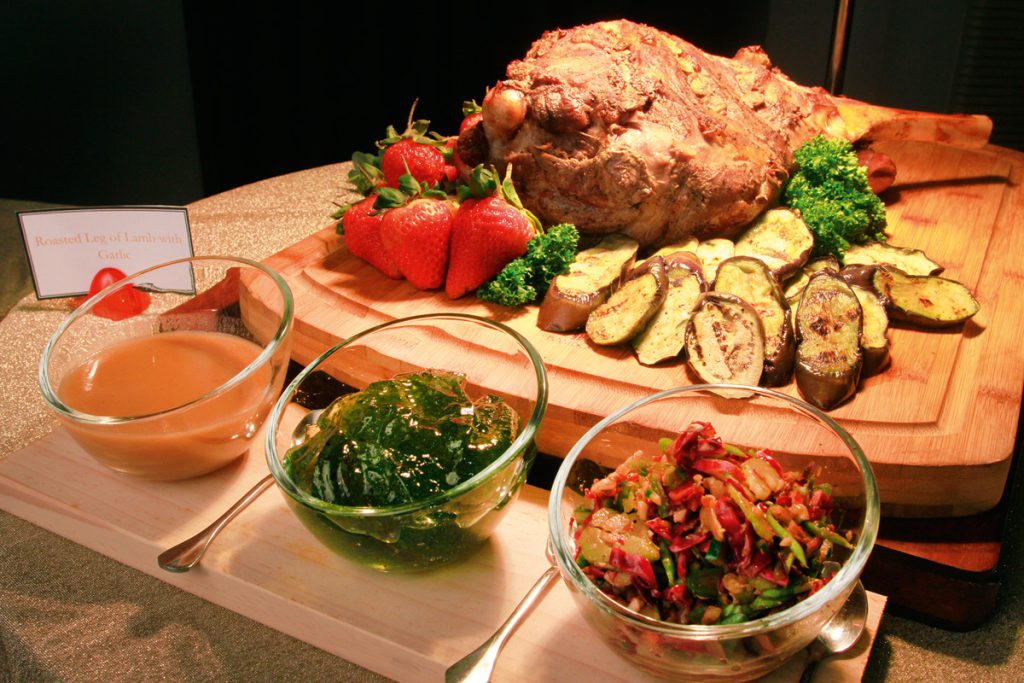 "Every time you eat here, you must remember something different," said Vazquez. "The most challenging part is preparing the quantity of food without knowing how much the guests can eat. I always make an excess so they can take the food home," she said.
Vazquez prefers cocktail parties where guests are free to mix. "In a sit-down dinner, it can be awkward to be seated beside someone you're not familiar with," she said.

She learned to prepare some foods in advance. In London, her husband would invite his colleagues for cocktails at home. At the spur of the moment, he'd request them to stay for dinner.
"I only had one maid and I was raising two children," she said. "It was a learning experience for me. But I always do everything with a passion."
Today, Vazquez has a staff and a catering service called Nana's Kitchen. The latter is more of a hobby rather than an income-earner. She teaches her recipes to the staff so that they can also make it their livelihood. They are often reminded that everything must be a work of love.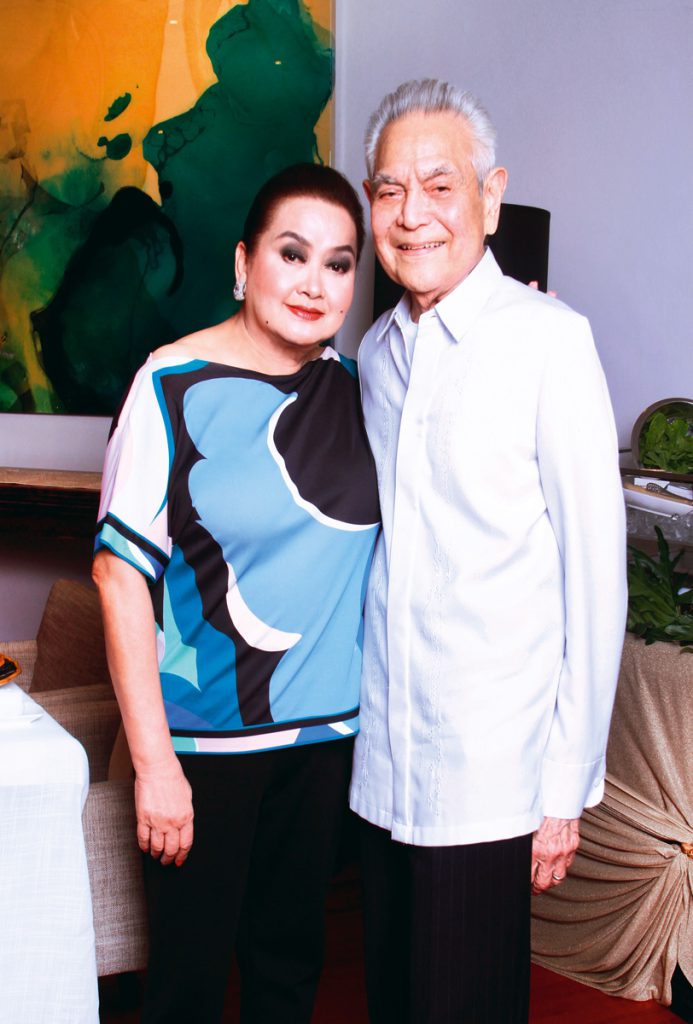 Vazquez said she always felt a sense of accomplishment after cooking, entertaining, and styling the table and the food stations.
"I feel complete when I know people are happy. When I become a memory, I want to leave the legacy of serving good food and the love that went into it," she said.
Photographs courtesy of Nelson Matawaran
Discover Vasquez's most important ingredient for an unforgettable meal inside the magazine, available in all leading bookstores nationwide or downloadable from Magzter.