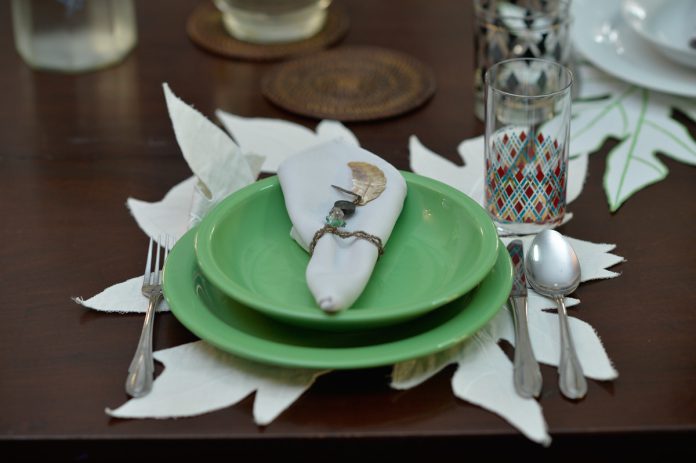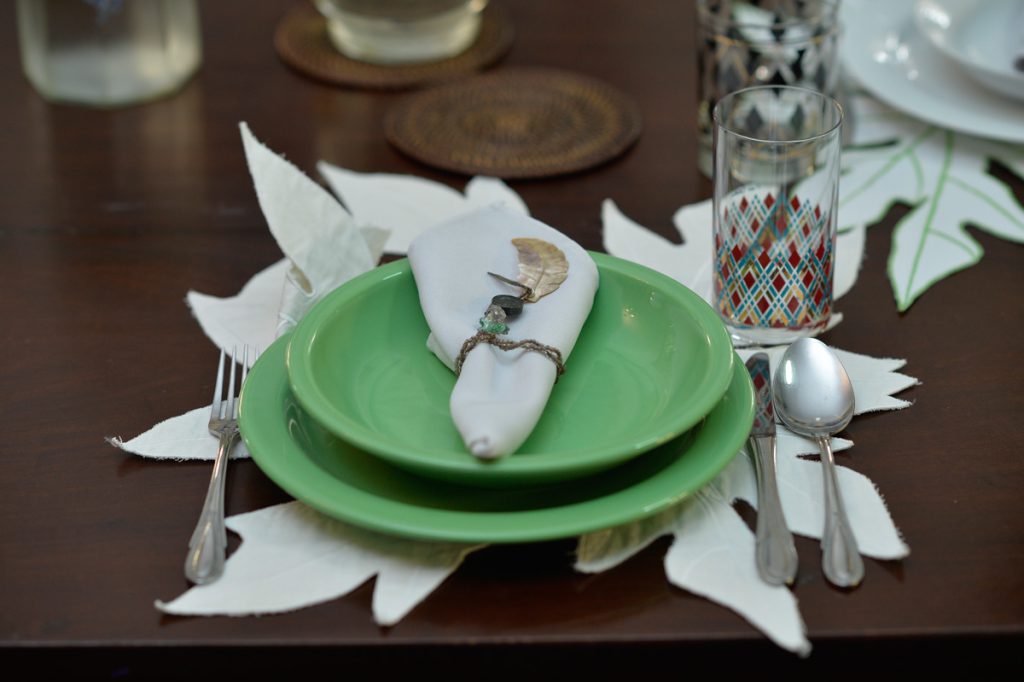 Author, culinary expert, and fashion designer Vicky Veloso-Barrera can transform a frozen turkey into a gourmet's delight. Baking the turkey need not be a long, tedious process. Her turkeys are tasty because the skin has been rubbed with soft butter. As it melts, it bastes the turkey to enrich the flavor. Then the high oven temperature lets the juices seep into the core of the fowl. While preparing the mushroom gravy, she lets the turkey sit so that the juices will flow to produce lusciously moist slices.
"I can make the turkey moist without necessarily following all the instructions on the package," she says. The turkey is stuffed with classic bread crumbs, apples, onions, and celery.
Vicky says she learned from her mother, couturier and culinary whiz Malu Veloso, whose dictum was to be prepared ahead of time to avoid stress. For the Asian Dragon interview, much of the menu was frozen to preserve the nutrients.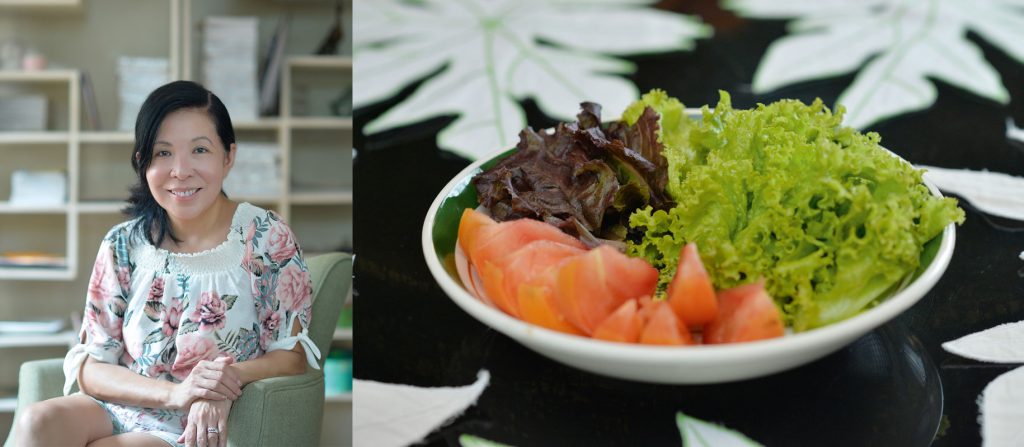 The hardwood table is adorned with leaf-pattern placemats from designer Karen Santos, while the plates and beaded napkin rings are gifts from in-laws. It is also laden with quiche (made from puff pastry, eggs, cheese, spinach, and mushroom), baked prawns, and chocolate mousse from her cooking school, Tiny Kitchen.
"I'm a lazy cook, so I make the menu simple and easy," says Vicky. Since she lost 16 lbs in three months, Vicky hopes to lose five more pounds by sticking to a salad for lunch, while everybody else at the table indulges.
Vicky's menu planning is effortless. She follows her heart if the theme is European or Moroccan. What keeps her busy is her Tiny Kitchen, a school adjacent to the house, that teaches children how to bake and prepare meals so that they can also entertain.
To make food attractive to children, she makes a visual pun out of tuna and cheese sandwiches. The olives are sliced into eyes, while red bell pepper strips shape the gills and green bell pepper slices make the tail. These same ingredients are used to make other animals as pizza roll-ups.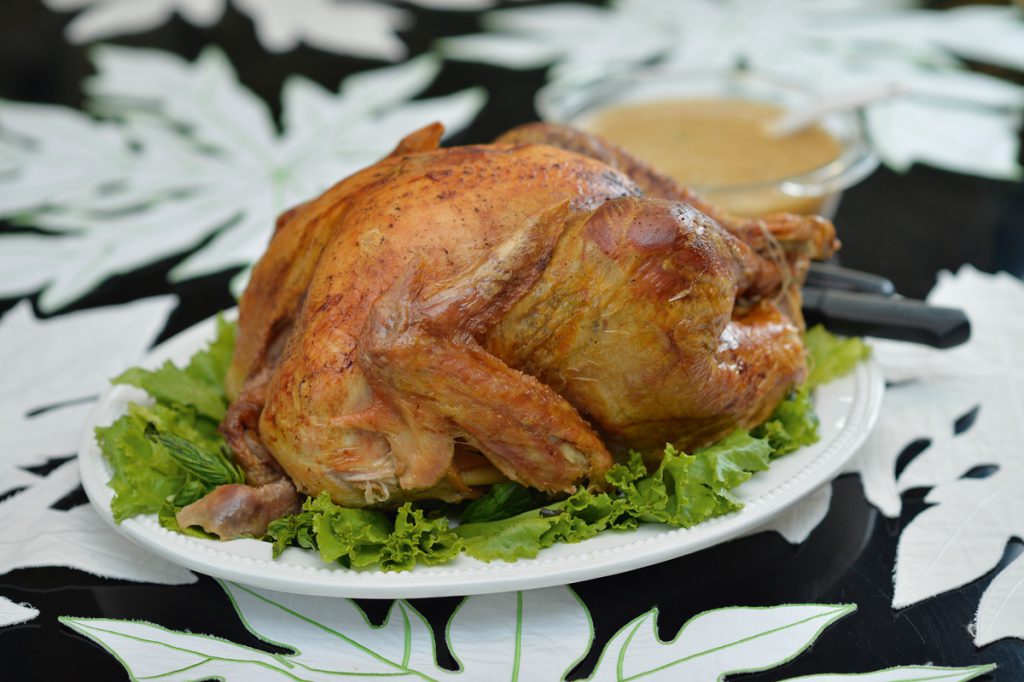 Still, the kids like making sophisticated things like macarons. "The secret is separating the egg whites properly and beating them well. It's one of our specialties. The children like to make chocolate ganache and meringue-based products. They can do sans rival. Just show them how to separate the egg from the yolk and don't overbeat. Add layers of butter cream," she says.
Vicky welcomes children even if they are autistic or have attention deficit disorders. Surprisingly, they perform their duties with flair.
Like the Velosos, who are involved in food, Vicky's family are foodies. Her husband, Roberto Barrera, sells Everyday Carry, complete meals prepared for the US Army. "We call ourselves 'preppers for preparedness.' We believe that doomsday is approaching," he says. The meals are vacuum-sealed and last for long a time. They are handy for long trips, mountain climbing or camping, and disasters when food is scarce.
Her children Hannah and Joshua studied cooking in childhood and joined the local version of "Junior Master Chef." The youngest, Justine, handles children from five to 13 years old. They learn to make baked chicken with chips, mini apple pies, lasagna, and cupcakes.

"The dishes are not difficult. The only challenge in the cupcake is pouring the batter into the cupcake liner," says Justine.
Vicky has written several cookbooks. From Vicky's Kitchen, Edible Gifts not only provides recipes for homemade delicatessen items, but also gives tips on the business side of cooking. Cooking for Two gives newlyweds easy-to-make recipes that can be prepared under 45 minutes. A Worldwide Feast presents 16 international menus for party planners. Kape: A Philippine Coffee Cookbook includes recipes using local coffee.
The most saleable are The Tiny Kitchen, which has user-friendly recipes for kids, and The Not-So-Tiny Kitchen, an extensive version that includes beverages, main courses, and desserts. "Cooking is a life skill which is ideal for children to learn," says Vicky.
Photographs by Paul San Juan
Learn how Vicky followed her heart with her career choice on Asian Dragon's December 2017-January 2018 issue, available for download from Magzter.