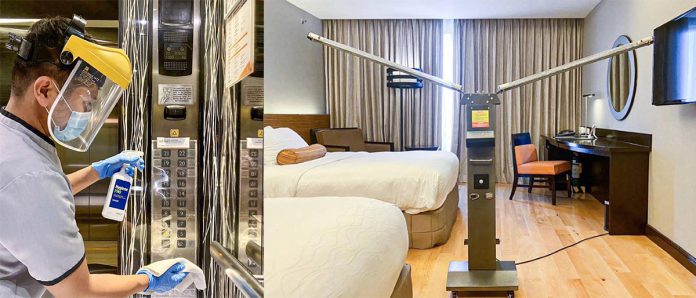 Government-mandated lockdowns and other restrictive measures heavily impacted the hotel industry. Corporate and social events were cancelled or postponed. As borders and airports were closed and airlines grounded, bookings from foreign guests were likewise cancelled. Only registered guests or those allowed by the Department of Tourism (DOT) could enter hotels.
As the quarantine was extended, there were huge losses in revenues. Hotels reacted quickly to keep business afloat.
By now, guests and hotel employees have been accustomed to the "new normal." They undergo the standard temperature check from the security officer upon entrance and follow other sanitation protocols. Markers for physical distancing have been set up.
Many of the facilities and services were suspended, such as the dine-in experience, the buffet, and the gym. Guests picked up their packed meals and ate them in their rooms. Rooms were made up only when the guest was absent. Surfaces and touchpoints were frequently sanitized.
To keep the kitchen busy, hotel restaurants opened their online menus. Contactless delivery and cashless payments became the norm.
Despite business issues brought about by the pandemic and the lockdown, hoteliers are optimistic as they pilot their way back to the "new normal."
DIAMOND HOTEL PHILIPPINES

Diamond Hotel operated with a skeleton force who volunteered to stay at the hotel to serve the remaining guests and to maintain the property.
To serve the local market, Diamond Hotel re-opened its online shopping site, www.onlineshopping.diamondhotel.com, which offers popular dishes and other gourmet specials. This provides a convenient way for guests to continue enjoying Diamond Hotel's meals in their home through digital payment and contactless pick-up of orders from the hotel lobby. Diamond Hotel Philippines is certified compliant to safety protocols for takeout and delivery services in keeping with the rules set by the DOT during the quarantine, says general manager Vanessa Ledesma Suatengco.
Employees and the in-house skeleton force received their full salary. The hotel had a minimal number of casual workers. Those who weren't on duty consumed their leave credits. To maintain financial security of the employees after the quarantine, the hotel will enforce flexible working arrangements, set by the Department of Labor and Employment (DOLE), such as work from home and work rotation.
Suatengco says the hotel continues to provide comfortable and hygienic accommodations in order to win clients' trust. "With redeveloped procedures, thorough preparation, and the cultivation of in-depth staff knowledge, they are reassured that we care for their health and well-being."
On the "new normal," hotel services will be enhanced to provide convenience and efficiency with minimal guest contact while keeping the customer's optimal experience in mind. This includes faster check-in/check-out process, digital payment facilities, and more stringent disinfection of rooms.
"Safety of the guest remains the foremost priority of Diamond Hotel Philippines," she says. "The hotel has always been strict about health and safety practices but during this time, the standards have become even more stringent."
Although the buffet service, a hotel attraction, is still not allowed, the hotel offers a la carte, set menu, and healthy selections. In social events, guest capacities will be limited in each venue, and banquet tables will be rearranged to observe physical distancing.
Nevertheless, the service from the heart will still pervade and shine through the masks despite the changes in guest experience. "Guests of Diamond Hotel Philippines are assured of anticipating the same—the heightened spirit of care they always look forward to at the Jewel by the Bay," says Suatengco.
MARCO POLO ORTIGAS MANILA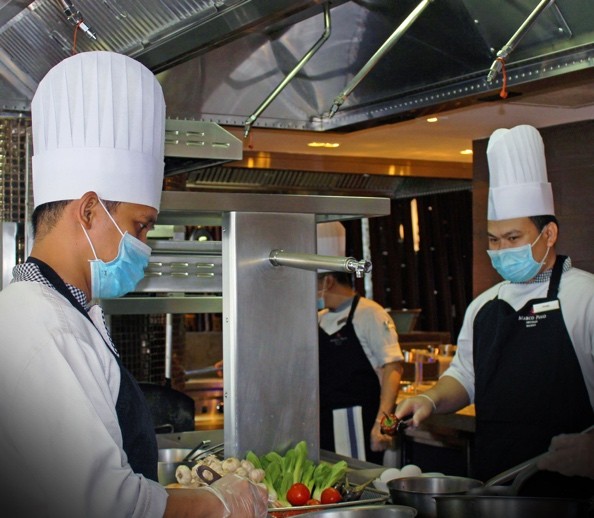 Despite the after-effects of the Taal Volcano eruption last January, the average occupancy of Marco Polo was a healthy 50 percent. During the quarantine, the hotel beefed up the food and beverage service with its Flavours to Go, a pick-up only service.
"Conditions have accelerated the need for agile business practices and creativity. We have to shift our team mindset beyond hotel conventions," says general manager Frank Reichenbach.
One example is how to hold events where people can enjoy without feeling uncomfortable about physical distancing. "We are exploring our al fresco areas as alternative venues in the future," says Reichenbach.
The employees were receiving their salaries and benefits until April. Reichenbach says the hotel has developed a recovery plan that has several phases, and takes into consideration the manpower. The hotelier says this is in line with the government's economic strategy to move forward.
ACCOR HOTELS (Raffles, Fairmont, Sofitel, Novotel, Mercure, Movenpick, Joy-Nostalg)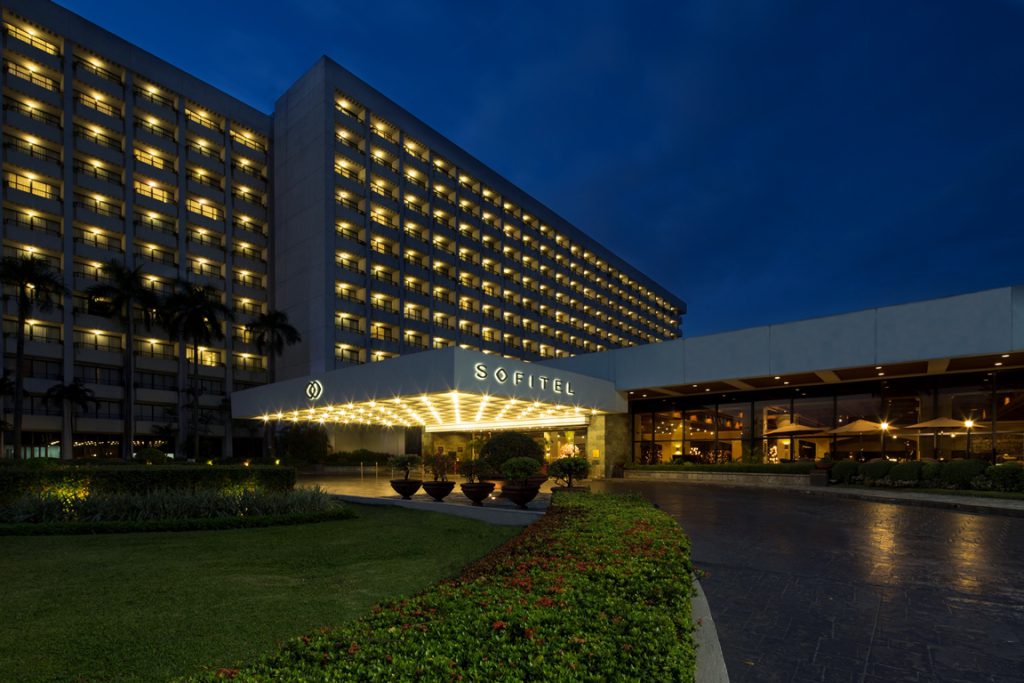 As of this writing, just over half of Accor Hotels, a French multinational hospitality giant, around the world have been shut down as a result of the pandemic. To aid its employees and partners, Accor developed the "ALL Heartist Fund" as a response to the disruptive effect of the worldwide lockdown. ALL Heartist Fund is a 70 million-euro grant program, sourced from the organization's planned dividends.
The fund will aid the Heartists among the over 300,000 network employees affected by the pandemic, individual partners, and front-line professionals. Those eligible are Accor employees who were temporarily laid off or terminated due to the outbreak. The fund provides financial aid for COVID-19 hospitalization, death allowance for those who don't have insurance, financial trouble due to reduced revenues, unemployment, and nutritional, health, safety, shelter, educational, and funeral expenses. Partners, who are in business with Accor hotels and are undergoing financial challenges wrought by the pandemic may also apply for a fund.
Accor is also raising the bar taking care of its guests. The ALLSafe Label is the new standard for cleaning and operational practices, created with and assessed by Bureau Veritas, a leading expert in testing, standards, and certification.
As another layer of protection, Accor established a partnership with AXA, a multinational insurance company, to enable guests to have free access to medical teleconsultation and AXA's global network of medical professionals.
"In an increasingly complex environment, our 300,000 team members on the ground will be able to assist our guests and ensure their safety during their stays, turning our hotels into shelters," said Sebastien Bazin, chairman and CEO of Accor. "This initiative combined with our ALLSafe enhanced hygiene protocols will be the key to rediscover the Love of Travel in the 5,000 Accor properties around the world."
THE BELLEVUE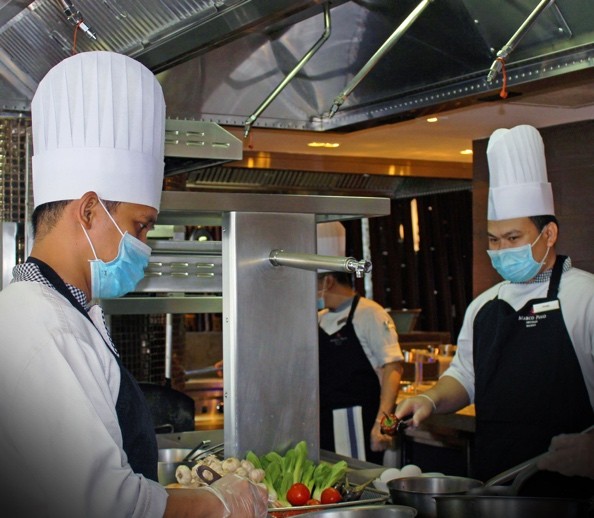 Business was slow in the first quarter of 2020 as the ashfall from the Taal Volcano eruption drifted to the hotel last January. Fears of the corona outbreak also intimidated the Chinese market, which usually spends Chinese New Year in the Philippines.
"The occupancy from other markets continued to dwindle despite the surge of BPO (business processing outsource) group bookings from March 15 onwards. That didn't compensate for the low turnout of bookings during the first two weeks of March," says general manager Patrick Chan candidly on occupancy. "The overall occupancy from January to March 14, 2020 was 17 percent lower compared to the same period last year."
Despite the two-month quarantine, business started picking up. Room occupancy and revenues improved compared to the pre-lockdown period. The Alabang area is surrounded by BPOs.
Many employees were booked at the hotel. "Our staff and other departments were required to use up their accrued vacation credits since our hotel was turned into a temporary shelter for BPOs with restricted operations within a 2-km radius from our hotel," says Chan.
The food and beverage business flourished in Muntinlupa. "Our online food delivery was a hit," says Chan, citing the Pastry Corner bakery, Phoenix Court Chinese restaurant, and the all-day dining, Café de Asie. "Even the produce from my father's farm became an online food delivery option," he says.
Before the virus outbreak, Bellevue was being prudent with business. It had implemented cost-cutting measures to buffer the impact of the Taal Volcano eruption. Funds that were originally reserved for certain initiatives were reallocated to maintain sufficient cash flow.
"DOLE's labor advisories became our bible in managing our workforce," explains Chan. "Flexible work arrangements such as reduction of work hours, rotation of workers, WFH arrangements for some qualified sections were offered. Our employees received corresponding salaries based on the number of days that they worked, and their benefits were not so much affected. Payment for existing loans was deferred and all leave credits were allowed to be used. Likewise, we enrolled them in the DOLE CAMP (COVID-19 Adjustment Measures Program) and SBWS (Small Business Wage Subsidy) Program of SSS (Social Security System)."
Part of the hotel's economic recovery is to explore other revenue streams. "How quickly we adapt to the new normal is crucial as we navigate these unchartered waters. We need to focus on what markets can be tapped given the uncertainties and restrictions on travel and tourism," Chan says.
Seda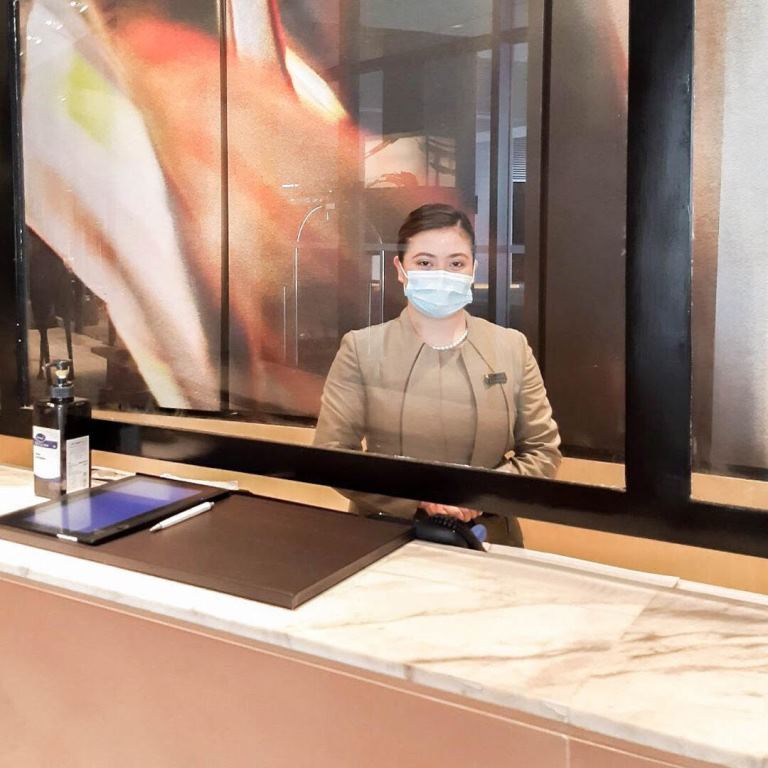 During the lockdown, nine out of the 11 hotels of the homegrown chain Seda were operational. However, Seda Lio in Palawan and Seda Centrio in Cagayan de Oro were temporarily shut down due to local legislation and market requirements, says Andrea Mastellone, senior group general manager.
The nine properties in operation accommodated guests who were classified under the guidelines set by the DOT, long-staying guests, employees from neighboring establishments, repatriated distressed OFWs (overseas Filipino workers with valid legal cases with employers), and stranded passengers.
The hotel exercised flexible booking arrangements and waived cancellation fees up to 24 hours before their arrival until Dec. 30, 2020.
"Members of our guest loyalty program, Seda Edge, also enjoy an extension of deadline for using their e-vouchers and keeping their membership level and status," says Mastellone.
The chain has established initiatives in managing revenues and costs. "We have ensured that our employees were taken care of throughout the community quarantine. While the business pick-up will be gradual, we are positive that the situation will improve. We will continue to fulfill our responsibility to our employees as one of our stakeholders," says Mastellone.
GRAND HYATT MANILA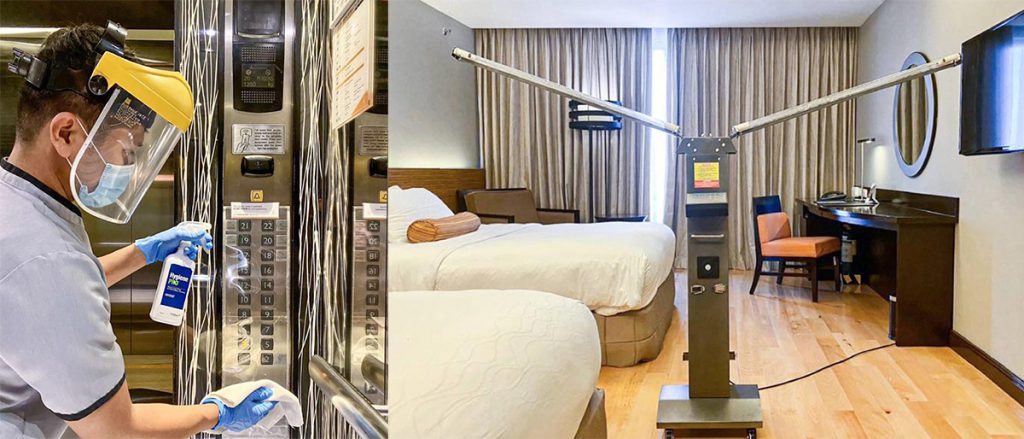 The hotel posted a 20 percent decrease in expected occupancy in the first quarter due to the Taal Volcano ashfall which reached BGC, and the reduction in number of Chinese leisure travelers due to the pandemic.
Despite cancellations for reservations, Grand Hyatt Manila sustained its business with BPO partners by providing rooms and limited F&B services. As in other hotels and restaurants, it presented food specials for pick-up or delivery. The skeleton workforce stayed at the hotel during the quarantine period for safety measures.
"It was of extreme importance to the Hyatt and our owners that our well-skilled workforce was maintained and that full basic pay or compensation was received during this challenging period," says general manager Gottfried Bogensperger.
The hotel takes pride in being ISO 22000-certified, a standard of quality management, such that it was prepared to deal with the crisis. Bogensperger cited the Hygiene Top 20 standards such as automated sanitizing stations and clear markers for physical distancing in public spaces. There are two teams for guest room cleaning to avoid cross-contamination between rooms and guests.
"A compulsory 30-second hand wash for all associates has been introduced," he adds.
The hotelier believes that because the hotel has shown concern for the welfare of the employees and their families, they are cooperative in adjusting to the new developments and change of work flow, participate in multi-faceted opportunities, and tackle new challenges.
"We retool and train our associates with the new skills required so that they become more confident, flexible, and multi-skilled, and can be redeployed in different areas in the organization," says Bogensperger. "Protecting and maintaining such a skilled workforce becomes of utmost importance. We certainly know that our customers are appreciating such multi-skilled talents with a can-do attitude. In return, they are more willing to support and appreciate our services and offerings. We are proud to say that they all have received their full salary compensation until now."
CONRAD MANILA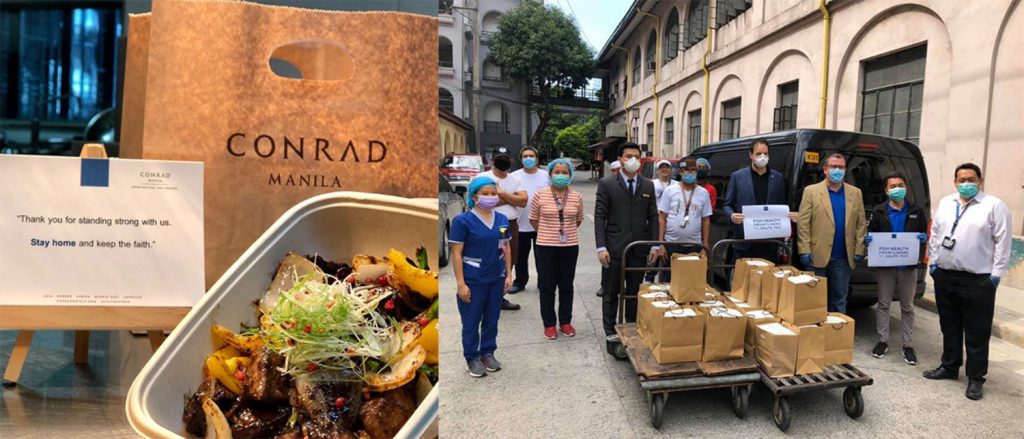 The hotel was optimistic at the start of the year, following 2019 business performance in room revenues and strong growth in average daily rates.
During the quarantine, the hotel provided rooms for doctors and medical front-liners, aside from the distressed OFWs, BPO employees, and guests endorsed by the DOT and the embassies.
The local market could order and pay online items from the hotel's Signature Takeaway Menu of all-day dining Brasserie on 3 and China Blue by Jeremy Leung.
During the quarantine, the skeleton workforce consisted associates from the Front Office, Reservations, Housekeeping, F&B, Security, Finance, and Administration.
"Team members, who have manned the hotel since then have been provided with in-house accommodations, daily meals, health and wellness activities. All team members have enjoyed other benefits within the guidelines of the DOLE," says Michael Albaña, commercial director.
He adds that the staffers are guided by the corporate values of its operator, the global hospitality group, Hilton. These values are summarized in the acronym of HILTON (Hospitality, Integrity, Leadership, Teamwork, Ownership, and Now).
Conrad Manila aims to maintain its brand of friendliness in an increasingly technological world. "'Thriving in the 'new normal' takes a deep meaning in process management, resources mobilization, and guest services delivery without sacrificing our unique brand promise of being 'the light and warmth of hospitality.' Digital connectivity increased efficiency and effectiveness," Albaña says.
He notes that since the team members are the key assets, the hotel has provided programs for their mental well-being. "E-learnings for mental strength and for skills e-tooling were made more accessible, especially to those working from home. Recognition program initiatives continued to be observed, heightening teamwork and camaraderie. Zoom meetings were optimized for professional and personal updates. Surveys served as good tools for feedback and constant communication. Virtual coaching continued within functional teams. New roles emerged among team members, revealing new capabilities and expertise of our talent pool," he says.
The hotel upped the ante of its "Travel with Purpose," Hilton's corporate social strategy in making the operations more sustainable, reducing the carbon footprint, and serving the community.
During the quarantine, Conrad Manila provided weekly food packs to front-liners—at the Philippine General Hospital, and for the security forces around the Mall of Asia.
"Soap for Hope" continues its a drive to collect used soaps to be donated to women in underprivileged communities. The women are trained to recycle the soaps for their livelihood. With NGO partner Rise Against Hunger, the hotel has maintained food packing meals to be donated to pregnant women and children in low-income areas.
Albaña quotes Fortune Magazine that the Hilton International has been on the list of Great Places to Work. "Conrad Manila, part of the Hilton luxury brand, lives and leads the principles of this international reputation in terms of providing our team members with an excellent brand that is both professionally and personally rewarding—then and beyond the ECQ period," he says.