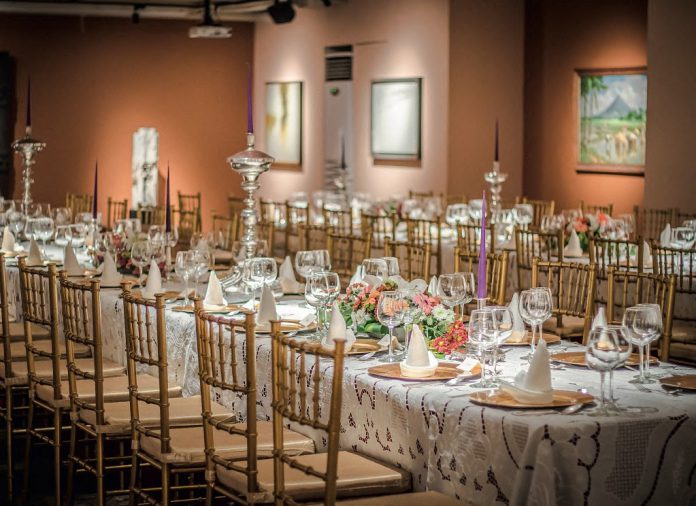 Gallery owner Jaime Ponce de Leon called the attention of a gofer: The vintage BenCab work was not in the right position. The walls of Leon Gallery and Auction House were filled with new artworks, such as Manuel Ocampo's political satire on the dollar bill; a Mayon Volcano landscape by Fernando Amorsolo; Fernando Zobel's abstraction; an early cubistic work by Ang Kiukok; a Lao Lian Ben sculpture; and a work similar to Juan Luna's Spoliarium by Antonio Dumlao.
Leon Gallery has been known for historical and museum-quality Philippine art and antiques and was named one of the top 250 auction houses in the world by Blouin Artinfo, a respected global source on art news and appreciation.
Meanwhile, men from La Tasca were setting the tables for a dinner. De Leon's go-to stylist, Paolo Del Rosario, had just finished his floral arrangements for a centerpiece. Although the linens and tableware were provided by the caterer, De Leon included his collection of antique silver candelabras with candles from AC+632 store.
De Leon frequently entertains at the gallery during auction previews and special occasions, when the number of friends and clients can't fit in his residence.
"The gallery entertains because we believe that knowing how to live is also a vital part of the business. We sell beauty, especially decorative arts. Knowing how to use the things we sell is important," said De Leon. "Likewise, we always observe reciprocation. I know some people who make it a rule to only invite people who invite them." For intimate dinners, De Leon and his partner, Robert Santos, invite a maximum of 12 to their 400-sqm apartment along Roxas Boulevard.
The interiors reflect his time as a decorator, he said. De Leon drew inspiration from such iconic decorators as Mario Buatta and his richly glazed walls, plump upholstered furnishings, and pattern combinations; Italian polymath Carlo Mollino's sense of mystery; Cuban-French architect Emilio Terry's mix of classical and baroque; and French designer Georges Jeffroy's penchant for rich textiles.
"At home, everything is ours—the food, silver, china," he said. De Leon and Santos collect china sourced in auctions and flea markets. Some chinaware is antique, while others are Art Deco and mid-century. He uses different silverware, either Spanish or English. "We change the styles so that they are neither too classical nor too contemporary," he said.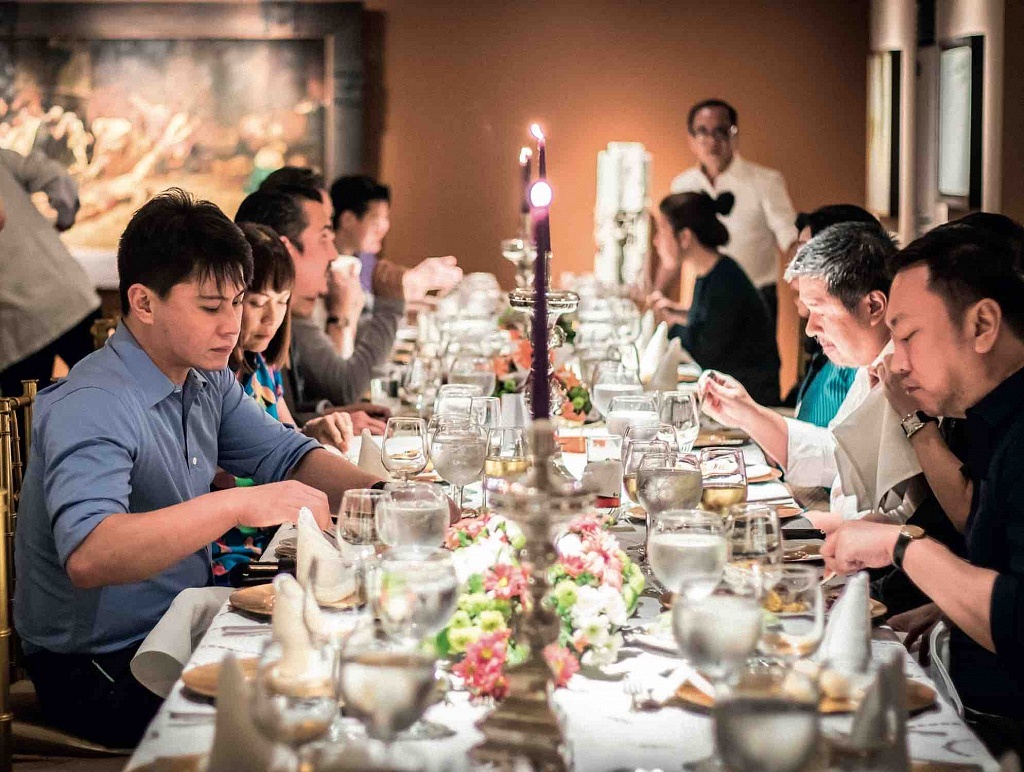 The dining table, made by the late furniture maker Osmundo Esguerra, complements the modern Italian dining chairs. The dining set is next to the 19th-century buffet table with a marble top from the Paterno family.
Then they consider dietary considerations and decide on the cuisine. A Filipino theme will include halaan soup and local vegetables, while a Spanish theme will offer callos and paella. The desserts will always have De Leon's favorite fruit, mango, as a main ingredient.
The constant fare in their cocktails is the jamon de jabugo, which De Leon brings home from Spain. The meals are cooked by Santos' family cook named Buboy. "He can give any chef a run for his money," De Leon said.
The guest list usually consists of collectors, art connoisseurs, designers, historians, artists, diplomats, visitors from overseas, and friends. "When people entertain us elsewhere, we reciprocate," he said.
De Leon said his foray into the art world has been a long climb. After studying business management in Dumaguete's Silliman University, De Leon worked in sales for Megaworld, then moved to Malaysia to handle real estate.
Following his instincts, he returned to Manila and took up interior design at the Philippine School of Interior Design. Since art is part of the decorating, it was inevitable that De Leon ended up in that field. He took further education in art law at Sotheby's New York, took up business strategies in Harvard, art courses at Central Saint Martins, and system design at the University of Arts in the UK.
Starting out in the art world was a challenge. "I came from Dumaguete. Nobody knew me in Manila. People tend to be skeptical when you are new in the trade." One day, he was selling Fernando Zobel's abstraction, what he considered one of the most beautiful in the "Saeta" series.
Done in the late '50s, the "Saeta" artworks were inspired by Zobel's stay in the United States, where he saw the emergence of American abstract expressionism. The theme of the "Saeta" series was movement, rendered in surgical glass syringes to create fine lines on the canvas.
However, somebody declared the painting a fake. "It was the talk around town that Jaime Ponce de Leon was selling fakes," he recalled. He was vindicated when Zobel's niece, Georgina Padilla Zobel de Ayala, bought it, claiming that it was indeed her uncle's work.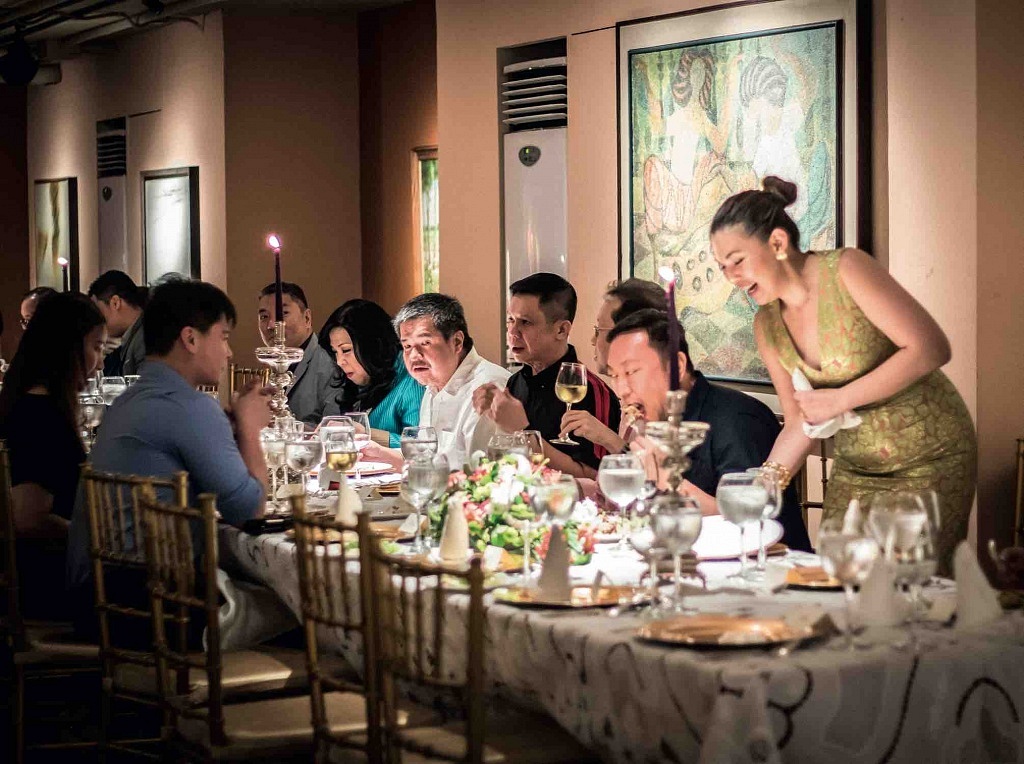 Aside from the gallery in Euro Villa, De Leon also ran another gallery in Corinthian Plaza. Leon Gallery went into partnership with Gagosian Gallery last year, the world's biggest gallery, for another gallery at Corinthian Plaza.
Asked if there was a market in the Philippines for international art, he replied, "Everything is a gamble." On Leon's reputation as being the only Filipino auction house in the list of the world's best, he modestly explained, "Success happens over time. We have international presence and, probably, the volume of sales. We get featured in auction databases. Our market has grown organically." Moreover, it has had records of selling the highest for a single lot at auctions in the Philippines. The items are purchased by Manila's prominent families and avid collectors.
"Word of mouth is important in this type of business," he said. Moreover, the gallery maintains the confidentiality of consigners and has earned their trust. "It's a good market when we do business with the same people we've been working with since we started in 2013," said De Leon.
"It would be great to see new art whenever we entertain at the gallery. People will always expect something knew. When I see collector Paulino Que, he asks, 'What do you have for me?' I'm still a dealer at heart."
Photographs by Paulo Valenzuela