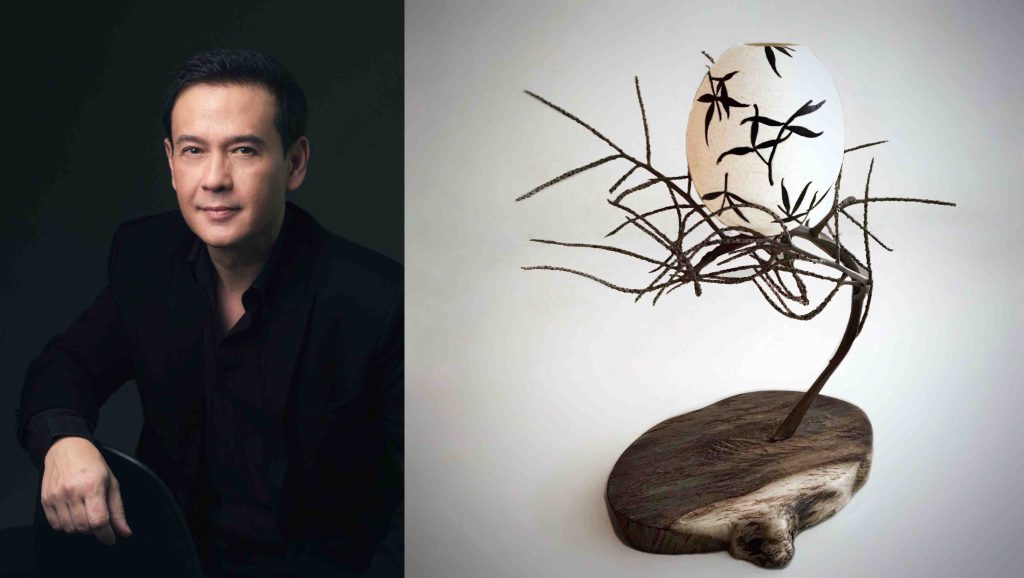 While some people were on tenterhooks, uncertain about their future during self-isolation, others saw it as an opportunity to get in touch with their creative instincts and use the time to discover possibilities. American neuroscientist James Doty describes this as finding "purpose," using one's potentials to benefit others, and "meaning," the gratification derived from fulfilling the purpose.
Wildlife in the city
Dennis Valdes, president of real estate company Alphaland Corporation, juggles working from home and communing with nature. Every day, he monitors and motivates the staff from Alphaland's properties—Balesin Island, Aegle Wellness Center, The Alpha Suites Hotel and the City Club—to be productive.
Still, throughout the extended community quarantine, he has been taking his Facebook friends to another world by posting animal life in the city.
Valdes has been taking photographs since high school, and has contributed to a weekly magazine. Fifteen years ago, he ventured into nature photography while on a safari with his wife, Tessa.
"I've realized that animals can convey unique messages in their expressions and actions," says Valdes, whose challenge has been to photograph the "moment" instead of pretty images.
During the first few days of the lockdown, Valdes, a diver and former water hockey player, was anxious to find some form of exercise. Fortunately, he lived close to Manila Golf Club, which allowed members to walk around the fairways for as long as they followed physical distancing rules. He and Tessa made it a ritual to stroll there during sunset.
"After a few days, I realized that the birds in the golf course were quite active. I decided to bring my camera. I've been lucky to witness some interesting bird life in the past month, such as the runaway cockatoo that hung out with two crows like a gang of two black birds and a white foreigner," he says.
Valdes has posted a kingfisher perched imperiously on a rock and on a red stake, a trio of cane toads emerging from a pond, a pair of parakeets camouflaged among the branches and trees, a squirrel clinging to a trunk and wagging its bushy tail. Valdes' images showed netizens that there is an ecosystem in the middle of the city, and the possibility that nature and urban life could co-exist.
A kingfisher perched imperiously on a rock and on a red stake
"The best part of walking around and taking pictures is that you never know what is going to show up," says Valdes. "Photography is a great way to learn patience, more so nature photography. You cannot walk up to an animal and get it to pose; not even a house cat does that. It demands preparation, speed and the realization that serendipity plays a big role. Isn't that just like life? We study, we work, we try to be the best. Yet, after all is said and done, luck plays a big part in success. Photography is a mirror of life."
Our daily bread
Monica Guevara dela Cruz sits as a director of family-owned businesses, which include an insurance company, a wealth and finance assistance institution for OFWs, and Avis Rent-a-Car, to name few. She is also a director of iWant to Share Foundation which helps indigent children with cancer.
Deep in her heart, though, she had always wanted to become a baker and a pastry chef. Last year, she took up a diploma course on pastry art at Enderun College and went to a boot camp on artisan bread at the Institute of Culinary Education in New York City.
The extended community quarantine freed her from responsibilities of work and charity, and enabled her to apply the baking techniques that she had learned.
Dela Cruz wasn't planning to make a business out of it. When she posted her products on Instagram, she received inquiries. Her first order, glazed raisin bread, eventually became the house specialty. In a month of the lockdown, she has been baking an average of 30 breads a day. The demand has been for pan de sal, dinner rolls, and banana bread.
"People can't get their breads from the supermarket. It has become a necessity," she observes.
Dela Cruz is proud of her innovation, the ubebae babka, a sweet braided bread. This specialty of Jewish origin is traditionally made with chocolate and nuts. The baker localized it with her own purple yam jam and cheese.
Baking has cultivated her perseverance. "Bakers don't like to bake during summer because the dough tends to get soggy. The house has to be cool. In our humid climate, I have patiently watched the dough rise. I put my whole heart into it because there's no distraction from work," says Dela Cruz.
"I've been praying before and after I bake. I offer the breads to the Lord. We are here to please Him and men. When I retire, I plan to put up a bakery or café."
Power of painting
Since Taal Volcano erupted last January 12, painter and hotelier Michael Anthony Sagaran documented its phases until the 60th day.
While fulfilling his duties as the marketing communications manager of Taal Vista Hotel at home, Sagaran, a fine arts graduate, had the luxury of time to pursue his passion project. He was finally able to use the paints and brushes he had collected from his trips to create the Taal Volcano 2020 series.
In the past month, he painted Taal Volcano from the first day of eruption to its present quiet stage. "The self-isolation provided more quiet time to meditate, get in touch with my inner being, and visualize what I would paint first for the series, the choice of colors and the brush strokes. I wanted future generations to witness the life-changing event of the volcanic eruption through art," says Sagaran.
He adds, "Art for me is like meditation. While painting, I get to connect ideas and bounce back strategies that I can implement with my colleagues in Taal Vista Hotel—my industry is one of the hardest hit."
In the first four weeks of the lockdown, Sagaran completed five small and medium paintings and a 36" x 42" painting, capturing the first day of the eruption—a dramatic depiction of 1,000-m ash plumes that pierced the sky, and the ash-covered surroundings. Then there were phases when mud covered the land as the rain washed away the ashes. The later paintings revealed greenery as the alert level was downgraded to 1.
The painter has enough canvases and paint to document Taal Volcano and the changing colors and clouds at different alert levels if the lockdown is extended.
Sagaran has been posting his works on the Taal Volcano eruption to remind people that, like the natural disaster, the pandemic comes in phases and will gradually subside.
"Through this process, I realized that we have the power to contribute, in our uniqueness," he says.
Self-development
Monique Toda, director of communications of Raffles and Fairmont Hotels, always wanted to take a break from the frenzy of life. "The weekends were too short and that I needed time for myself. Voila! I'm savoring every moment of my life," she exclaims.
In her Philippine Star column, "All in My Head," Toda guided readers through finding purpose and meaning in the lockdown. The essay outlined the activities that kept her productive and well-groomed, even at home.
She kept herself stimulated through MasterClass.com, online classes by celebrity experts. Toda cites Canadian novelist Margaret Atwood, who shared techniques for creative writing and style—with a dash of humor—and emphasized the importance of research. On "Creativity and Leadership," Vogue editor Anna Wintour said her bigger role in society was not only to champion fashion as art, but also to use her influence to call attention to social and political issues.
"The Science of Wellbeing" by Prof. Laurie Santos debunked myths about happiness derived from "a good job, lots of money, awesome stuff, true love, the perfect body and perfect grades." True happiness stemmed from "kindness, social connection, time affluence, mind control, healthy practices."
Says Toda, "It resonates during our 'life in the time of corona,' so we can reflect on what is truly important to us. Perhaps we are given this time in order to look inwards and recalibrate our lives."
Her recent column advised that escapism through the distraction of beauty and grooming is one method to cope with the exasperating lockdown. Toda reveals the beauty secrets of Korean celebrity endorsers for personal care brands, and reminds the readers that looking good during isolation makes us feel good.
Toda has other life-changing practices, such as starting the day with meditation and keeping a daily digital journal. They have increased her positivity and allow her to be present in her own achievements.
"I realized that I'm an optimist. Still, I worry about people around me and the global pandemic. I do what I can, then make an effort to overcome these feelings," she says.
From junk to treasure
Singer-director Raymond Lauchengco can't keep still, even just to watch a movie. When projects went limbo for artists during the ECQ, he had to keep himself busy.
Lauchengco has been accumulating found objects such as wine bottles, driftwood, metal parts, concrete rubble, salvaged pieces from nature which have the potential to become works of art. Friends, who know his knack for turning junk into treasures, give him discards such as liquor bottles.
During the lockdown, Lauchengco embarked on "Quarantine Projects," where he produced decorative objects from recycled materials. Comments from friends in Facebook said he could make an exhibit from these "treasures."
An ostrich egg nestles on branches emerging from a tree stump; a piece of driftwood is adorned with blue glass shards; old bottles are cut into vases; an egg painted with bamboo motifs is perched on a slab of wood; a broken candle holder is repurposed into a vase with a wooden base.
Netizens encouraged him to put up an exhibit of the "Quarantine Series." Meanwhile, other friends were inspired to try DIY decorative projects, as well.
"Making these artisanal pieces puts me in an introspective state of mind. I'm in a silent conversation with myself for hours. That simple act of talking to myself puts me tune with what I am inside. Sometimes I'm surprised by the things that I discover about myself," says Lauchengco.
"There's a saying that in difficult times, you discover things you can do that you never thought you could. I woke up on Day One of the lockdown and started carving, chiseling, drawing, designing and sanding, smashing and taking things apart and putting them back together in different ways. At first, it was just to keep from getting bored. When I started to see the pleasing results, I took it up a notch for every piece that followed."
Ultimately, Lauchengco says, he has found his ikegai, the Japanese word for purpose, or the reason one is motivated to get up in the morning.