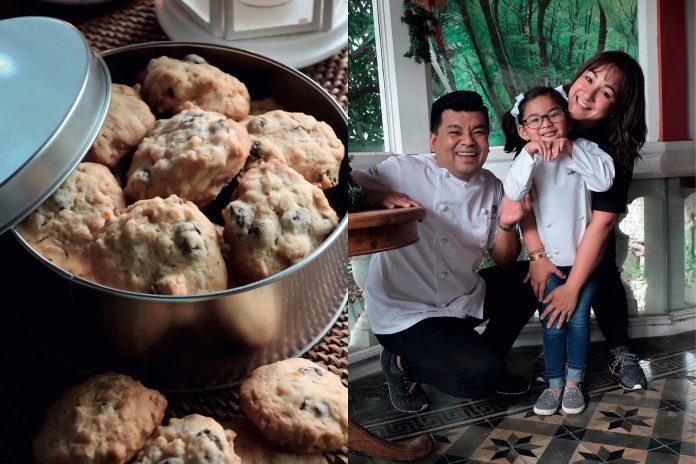 For the husband-and-wife team of chefs Gino Gonzalez and China Cojuangco-Gonzalez, along with their four-year-old daughter Lucia, family time is given utmost importance.
Menudo Sulipeña, a recipe shared by Gino, is often on the Gonzalez table, while chocolate chip cookies form part of China's fondest childhood memories. "Lola lived in Guadalupe when we were young, and whenever we visited her, the kitchen would always have jars of cookies, which we were free to open and partake of whenever we wanted," explains China.
MENUDO SULIPEÑA
A staple on the table spread of the Gonzalezes, it has become a favorite of Gino and China.
1 kg oxtail, cleaned and washed
2 tbsp butter
4 tbsp olive oil
1 head garlic, chopped
1 pc medium-sized onion, chopped
3 pc red and green peppers, seeded and roasted
1/2 tbsp paprika picante
1/2 c ham, cubed
1/2 c chorizo Bilbao, sliced
1/2 c tomato sauce
1 tbsp tomato paste
1/2 c cooked garbanzos (chickpeas)
3 tbsp brandy
Salt and pepper
Pressure-cook oxtail for 20 to 25 minutes or simmer with enough water to cover until tender. Set stock aside.
In a casserole, heat butter and olive oil. Sauté garlic and onion, then add red and green peppers and paprika. Stir-fry 2 to 3 minutes. Add oxtail, ham, chorizo, tomato sauce, and tomato paste. Pour in stock and simmer over low fire for 10 minutes. Add garbanzos and brandy. Season with salt and pepper.
CHOCOLATE CHIP COOKIES
China's favorite cookies are the perfect sweet treat for family bonding.
2-1/2 c all-purpose flour
1/2 tsp baking soda
1/4 tsp salt
1 c dark brown sugar, firmly packed
1/2 c white sugar
1 c salted butter, softened
2 large eggs
2 tsp vanilla extract
12 oz chocolate chips
Preheat oven to 300˚F.
In a medium bowl, whisk flour, soda, and salt. Set aside.
In a large mixing bowl fitted with paddle attachment, blend sugars. Add in butter and mix to form a grainy paste.
Add in eggs and vanilla extract, and mix at medium speed. Do not overmix.
Add the flour mixture and chocolate chips and blend at low speed. Do not overmix.
Drop by tablespoons on an ungreased cookie sheet, 2 inches apart, and bake for 22 to 24 minutes or until golden brown.
Transfer cookies immediately to a cool surface.
Yields 3-1/2 dozen.
Food photographs and photographs of the Gonzalezes by Dolly Dy-Zulueta