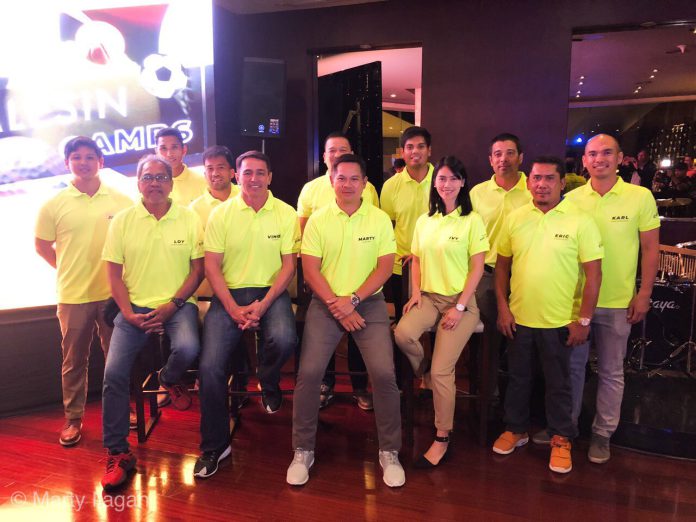 Summer is fast approaching and what better way to get kids to reduce their "screen time" and go out and be active, than by getting them into sports?
Balesin Island Club, in partnership with San Miguel Corporation (SMC), is offering up a worthwhile and memorable summer vacation for kids and the whole family with its first-ever Summer Sports Camp from April 1 up to June 28, 2019.
An all-star roster of expert coaches and instructors will teach basketball, tennis, baseball, and soccer to kids aged eight to 18 years old.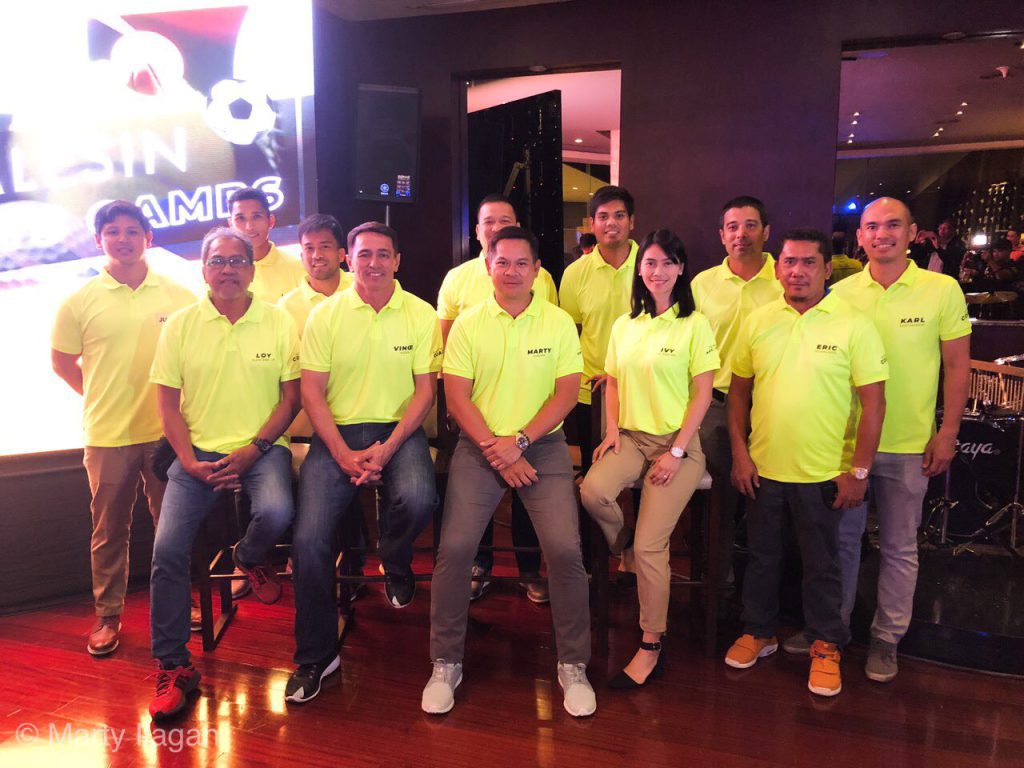 Philippine Basketball Association (PBA) legends Vince Hizon, Alvin Patrimonio, Johnny Abarrientos, and Willie Miller, plus Jr. NBA Coach Louie Gonzalez will man the basketball camp, while the tennis camp will be led by national team coaches PJ Tierro, Niño Alcantara, Roland Kraut, Karl Santamaria, and Dennis Sta. Cruz.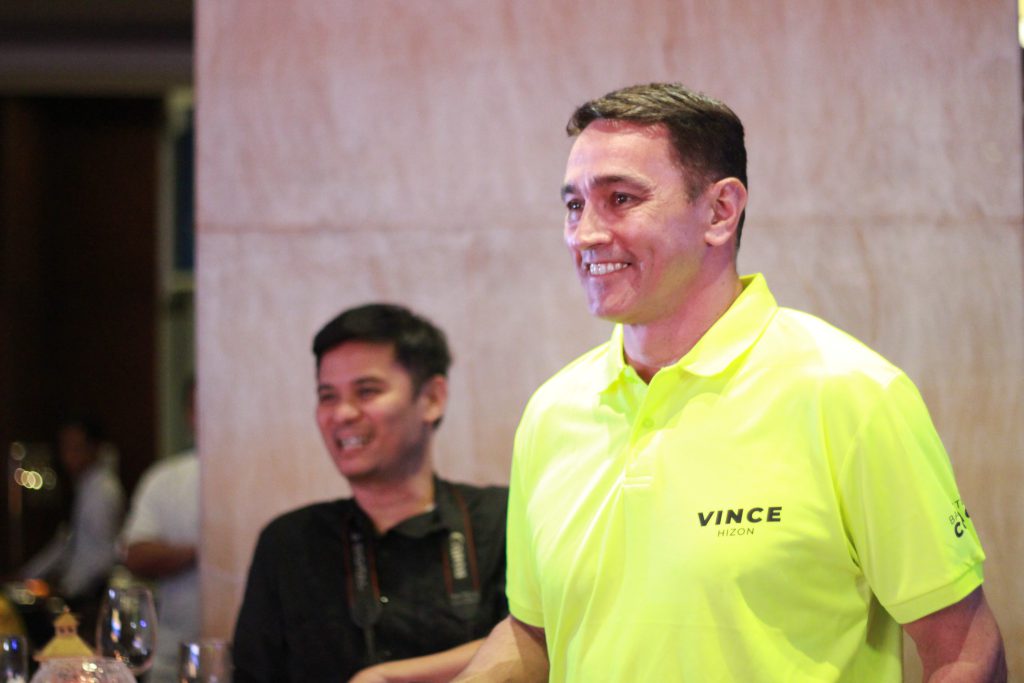 National Mustang and Bronco coaches Eric Gesmundo and Jhoel Palanog, along with the 2018 University Athletic Association of the Philippines' (UAAP) Most Valuable Player and star pitcher Kiko Gesmundo, and Justin Zialcita will teach baseball.
Meanwhile, soccer camp instructors will include former Davao Aguilas Football Club head coach Melchor Anzures, and former national team players Loy Fuentebella, "Mr. Football" Elmer Bedia, and LA Bedia.
Under Camp Director and International Professional Tennis Registry Coach Marty Ilagan, these coaches will use modern and scientific approaches to athletics, and incorporate character-forming lessons in their programs to help kids become champions in sports and in life.
"Balesin offers this perfect vacation for the family, and at the same time, keeps the kids active through sports and learning from the best national coaches," says Marty Ilagan.
SMC, one of the Philippines' major conglomerates, owns the country's largest and most diversified food company San Miguel Food and Beverage, Inc., and will provide the sports camp participants with household favorites, such as Purefoods breakfast staples and snacks, Magnolia Free Range fresh chicken, fresh brown eggs, fresh milk, fruit drinks, and Magnolia Ice cream to beat the heat.
For an even more fun-filled week, kids can also enjoy other sports activities on the island such as archery, wall climbing, biking, horseback riding, kayaking, paddleboarding, and beach volleyball.
While kids learn and hone skills in their preferred sports, parents get to experience the ultimate medi-spa experience with a complimentary Day of Total Wellness Package for two (worth Php 25,000 per person) at Aegle Wellness Center, the premier integrative health and wellness center in the Philippines.
Headed by Medical Director Dr. Benedict Valdecañas and Associate Medical Director Dr. Ruby Magpantay, both pioneers in the integrative medicine field, Aegle is designed to provide holistic and sustainable health solutions.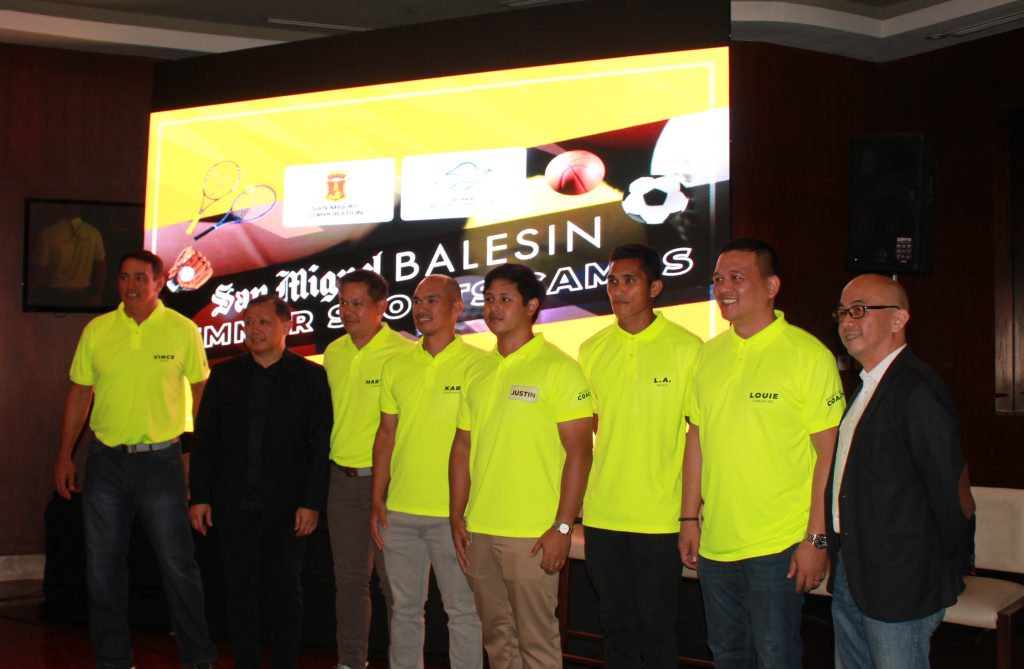 The facility offers clinical and therapeutic services, such as comprehensive blood chemistry workups, physician and nutritionist consultations, hyperbaric oxygen therapy, intravenous therapy, and thalassotherapy (offered exclusively at Aegle – Balesin). Massage treatments are also included in the Day of Total Wellness Package.
In addition to the kids' sports training and activities, the Sports Camp package includes a 5-day/4-night stay in one of Balesin Island Club's well-appointed villas, and includes roundtrip airfare to and from Balesin, as well as breakfast, lunch, and dinner for the entire stay for four people.
Balesin is a world in itself with seven villages authentically patterned after the most alluring vacation destinations in the world—Mykonos (Greece), St. Tropez (France), Costa del Sol (Spain), Toscana (Italy), Bali (Indonesia), Phuket (Thailand), and Balesin (Philippines).
Interested parties may register at www.balesinsportscamps.com to avail of the all-inclusive package rate of Php 160,000 + VAT—a whopping 50% off from the package inclusions' standard price of Php 320,000 + VAT. An additional 5% Early Bird discount will be given to those who register by February 28, 2019.
The San Miguel Balesin Summer Sports Camps is also sponsored by Under Armour Southeast Asia, Wilson, Tri-Factor, and Blackbox Audio Systems.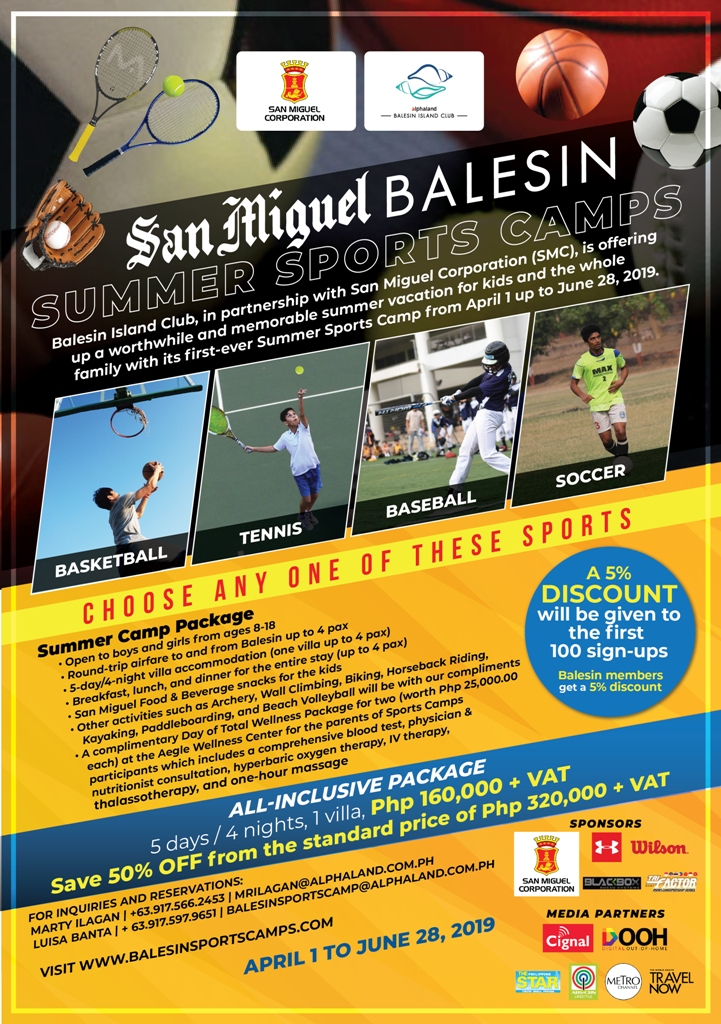 For inquiries and registration, visit www.balesinsportscamps.com or contact Marty Ilagan at +63.917.566.2453, and email mrilagan@alphaland.com.ph or Luisa Banta at +63.917.597.9651, and email balesinsportscamp@alphaland.com.ph