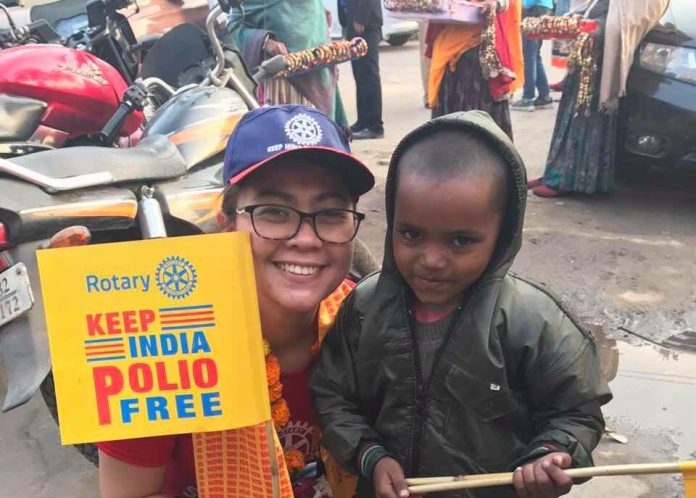 Mrs. Universe Philippines 2022 Veronica Yu is more than a wife and mother. She's a dedicated Rotarian too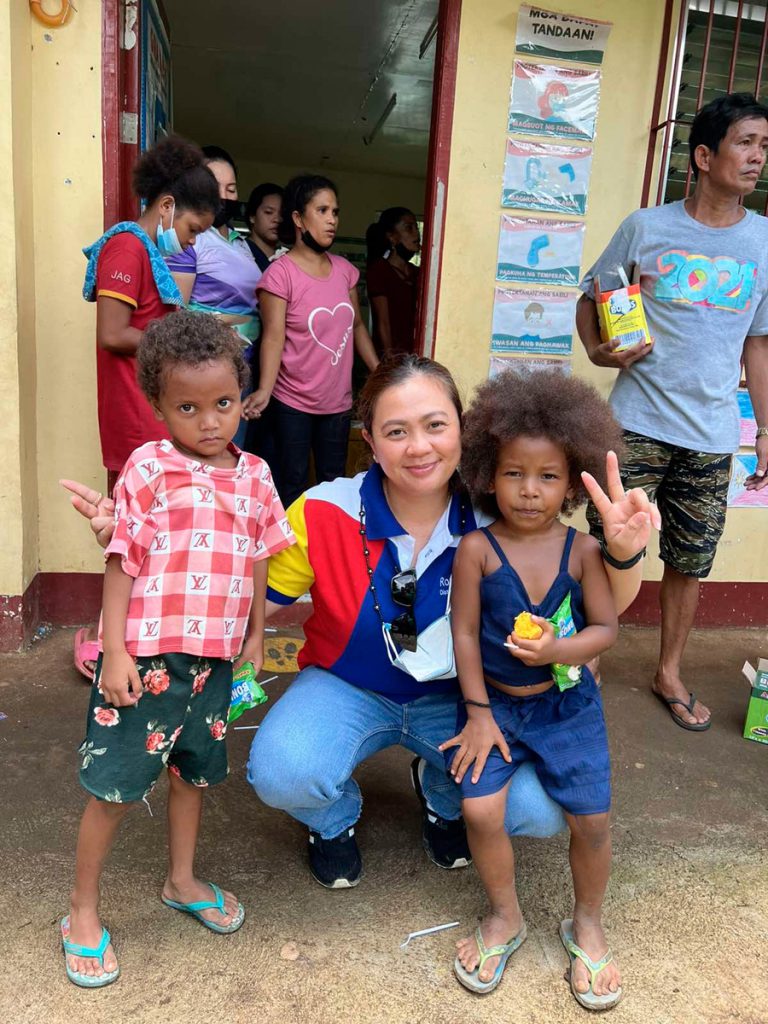 In a beauty pageant, perhaps the most highly anticipated segment, apart from the revelation of runners-up and eventual winner, is the Question & Answer portion. A nail-biting category for both contestants and the audience, it could spell the difference between a woman who won and one who almost did. So crucial is the Q&A that pageant hopefuls train as seriously for it as they would getting in shape at the gym or perfecting their pasarela or pageant walk.
Before bagging the crown for Mrs. Universe Philippines 2022 last October 2 at Okada Manila, Quezon City representative Veronica Yu polished her Q&A chops with the pageant camp The Crown Initiative. Training took place twice a week for three months leading up to the competition.
"You have to stand, you have to get used to facing an audience, and you have to keep your answer between 30-45 seconds," says Veronica, 40, who looks up to Miss Universe 2015 Pia Wurtzbach and Miss Universe 2018 Catriona Gray for their confident Q&A deliveries.
Brushing up on current events and memorizing a motherhood statement could score you points with the judges, but Veronica believes in speaking from the heart. And so, when her turn came up in the Mrs. Universe Philippines 2022 Q&A portion, Veronica did just that.
Glancing to see the question "Why should you be the next Mrs. Philippines 2022?" flashed on the wall behind her, she calmly took the mic from host Samantha Purvor, and before a throng of screaming supporters said, "I want to expand myself, as I'm also a Rotarian. We help most people in need. That's why I joined this pageant. Thank you."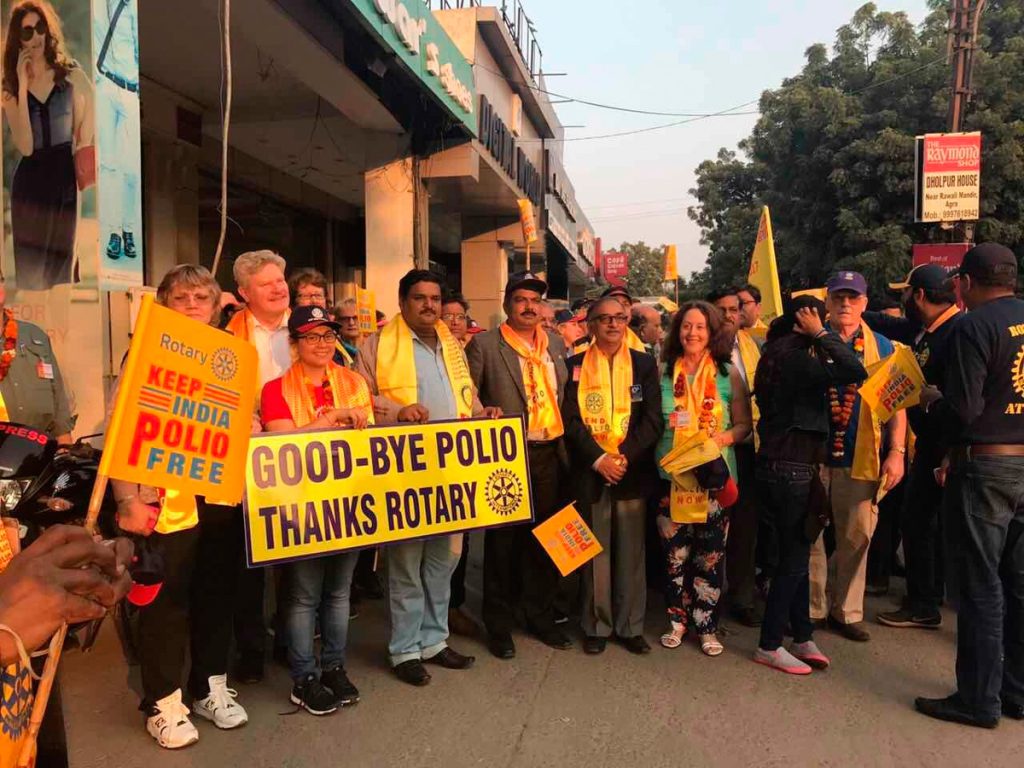 "It's important that your answer comes from your heart," she says over a month later in this interview held at the boardroom of the Richmonde Hotel in Eastwood, Quezon City. "You won't lose your way and there is no question you can't answer. For me, I've been a Rotarian for almost 10 years, so I really take it to heart."
Veronica will represent the Philippines in the 45th Mrs. Universe pageant slated from January 30 to February 5, 2023 at Sofia, Bulgaria, the home country of the annual global event that honors married, divorced, and widowed women from all around the world. "She must be between the ages of 18 and 55, have a family and career, and is involved in a 'significant cause,'" says its website, mrsuniverseltd.com.
"It's very special and I'm very grateful to all the supporters, fellow Rotarians, and the judges," she says of what this accomplishment means to her. "Thank you so much for the trust."
Potential—and support
Excited as she is for this opportunity, she honestly didn't expect to go this far. "I would have been happy with a Top 12 finish," says Veronica, whose pageant experience is being named one of the Philippines' Best Dressed in 2017 by the Philippine Cancer Society.
It was her husband—businessman, philanthropist, and Rotary Club Past District Governor Johnny Gaw Yu—who saw potential in his better half. Vero, as he calls her "has a strong passion when it comes to events like this. So, when we were invited by Cielo Reboredo, senior vice-president for sales and marketing at Okada Manila, I said, 'Why not? Let's try it.
We have nothing to lose.'" After securing the blessings of close family, friends, and their daughter, Johnny assured his wife of 101 percent support.
This meant months of seeing her off for workouts and practice as early as 6 am, waiting up to join her for dinner when she came home from rehearsals at midnight, and taking charge of their daughter and their home in her absence. "I was shocked at all the training involved. I think I was more nervous that she was!" he exclaims. "I was heavier when she started, now I've slimmed down. But I'm very happy."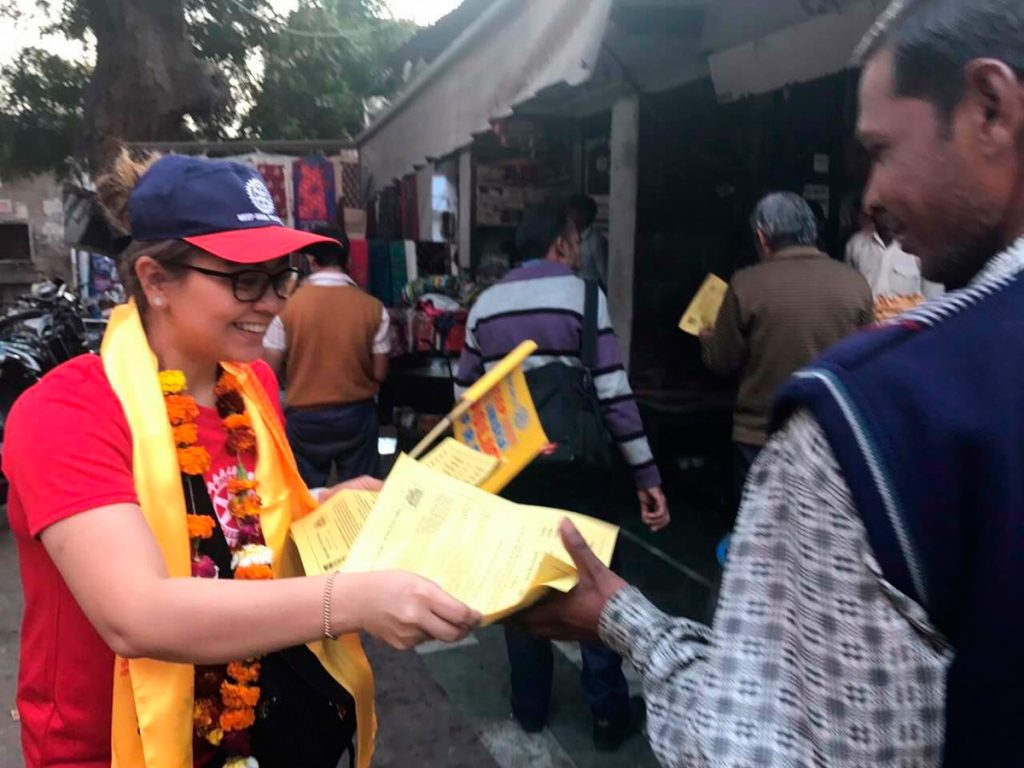 Clearly, Johnny belongs to a rare breed of husbands who allow their wives to grow and soar as they chase after their dreams. "You will learn many things from this pageant," he told her. "Your character, self-esteem, attitude, and everything else will change.
"My advice to her is just enjoy. Enjoy your trip and everything. Don't think about winning. You're already bringing glory to the entire Philippines. Whether you win or lose, you're already a winner to us."
True calling
The third of five children of a housewife and a father who died when she was four months in her mother's womb (her mother eventually remarried and she considers her stepdad as a father), Veronica describes her growing up years in Sampaloc, Manila, as "simple," "ordinary," and "normal." A graduate of a computer course from AMA Computer College, she originally wanted to become a chef, and studied pastry making and the culinary arts.
Eventually, she found her true calling in helping others, beginning as, of all things, a firefighter. Encouraged by friends to volunteer in 2003, she went from observer to full-fledged first responder. Veronica has completed training in numerous courses: Basic Life Support, Fire Responder Course, Fire and Rescue Firefighting Proficiency, Emergency Medical Technician, Urban Search and Rescue, High Angle Rescue, Basic and Intermediate Incident Command System, All-Hazard Incident Command System, Hazardous Material Operational Training, Water Search and Rescue, High-Density Population Incident Management Procedures, and more. She's also a reservist of the Philippine Air Force.
Yes, this 5-foot-1-inch beauty has driven a firetruck and ambulance before, and yes, she has participated in putting out fires with a hose that can weigh as much as 10 kilos when wet. "Nakaka-proud din po," she says of the appeal of a difficult—and dangerous—job. "Once you declare fire out and people approach you to say thank your or offer to feed you, it makes you feel good. It's very satisfying."
Veronica, who remains active in helping put out fires (the last one was during the holidays, triggered by stray firecrackers or faulty Christmas lights), still gets a kick out of bystanders who exclaim, "Ay, babae pala siya!" (Oh, it's a woman!) when she lifts off her helmet and facemask.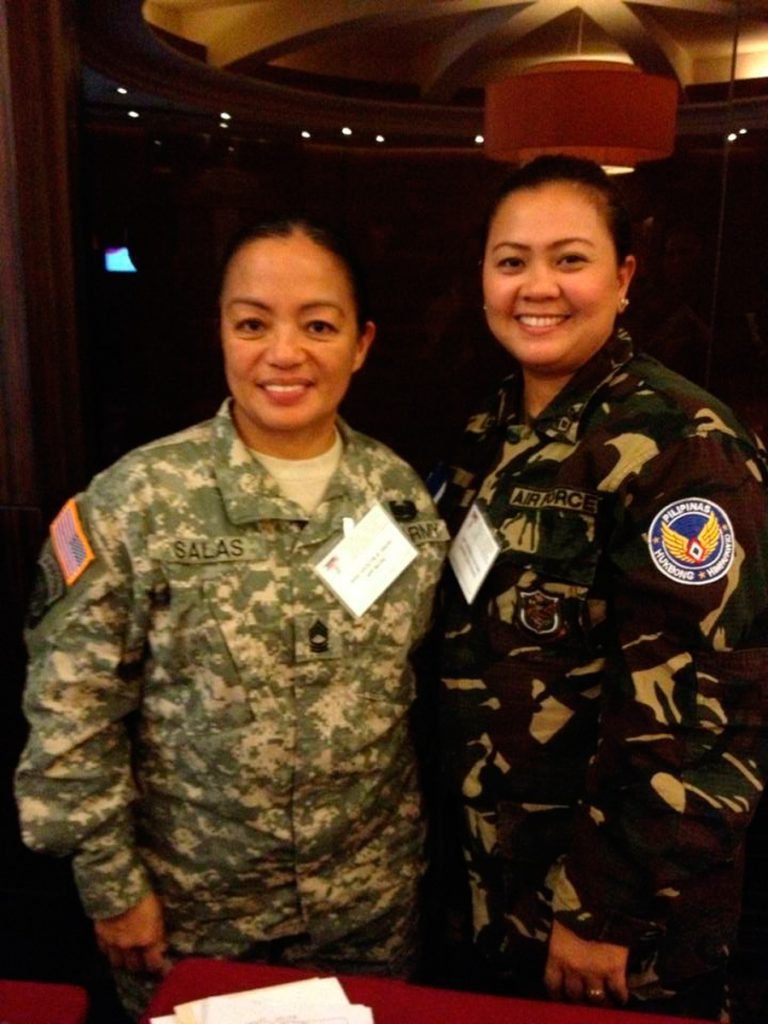 In the male-dominated world of firefighting, Veronica feels respected and protected amid the company of her peers. "You have a lot of brothers," she says.
She also had her share of suitors, and there was one in particular who caught her eye. "We met in a fire scene," she says of husband Johnny. Ten years her senior, he runs his own brigade, the Tactical Emergency Assistance and Monitoring (TEAM) Network, while she was with the New Millennium Fire Rescue Volunteers. Both operate in the Quezon City area, which made encounters inevitable.
Though Veronica and Johnny knew of each other, "he was intimidating, medyo suplado (snobbish)," she recounts with a laugh.
Johnny acknowledges his reputation, but says it was for a good reason. Then fire marshal of the Association of Volunteer Fire Chiefs and Fire Fighters of the Philippines, an organization of 38 fire brigades under his control, he was all business. "I'm very serious when it comes to operations, because we're talking about life and property."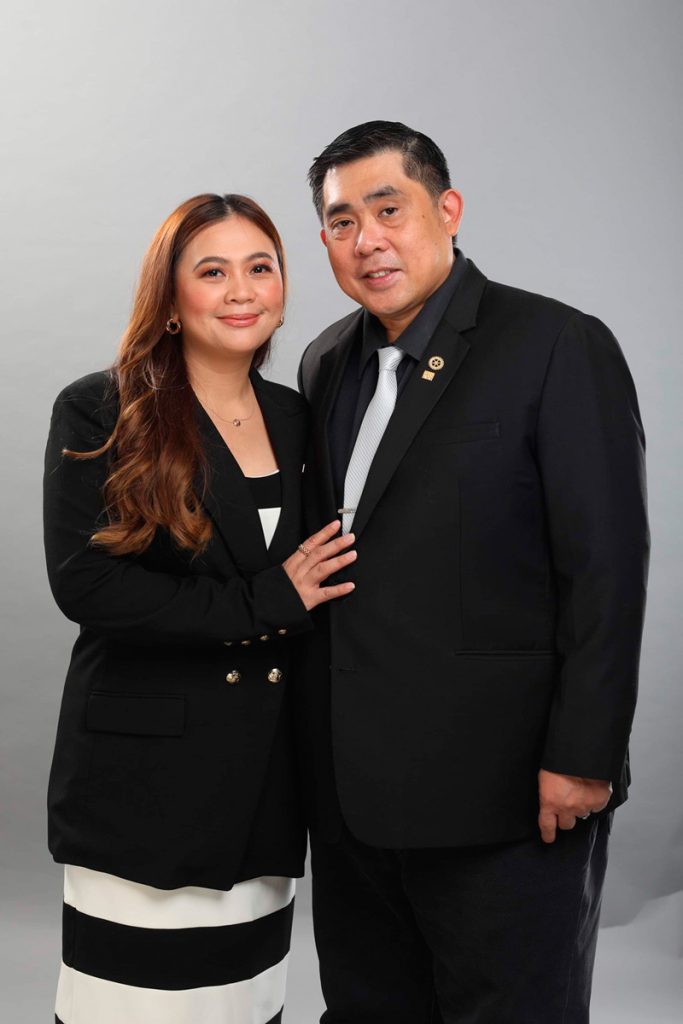 A fire at a Quezon City subdivision broke the ice. Alone and armed with a hose, Veronica was making her way up a flight of stairs of a burning house when Johnny alerted her to do it from downstairs as it was on the verge of collapse. Introductions were made as they put out the fire together, and the two got to know each other better in socials organized by the brigades.
In time, she would melt his tough exterior. When Johnny acquired a firetruck from New Millennium, he asked the fire chief to include her in the deal. "I'm not buying a unit if it doesn't come with a model," he said half-jokingly. Apparently, the feeling was mutual: Veronica transferred to TEAM Network and she and Johnny have been together for 15 years and counting.
"Number One, she's a strong woman," enumerates Johnny of the qualities that made him fall for his Vero. "Number Two, she's adventurous: Everything on her bucket list—sky diving, scuba diving, and now the beauty pageant—is all about adventure. Okay itong babaeing ito, lahat gustong pasukin (she wants to try everything). She's also down-to-earth, she came from a family of humble beginnings. And I saw her passion and advocacy to help people, which is what I like about her."
The couple that helps together
The couple's shared interest in humanitarian work extends to their involvement in the Rotary Club of Cubao, one of over 46,000 Rotary Clubs from 200 countries worldwide.
Founded by American lawyer Paul Harris in 1905, Rotary Club is recognized as the oldest and largest non-profit organization, a venue for professionals and business leaders to exercise "Service Above Self" by providing sustainable solutions to peace, health, education, nutrition, the environment, local economies, mothers and their children, and other relevant issues.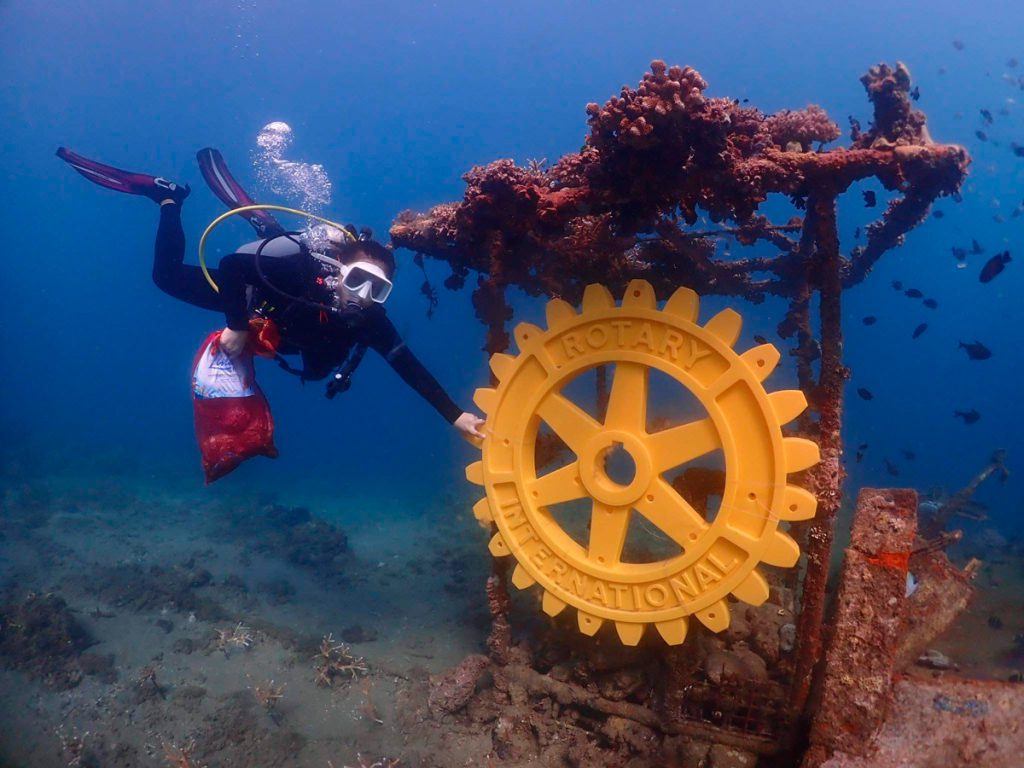 Johnny, a Rotarian since his college days, was president of the Cubao chapter when he pitched the idea of welcoming women into their then all-male circle. "Our club will die without them," he reasoned. Today, women dominate the club by a whopping 80 percent, a factor that he believes strengthened the group and fostered greater fellowship.
As the second female member of the Rotary Club of Cubao, Veronica brought in 15 new members, half of them women, during her term as president in 2016. She also continues to participate in various initiatives organized by the club. One of her most unforgettable was flying to India in January 2017, where she and Rotarians from all over the world brought vaccines as part of the club's program to eradicate polio globally.
"Knowing the purpose of what you're doing and its benefits to the community are the reasons why I've lasted as a Rotarian for 10 years," she says.
But her help doesn't end there. Veronica is an advocate for the LGBTQIA+ (Lesbian, Gay, Bisexual, Transexual, Queer, Intersex, Asexual, and more) community, cancer patients, food security, and other causes. At the Mrs. Universe preliminaries, contestants visited an orphanage in Paraňaque. There, they came upon children abandoned by their parents—youngsters who, despite their lot in life, were happy to receive visitors and whatever they had to offer.
"I cried a lot," she says of the memory. "Even in the short time that we bonded with them, it hurt my heart to leave these kids."
"It made me sad," she says wistfully. "I wish I could do more. I'd like to see them again."
Right balance
A satisfying career and family life provide just the right balance to this woman for others. Founder of Team Network Safety and Security Trading Co., the source of personal protective equipment for firefighting and rescue, she's a hands-on homemaker who cooks for her husband and daughter—from laing, a nod to her mother's Bicol roots, to fancier fare like lobster with chili.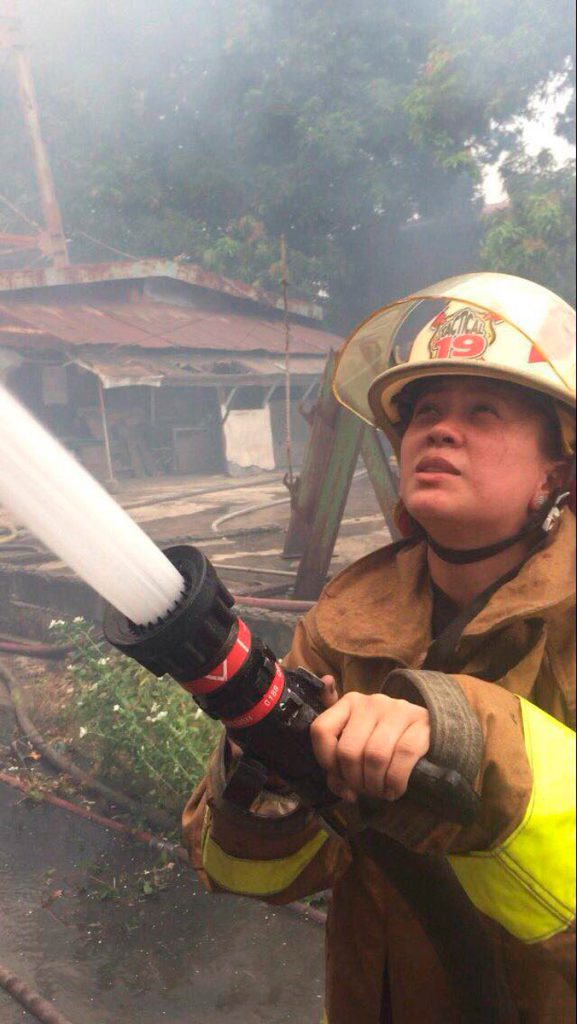 As a parent, Veronica is "very strict. Johnny is more understanding when it comes to our daughter. That's why she prefers to talk to him."
Still, her interests are no different from the average teen. A K-drama fan, she's also an unabashed ARMY (that is, fan of Korean global sensation BTS) with a bias for Kim Seok-jin (aka "Worldwide Handsome, you know?").
The coming weeks will see her back in training for the Mrs. Universe competition in Bulgaria, attending a slew of Rotary Club activities (from recognizing donors in a foundation night to joining outreach programs come the holidays), and spending time with her family.
Sky's the limit indeed for the wife and mother who proves you can have it all—including the universe, if you so desire it.
"There's no other way to go but up," says Johnny proudly. "Once she's up there, she can build her legacy, then go down. That's her life right now. And she's doing it perfectly."