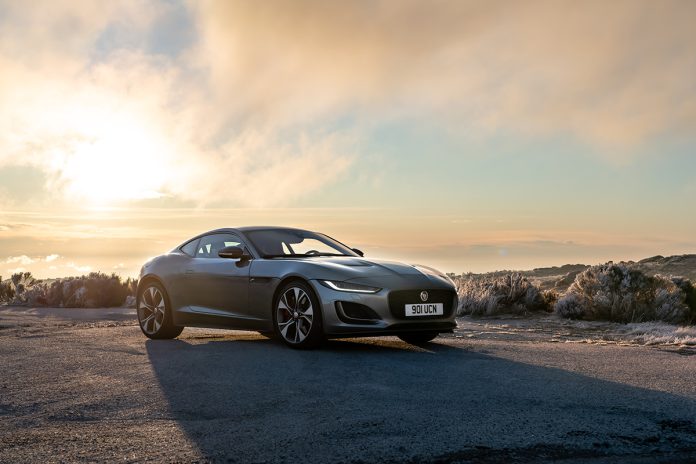 There's a certain effect when you're listening to a sublimely good stereo: the machine disappears. The music comes to life. It fills the room, not just in front of you, but all around you. It doesn't seem to be coming from the speakers at all, it simply explodes from everywhere, with incredible clarity, as if you were standing right in the middle of the band or orchestra.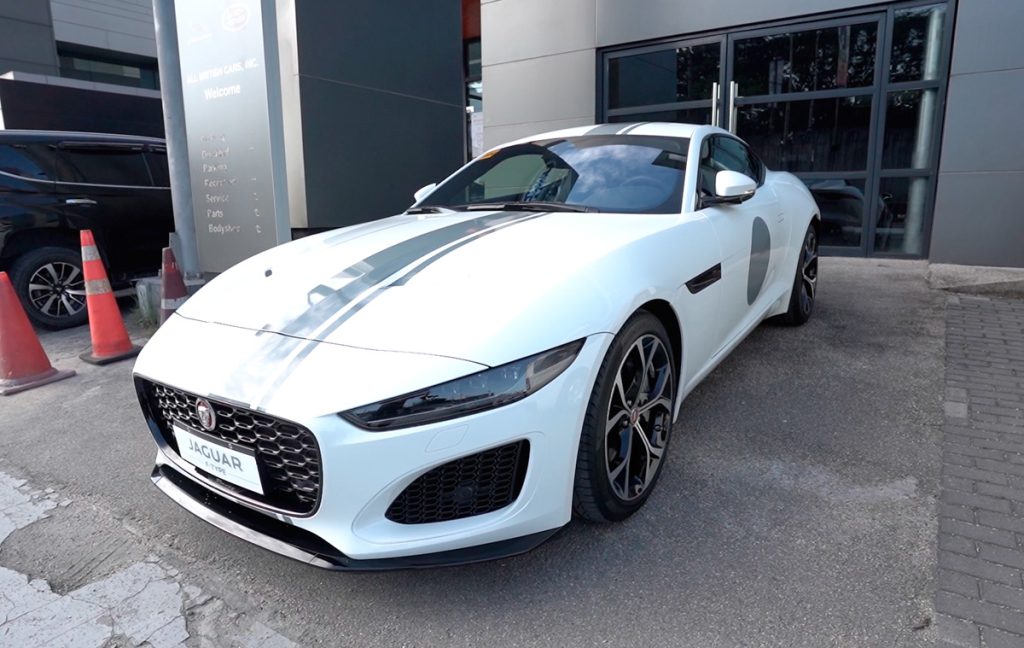 I felt that way, driving down the twisty Marilaque highway one sunny morning: the car disappeared. I felt like a flying superhero, propelled at unimaginable velocity, shooting through space, yet one with the road. It was not even a heart-pounding thrill; it was completely relaxed and natural. My instincts took over and my hands and feet acted as if with minds of their own. I didn't think normal driving thoughts like 'I better turn the wheel a bit more counterclockwise', or 'I suppose I could put a little more pressure on the pedal'; I just saw my line and took it, faster than I could think.
Mr. Chris Ward hosted me in this test drive. He is the head of Jaguar Philippines, and this was a major factor in my appreciation of the car— truly expert advice. He drove the car first, and pushed it hard, showed me what it could do. In addition to being a highly skilled driver and instructor, Mr. Ward is a friendly, relaxed personality, not unlike the driving experience itself. I appreciated the F-Type more because he was there to show it to me. He is more of a brand ambassador than a salesman.
The unusual thing about the Jaguar F-Type is that, at sensible urban speeds, it is docile and tractable, graceful, silent, relatively economical and very easy to maneuver. Unlike other supercars, it does not feel restricted, grumbling with a rough idle, protesting with heavy steering that feels like stirring a bucket of wet concrete, the slightest tap on the accelerator making the exhaust belch with barely contained power, demanding to go faster. The F-Type, by contrast, is as easy to drive in the city as a generic Toyota Camry, which is, in my book, quite a compliment.
Yet, the moment you put a little pressure on the pedal, it explodes into a beast, leaping into high speed, just like the jungle cat it is named after. The exhaust note changes radically as the tachometer climbs, building to a snarl that you can feel as much as hear, even in the library-quiet cabin. I learned later that even the exhaust note is engineered. The engine is so quiet and smooth that they added some valves in the exhaust that open up at 3000 rpm to create a bit of roar.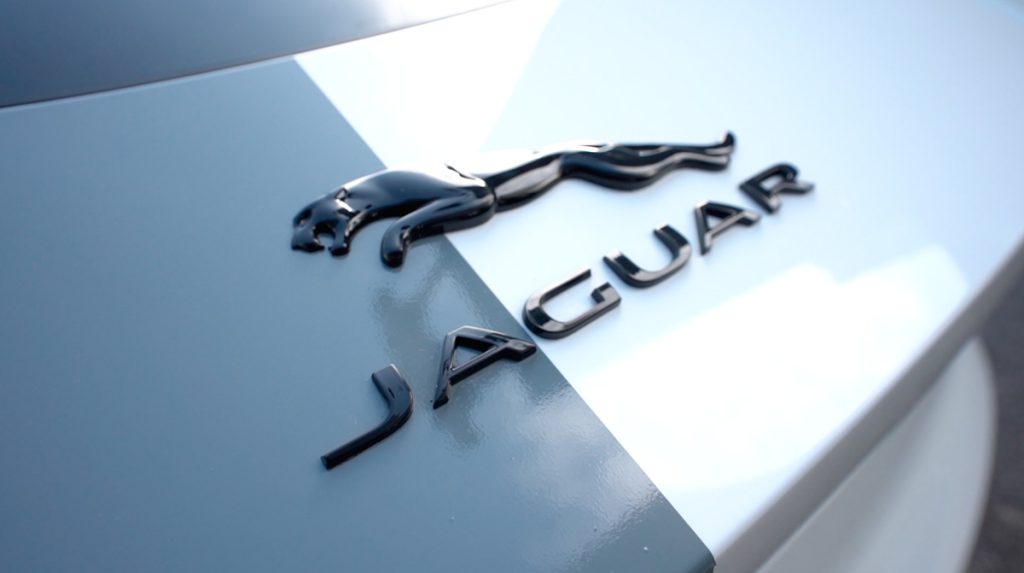 When the road opens up and lets the F-Type soar, it doesn't just go really fast, it simply transcends into the realm of speed. You find yourself in a different reality, where the world flashes by, yet tranquilly. At truly high speed, time slows to a crawl, you feel every second intensely. Our venue being a public highway, we did not go anywhere near the F-Type's top speed of around 250 km/h, but we did experience its acceleration, 0 to 100 km/h in less than 6 seconds.
The handling is unearthly: we took curves at triple digit speeds, where lesser cars would have squealed their tires long before. I felt tremendous g-force pushing me sideways, yet the car did not perceptibly lean at all. I was always hypersensitive to what the rear end was doing— easy in the F-Type, because you sit just a foot ahead of the rear axle— but I never felt it loosen its grip on the road, even once. I assume this car, like any other, has a limit, but it's certainly well beyond mine.
I'm not a speed freak, in the first place. I can enjoy fast driving, but for example, my daily driver is a 1985 Mercedes diesel station wagon, which is built for utility, safety, durability and comfort, not a performance machine. It will make about 165 km/h if you have a really long stretch of straight, level, highway, but I rarely push it that hard, and why would I?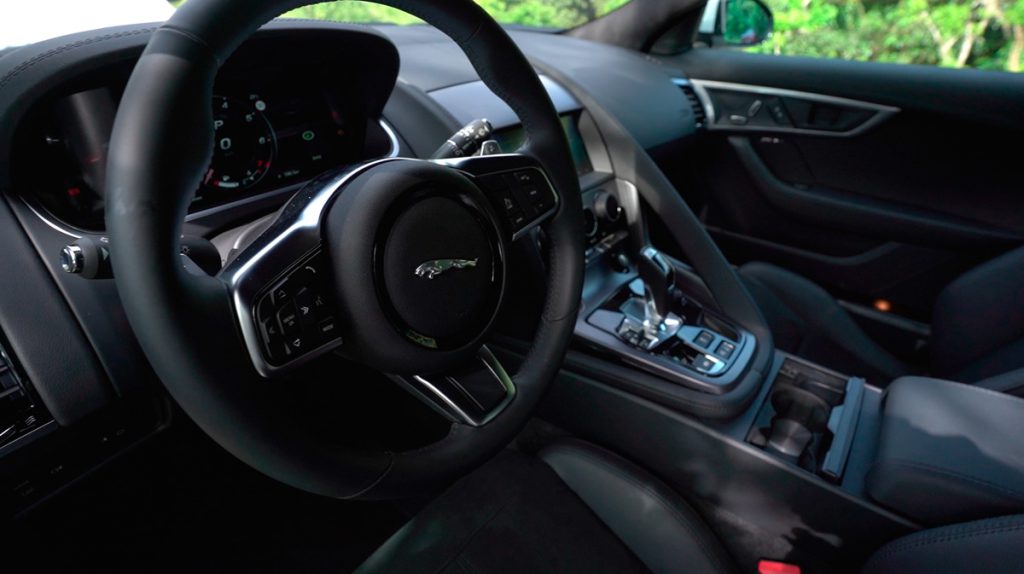 The fastest car I've ever owned was a 1986 Alfa Romeo Spider Graduate, with an inline twincam four-cylinder two-liter engine squeezing out 125 hp (about 62.5 hp per liter), laughable in modern terms, but that engine was legendary in its time. The Spider would make 100 km/h in maybe 10 seconds, and topped out at just short of 200 km/h, basically because it had decent aerodynamics and weighs little. This kind of performance is nothing remarkable today, achievable by premium compact sedans. But that Spider was fun as hell, because you really needed to know how to drive, and pay attention.
The Spider's handling was good for its time (the design debuted in 1966, even before radial tires were standard), but the limits were far lower than a modern car, and it would punish your mistakes. One mistake was inducing oversteer by going too fast into a curve and lifting off the throttle. I spun out in that car a couple of times. The solid rear De Dion rear axle also made it perilously easy to drift it, without even using the handbrake. Good thing I never got into an accident, but that's partly because I didn't drive very fast much of the time. 100 km/h in a convertible feels like 160 km/h, anyway.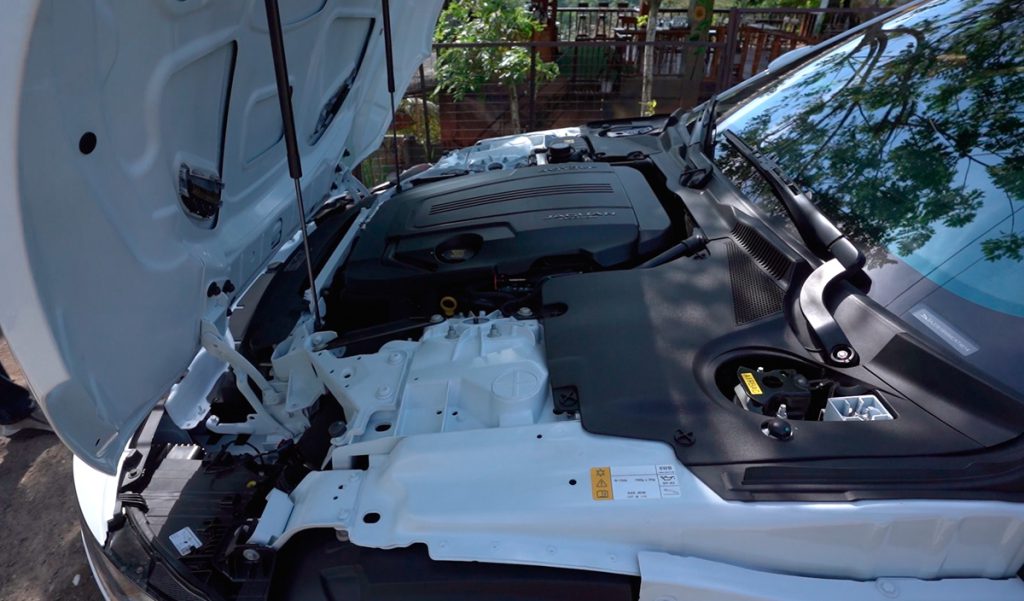 100 km/h in a Jaguar F-Type feels like 50 km/h. The car feels barely above idle, and you can barely even hear the engine. This engine, as I was surprised to learn, is an inline twincam 4-cylinder 2-liter engine… just like my old Alfa's. But that's where the resemblance ends. The Jaguar's Ingenium technology gets 296 horses out of those two liters (148 hp per liter, more than 236% of the Alfa's), as well as 295 lb-ft of torque, and flows it out smoothly, efficiently, and economically.
The Ingenium engine achieves this power and efficiency by focusing on eliminating internal losses. Modern common-rail fuel injection and computer ignition management technology has already achieved optimal combustion of the fuel-air mixture, so the new frontier is reducing things like friction and pumping losses. Pumping losses, in case you haven't heard of them, are the pressures created by the engine sucking in air and then expelling the exhaust, and can eat up maybe 20% of the engine's output.
Jaguar claims the Ingenium engines have 17% less friction than conventional engines, which has been achieved by better bearings (roller bearings, in some cases) and precise balancing.
The other key technology is hydraulically actuated real-time variable valve lift and timing. This is called Multi-Air, and was developed by, and licensed from Fiat. This technology allows the intake and exhaust valves to govern engine breathing, meaning the engine needs no throttle. Not only can precise breathing be achieved, it can be done actively and instantly, unlike reactively, as with a throttle.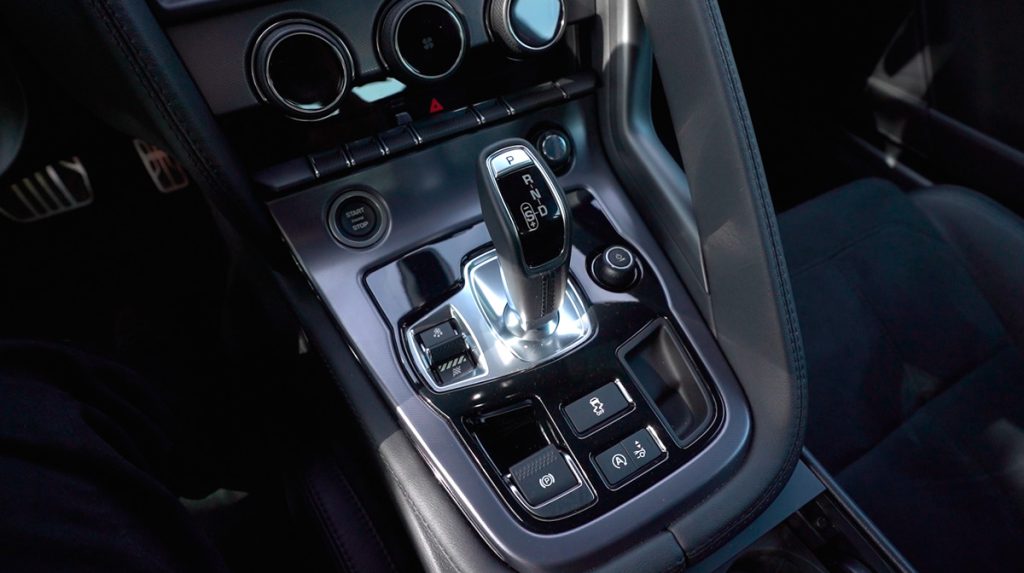 The effect of the Multi-Air technology alone, compared to conventional gasoline engines, includes up to 10% more power, 15% more torque, 10% less fuel consumption, 10% less CO2 emissions, 40% less particulate emissions, and up to 60% less NOX emissions.
The Multi-Air is designed to work with charged-air engines. The AJ200 uses twin scroll turbochargers— I'm not entirely sure what that means, but I believe the bottom line is that they provide boost much earlier in the rev range, and exhibit zero turbo lag.
The bottom line is that this tiny (for a supercar) engine produces giant power. It's interesting to compare that the Jaguar E-Type, the F-Type's spiritual predecessor, developed 10% less power out of twice the displacement: 265 hp from the 4.2 liter twincam straight six-cylinder. The 1971 version with the then ferocious 5.3 liter V12 engine produced 272 hp, not much more than the six and 8% less than the F-Type, but with improved torque, from 263 lb-ft. to 295 lb-ft.— the same as the F-Type, but out of 265% more displacement.
All of this power goes through a ZF 8-speed automatic transmission with a couple of modes and full manual control. I found this transmission completely transparent: it just worked, quietly and unobtrusively, shifting gears when I would have shifted gears. It comes with paddles on the steering wheel for better manual control, but I did not use it during the test drive, because I was more than satisfied with how the transmission responded to the throttle, I was impressed.
The F-Type with the Ingenium 2-liter can return 13 to 14 kilometers per liter of fuel (maximum 31.2 mpg) in real-world driving. While fuel cost is not a concern for the typical Jaguar buyer, this does demonstrate how thermally efficient the engine is, as well as give it surprising range: around 880 km on a 63-liter tank. That's theoretically, Manila to Ilagan, Isabela (425 km) and back, without refueling.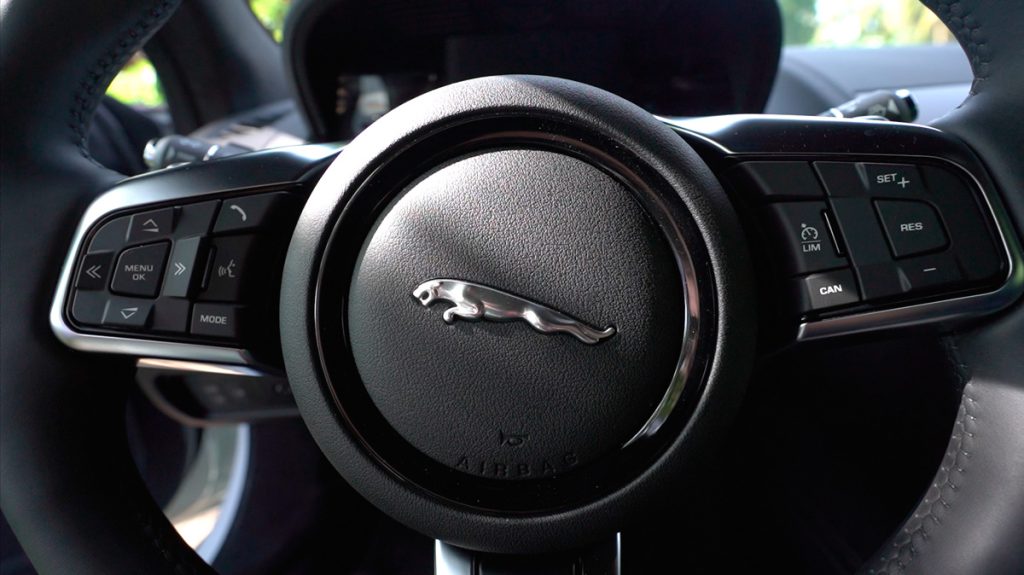 The F-Type's power is good, but power these days is common. Most current Ford Mustangs have in excess of 300 hp, and the Mustang V8 has 470 hp. The SVR V8 available in the F-Type has 567 hp.
What, for me, sets the Jaguar apart is its handling. Jaguar cars have had legendary handling since the 1950's, and the F-Type's design ticks all the boxes, with a low center of gravity, excellent weight distribution, precise control of wheel geometry, active suspension damping, and above all, excellent feedback.
The F-Type uses its own version of Dynamic Stability Control, which detects loss of traction and stops it by applying the brakes. But beyond that, DSC detects what the car is doing and manipulates both the engine and the brakes to improve performance. For example, when cornering hard, DSC applies brake to the inside wheels, enough to eliminate understeer, but not too much to induce oversteer.
Traction control was first introduced on the Toyota Crown in 1983. After it was introduced by various European manufacturers, there was some criticism that it degraded performance, slowing the car down. The criticism was not that it was unsafe, just that the application was too aggressive, to the point where some drivers opted to turn it off.
Later discussion suggested that traction control was also a hindrance in certain situations, like at low speed off road and in slippery conditions, where some wheelspin is unavoidable. Nevertheless, traction control is now mandatory for all cars in many developed countries, now that the technology has been democratized to the point where it is cheap.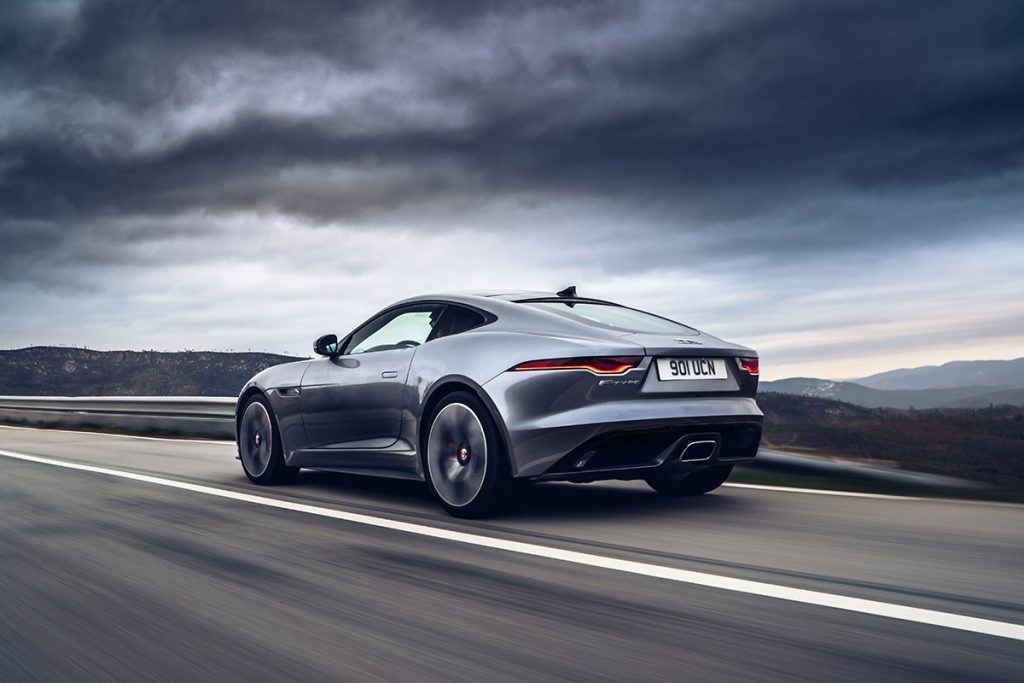 Jaguar addressed these issues by making the control more intelligent, i.e., better capable of sensing what the driver is trying to make the vehicle do, and intervening appropriately, instead of in a one-size-fits-all manner. They also addressed the on-road versus off-road issue by adding a second mode, which they call "TracDSC". This is optimized for dry road surfaces at speed, and subtracts the scenarios where the car might be in slippery conditions. It takes some driving skill to apply this, and you need to understand that traction control can never increase traction— what it does, instead, is minimize loss of traction.
The bottom line is that you don't need to be an expert driver, but the F-Type nevertheless rewards skilled driving. You can confidently throw this car into corners at speeds that would be scary in other cars. Just turn the wheel, and the car follows with little drama. The DSC won't drive the car for you, but it will help make the car do what you want it to. You can even turn it off, if you like, but in this case, it's a tangible advantage, rather than an obstacle.
In fact, the car is built for almost nothing else than a great driving experience. It doesn't have more than token luggage space (golf clubs or spare tire: you choose), and the cockpit is as snug and functional as a Supermarine Spitfire's, albeit a lot more luxurious. In fact, the manual transmission version doesn't even have cup holders, not that you would carry hot coffee in a car that can pull a full 1g.
The F-Type lifts the sports car experience to a new level. This is not merely a car to get you from point A to point B as fast as possible. It's a car for people who purposely choose the longest, most challenging route because of the sheer joy of driving. It is high-speed handling heaven. In that sense, it is more than a worthy successor to the legendary Jaguar E-type, I think it is already headed for future classic status. You will know what I'm talking about when you drive it.
To learn more, visit the Jaguar website at jaguar.ph or contact Jaguar Philippines at All British Cars BGC, (+632) 8424-4200 / 0919 083 6726 and All British Cars Greenhills, (+632) 8784-5003 / 0919 068 2598.