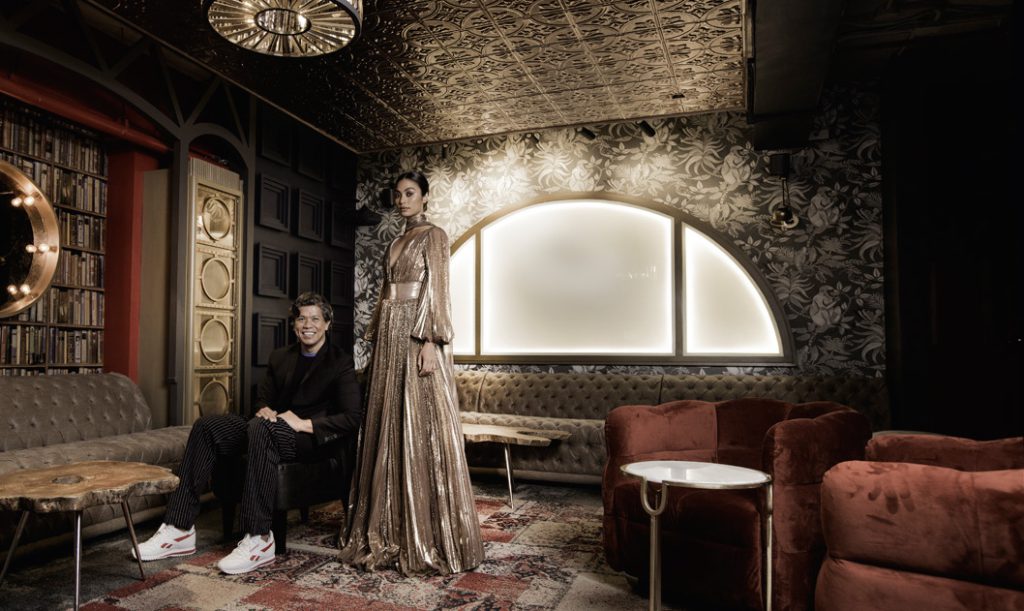 In The Grand Budapest Hotel, the critically acclaimed 2014 quirky comedy by director Wes Anderson, Madame D, the aristocratic octogenarian hotel guest played by actress Tilda Swinton, is killed off early in the film.
But no matter: brief as her appearance was, it was enough to inspire fashion designer Dennis Lustico to create a rich and elegant 20-piece collection with Madame D as his muse.
"It's the first Wes Anderson movie that stayed with me," says Lustico, a picture of ease in a casual T-shirt, loose striped pants, and white sneakers next to the animated team of Asian Dragon stylists shooting a model wearing statement pieces from his collection in restaurateur Elbert Cuenca's Elbert's Upstairs Bar in Bonifacio Global City. "I appreciated his colors, the symmetry of his framing, and the little things that meant humor—the positioning of the eyes, the angling of a face, the expressions. It so happened that Tilda was there. She's a favorite actress of mine. I was so fascinated with her character. And in typical Wes Anderson humor, she dies unexpectedly."
While Lustico's fabrics of choice—luxurious and bold-colored duchesse satin, silk brocade, silk organdy, silk gazar, and crepe silk, sourced mostly from Treviso, Italy—are a nod to Madame D's elite aesthetic, his silhouettes are definitely for the modern woman. Necklines dip down to waist level, hemlines are half-the-thigh high. Pant legs are either cigarette slim or loose and flowy, as are dresses and gowns. Unafraid of exaggerated proportions, he sculpts oversized bows, draped details, and shoulders to stunning results.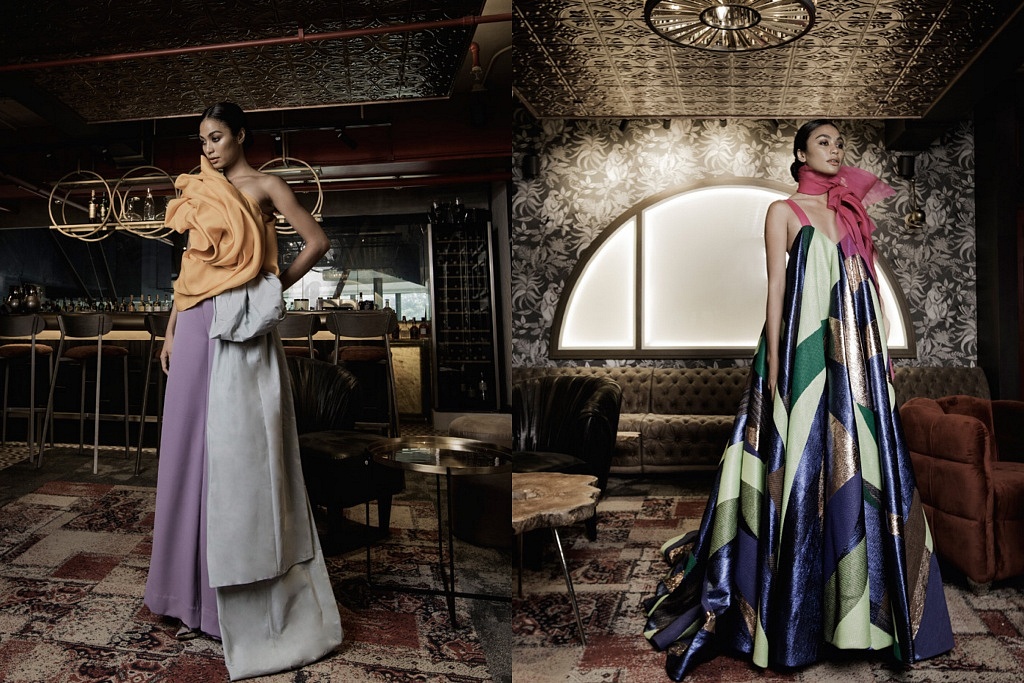 Years ago, the middle child of three boys couldn't fathom the idea that fashion design could actually be a lucrative career—let alone a career, period. Born and raised in Bobon, Northern Samar, the son of a dad who ran a lumber company and a mom who was a teacher aspired to be a doctor. "It's a respectable profession," he reasons. "And I wanted to wear white."
In high school, his best friend, would-be designer Sylver Custorio, introduced him to drawing and the world of fashion. Through him, Lustico learned of the names and works of Coco Chanel, Yves Saint Laurent, Christian Dior, and others.
College proved a confusing time. Studying to be a nurse at Centro Escolar University, he was also accepting orders for apparel on the side, sketching a design then asking a seamstress to make the piece, which he would finish by hand. Lustico remembers being in a drunken stupor when he told his parents not to expect him to work as a nurse. Do what makes you happy, his mother told him.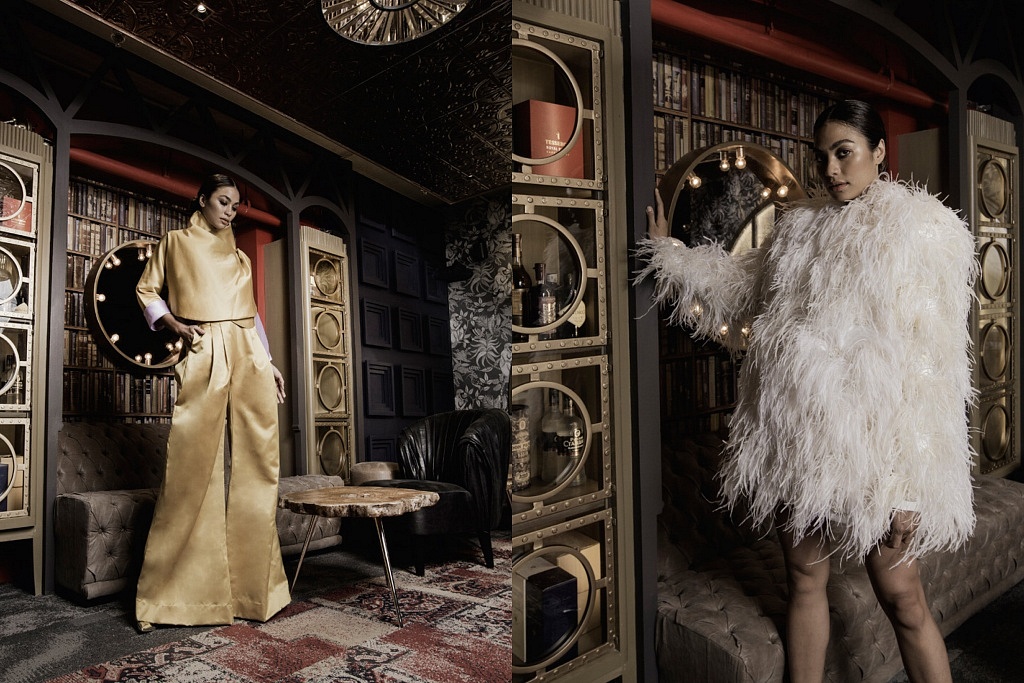 But the dutiful son would finish his course, pass the board exam, and become a licensed nurse. When it came time to looking for work, he applied for two jobs: one as a nurse, the other as a designer for a shop in Binondo, catering to an all-Chinese clientele. As fate would have it, the latter hired him first.
Lustico stayed on the job for about a year before setting his sights on work opportunities in the vibrant commercial and business district of Makati. A stint in a uniform company led to another for the men's tailoring boutique, Bergamo.
His first foray as a designer in the local fashion scene came in the 1990s via Fashion Watch, biannual runway shows organized by designer Inno Sotto and Richard Tann. As for his gala show, that would be 2009's Red Charity Ball, where he unveiled a collection of 40 pieces. "Forty harassed pieces," he corrects with a laugh. "We had to close the shop to finish the clothes!"
Today, Lustico's shop remains busy. "I guess I'm a workaholic. I like being busy," says the designer, who spends his free time reading (from chick lit The Wives by Lauren Weisberger to Tom Sancton's The Bettencourt Affair, the compelling story of L'Oreal heiress Liane Bettencourt). A competitive triathlete for the past three years, he enjoys training, and the camaraderie of the sport's community.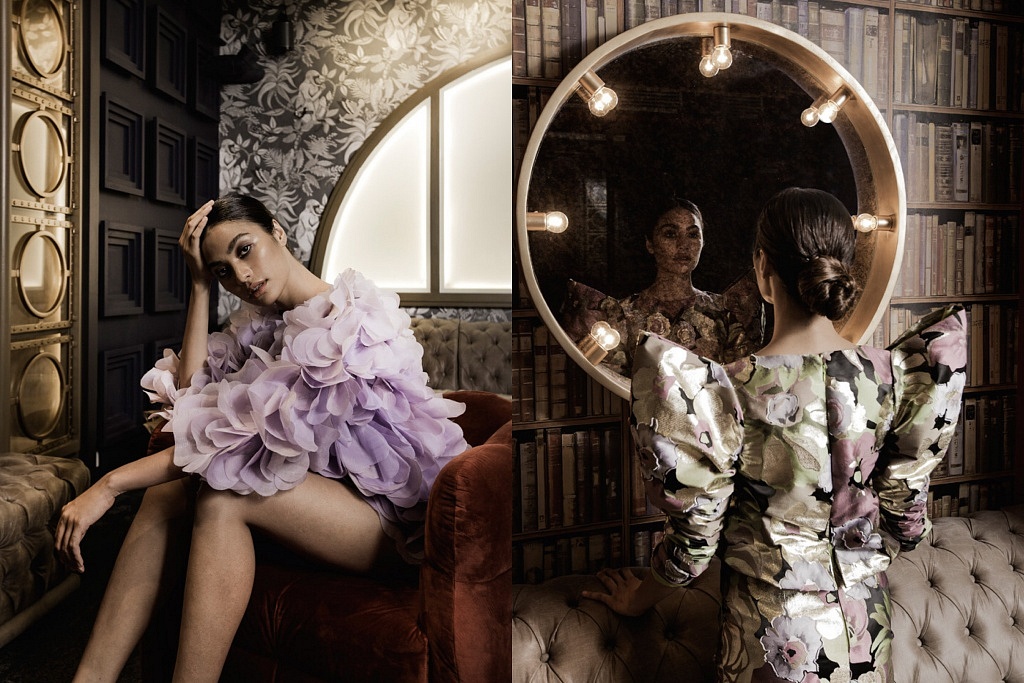 Despite the prevalence of fast fashion brands and today's relaxed dress codes, the custom-made clothing business is booming. "Ours is a niche market that doesn't want to be seen wearing the same thing as someone else," he says. "That's the reason why the industry is thriving. And if there are more designers now—thousands, compared to the time of Joe Salazar—it's because the niche market is also growing.
"We have a market," declares Lustico, who at one point maintained a mostly Chinese clientele. "It's a permanent one, and it's there to support the artisan and designers."
Hopefully this means we wouldn't have to wait another three years for him to put a show together. "It's nice to do a show sometimes," he says with a smile. "And with the new designers coming up each year, you have to keep up with them."
For appointments, contact Dennis Lustico at tel. nos. 846-0015 and (0926) 756-0794, or e-mail d_lustico@yahoo.com.
Photographs by Mau Aguasin
Styling by Luis Espiritu Jr.
Makeup by Xeng Zuleta
Hairstyle by Ronnie Tumamak
Model: Alaiza Malinao
Shot on location at Elbert's Upstairs Bar, Icon Plaza, 26th St. Bonifacio Global City
Special thanks to Elbert Cuenca and Denisse Oca
Read more of Lustico's adventure with top Filipino designers on Asian Dragon's October-November 2018 issue, available for download on Magzter.