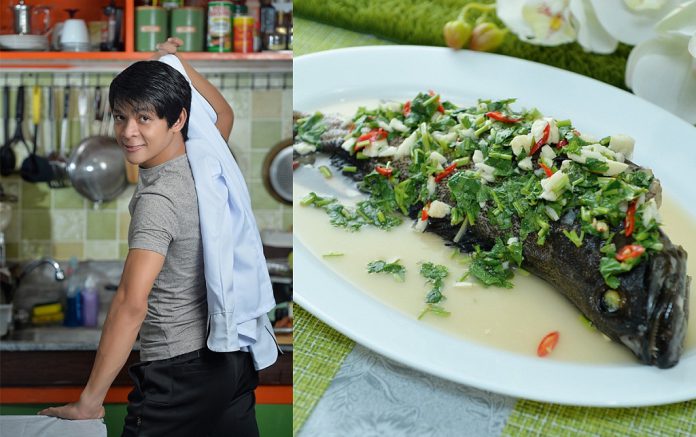 In his modest kitchen, Ballet Manila (BM) principal dancer and resident choreographer had excused himself from rehearsals to sear prawns and plate dishes.
All morning, he had been cooking meat and seafood dishes that would titillate the Asian palate. The steamed lapu-lapu was flavored with cilantro, chili, garlic, and fish sauce. To enhance the taste of the grilled fish, it was coated with flour, which was later removed to reveal the tender filling. The prawns were cooked with salted egg yolk for a creamy texture. Yet another prawn dish was prepared with sriracha sauce and balanced with Sprite. The sweet and spicy chicken wings were flecked with sesame seeds for crunch. The crispy pork came with an Asian slaw made with green apples, lemon, and fish sauce.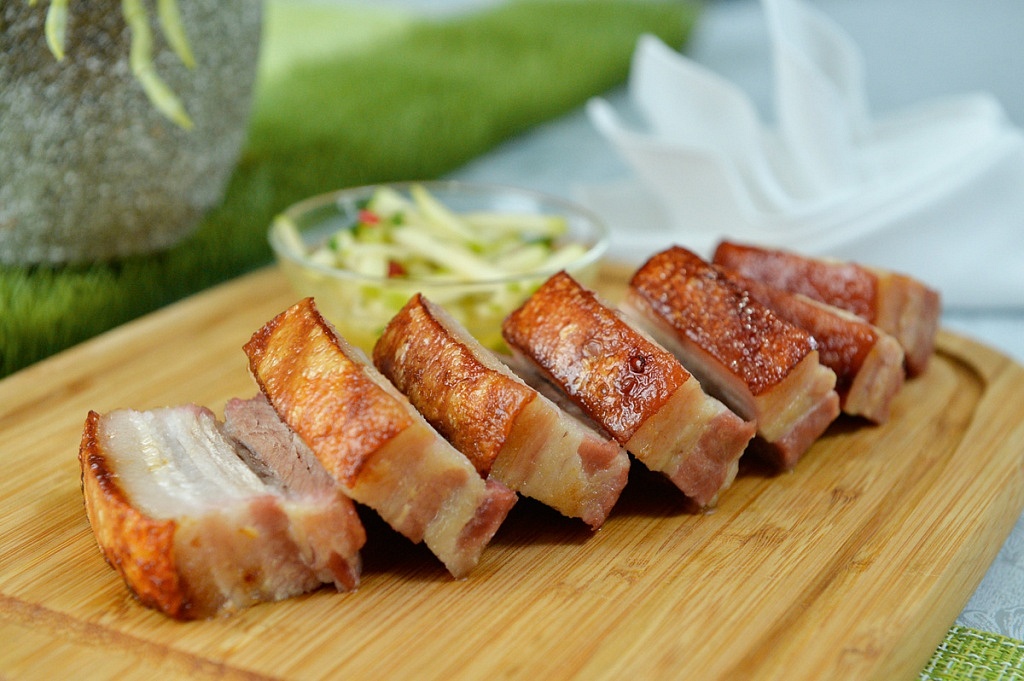 The palate cleanser was a crisp mango float, a classic Filipino dessert made with Graham crackers, butter, milk, honey, and vanilla. While most mango floats tend to be too buttery or sweet, Francisco's dessert highlights the sweetness of the mangoes. The dessert was chilled properly to get the right texture.
The Asian Dragon team was amazed at how the deceptively simple dishes were of restaurant quality. Francisco brought out the natural flavors of the ingredients instead of masking the food with heavy sauces.
While most dancers would post dance photos, Francisco's social media account shows he has a life outside of the studio. His FB account, Geri's Kitchen, features home-cooked meals—well-executed, artfully plated, and photographed in their best angles.
Francisco started cooking as a creative outlet in 2003, when he was starting out his career with BM. When his wife, Jedette, gave birth, she had gone to Iloilo to show their firstborn to her parents. Francisco was left alone in their condominium. Dancers from BM were coming over for dinner. He sent a text message for the recipe of adobo. Jedette assured him that once he nailed the adobo, he could cook anything.
Francisco has since been prolific. The self-taught cook picked up techniques from his favorite TV shows such as Master Chef, My Kitchen Rules, and other cooking shows on cable channels.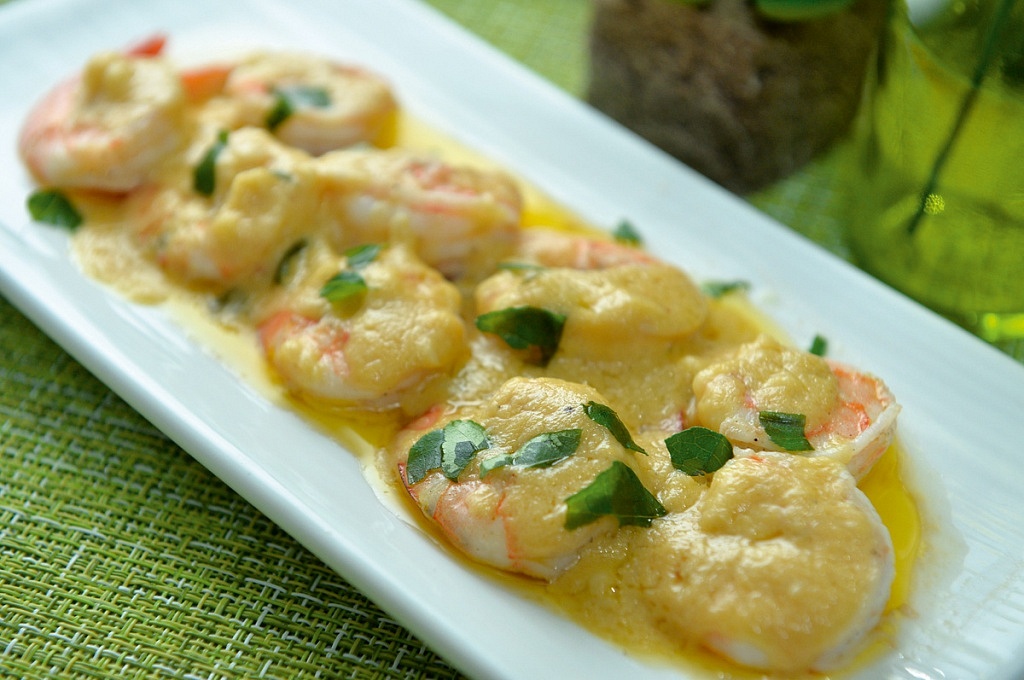 He finds cooking therapeutic, as it takes his mind off the demands of the dance world. Francisco likens culinary art to choreography. Their success lies in the quality of the ingredients, and how they are combined. Food, like dance, should never be boring or predictable.
As a dancer, his vocabulary spans a wide range, from classical ballet to hip-hop. Likewise, his cooking repertoire is considerable, ranging from classic inihaw na baboy and Tuscan salmon to comfort foods such as ginataang labong and grilled tuna belly. If he can amaze people with his technical footwork and jumps, he can also impress diners with his perfectly fluffy omelette with Japanese mayonnaise and kani.
Cooking inspires his choreography, said Francisco. The colors and shapes of the ingredients, and the way the slices cluster together, make the food come alive, as if they were dance movements. "Once I was chopping onions and I saw dance formations," he said.
When Francisco choreographs, he always starts with high energy. Likewise, when he sears a steak, he cooks over high, direct heat instead of starting on low heat to get a succulent steak. "I use high heat on both sides. I don't like it well done," he said.
Francisco adds that during days off, he hates being idle. Hence, he goes to the market to buy fresh ingredients and rushes home to experiment with new dishes.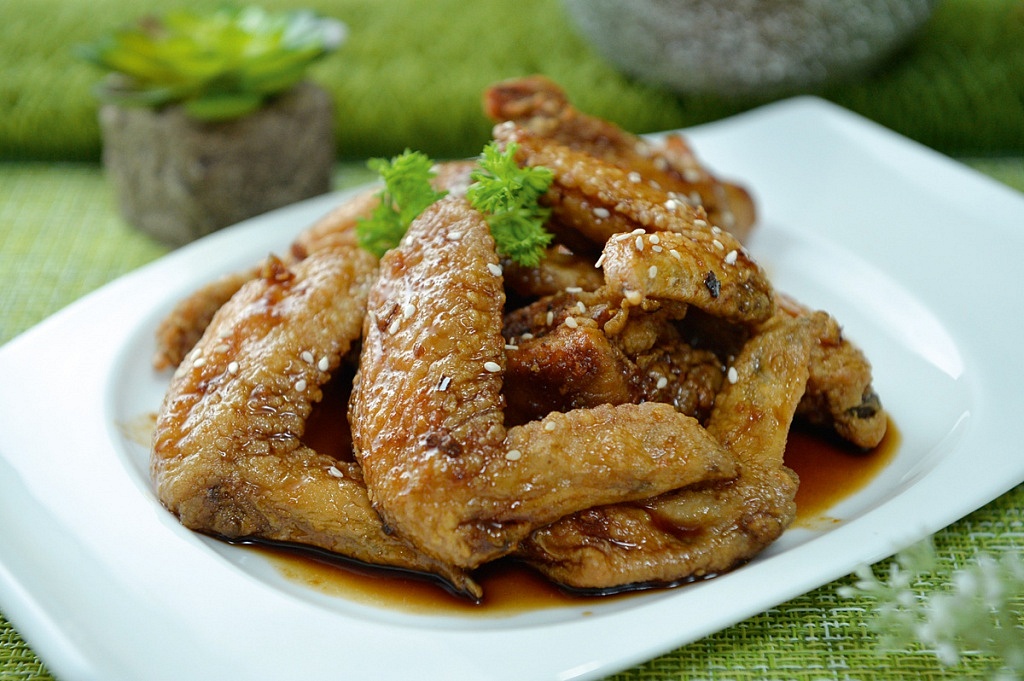 Since BM's studio is a few meters away from the condo, dancers frequently ask if Francisco has cooked up something. "My home is open to everyone," he said.
When friends come over for dinner, they enjoy Francisco's bulgogi spiked with spices, tender prime ribs, bulalo, and a thick, hearty, slow-cooked beef stew. He loves the tartness of cherry tomatoes, which balances the cheesy chicken breast in his Caprese chicken recipe.
Between rehearsals, Francisco rushes back to his kitchen. "This is when I marinate," he says. Instinctively, he combines acids, fat, and seasonings for the marinade.
All told, food is a vital creative expression for Francisco. It reveals his diligence, his sense of adventure, his attention to detail, his aesthetics, and his love for friends and family.
Photographs by Paul San Juan
This article originally appeared on Asian Dragon's June-July 2018 issue, downloadable from Magzter.