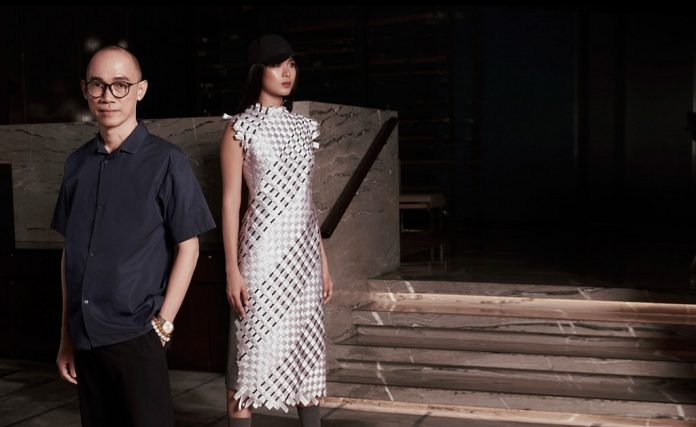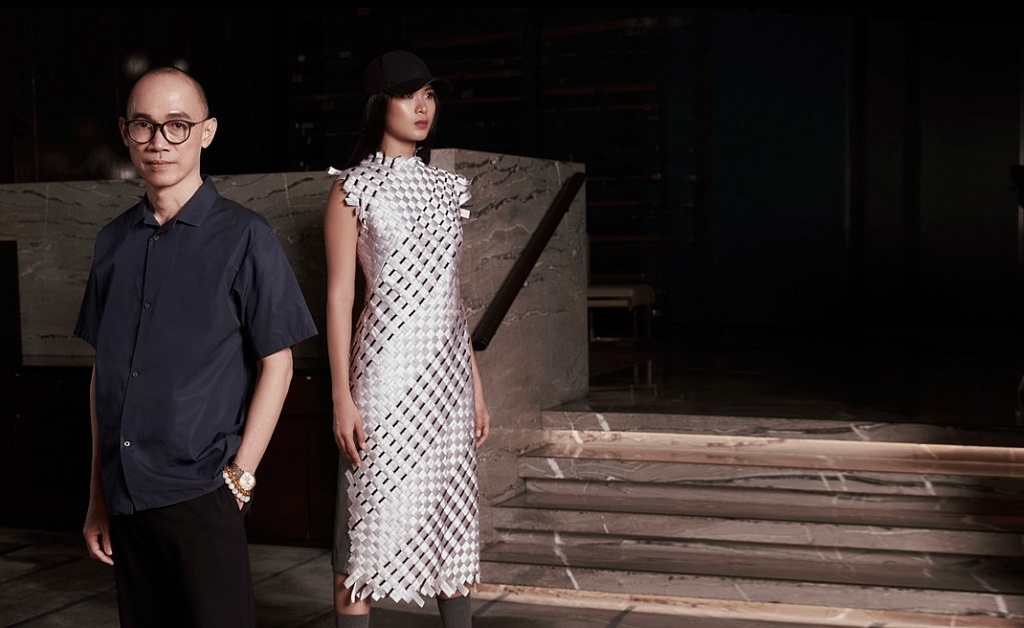 Many think that designer Ivarluski "Ivar" Aseron's gift lies in his hands. When one is able to bend and break fabric like he does, coercing rigid lines from soft tulle or coaxing curves from stiff wool, then it's easy to make that conclusion. He has been called a "Master of Tailoring" for these very feats, though he laughs at the title. "It's too big a name!" Ivar says.
But to more discerning fashion fans, it is evident that Ivar's true gift is in his eye for detail. He notices and lingers on what normal people just skim over. Despite his many years in the industry, he is able to keep every collection fresh and unique—yet true to his aesthetic—because of an unsullied fascination with the world.
This is what stopped him in his tracks, for instance, when he first laid eyes on the Broad Museum in Los Angeles. "It looked so simple, but I was just so amazed. I didn't study architecture, but I was studying this building, and I realized, oh my gosh, this was really hard to create!" he recalls. "I loved the finishing. I like simple things that are, in reality, hard to achieve.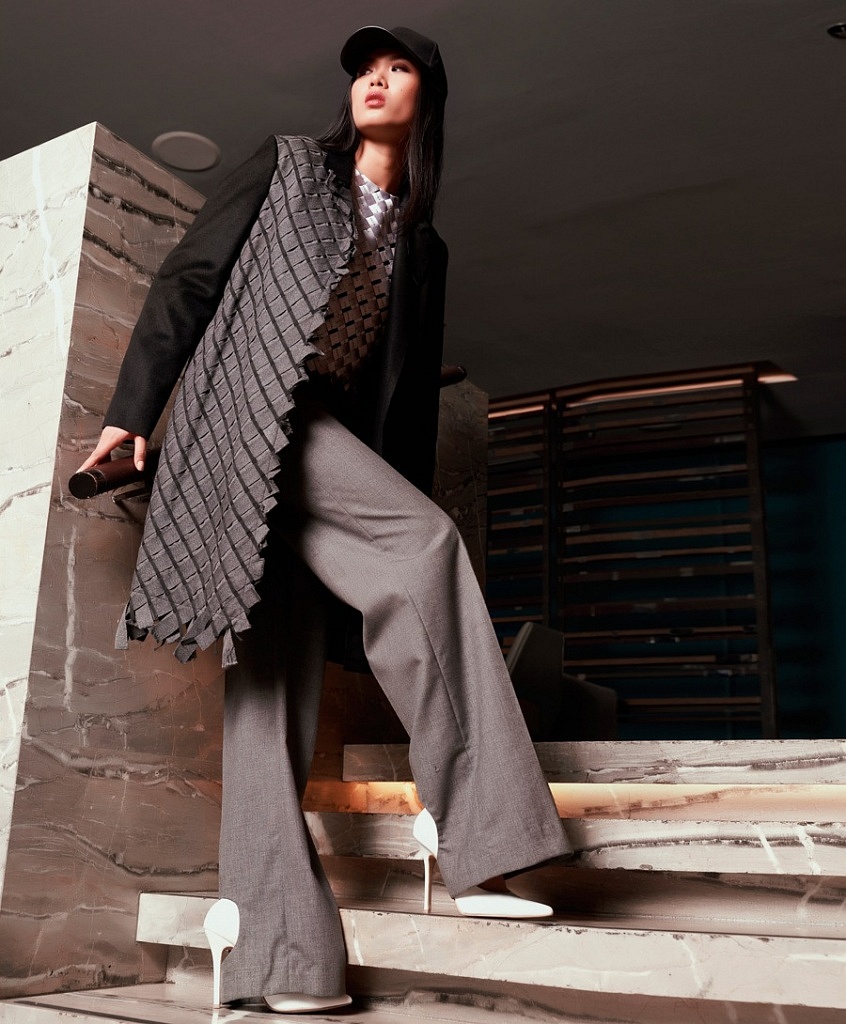 "I've always been amazed by architecture. I draw inspiration from architectural masterpieces. Mostly, what captures me is the form," he adds. Ivar takes these inspirations to his studio, where he works on them, still a diligent student of form despite having already made a name for himself in fashion. "For the Broad Museum, I translated it into simple, wearable forms. I experimented on patterns that look simple and streamlined, but are for me a bit difficult to make."
But Ivar's latest "Off-Center" collection is a deliberate deviation from his usual. This time, inspiration was internal, not external. "The collection is based on my lifelong interests. More on emotions—what I feel, what I apply in life," he explains.
"Off-Center" takes off from the designer's lifelong fascination with the slightly skewed. "Even when decorating spaces, I like things a bit off. I'd place my bed not parallel to the wall, for instance. But for me, there's balance." Under his discerning eye, off-center is never off-putting—it simply works, in a way only Ivar can pull off.
Every piece is an exploration of the unusual, an experiment in limits. Pleats meet weaving, metallic tulle meets wool, and hemlines skim different levels. Rules are broken, with results that invite a second look—a reevaluation of what is possible in fabric manipulation.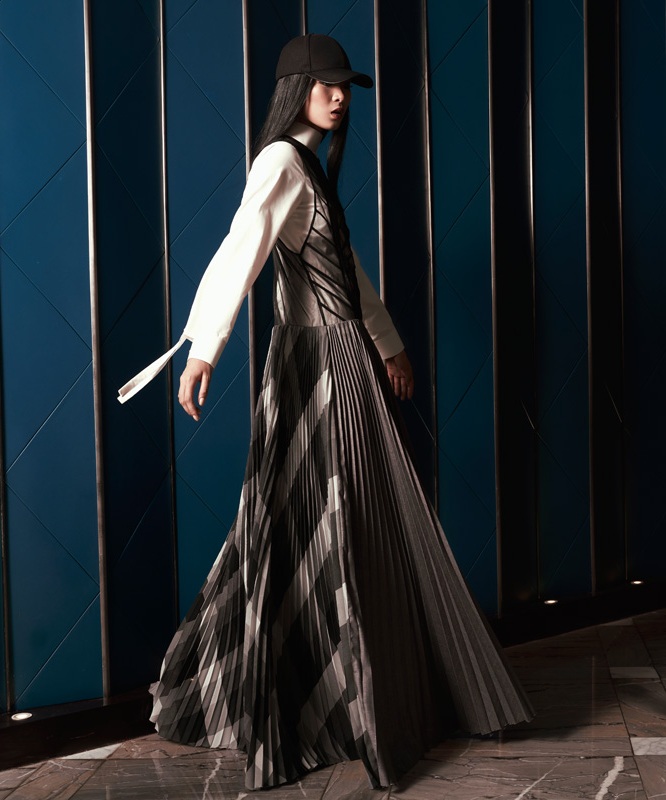 From afar, Ivar's creations already impress. His trademark streamlined silhouettes are there, in stark neutrals that show off his play on texture. Unexpected cutouts and see-through elements give subtle emphasis to the human figure. And "Off-Center" really takes center stage, with some pieces looking like two creations in one. "There are details that give the impression of being two pairs of pants combined into one, or two shirts, with another sleeve jutting out. It's not really normal or basic," he explains.
Come close, notice like Ivar does, and you'll appreciate the collection on a whole new level. The banig-like pattern, for instance, is actually woven from cotton tape and Ivar's very own labels. The clear-cut lines on a skirt are complex counter-pleats that took days to make.
"It's the first time I did that, actually. One pleat is going to the left, the second to the right. It looks simple, but actually, that's really hard to make," he reveals. "I experimented with paper first. When I'm doing patterns, I do it on a small piece to see if it can be done. The first try took four days. I had to figure out a way to shorten the process, to make it faster. It's complicated, but it adds to the satisfaction of completing it."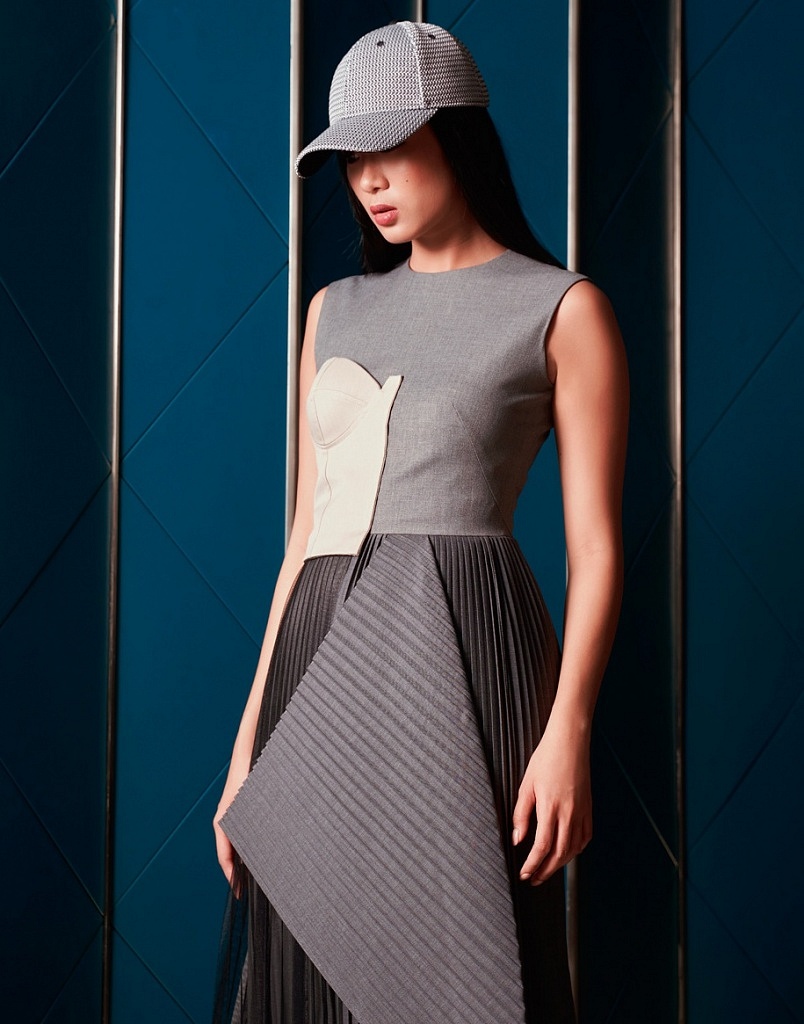 It's not so much that he's a perfectionist; Ivar is simply following his bliss. And his gamble on deviation paid off. "Off-Center" debuted in the Bench Fashion Week Holiday 2018, where chairman Ben Chan himself hand-picked Ivar for his "expert skills in tailoring that allow him to play, break, and make new rules that are at the same time simple and complicated, masculine and feminine, modern and timeless."
"It's in how I interpret or mix the details and textures," Ivar says. "I like juxtaposing soft with stiffer materials, sheer and opaque—the unexpected combinations and the different textures. I like trying something a bit crazy."
For appointments, contact Ivarluski Aseron at mobile no. (0928) 501-3468.
Photographs by Dookie Ducay (New Monarq Creativx)
Styling by Luis Espiritu Jr.
Makeup by Baba Parma
Hairstyle by Ronnie Tumamak
Model: Lou Yanong (PMAP)
Shot on location at Sage Bar, Makati Shangri-La, Manila
Special thanks to Ms. Patricia Javier
This article originally appeared on Asian Dragon's October-November 2018 issue, available for order on Facebook and Lazada, or downloadable from Magzter.