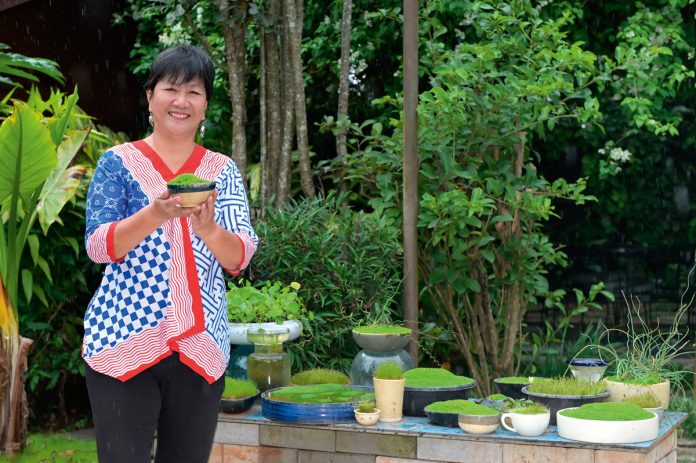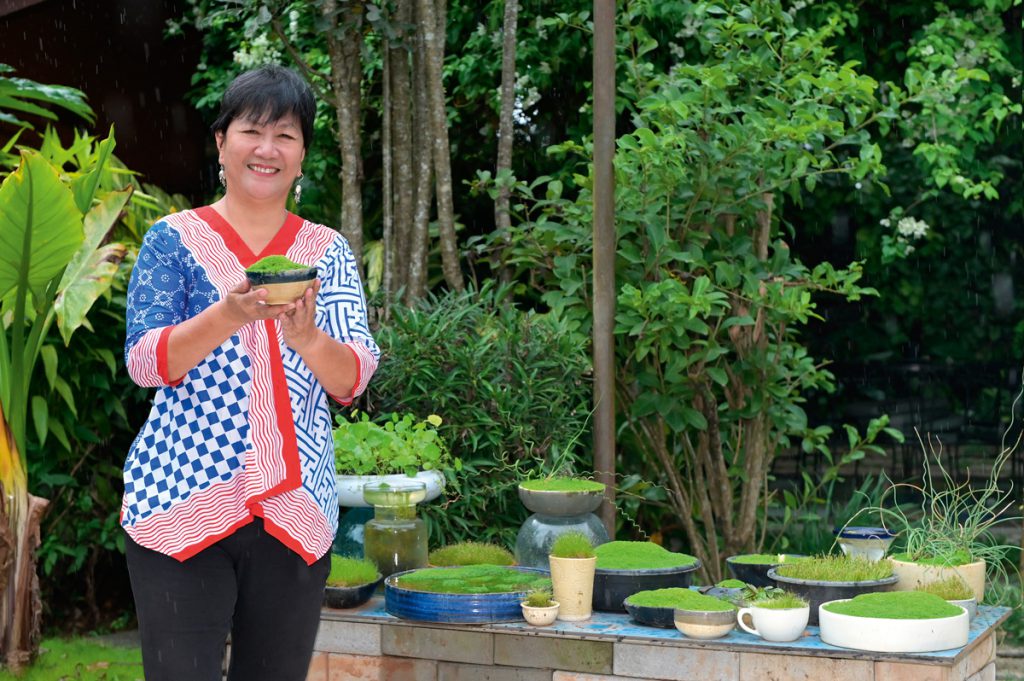 Surrounded by a garden and fruit trees in her backyard, architect Patricia "Wendy" Regalado is able to shorten the distance between food and the dining table. Whenever she entertains, the menu is always based on what's readily available.
Regalado's entertaining style is spontaneous. "It's whatever you can grab," she says. In her sprawling home in Antipolo City, she cultivates coriander, makrut and kaffir limes, lemongrass, galanggal, yellow ginger, basil to spice up her dishes, and arugula for salads and shrimp sandwich. Then there are fruit trees—rambutan, papaya, marang, pomelo for salads, and mangoes for creamy desserts. From her pili trees, she makes a creamy spread made with secret ingredients. The eggplants are smoked and mashed into baba ganoush. The saluyot (corchorus) is mixed with the banana smoothie.
When Regalado and her husband, Roy, also an architect, moved to Antipolo in 1998, the land was nearly bare except for the mango trees. Over time, Regalado, blessed with a green thumb, started planting until it became a lush haven for foliage, aroids, water plants, air plants, vegetables, fruits, and orchids. The garden also has host plants that attract butterflies.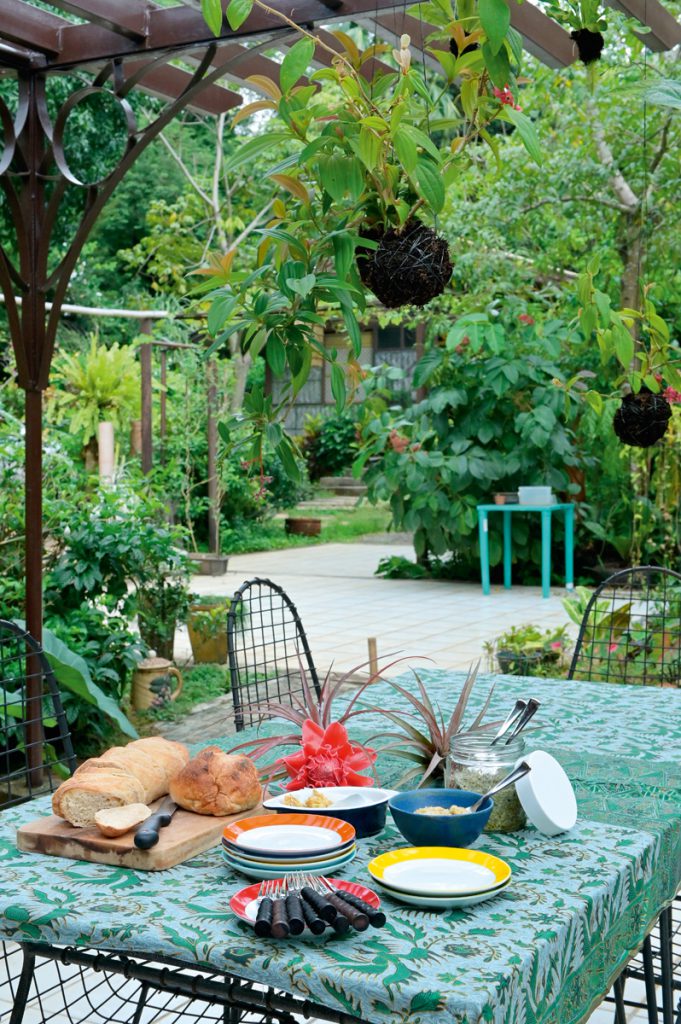 Regalado's farm-to-table entertaining style is straightforward yet colorful. Centerpieces are herbs, foliage, or fresh flowers picked from the garden. Dining utensils are combination of steel and exotic hardwood. Kiln-dried bowls and plates and colorful china are passed down the table. Giant leaves serve as placemats.
The dishes are based on seasonal ingredients. Since her sources are the backyard and the market, the food takes less time to prepare. A salad is always a given. The meals are always light so that guests don't groan with heavy tummies afterwards.
The table settings blend with the modern country-style interiors. Her breakfast table, covered with Indonesian ikat, is laden with champorado or chocolate porridge made from the purest tablea, native chocolate tablets, and served on a bowl by potter-artist Lanelle Abueva Fernando.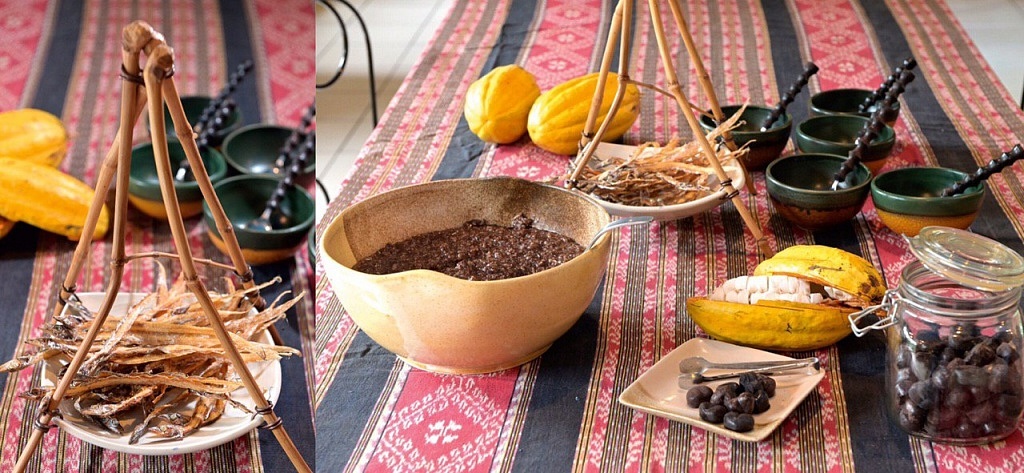 A light lunch is a fresh pomelo salad with coriander, lime, fried onions, and shrimps from the market, brightened and spiced up with flecks of red chili. A glass of fresh calamondin is a refreshing match. The setting consists of blue and white bowls and Philippine ebony forks that are placed on top of water aroid placemats.
The meal is more enjoyable because it is set on the porch, framed by pretty grills and stained glass, that opens to views of the garden. The merienda is held under the trellis with hanging medenillas. The centerpiece of torch ginger makes a powerful statement on the batik table. Tiny pieces of toast are spread with homemade dips of eggplant mezze, squash with mozzarella, and dulong (small fish that resemble sardines).
When fairy dendrobiums are in bloom in summer, she invites friends to witness their blossoming. This also coincides with her birthday. For long life, she serves pancit de carajay, a recipe of culinary historian Ige Ramos. It's made of heart of palm with vinegar, shrimps, cabbage, Chinese celery, chayote, green beans, annatto, and rice and egg noodles.

"The heart of palm and the kilawin (raw seafood) lend the umami taste," she says.
From the harvest of arugula, she tosses a salad or puts them on a bacon sandwich or uses the leaves as topping on sourdough pizza bread to balance the flavors of the mushrooms, cheese, and anchovies.
During a backyard barbecue, Roy, whom she claims is the better cook, grilled seafoods and served beer. Roy also made dips like crab and water chestnuts.
Ultimately, Regalado's entertaining style is memorable because it is simple. She celebrates not only the freshness of the ingredients and artistry of her table accessories, but also the love that went into making each dish.
Learn how Wendy Regalado makes her special champorado, the nature of her events, and more on Asian Dragon's October-November 2019 issue, available for order on Facebook and Lazada, or downloadable from Magzter.
Photographs by Paul San Juan