The photos of a group of bikers and pedestrians surrounding a small food truck that had opened its doors to them spoke volumes about the state of the National Capital Region. On one hand, the desperation and hunger were evident in the faces of those who were literally opening their arms to the bags of goods being thrown their way. On the other hand, the delivery boys in the truck, owned by the Le Sucre Lab, a bakery in Sta. Ana, Manila, were earnestly performing their duty, aware of the urgency of the situation. There were no brochures or promotional materials attached to the bags. (Full disclosure: This writer just happened to be nearby during this incident, and was able to take a couple of photos.) The young men kept handing out the goods, without questions or conditions. The only words they said to their beneficiaries were, "Ingat po. Heto na po. God bless you po."

The NCR might be under siege, attacked by an invisible virus that has decimated jobs, food supplies, health, and hope in just a few weeks. Thoughts of mortality and famine are on the minds of many. Still, there are unsung heroes who own and run their small-to-medium-sized enterprises, who use their own resources and raise funds from their friends and allies to keep hunger, death, and hopelessness away. These are their stories.
The small pastry studio and its cooking workshops were "unstoppable" prior to the pandemic, says co-owner Marvin Bagube. Established by Bagube in 2017 with business partner Renan dela Cruz, the original store in Sta. Ana, Manila had grown to five branches across the National Capital Region. It's very popular Chocolate Dreamcakes were getting a lot of customers through social media. Bagube's weekend classes in advanced baking were likewise consistently drawing crowds of students.
The enhanced community quarantine (ECQ) soon closed Le Sucre's bakeshops. Bagube and dela Cruz decided to leave the main Tejeron store open "to accommodate orders and give back and help those who are most affected during the ECQ." Three times a week, their small but dedicated team prepares and cooks food packs, and sends them to front-liners as well as day workers suffering loss of income.
The nearest beneficiaries were the drivers of pedicabs, tricycles, and jeepneys in seven Sta. Ana barangays. Next were the barangay tanods, policemen, and soldiers in those areas; even inmates in the neighborhood jails are accounted for. The hospitals in Manila that are on their list include the Chinese General Hospital and Medical Center (Chinese Gen), Dr. Jose Fabella Memorial Hospital (Fabella), Ospital ng Maynila Medical Center, the Philippine General Hospital (PGH), and the Sta Ana Hospital. Deliveries also reach government employees manning their posts at the Manila City Hall.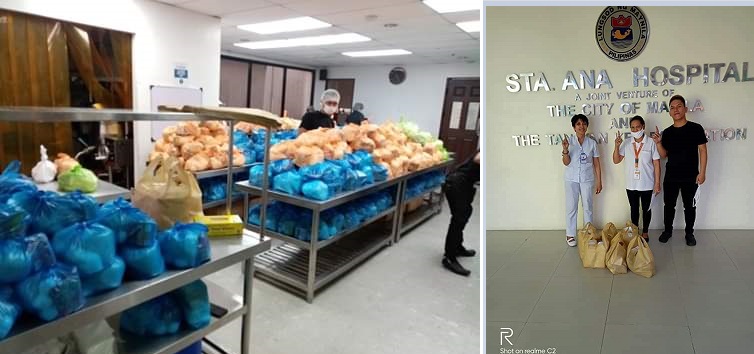 Aside from coordinating with the community and hospital officials, the Le Sucre team creatively mapped out their itinerary due to the closure of the usual roads. They had to assure supermarket supervisors that their purchases of goods in bulk were not panic-buying by individuals.
In a twist of fate, Bagube could have been providing medical care to patients. Though his passion for cooking made him pursue a culinary arts degree, he is also a registered nurse. He empathizes with those who could have been his colleagues, saying, "I'm a nurse myself, and facing this invisible enemy is not an easy task. The least we can do is to make them feel appreciated, and that we are behind them in this fight."
Asked as to his reasons for sustaining this particular food supply chain, Bagube says simply, "We are not doing this for rewards, nor for honor. It is a social responsibility. It is being human: to help without asking anything in return."
Rad Pelayo's opening of the Healthy Meals PH resto in Quezon City a few years ago was launched by a desire to maintain his weight and have a continuing supply of healthy food at the same time. This son of farmers in Pampanga also wanted a place that could promote locally grown fruits and vegetables, and serve ketogenic menus and plant-based Filipino cuisine. This year, Healthy Meals had transformed into the H Café and Events Place, designed for celebrations, meetings, and conferences. This new venture had been gaining traction and was about to open a second branch in the Bonifacio Global Center. Then the ECQ happened.
Since then, Pelayo's small corner in Scout Limbaga has become a cross between a relief center, a hub for donations, and a kitchen where tired Grab and Lalamove drivers eking out a living can enjoy a free nutritious lunch or merienda. About 150-500 food packs consisting of a viand, rice, dessert, and coffee are brought to the front-liners by volunteer drivers. Donations from friends and other citizens who want to do their share have kept the delivery lines going.
The doctors, nurses, and health care workers are first on his list. Among his beneficiaries are Fabella, the Fatima University Medical Center, the Las Piñas General Hospital and Satellite Trauma Center, the Makati Medical Center, the Manila Central University Hospital, the Medical City (TMC), PGH, the Philippine Heart Center, the Lung Center of the Philippines (Lung Center), the San Lazaro Hospital, and the St. Luke's Medical Center (SLMC).

His team also raised funds for masks, or received them in kind, and sent them to the Clinica Antipolo Hospital and Wellness Center Inc., the Quezon City Environmental Sanitation Department, and the AMOSUP Seaman's Hospital, Manila.
By the second week of the lockdown, Team H was also bringing a mixture of food packs and masks to soldiers and military personnel guarding the checkpoints.
Pelayo's cry for help on social media resulted in an outpouring of support which he describes as "a bandwagon effect." He admits, "Helping others is addicting. This crisis is not about me or my family, but it's about us. It's a collective effort to win this battle."
The plight of the front-liners is always on his mind. "They protect us, and it's our duty to protect and help them as well," he says. "To see them smiling is enough for me. They also know na may kasama sila sa laban na ito."
De Rider Courier Services was at the forefront of biker delivery services long before the more known regional brands started beefing up their presence in the Philippines. A fleet of part-time or fulltime drivers (also known as "riders") were tasked to ferry goods and documents from senders to recipients inside the NCR within 24 hours. When the new and more monied arrivals created stiffer competition, management decided to maintain operations to keep their employees.
De Rider's riders have been pretty busy since the lockdown, adding one more task to their duties: carrying needed food, medical supplies, and PPEs to the hospitals, police stations, and cashiers and baggers of pharmaceutical and grocery stores. Money is being raised by the company owners for the front-liners through social media.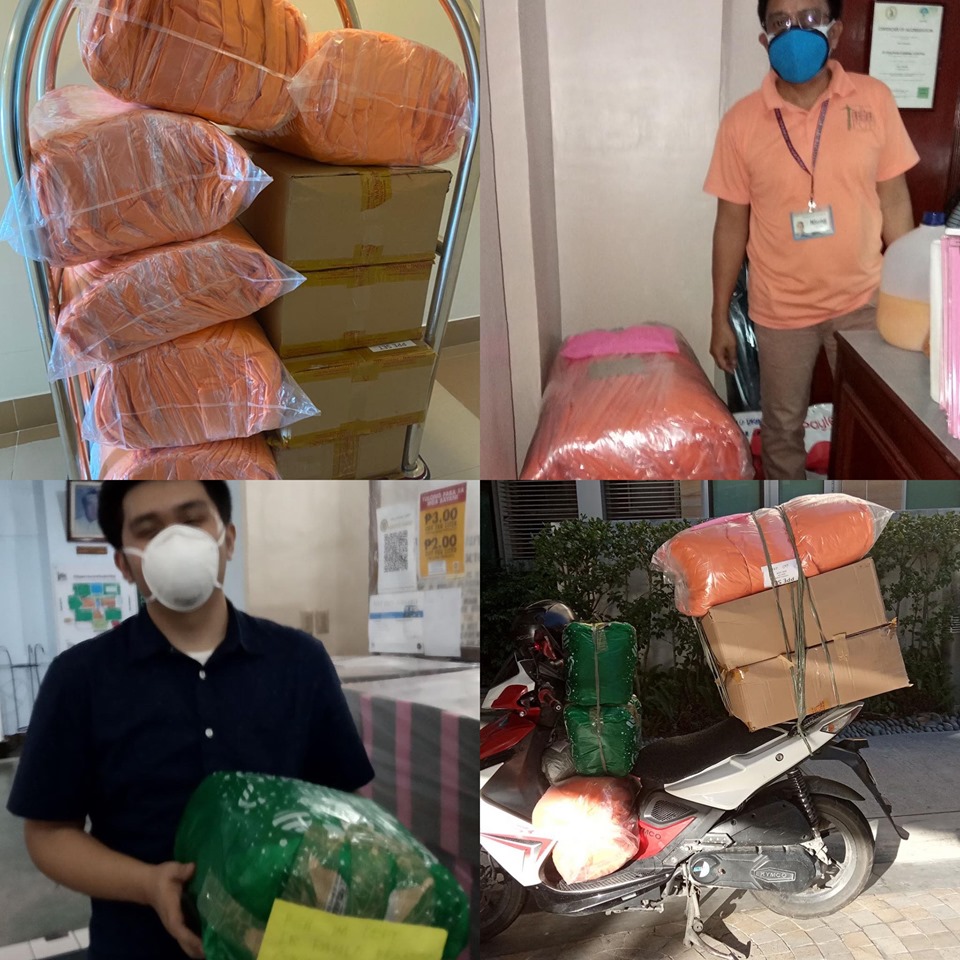 Some of the hospitals they have helped include Amang Rodriguez Memorial Medical Center, East Avenue Medical Center, Fabella, Lung Center, National Center for Mental Health, Ospital ng Biñan, Pasay City General Hospital, Pasig City General Hospital, PGH, Quezon City General Hospital, Rizal Medical Center, SLMC (QC and BGC), Medical Center Taguig, TMC, and the VRP Medical Center,
De Rider's protectiveness over its fleet goes beyond ensuring their paycheck. The riders are taught good hygiene practices and given the proper equipment to prevent their infection from the people they encounter.
What makes this particular campaign different is the speed of delivery. Once the funds have come in and the packages are prepared, the riders can immediately take to the roads to make the deliveries. Neither donors nor recipients have to wait precious minutes to book a delivery vehicle. Centralized management of the riders has made possible delivery of essential goods to locations outside the NCR, such as Laguna.
Sometimes, according to De Rider Courier service co-owner and founder Dimpz Agustin, the riders would reveal their other talents for their embattled countrymen. She says, "They volunteer to cook meals for the homeless and the security forces guarding the checkpoints. After cooking, they will drive around and hand over meals to anyone who might need them. We have distributed more than 500 meals in various cities."
Agustin describes the most important lesson she learned in this experience: "Our riders surprised me the most. They value their earnings, yes, but they have been awakened by the beauty of helping—even if in fact they need help themselves."
Bounce Back Ph Facebook group exploded from zero membership to 16,000 during the first two weeks of the lockdown—and the numbers are still rising. Entrepreneurs, freelancers, business owners, and every other income earner who wants to save their business from the financial crisis, present and future, jumped on board to find answers and help each other. Various campaigns to raise funds and give donations to front-liners have also been birthed in the community. At the center of a growing movement is entrepreneur Jason dela Rosa. With his own businesses presently on hold, his focus is on mentoring and organizing this economic platoon of soldiers who just might save the Philippines from the next Big Bust.
Dela Rosa has classified his campaigns into three categories: "Front-liners first, because without a COVID-19-free community, no one can go back to work and their daily lives, which will hurt the economy. Second, food relief, which can give people hope at this time. And then, third in line are the entrepreneurs and SMEs who make up most of the country's economy and who have to rise again."
Dela Rosa's team of lieutenants assist their growing army by providing information and upskilling. Leaders share their knowledge through group chats and webinars. Best practices and relevant articles are discussed. Bounce Back's ultimate goal is to "create a task force…consisting of industry experts and top entrepreneurs to put our minds together, and create a customizable practical framework for MSMEs to 'bounce back' from the crisis."

As to his estimated time of economic recovery, Dela Rosa gives his fellow business owners pragmatic answers: "We tell them to always prepare for a worst-case scenario and then work backwards. Depending on the industry, there will be companies, such as those taking full advantage of digital platforms, which will take three to six months to recover. Those who depend on foot traffic or an efficient supply chain might take six months and more—especially those with very tight cash positions without access to available resources. "
The country and the economy may be in for the long haul, but Dela Rosa also recommends looking at the opportunities that can be found among the challenges. He says, "The messages from all the people helped through the Bounce Back movement are good enough for me to work at this like a full-time job during the quarantine. I've also made good friends along the way, who eventually can become business partners for a better situation in the future.
"And more importantly, there are so many good people—it's a matter of organizing the effort in order to make the act of helping smarter and more productive."