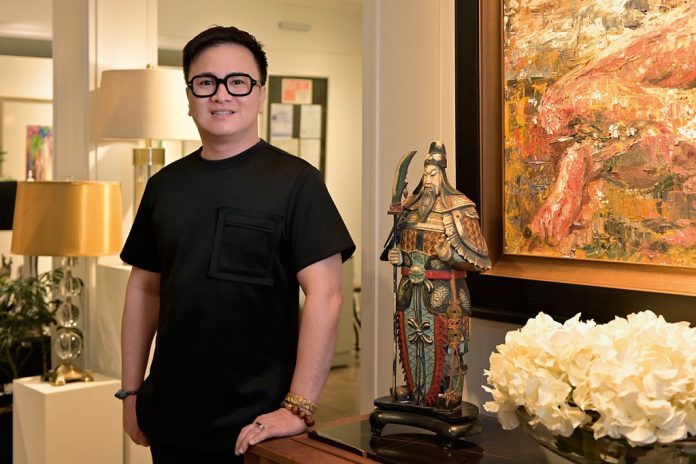 The table arrangement is simple yet elegant. White, bone china Viennese plates with silver trim, are set atop round black leather placemats from London. The fork, knife, and spoon are neatly tucked into the pockets of monogrammed linen napkins and are placed on the right side of the plate.
"I like to put the silverware on one side because it's neater, and it saves space—especially when you have a small table," says interior designer Sigvard "Jigs" Adefuin.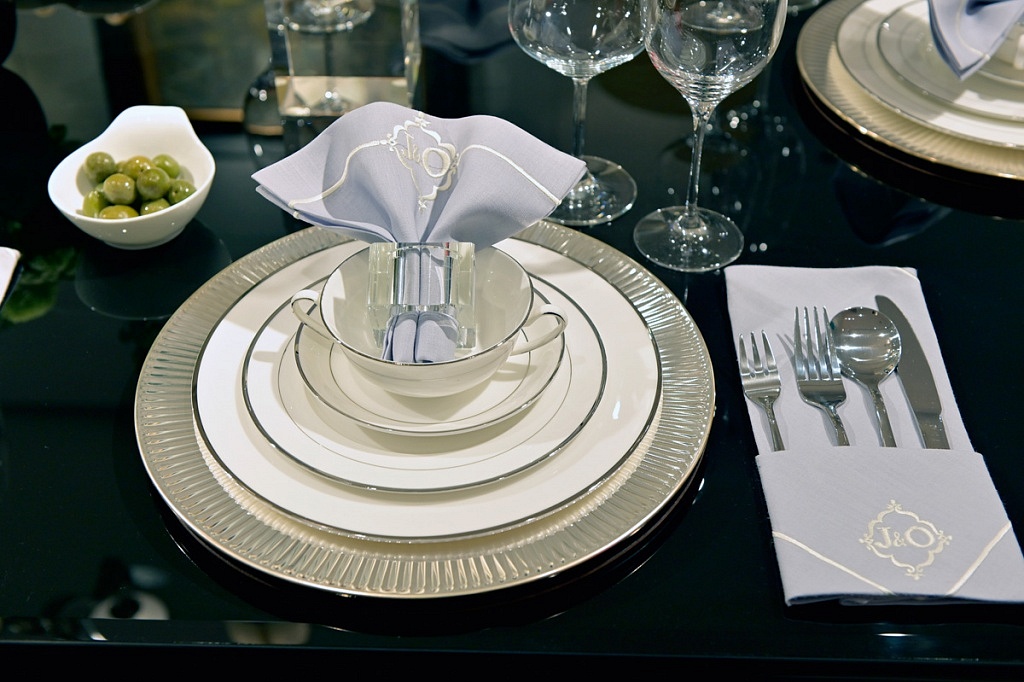 The glistening, clear stemware matches the clarity of the modern candelabras, made of stacked Lucite cubes. Even the munchies—olives, wasabi-flavored nuts, and cashews—set on dainty plates become part of the table setting.
In the center lies a row of dainty floral arrangements in black pots from India. Adefuin applies what he had learned from floral arrangement class. "It's all about layering the flowers," he explains. "The focal point of the composition is the bunch of paper roses. The accents are eucalyptus leaves, green flowers, and fillers arranged at different heights."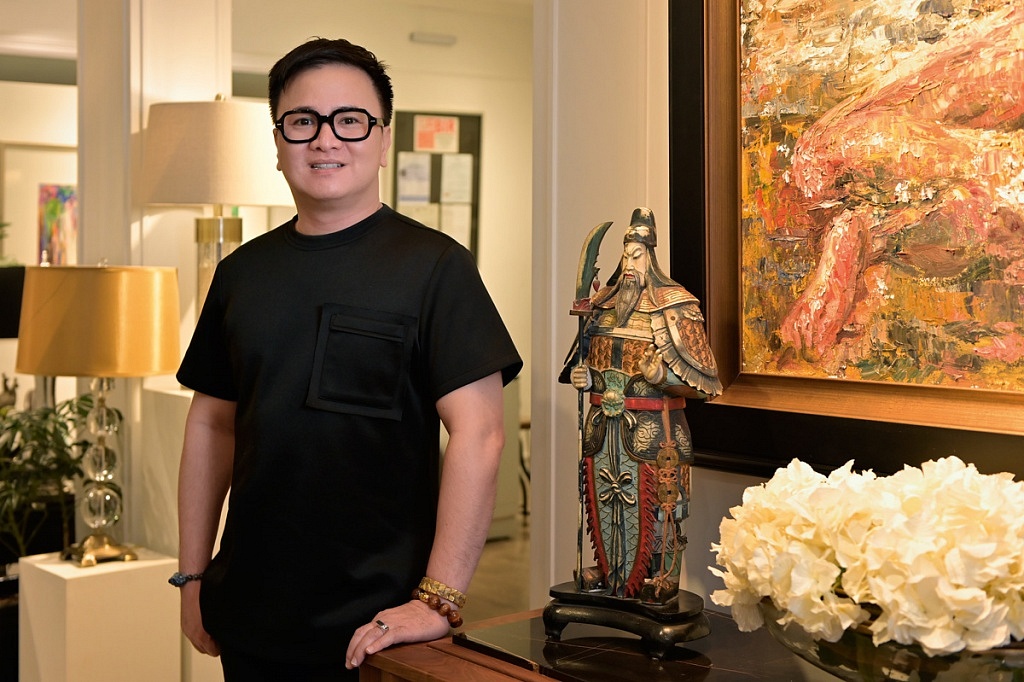 The table setting complements Adefuin's furniture design. They are placed on a beveled, colored glass table top with Art Deco-inspired mahogany chairs, luxuriously upholstered in velvet.
The buffet station is as equally resplendent—quiche, roast chicken, lasagna, Adefuin's signature iceberg lettuce salad, and chocolate mousse tarts on a marble-topped, mahogany console. The colors of the food pick up the tones of a painting by Orly Ypon.
Adefuin likens entertaining to decorating a space: "You must create ambience," he maintains. Growing up in a family of cooks, Adefuin inevitably developed discriminating taste and picked up culinary skills. Since childhood, he would help his grandmother in the kitchen. During summer breaks, he took cooking and baking lessons.
When friends come over for dinner, they clamor for Adefuin's signature lasagna, an heirloom recipe from his late mother. "It never fails to impress people because I use five kinds of cheeses—mozzarella, Parmesan, Gruyere, Gouda, and cheddar—layered with rich meat sauce," he says. As if these weren't enough, he would top the lasagna with bechamel sauce.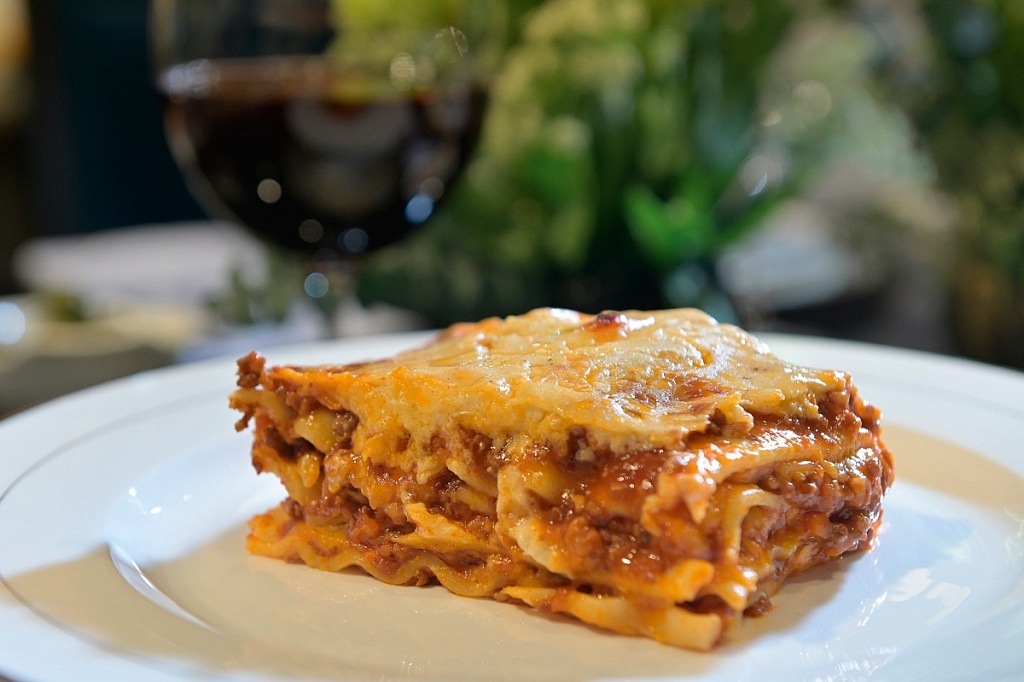 The soups are familiar favorites: tomato or cream of mushroom. Similarly, desserts are classics such as brownies, sans rival with layers of meringue and buttercream frosting, and almonds or pecan custard pie. The designer recalls that he celebrated his birthday with homemade dinner of steak and pasta with meat sauce.
Adefuin also took lessons in making pies with lemon custard, pecan, and apple fillings. "When I learned pie making, I discovered that the crust's texture is dictated by the filling. Tart crusts are sweet while quiche crusts should be crumbly and buttery; pie crusts are flaky and slightly savory," he says.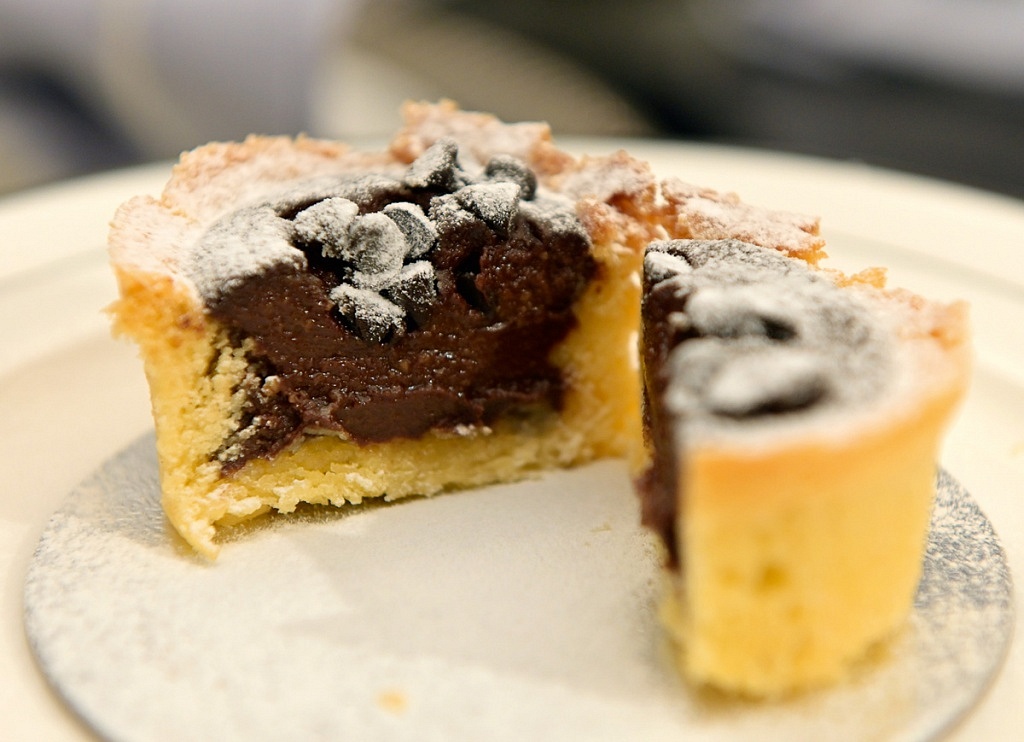 Despite his busy schedule, the designer continues to learn new recipes such as baguettes and ensaymada at Enderun and in his travels. In Bangkok, Adefuin took up a short course on pad thai with homemade tamarind paste, beef curry, fresh spring rolls, and sticky rice with mango.
Adefuin says he cooks and bakes because of their therapeutic effects. The activities take his mind away from the demands of work, and calm him down.
"Baking and cooking are my stress relievers. You will know when I'm under pressure. The kitchen will have so much oatmeal raisin or chocolate chip-macadamia nut cookies and pan de sal. Sometimes I make chiffon cupcakes or cheesecakes. These are also avenues for self-expression," he says.
Photographs courtesy of Paul San Juan.
Learn more of Adefuin's indulgence to Filipino food inside the magazine, available in all leading bookstores nationwide or downloadable from magzter.