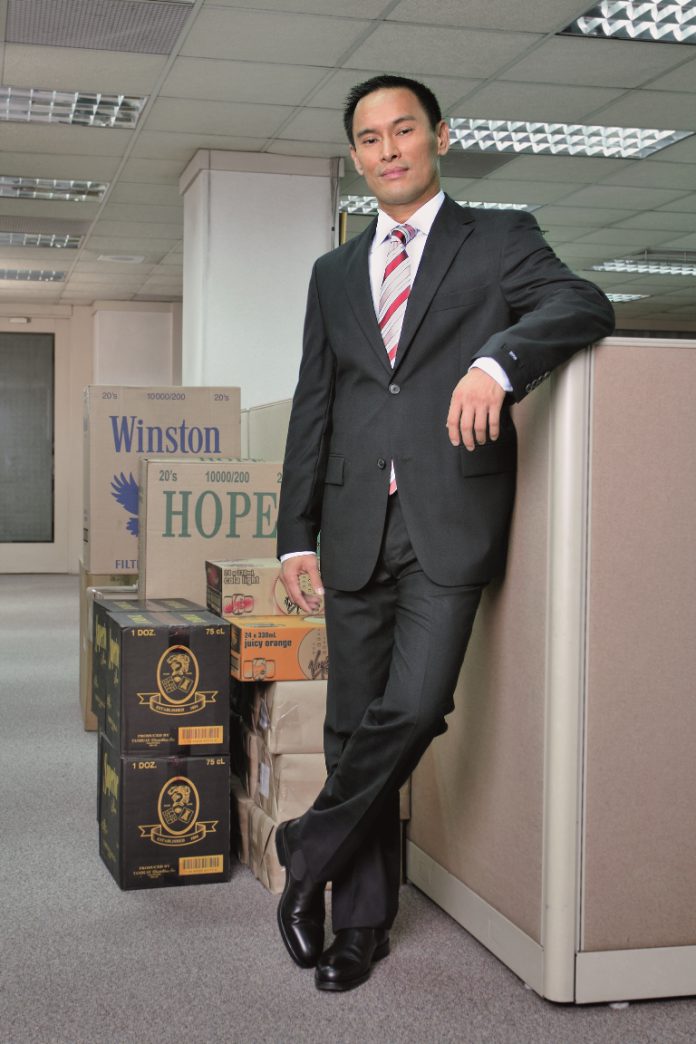 In an Asian Dragon exclusive, Ma. Stella F. Arnaldo gets to speak to the presumptive ascendant to the throne of Lucio Tan's global empire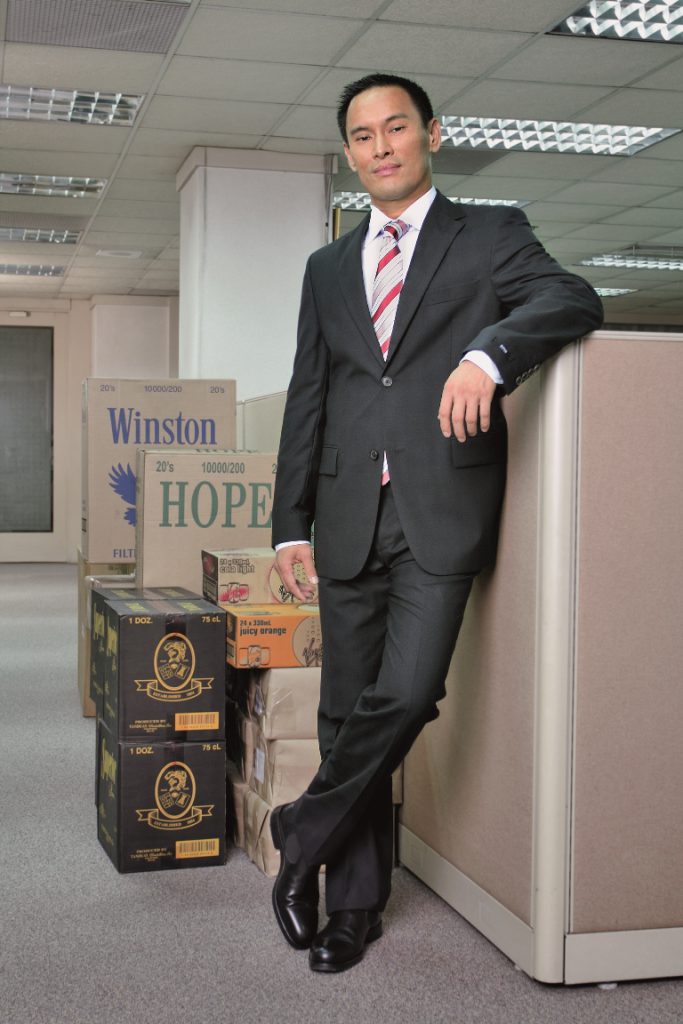 By most accounts, one should be very wary of approaching Lucio "Bong" Tan Jr., the son and presumptive heir to a sprawling global conglomerate worth untold billions of pesos built by his father and namesake, Lucio C. Tan. After all, his temper on the basketball court and on the golf greens is the stuff of legends.
But it was a very subdued and polite Bong who sat down for an interview in July. He even displayed the wit his father has been known to flash at certain times and among certain company. He was able to poke fun at himself—jesting that he probably looked like his achi Vivienne as a makeup artist put some light lipstick on his face for a fashion shoot—and at his powerful taipan of a father ("I don't wear white socks.").
A few executives in his father's companies who've had dealings with Bong say that the latter does have a "stern" and "military-like stature," which account for the perception that he is unfriendly. But one former Lucio Tan lieutenant points to him as being "mabait [kind], not arrogant at all." Another sees Bong's demeanor as being "quite shy. Sometimes he's unable to express himself. If he becomes your friend, you will like him," says the executive who declined to be identified.
Even some of Bong's worst critics have been able to see his softer side. Just ask Alfrancis Chua, who coached Bong's basketball teams, the Stag Pale Pilsen, then Tanduay Rhum Masters, between 1994 and 2000. Chua says he had furious arguments over Bong's handling of the team, leading to their falling out. The coach, however, insists "that's now in the past."
"What many people don't know about Bong is that he is a really simple guy, parang di mayaman," according to Chua. He adds that when he and Bong were good friends, "you'd be surprised where we would eat. Minsan sa kalye lang. He's not very picky with his food. And he's not the type who wears signature or branded clothes."
In fact, Bong laughingly admits to being a fan of the infamous "hamburjer" sandwich at the Wack-Wack Golf and Country Club, which former Comelec Commissioner Ben Abalos said whistleblower Jun Lozada also seemed to enjoy eating. "Masarap! pinipilahan 'yan," Bong excitedly explains, "because it's so affordable even the drivers can buy it. But it's very simple—just a plain burger then one pickle, not too many toppings."
And from what we hear, he isn't exactly the type who hangs out in high-end clubs. Instead he can usually be found on weekends hanging out at Chili's or Gilligan's Island in Greenhills.
The kindness and simplicity may be traced perhaps to Bong's own upbringing. First of all, he was nurtured by his mother Carmen, his amah, and grew up with six sisters—Vivienne, Karlu, Rowena, Sheila, and Jesslyn. Bong is the fifth and only male in the brood.
He also tells me that his father "trained" his children "not to splurge." He remembers his allowance being very small that when he went to college at the University of California in Davis, he had to work two jobs, like his American classmates—as a gym manager and a basketball coach—just so he had enough money to spend for his needs.
Even before his move to California, he led a very "spartan life" when he studied at the Beijing University in China from 1984-86 to deepen his appreciation of the native language and culture. "There was no McDonald's yet then," Bong recalls, but he said it was the best time to be in China. "It was actually the last chance to learn the culture before it opened up. I went back, now it's so different. I'm still lucky that I went also during that time, under the old China, to study history and the language."
Bong grew up in the family home on Biak-na-Bato St. in Quezon City. From the outside, the property looks unremarkable except that it occupies an entire block, bounded by Maria Clara St. and Dapitan St., in Sta. Mesa Heights.
Typical of most Chinoy families of the area, the house has high walls and a high gate, though one could see the top of Tans' trees, which grow inside the front perimeter. Sta. Mesa Heights, which was where I too grew up, may be described as middle class, and was a good place in the 1960s and 1970s to raise children. This was where many Chinese-Filipino families flocked to after the Ruby Tower in Chinatown collapsed in 1968, although some ascribe it to some feng shui belief that the area which extends to Del Monte Ave., is shaped like the head of the dragon, and thus considered very lucky.
I remember how safe the area was then that even the children of Chinoy families could just walk around or play in the streets with their nannies. What distinguishes Bong's family home from the rest of the Chinoy families' in the area though is a helipad, which is quite visible from the street. Okay, so his living environment wasn't exactly plain (there is a swimming pool as well; I checked Google Earth), but there is something about the people who grew up in this area that one's simplicity is discernible, despite the trappings and layers of sophistication gained with age and success.
At this interview, Bong is just wearing a powder blue polo jack over dark pants. "I started wearing it (polo jack) 10 years ago, and now a lot of corporates are wearing it." Asked if he liked men's wear from Prada or Hugo Boss, he says: "Believe it or not, I also go for sales, and sometimes I give it (my shirt) away, when people like it. If it's Hugo Boss, how can you give it away?" he laughs. (Ironically, for the fashion shoot, he is dressed up in a navy blue Hugo Boss suit, which fits him rather well, although he did display some self-consciousness as the photographer flashed away. Bong does wear business suits when the occasion calls for it, but for casual wear, he uses athletic shorts, a T-shirt and sneakers when going to the mall.)
"I like fresh-looking clothes," as Bong describes himself as a "trend-setter," and readily admits to reading male fashion magazines such as GQ. "I like wearing clothes that nobody has seen yet. But I'm not brand-conscious." The simple shirt and trousers notwithstanding, he wore on his left wrist a Patek Philippe Nautilus watch, and on the right, a slick black rubber and silver Philip Stein Teslar bracelet, "for wellness." He beams, "It was given to me by someone special, someone inspirational." I encourage him to share, but he just says "secret!" then snickers like a little boy with a huge secret.
What Bong admits to are the pressures of being Lucio Tan Jr. He is naturally bruited about to take over from his father, now 74, one day. The task seems formidable. Research indicates Tan owns 41 local companies including Basic Holdings Corp., the family umbrella, and 10 firms overseas, located in the United States, Canada, Guam, Papua New Guinea, and Hong Kong.
"I feel pressured of course, and also it's challenging. It is a challenge to put in practice all that you learned, right?" he says. He says he was supposed to work in a bank in the U.S. after graduating in 1991 from UC (University of California) Davis with a civil engineering degree, "but my Dad told me to come back [to Manila] already." His first job at Fortune Tobacco Corp., was as a tobacco leaf inspector in a warehouse which he describes as "hell." It was so hot, he recalls, "I had to change my shirt at least four times a day. And I had no salary, parang OJT (on-the-job training)." When the tobacco season was over, he was moved around different divisions to learn up-close the operations of the cigarette company.
Asked if he didn't feel wanting in professional experience as he wasn't allowed to work in other companies other than his father's, "That's exactly why I studied for an MBA with Northwestern University's Kellogg School of Management [from 2005-2006]."
While his father, a generous supporter of education and skills training programs, was himself initially skeptical of his son's plan to take an MBA, Bong says he eventually convinced his father by saying it would be "an opportunity for me to learn other industries because studying MBA involves a lot of case studies in different industries. And you meet a lot of people from other countries; these are CEOs and CFOs from other industries so it's also good for networking. Until now we keep in touch with each other."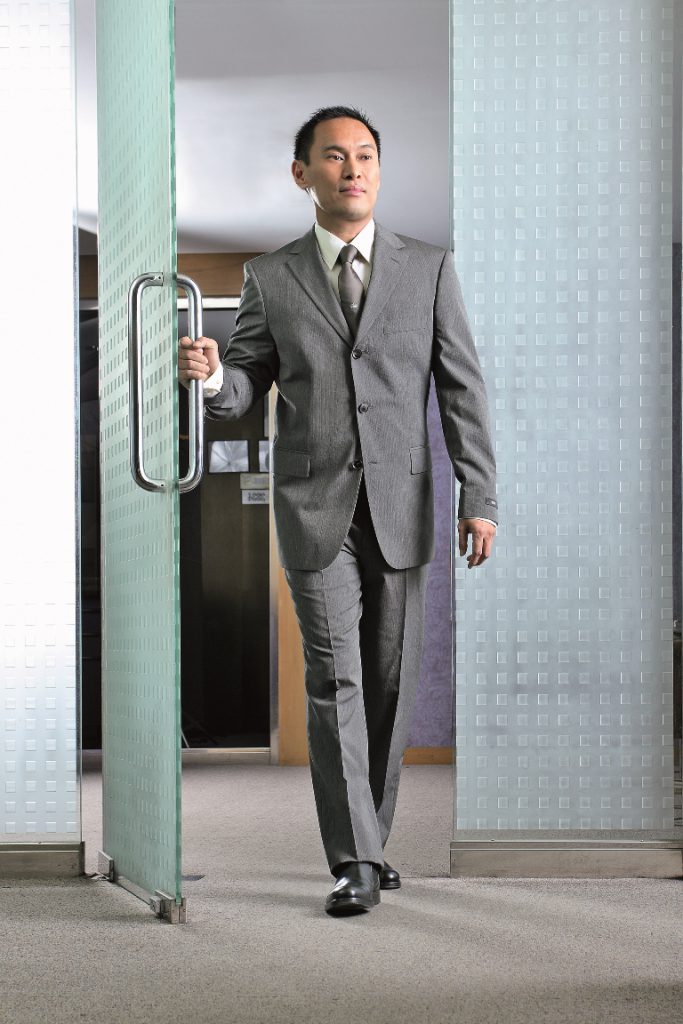 At 42, Bong is now executive vice president of Fortune Tobacco, where his father made his first, umm, fortune, and Foremost Farms Inc. He also holds several directorships in the other Tan companies such as Philippine Airlines, Air Philippines Corp., Macroasia Corp., Tanduay Distillers Inc., Goldbond Printing Inc., Allied Bankers Insurance Corp., and Eton Properties Phils. Inc.
As a manager, Bong describes himself as "approachable; everyone can call me up, text me, they know I will answer unless I have a game or in a meeting." He adds that anyone can go to him if there are problems in the company. "I'm a guy who has to listen to both sides [of an argument]. I will always ask, 'Okay, who's the other party?' but I will not tell him that I will call the other side. I will say I will think about it, then I call the other side. If I can settle it, okay, if not, I consult an expert on the issue. If it's just a small matter, I just tell the one who complained to me, 'ibigay mo na [let it go]'."
Bong stresses that the succession issue is not discussed within the family, even as some media reports point to him as the heir apparent. I tell him that unlike other Chinoy business families, like Henry Sy Sr., John Gokongwei, George Ty, Andrew Gotianun and those of other taipans, his father has not publicly anointed anyone as his successor. His main "rival," sources say, is his half-brother Michael, who is his age, and runs Asia Brewery Inc. But our sources say that strict Chinese tradition dictates that the male child in the first family takes priority in terms of succession, thus giving Bong the edge.
The other likely candidate is his Uncle Mariano, his father's younger brother.
Bong is obviously uncomfortable discussing the succession issue. He leans into me as his voice drops a tad lower, as if not wanting to let anybody hear his answers. He knows he can't evade my questions, yet respectfully answers them without giving too many clues. "We never talk about it," Bong says, adding that no one is really sure who's going to take over from his father. He adds that unlike other taipan families, "we have a different plan. We have a different system in choosing the heir, whoever is more deserving." Prodded to explain what that means, he merely says, "It will be someone whom people will be comfortable with."
I ask if he still considers himself a traditional Chinese. Bong says he is probably "60 percent" traditional, believing in things like feng shui, going to the Buddhist temple with family, but he isn't strict when it comes to raising his children Lucio Tan III or Han-han, who is now 16, and Kyle, 12. "I won't force them to join the family company if they don't want to." Both children live in the United States with their mother, the former Julie Chen, a Taiwanese-American. Bong says he flies to the States twice a year to see his children and they come home to Manila as well, during school breaks.
Despite the pressures of being Lucio Tan Jr., Bong says he is "happy, although I won't say I'm satisfied. But I'm comfortable." I suppose everyone has to grow up some time, and Bong, while still admitting to a temper ("I become mad at myself especially at golf because I want to better myself"), appears to be much more comfortable in his skin these days.
This article originally appeared on Asian Dragon's September-November 2008 issue
Photographs: Dix Perez
Styling: Rex Atienza
Grooming: Yen Uy