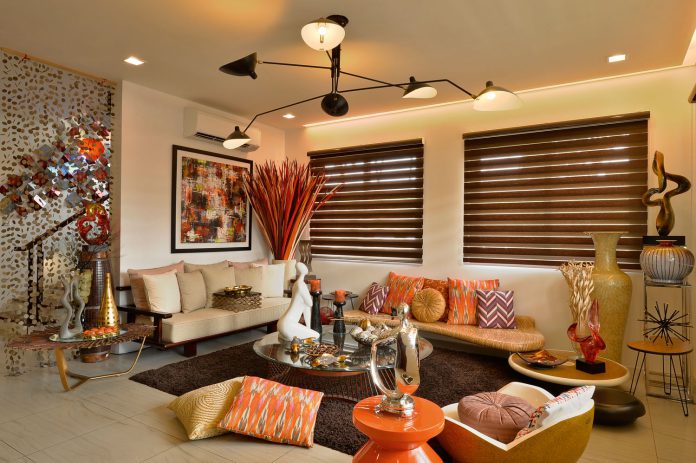 Two homes by designer Cocoy Cordoba cram as many loved objects in the space as possible, with a sense of style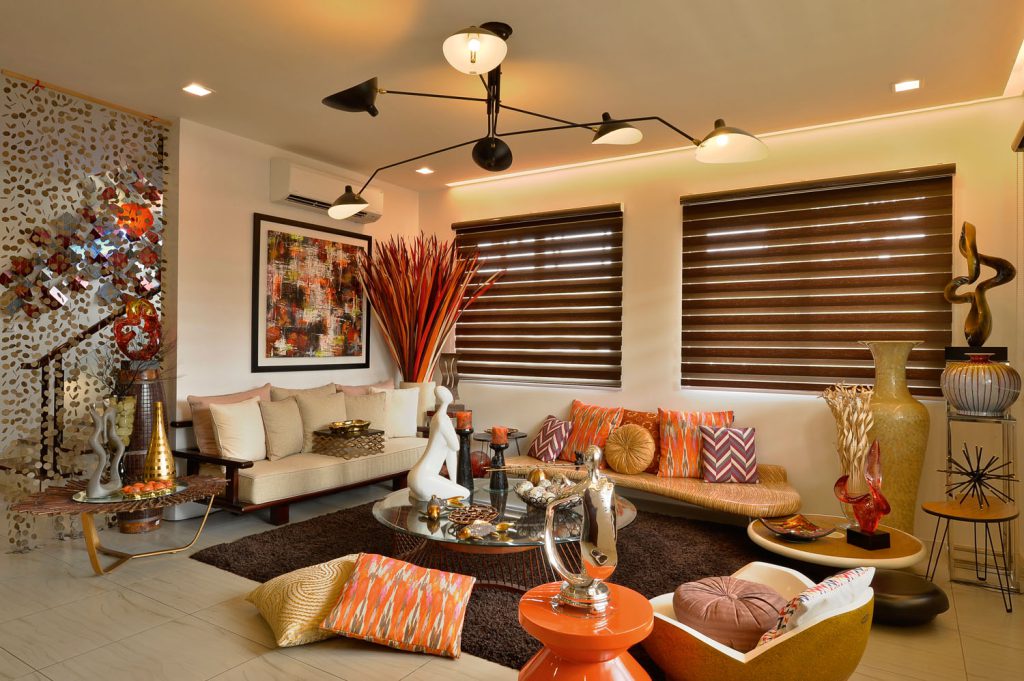 Maximalism, better known as "more is more" or horror vacui (fear of empty space), is having a moment again. While minimalism practices restraint, maximalism is about letting loose. It's the antithesis to the Ikea look. This year's trend is about boldly mixing color, pattern, and chutzpah into the rooms.
Cocoy Cordoba earned his reputation as an interior designer by harmonizing graphic patterns, bold colors, luxurious textures, and eclectic gewgaws in one space. Likewise, he has been attracting clients who want vibrant interiors.
Two clients, customs broker Rogelio Catibog Jr. and Yolanda Pilapil, first vice president at BDO Unibank Inc., are passionate individuals in their fields. While other clients would relegate their home décor to the designer's taste, they wanted their homes to express their personalities.
Cordoba observes that clients who are collectors tend to favor maximalism. "Catibog isn't a traditional collector, though. He just buys whatever he likes, such as the colored glass sculptures in the dining room and the metal art in the living room. I have to tell him to stop, or he has to buy another house for his objects."
They also love the family of reds. For their homes, Catibog and Pilapil wanted bright colors to stir up happy feelings. Hence, their color schemes focused on the vibrancy of orange, yellow, and red.
Color can make or break a room, says Cordoba. It can suggest a mood or stir up memories of another place. It can also soothe the senses or perk up the spirits.
The simplicity of the architecture of their homes makes them perfect backdrops for colorful accessories. Their main rooms start with a base color of white or beige for the walls as the canvas for the décor. In some rooms, an earth-toned carpet serves as the grounding color.
As in any modern home, the spaces are decked with furniture that combines strong straight lines with a little flair. Their furniture is made of wood, plywood, polished metal, and fabric.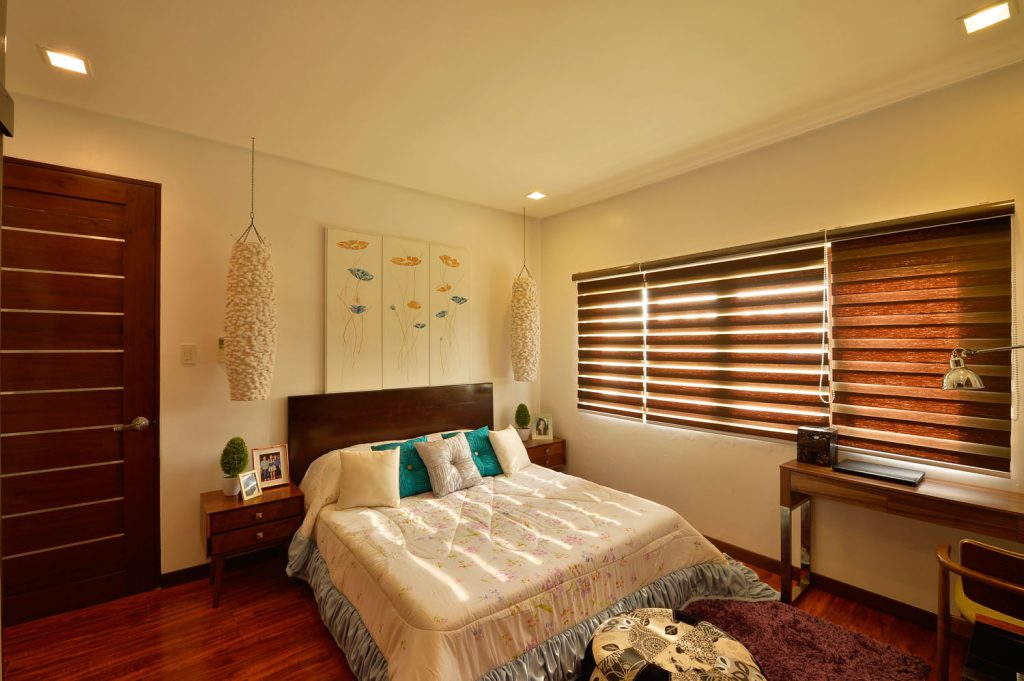 Maximalists aren't so much into matching as they are into fitting everything in a room. To avoid a messy look, the objects are arranged in similar colors or patterns. "There is a visual connection that will draw the eye from one object to the next," explains Cordoba.
Amid the motley of furnishings in Pilapil's living room, for instance, there are two objects that are made of three tones of wood. The long rectangular mirror, framed by old railroad tiles, acacia, and mahogany strips, echoes the linear sofa, made of wood chips of acacia, narra, and mango.
Then again, matching the same objects is minimized, as it can look boring. "I balance each corner of the room with solid colors and patterns," he says.
Maximalism also puts together contrasting textures. In Catibog's dining room, for instance, a capiz chandelier hovers over a glass mosaic table with a stainless steel base. The living room is furnished with a fiberglass bench, accentuated with marble and bamboo, and a wood coffee table by Vito Selma. On the stairwell, the wall is filled with an installation of bold red and silver metal cubes and Murano glass circles, while the ceiling is adorned with teardrop chandeliers in laminated coco shells.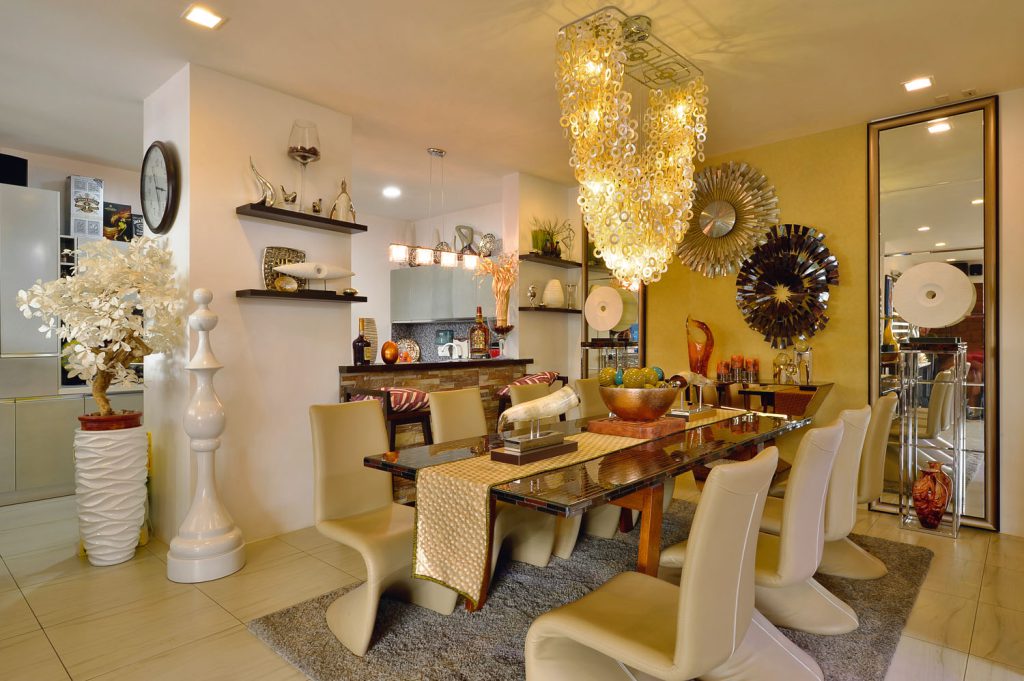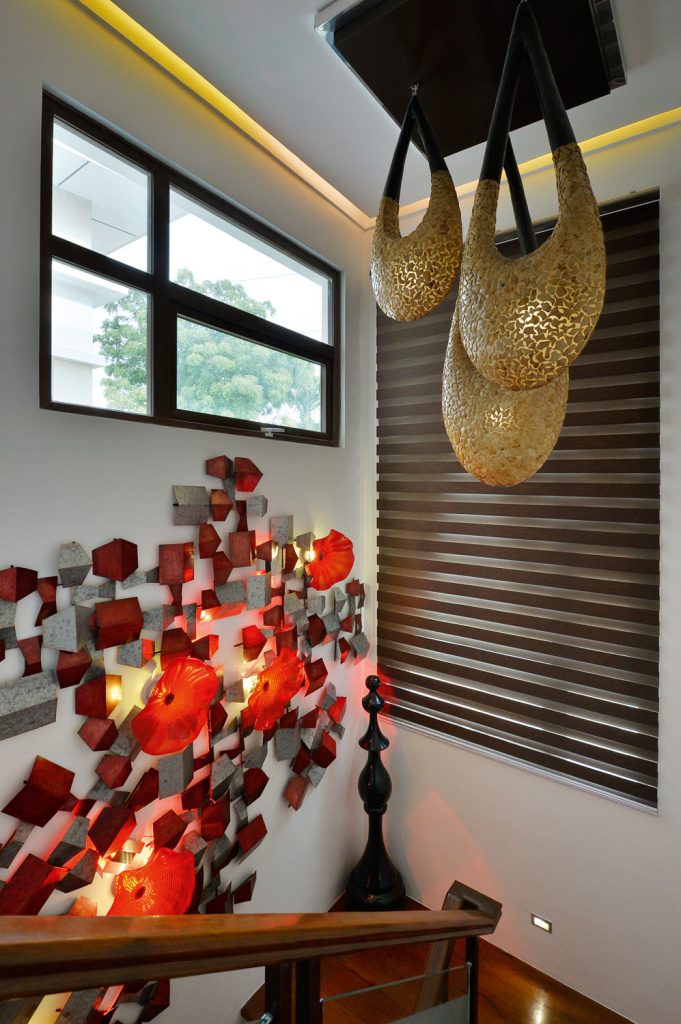 Pilapil's living room is decorated with a four-seater, wood-chip sofa with canvas upholstery and two accent chairs made of laminated plexiglass. To personalize her space, an installation of Murano flowers and metal leaves from Bali and Thailand shrieks from the wall. The dining room is furnished with a glass-topped table with an acacia base. The chairs are made of stainless steel frames with acacia backrests and leather upholstery.
Since the maximalist style is also about displaying objects, Cordoba highlighted an Igorot wooden sculpture of a lady from Pilapil's personal collection in her living room.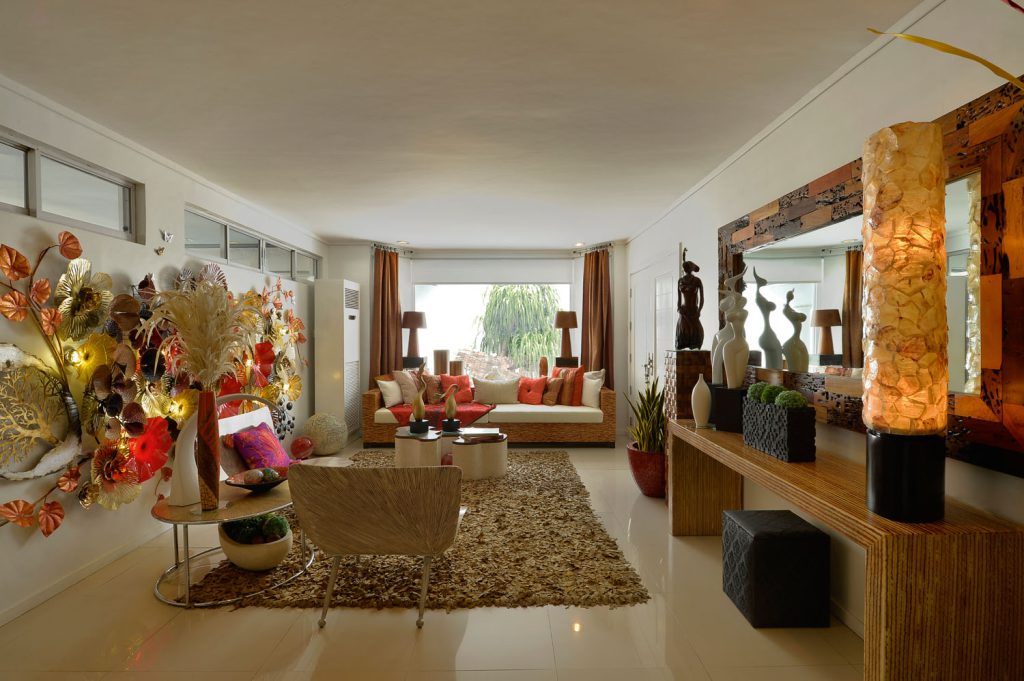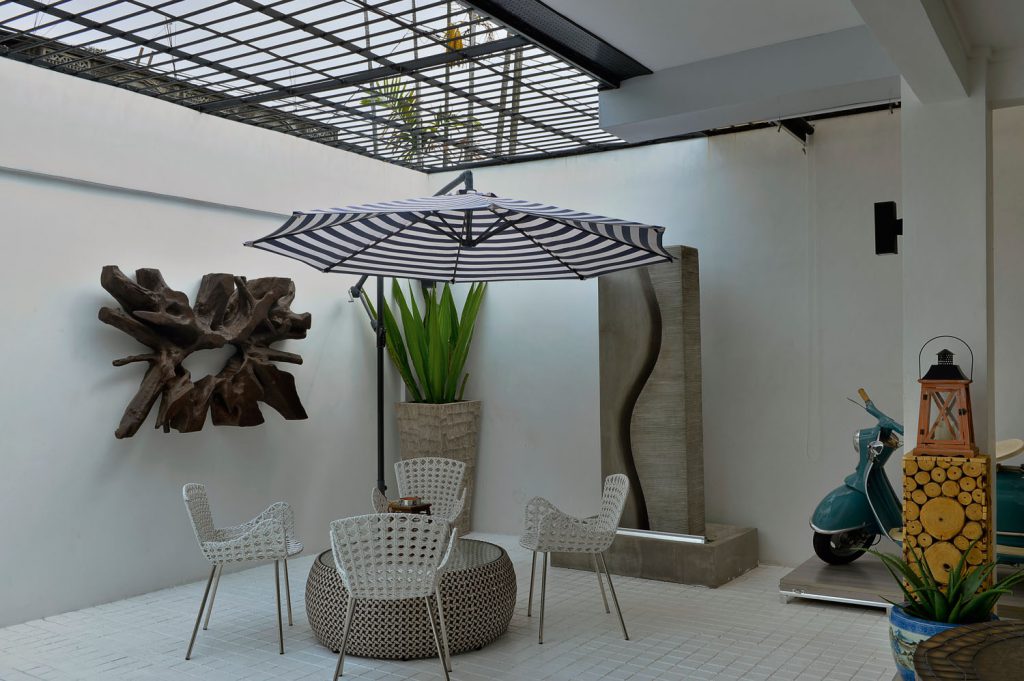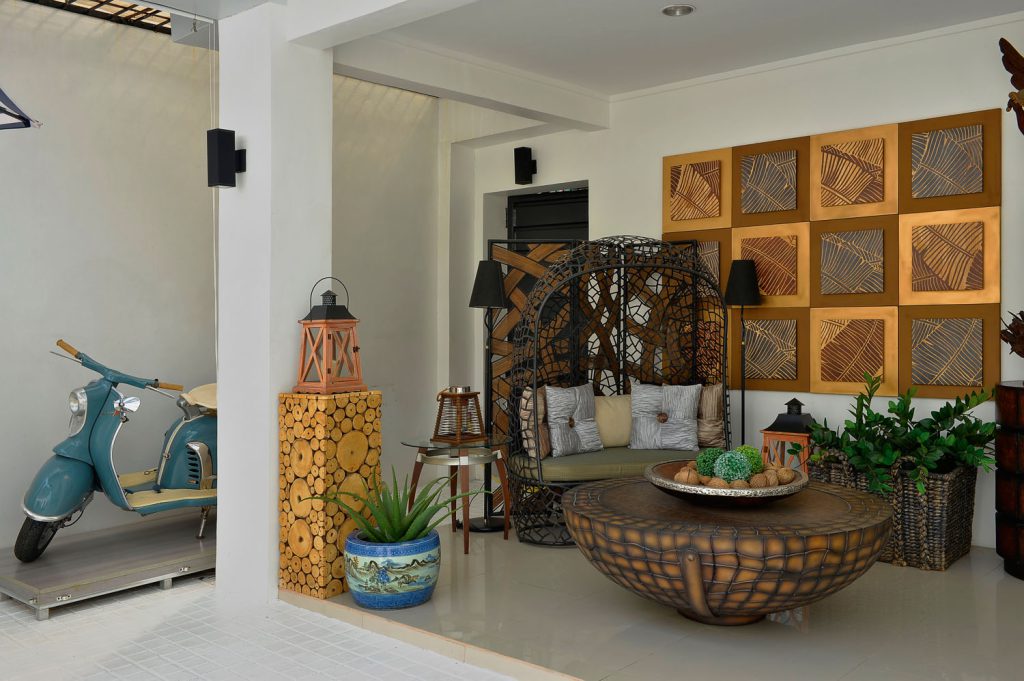 At the lanai, the wooden angel from Pilapil's collection is the design peg. The wood is echoed by the wall sculpture, made of antique railroad tracks by the late sculptor Jerry Araos, and a series of shaven wood squares with palm patterns. Likewise, the chairs and tables are built with wood and distressed metal.
Cordoba says the essence of the décor is filling up the space with things that the owners love. In the end, maximalism won't be chaotic if handled with prudence. AD