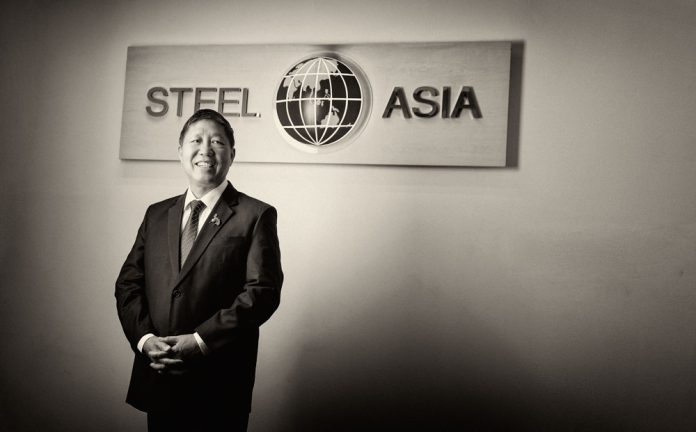 Steering SteelAsia from cottage industry to heavy industry, through one crisis after another, Benjamin Yao's story is about survival against the odds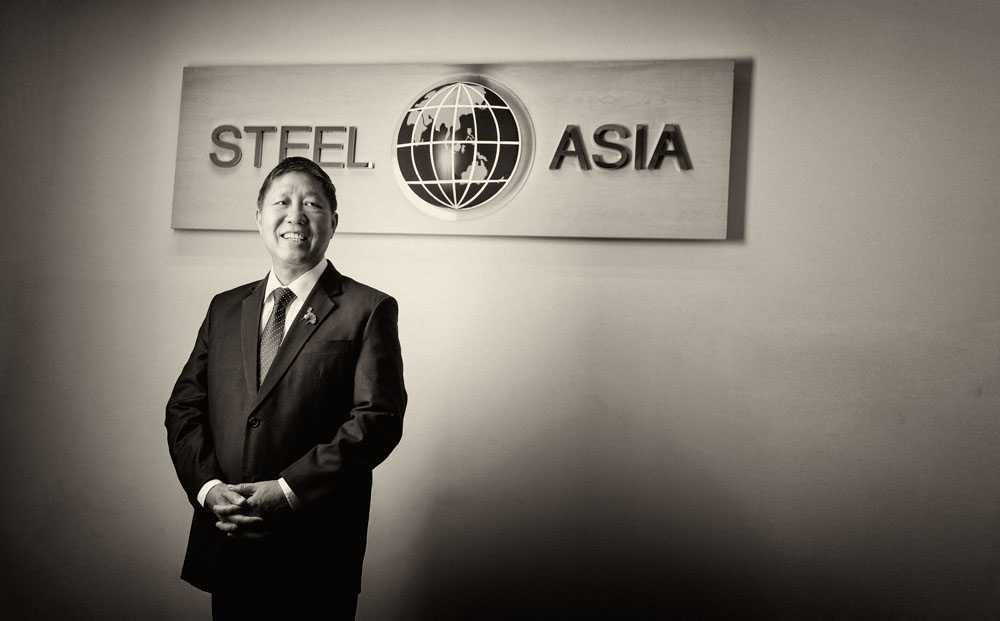 By Rafael A. S. G. Ongpin
Portrait by Wig Tysmans
The business was founded in 1965 by Benjamin Yao's father, Benito Yao Haw Kun, in partnership with the legendary Go Kim Pah, founder of Equitable Bank. Originally called Island Metal, it was one of about 35 cottage-industry-level mills at the time, manufacturing steel reinforcing bars, or rebars, as they are known in the construction industry.
The birth of this business was preceded by the death of another business. The elder Yao had a company exporting buntál, a fine, strong fiber, made from unopened flowers of the talipot palm, used to make hats and bags. He was sending the fiber to New York, Hong Kong, and Shanghai. Suddenly, President-elect Ferdinand Marcos banned the export of raw materials. Overnight, Mr. Yao lost his entire business.
SteelAsia somehow survived, but remained small. In the 1980s they were making just about 30,000 tons a year. In the early 1990s they decided to upgrade. The investment necessary was huge, about P6 billion.
"It was a huge change of magnitude. You cannot modernize piecemeal. If we were going to do it, it would be 12 times bigger, 360,000 tons per year."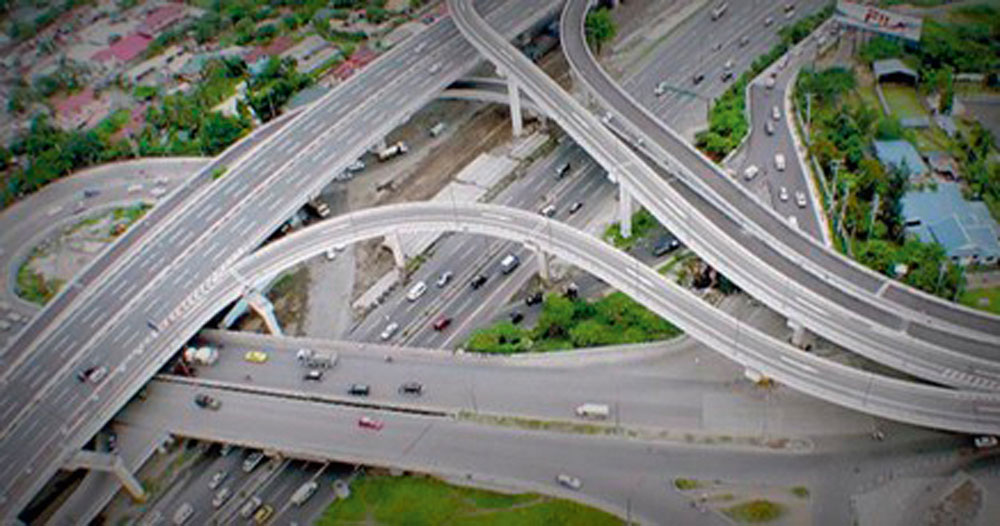 After continuously striving to succeed, SteelAsia has expanded more than 10 times on a much larger scale than their previous expansions. They have set up mills in Cebu and Davao, and are opening new facilities to be able to recycle scrap steel. It currently has a plant in Batangas with a capacity of 450,000 tons. It is building plants in Mindanao, Cebu, and Luzon, with a combined capacity of 2 million tons.
SteelAsia is also finally expanding beyond rebars, and will be producing I-beams, H-beams, wire rods, and steel plates. The Philippines is the last country in Southeast Asia that does not produce these things locally— although it used to, in the 1970s. The opportunity there is that SteelAsia will have the newest plant, and thus the newest technology, which should make it competitive.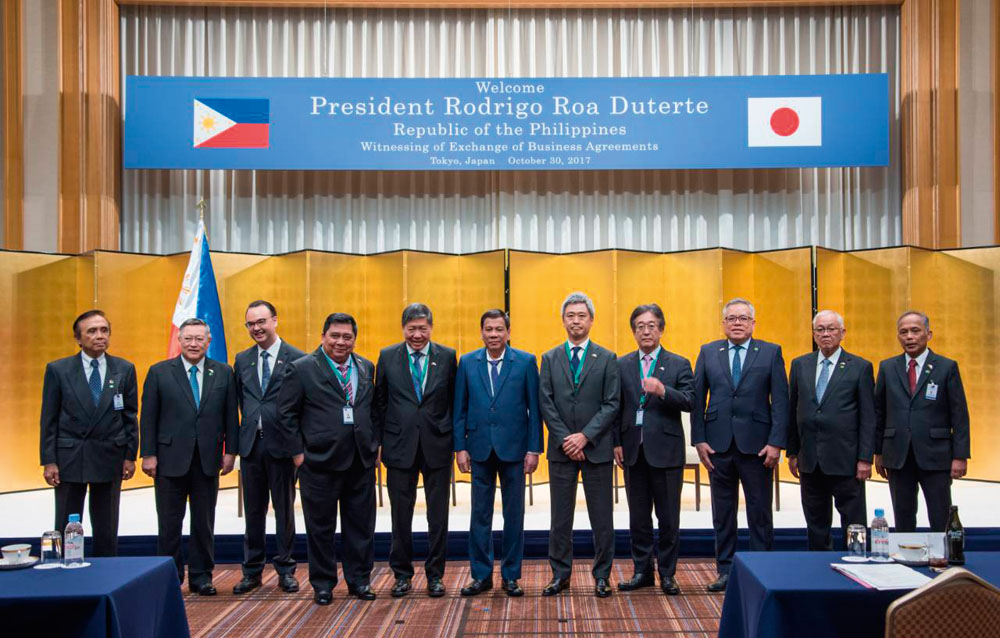 "Somebody has to be ambitious," chuckles Benjamin. "I am very bullish about the economy. We have been doing the same thing for the last 25 years, we collaborate. We don't compromise on technology. We are bringing in Japanese partners for our I-beam and H-beam, and European partners for our plate. In five years, the Philippines will have the most modern steel industry in Asia."
Of course, in any business, there are threats, no matter how rosy the outlook. "The threat to us, I suppose, is politics. Other than that, we can handle it. We don't care about political noise. We just do it. We are blessed. We are in the right place at the right time."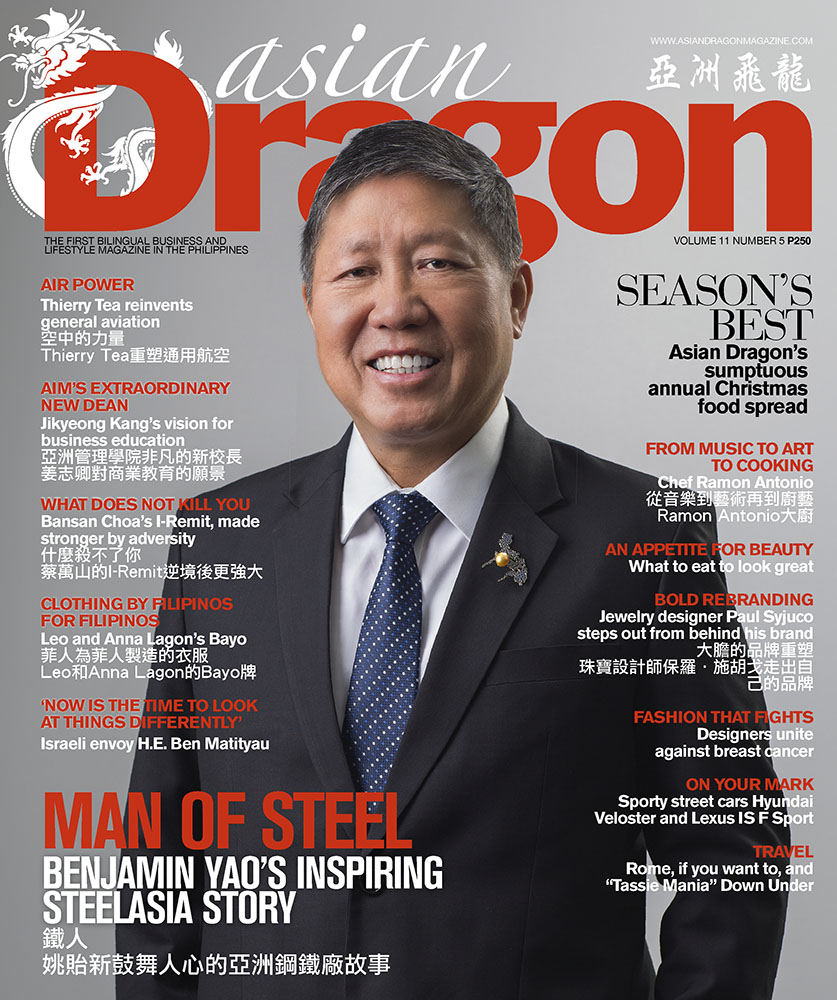 Benjamin Yao is the cover of Asian Dragon Magazine's October-November 2017 issue. Read his full story and learn how he remains indestructible through the years, available in all leading bookstores nationwide or downloadable from the Asian Dragon Magazine App, free on Google Play Store, iTunes, and Amazon