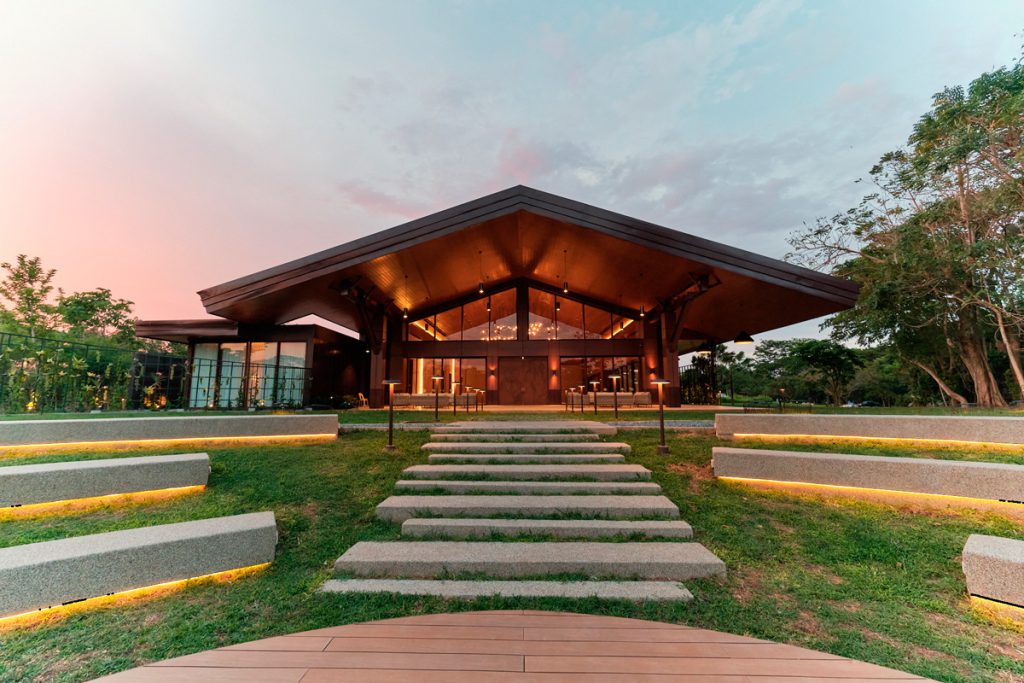 Lakehall is an event space that combines stunning views of a lake, golf course, and gardens with modern amenities and luxuries. Located within the grounds of Sta. Elena Golf and Country Estate in Sta. Rosa Laguna, Lakehall features multiple indoor and outdoor spaces that can accommodate all types of events, from weddings to corporate conventions.
Lakehall is a unique space that challenges the traditional understanding of what an event space should be. As Crickette Tantoco, President of Lakehall, says, "We want to create modern amenities without breaking the experience of nature; offering contemporary spaces nestled in nature."
The space features banquet rooms that have been thoughtfully designed to maximize the natural light and views. Its stunning gardens and courtyard are perfect for cocktail parties and even garden weddings. The elegant bridal suites are spacious and luxurious.
Crickette expressed that Lakehall is not just a venue for events, but also a curator of experiences. She assures guests that Lakehall will work with them to create the dream event tailored to their specific needs.
Enchanting Space for All Celebrations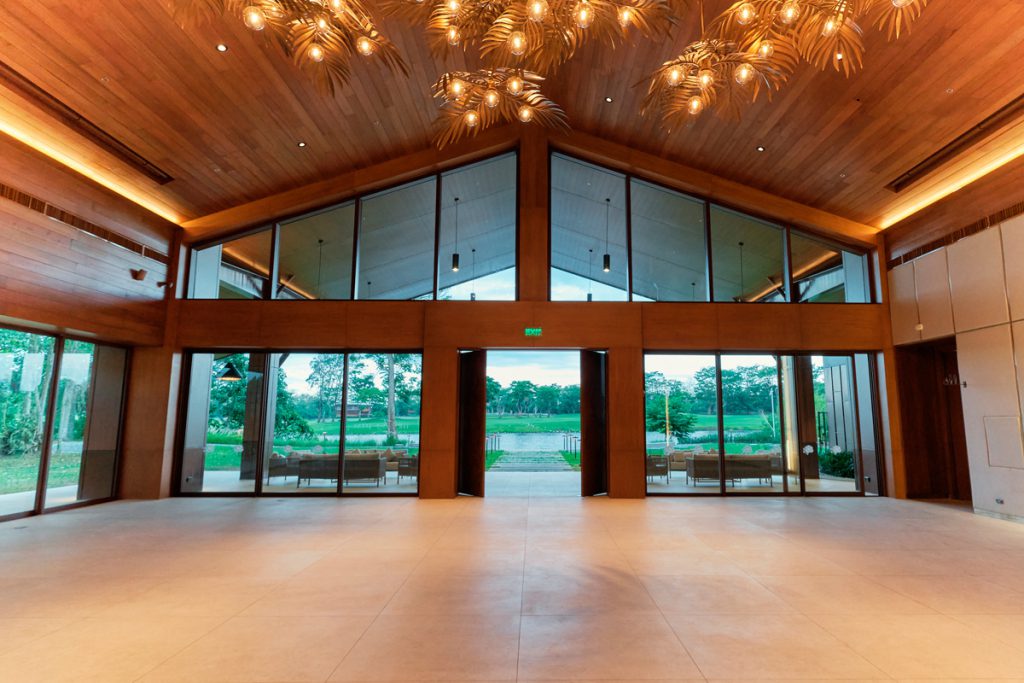 Lakehall is an event space that is sure to enchant guests with its blissful aesthetic and serene atmosphere.
Its main event space, The Banquet Hall, features wood-clad ceilings, concrete botanical walls, and modern drop lights, able to accommodate up to 360 guests. For smaller events, The Banquet can also be divided into three rooms: Peony, Dahlia, and Iris, each fitting up to 120 guests and with its service kitchen and restrooms
The Courtyard is a charming space that is perfect for cocktail parties or receptions. The enchanting Gardens is a peaceful oasis that is perfect for wedding ceremonies or rehearsal dinners. It's an ideal lounge area with a comfortable seating capacity of 450 to 500.
Meanwhile, the Terrace that overlooks the lake is a stunning space considered the most beautiful spot in Lakehall. The chic outdoor lanai is perfect for a sunset dinner or a cocktail hour and can fit 40 seated guests. The Deck – an oval-shaped, outdoor theater with tiered seating, has a capacity of over 300. It is perfect for wedding ceremonies, stage musical performances, talks, and conventions.
Lakehall's two bridal suites, Gardenia and Orchid, are spacious and luxurious. Both elegant bridal suites have their bedroom, lounge, and private bathroom. The suites can also be booked for overnight stays which come with a free breakfast. In addition to these beautiful spaces, Lakehall comes with all the modern amenities you would expect, including a fully-equipped kitchen, two prep kitchens, modern restrooms, a sound system, ample parking, and a driver's lounge.
Whether you are planning a wedding, corporate event, or social gathering, Lakehall is the perfect venue to create a memorable event. With its stunning views, modern amenities, and dedicated staff, Lakehall will help you make your event a success.
Experience Lakehall at Nena's Sanctuary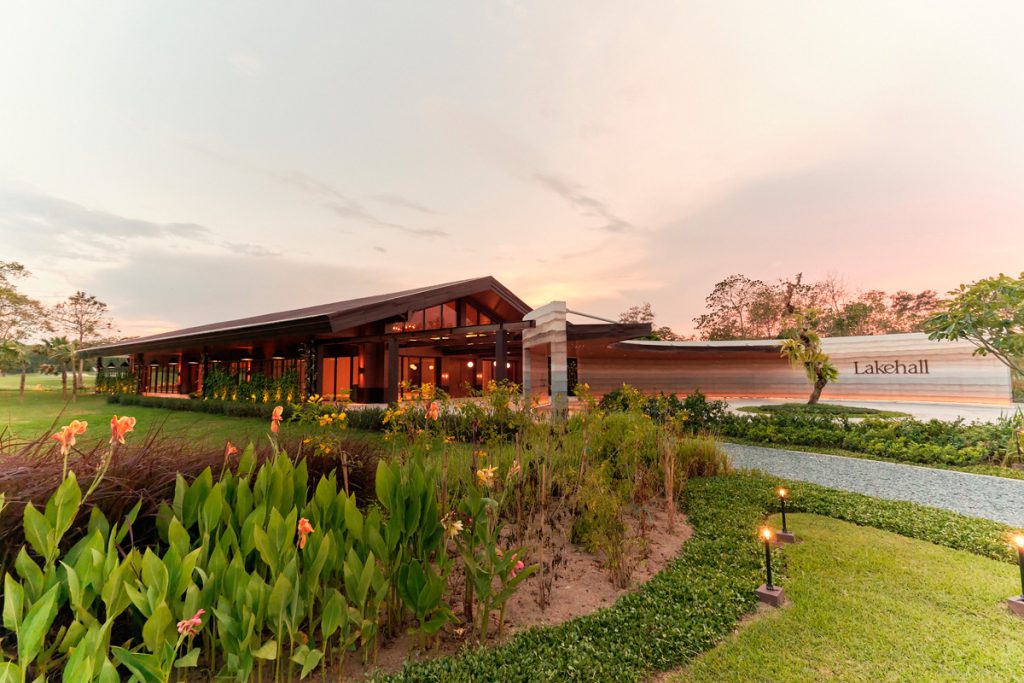 Lakehall is the first step in creating Nena's Sanctuary, a one-stop shop for retail, leisure, and dining. In the future, Nena's Sanctuary will have a restaurant, a flower shop, a garden shop, a gift shop, a home store, and a specialty food store, all in one beautiful and charming location. Nena's Sanctuary aims to be the Philippines' first well-integrated retail and garden center.
Lakehall will open its doors to the public for a one-month open house from May 27 to June 30, 2023. The open house will feature a variety of pocket events, including restaurant takeovers by guest chefs, a tablescapes exhibition by industry leaders, retail pop-ups, and more.
The restaurant takeovers will feature some of the Philippines' most renowned chefs, such as Margarita Fores. Retail pop-ups will include Dough & Grocer, Type A Coffee, Recess, Hindy Weber, Fifty Shades of Dough, and many other exciting brands. The events gallery will feature design interpretations for your dream event by Anton Barreto, Zenas Pineda, Moss Manila, and others. Finally, relax with a refreshing cocktail at the outdoor lounge bar with Ralph's Wines & Spirits.
So, if you are looking for a unique and memorable event space, Lakehall is the perfect place. With its stunning views, modern amenities, and dedicated team, Lakehall will help you create an event your guests will never forget.