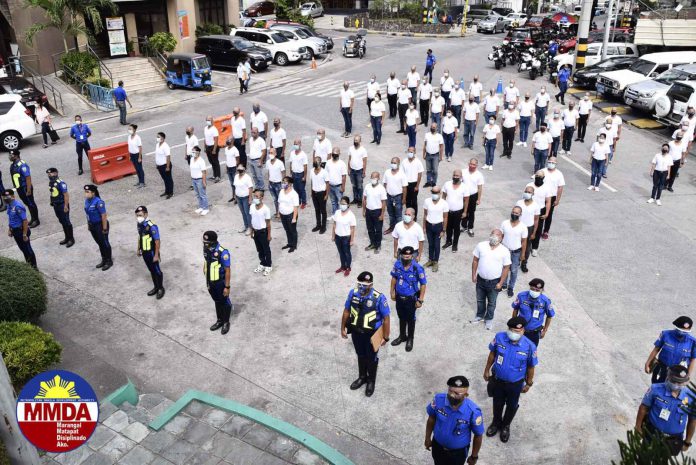 The Philippines is facing a surge in coronavirus cases as it marked its first community quarantine anniversary.
Due to the continuous rise of cases in the National Capital Region, the Metro Manila Council (MMC) has agreed to implement a two-week curfew which started on Monday, March 15.
The executed uniform curfew hours of 10pm to 5am were consulted with the Department of Health (DOH) and independent research group OCTA experts, after being given projections if authorities will not respond to the situation urgently.
"We encourage everyone to strictly observe and practice the minimum health protocols, and be extra careful and follow stringent measures particularly when around vulnerable family members, as there have been reports of transmission among family members. As I've said before, the metro mayors and MMDA are regularly monitoring the COVID-19 numbers and we will implement calibration and changes on our directives depending on the figures that we have," Metropolitan Manila Development Authority (MMDA) Chairman Benjamin Abalos Jr. said.
The MMDA has re-implemented the age restriction of 18 to 65 years old that is observed strictly by all police forces. The Philippine National Police (PNP) reported on Wednesday of having accosted at least 2,986 violators of the curfew, some of which were identified as minors.
Those who are exempted from the curfew hours were specified to be medical frontliners, authorized government officials, private employees coming to and from duty are exempted with IDs presented, people delivering essential goods (food and medicine), employees of fast-food restaurants permitted to operate 24/7, medical emergencies, drivers of delivery trucks, construction workers, media workers, those who are going to and coming from the airport, private transportation drivers, and security guards.
Sanctions of violators will follow the ordinances announced by their respective local government units (LGU).
"Having COVID-19 is not easy," said Abalos.
Abalos has always been open about his experiences of losing loved ones and contracting COVID-19 himself. Ever since accepting the position of Chairman of the MMDA, he has been hands-on with his projects and stuck to his motto of "Gawa Hindi Salita" to further address the occurring pandemic.
Testimonial of Benjamin 'Benhur' Abalos Jr.
Contact tracing
Aside from imposing curfew hours, MMDA Chair Abalos said the MMC will increase testing for COVID-19, contact tracing, and quarantine execution.
Abalos conveyed his thanks to Secretary Vince Dizon, with the help of the Philippine Red Cross, who donated 25,000 testing kits.
To help increase contact tracing efforts, the MMDA will send 300 contact tracers to LGUs in NCR, aside from the 360 contact tracers from the Philippine National Police (PNP).
He said the MMC also sought the help of the Department of the Interior and Local Government (DILG) to provide experienced contact tracers.
Granular lockdowns
To further avoid the spread of COVID-19, "granular lockdowns" will be implemented in small areas such as streets or barangays with a high number of infections.
Note: Ordinances may vary according to the respective local government unit. Click the links below for updates on advisories from the following departments and cities:
MMDA Official Facebook page, Department of Health, Caloocan, Las Piñas, Makati, Malabon, Manila, Mandaluyong, Marikina, Muntinlupa, Navotas, Parañaque, Pasay, Pasig, Pateros, Quezon City, San Juan, Taguig, and Valenzuela
Feature photo from Facebook.com/MMDAPH