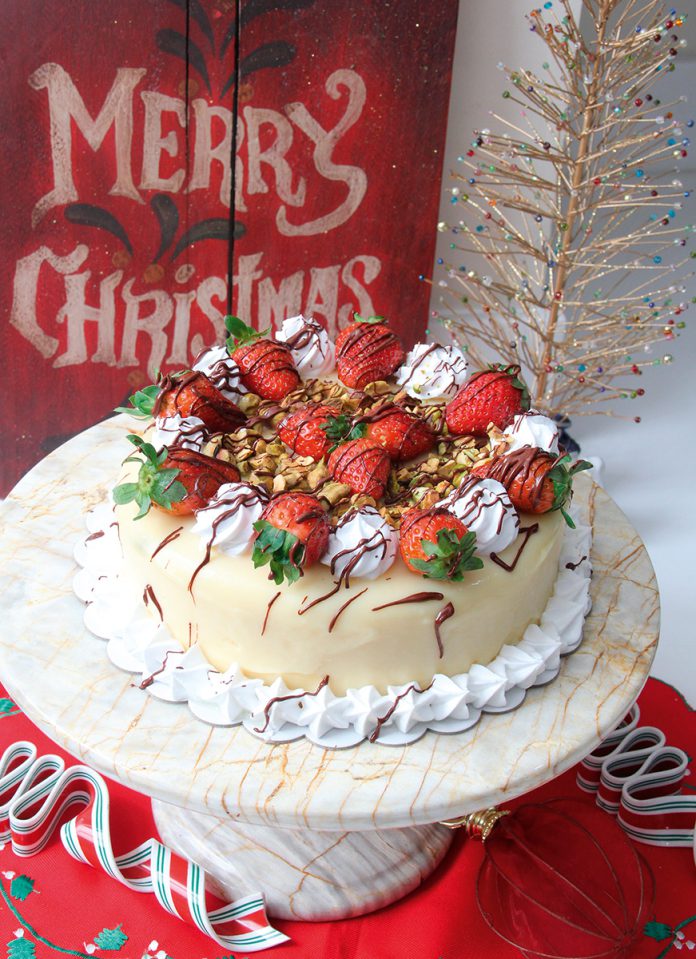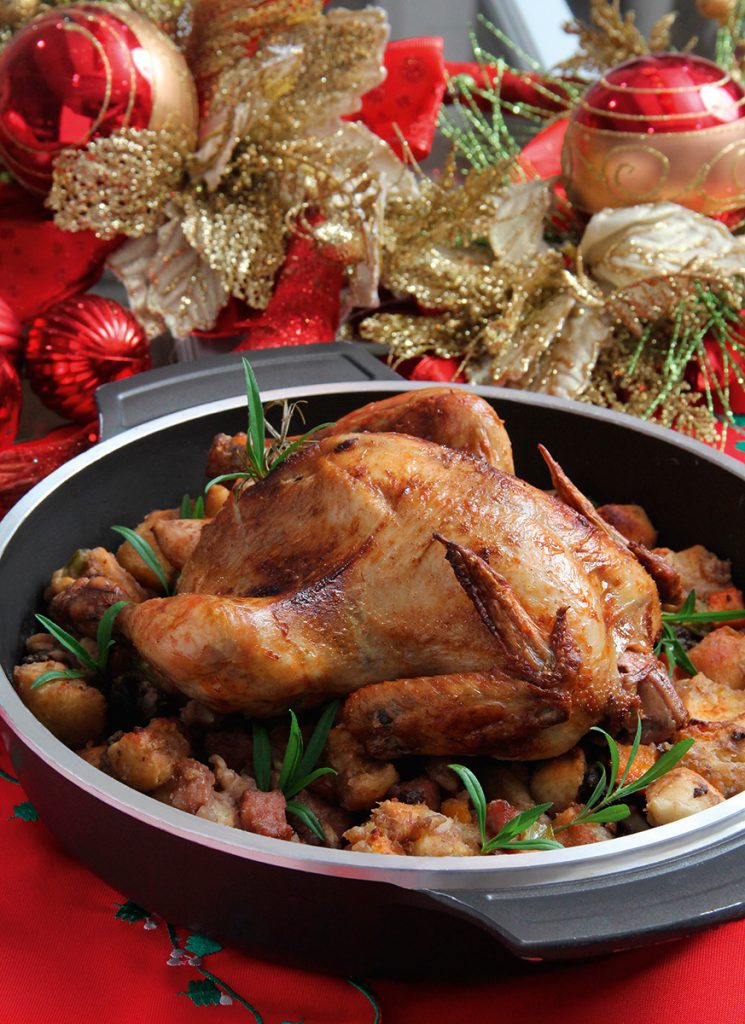 It's that time of the year again when the world is festive and merry, homes are colorful and brightly lit, dining tables are teeming with food, and families come together to celebrate Christmas. And when there is a celebration, there is food.
For rock star chef Rolando Laudico and talented pastry chef Jackie Laudico, only the best celebration dishes will do for Christmas, and it's never exactly the same. Each year, the food evolves. New recipes are introduced, and old favorites are tweaked and given a fresh new twist.
Christmas Eve is often spent with the Laudico clan. The venue changes, depending on who has just moved into a new home, but the Laudico siblings and cousins and their respective families always get together early. They sit down together for dinner, and eat and drink for two to three hours. When Chefs Roland and Jackie are not too busy, they prepare the entire food spread, especially if the get-together is in their house. But when they're a little busy, it's potluck style dinner for the family. The bulk of the food preparations still remains with Chefs Roland and Jackie, who prepare the main courses and the desserts, with the other Laudico siblings and cousins taking care of the minor stuff, such as salads, soups, and side dishes.
Savory dishes are Chef Roland's turf, and one of the dishes that he has prepared quite a few times for Noche Buena happens to be roast turkey with a Filipino-inspired stuffing. He remains true to his calling to promote Filipino cuisine by always giving dishes a Filipino twist, either by using Pinoy ingredients or employing Pinoy cooking techniques. Chef Roland, sometimes fondly called Chef Lau, shares one of his signature holiday dish, roast sinampalukang manok with castañas and ham pandesal stuffing. It's like roast turkey that's simpler to cook, and requires a shorter cooking time, too.
Desserts, meanwhile, are the turf of Chef Jackie, who is always expected to come up with a good cake for everyone to enjoy together. She likes making a Frazier-inspired white chocolate mousse cheesecake with pistachio. "I can't sell it because it is expensive, and pistachio cream, which is used instead of pastry cream, is difficult to make," says Chef Jackie.
With their kids Orlando, and Keona, Chef Jackie's mom, and the Laudico clan, Chefs Roland and Jackie share a truly merry and festive Christmas feast.
ROAST 'SINAMPALUKANG MANOK' WITH 'CASTAÑAS' AND HAM 'PANDESAL' STUFFING
For the roast chicken:
1 tsp. sampalok (tamarind) powder
Salt and pepper to taste
1 whole chicken
4 cloves garlic, smashed
1 pc small ginger, smashed
4 stalks lemongrass, white part smashed
1 bunch green onion or any fresh herbs
2 tbsp. fish sauce
Combine tamarind powder, salt, and pepper, and rub it all over the chicken skin and cavity.
Mix together garlic, ginger, lemongrass, green onions, and fish sauce. Stuff everything inside the cavity of the chicken.
Roast in a 425˚F oven for 45 minutes or until brown and the meat juices are clear.
Serve with stuffing, which is cooked separately.
For the stuffing:
1 bag old pandesal bread, cut into large chunks
4 tbsp. butter
1 onion, chopped
1 carrot, chopped
1 stalk celery, chopped
1 cup castañas (chestnuts), chopped
2 cups ham, large-diced
1/2 cup chicken liver, chopped
1 cup chicken stock
Salt and pepper to taste
Fresh herbs for garnish
Toast pandesal in oven or oven toaster until brown and crunchy. Remove and set aside.
In a saucepan, melt butter over medium high heat, and sauté onions. Add carrots and celery, and cook for five minutes.
Add ham and chicken liver, and cook for two minutes more. Season with salt and pepper to taste.
Pour in chicken stock and simmer for five minutes.
Toss in pandesal croutons and castañas.
Toss the stuffing with roast chicken juice, but make sure the juice is not bloody but clear, because this means that the chicken is cooked through.
Serve hot with roast chicken, and garnish with fresh herbs.
WHITE CHOCOLATE MOUSSE WITH PISTACHIO AND STRAWBERRIES
3 cups white chocolate, chopped
4 cups whipping cream, divided into 2
1 tbsp. gelatin powder
1/4 cup cold water
Whipped cream
Fresh strawberries, washed, pat-dried, and hulled
Crushed pistachio nuts
In a small saucepan, heat 1-1/2 cups cream over low heat. Do not allow to boil. When cream starts to simmer, turn off heat and pour the chopped white chocolate into the hot cream. Leave to melt for five minutes. Afterwards, stir gently until chocolate is completely melted and mixed with the cream. Divide the white chocolate ganache into two. Leave one part to be used as frosting.
Sprinkle gelatin powder in 1/4 cup cold water. When the gelatin has bloomed, melt gently over low heat. Mix melted gelatin into one part of the ganache.
Whip the remaining 1-1/2 cups cream until whipped cream forms medium peaks. Fold the white chocolate ganache with gelatin into the whipped cream in three parts. This will be the mousse.
Pour the mousse into an eight-inch springform pan. Tap the pan gently to remove trapped air bubbles. Freeze the mousse overnight.
Warm the other half of white chocolate ganache in a mixing bowl set over a pot of simmering water.
Unmold the frozen mousse onto a cake board, and pour the warmed white chocolate ganache over it to frost the cake.
Top the mousse with dollops of whipped cream, fresh strawberries, and crushed pistachio nuts. You may drizzle with melted dark chocolate if desired.
Photographs by Rafael R. Zulueta
This article originally appeared on Asian Dragon's November- December 2015 issue, available for download on Magzter.