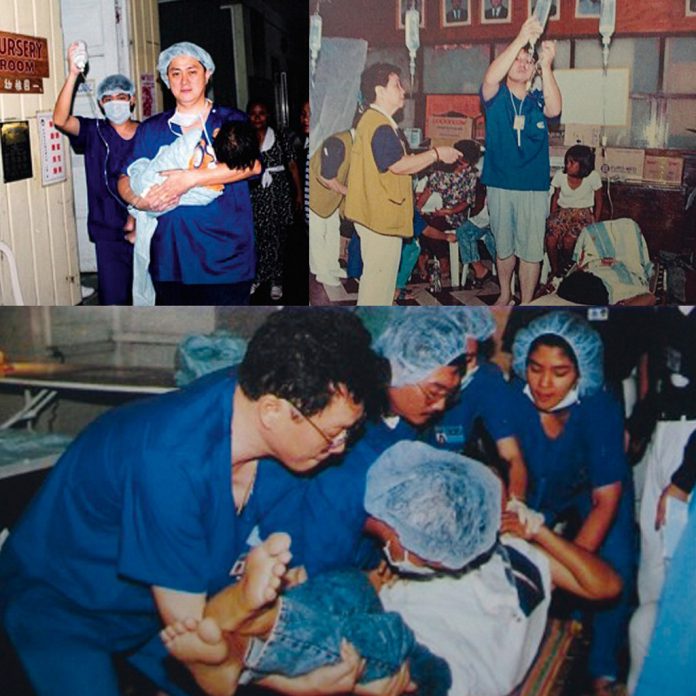 A few years back, I had the pleasure of being seated beside Chinese General Hospital's top surgeon, Dr. Jo Qua, during a vegan lauriat at Edsa Shangri-La Hotel, hosted in honor of Stephen Huang, executive director of Global Volunteers Affairs of the Tzu Chi Foundation.
Our short tête-à-tête proved to be a very enlightening discussion when he talked about how the early Philippine medical missions (the first one was conducted in 1995) actually became the learning ground not just for the Taiwanese doctors of Tzu Chi Foundation, but other countries' medical mission teams, as well.
In the beginning, the doctors in Taiwan doubted the capability of the Philippine medical mission team to pull it off. Admittedly, there weren't enough facilities and resources available, considering the number of patients they had to treat and perform surgeries on, but this did not discourage Dr. Qua, who was overall in-charge of operations of the medical mission (headed by the late Dr. Leh Siu Guan) and the team of volunteers.
Not only did the volunteers donate their time, effort, and services; they also took care of their own transportation and meals to serve on these missions. "All the money donated to the foundation is not used for transport and hotels. The volunteers pay for everything. This is to show people that if you donate money, it will go directly to the patients and the needy. That's how dedicated the volunteers are, the doctors and nurses," Dr. Qua explained.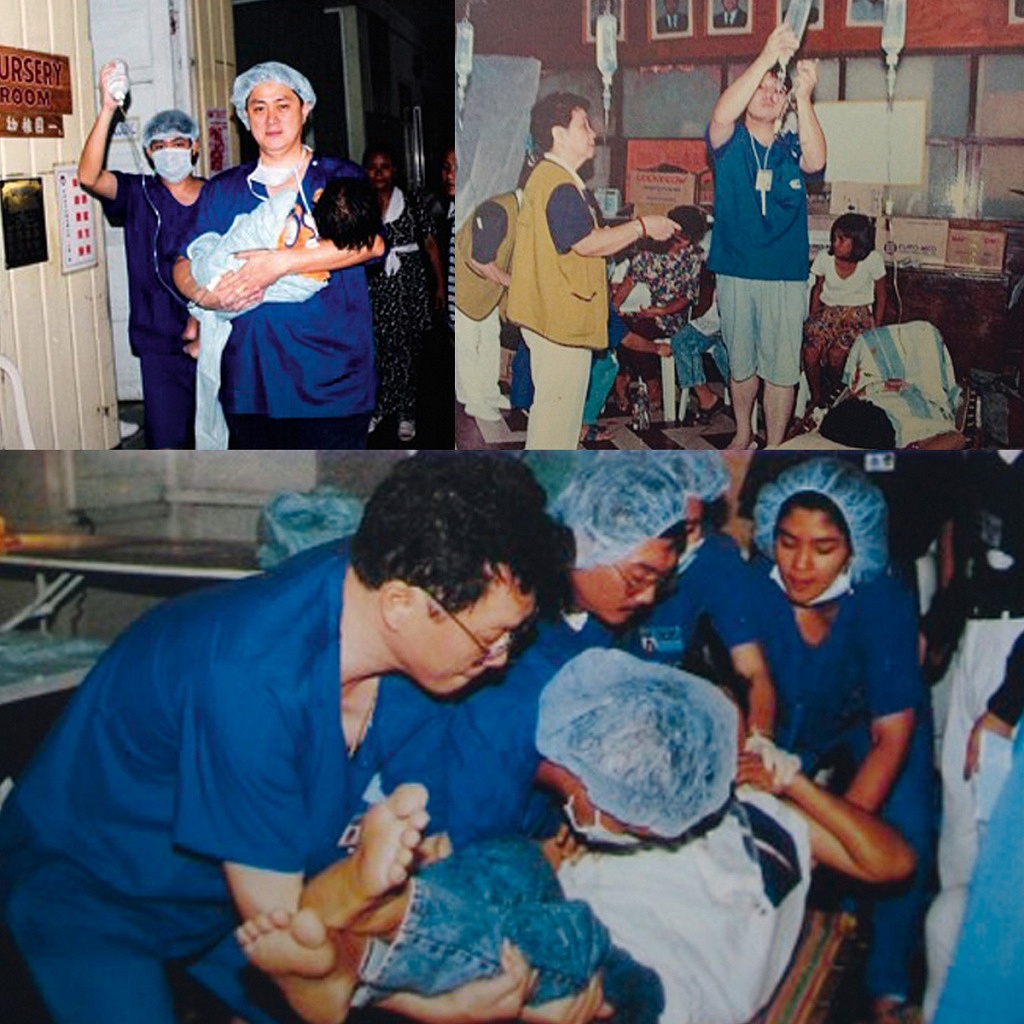 Pointing to some old pictures in his mobile phone, Dr. Jo Qua showed Asian Dragon the doctors and nurses who participated in the first and succeeding medical missions of the Tzu Chi Foundation in the Philippines.
He showed us some collapsible beds and makeshift medical facilities, doctors doing everything themselves from beginning to end, work normally done by the nurses and technicians.
"This is how primitive our facilities were. We used simple incandescent lamps inside the makeshift operating room area, where we did cataract and hernia surgeries. We used wires to hang the dextrose IV. Another room served as our recovery room, and patients had to be physically carried by the doctors and nurses to the recovery room, just imagine," said Dr. Qua.
Eventually, Dr. Qua had carpenters improve on the lighting system during their medical mission in his hometown in Daet, Camarines Norte, and they improvised stretchers using the inexpensive "bonbon," to which two wooden poles were attached on both sides to make transport of their growing number of patients easier and less back-breaking for doctors and volunteers.
The number of patients treated was impressive. "At first we did only surgery. Later on we covered everything, from medicines to pedia and ophtha. In General Santos, we had a total of 7,000 patients; Iloilo, between 5,000 and 6,000 patients. Pila-pila. We would go on a Wednesday, work up to Saturday, and come back on Sunday. The most number of cases we did in one day was 44 thyroid and 24 hernia surgeries performed by only around 12 doctors. We started 8 am, and finished at one the next morning," recalled Dr. Qua.
With this, the Philippine medical team proved the Taiwanese doctors wrong, and word got to Tzu Chi's Master Cheng Yen about the Philippines' "can do" attitude and accomplishments, despite the lack of support and resources. "Master Cheng Yen sent their Taiwan doctors to the Philippines to learn from our experience. It also changed their attitude. A lot of countries that experienced disasters were also sent to the Philippines to learn from us," said Dr. Qua.
Since then, Master Cheng Yen has had a soft spot for the Philippines. Every year since 1996, after the first mission in 1995, Filipinos were asked to go to Taiwan to celebrate the Moon Festival with her, which has now become an annual activity of Tzu Chi.
Dr. Qua credited his participation in Tzu Chi to his late mother, Dionisia Cuquingco Qua. "That's my mom. She was one of the first few volunteers when they started in Chinese General Hospital, helping the charity patients," Dr. Qua said, beaming with pride. His mom passed away in 2008, but he continued to actively do volunteer work with Tzu Chi, which has brought him not just to places around the Philippines, but to other countries like Iran, Sichuan, China after the earthquake, Indonesia, and more.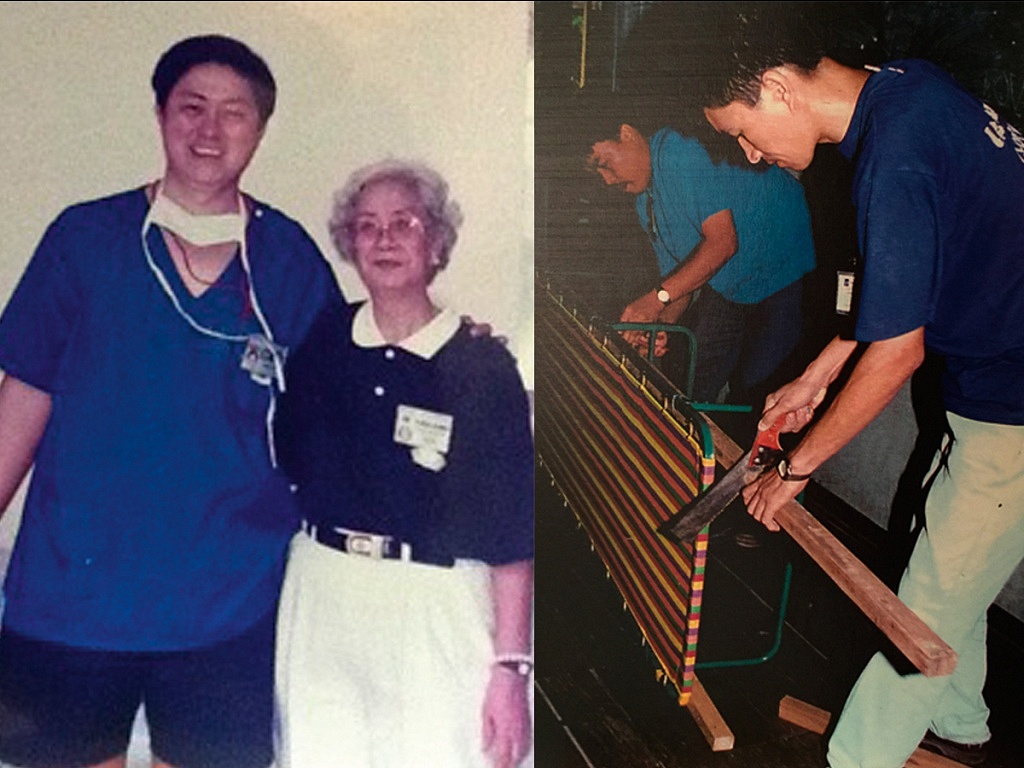 Everybody is happy in these medical missions. You see all the faces, the volunteers and the patients, they are all so happy—and that's the best thing," said Dr. Qua.
And that, indeed, is one great story we are happy to share.
Should you wish to volunteer with or donate to the Tzu Chi Foundation, please call tel. nos. 8732-0001 to 8732-0005 or visit the Tzu Chi Foundation at 76 Cordillera St., cor. Agno St., Quezon City.
Photographs courtesy of Tzu Chi Foundation, Philippines
This article originally appeared on Asian Dragon's October-November 2018 issue, available for order on Facebook and Lazada, or downloadable from Magzter.