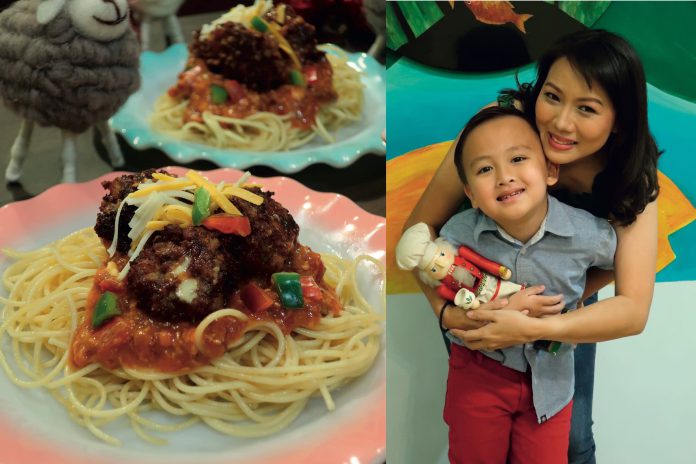 Ordinarily, Chef Jackie Ang Po is one busy bee. She runs her own Fleur de Lys Patisserie and Sikat events place along Tomas Morato, Quezon City, where she also holds mostly baking classes for enthusiasts.
A recipe developer and pastry consultant, she works with various clients and goes around the country holding baking classes and conducting demos. She also hosts a TV cooking segment, Del Monte Kitchenomics, and is a caring wife to her businessman husband Mitch Po and their beautiful kids Kylie and Joaquin.
Spaghetti has always been a special family dish. It was Lola Flordeliza Po's, Mitch's grandmother, specialty, a combination of pork and beef that continues to be part of the Pos' dinner menu. Jackie made her own version, using chicken instead of pork and beef, and featured it in her Del Monte Kitchenomics cooking segment. Dessert comes from her patisserie.
CHEESY CHICKEN MEATBALLS SPAGHETTI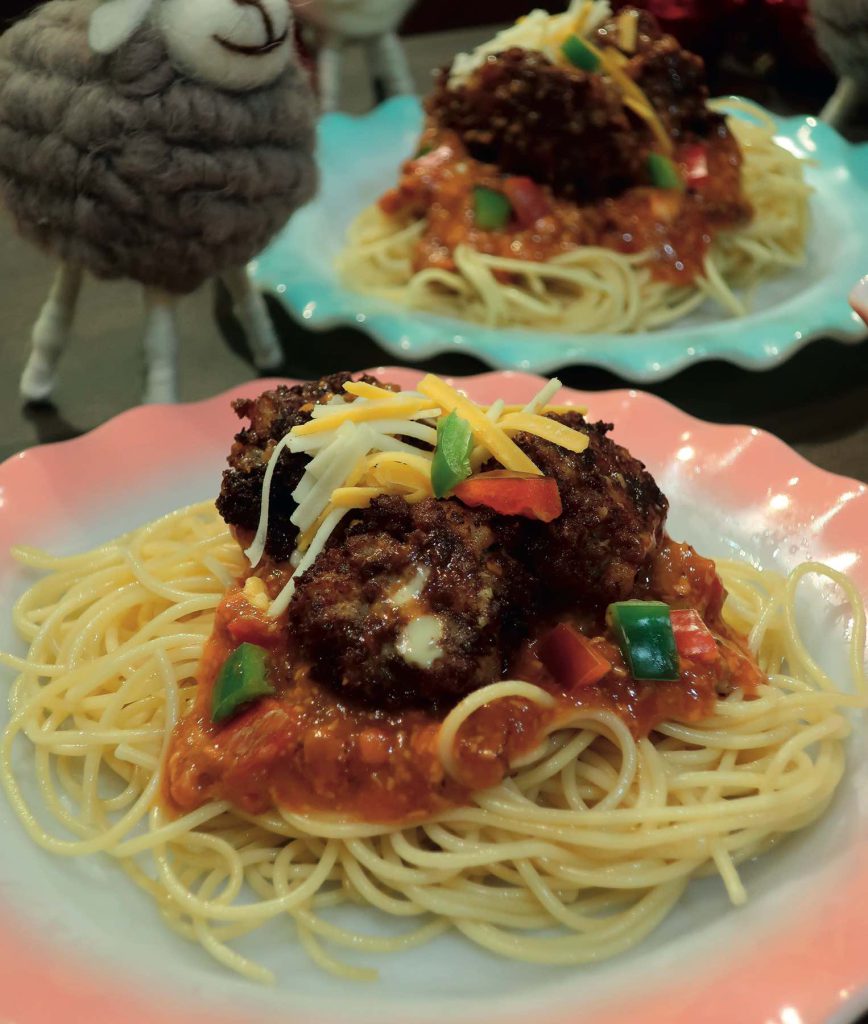 Prepared by Chef Jackie, this promises to be a sure hit among adults and kids alike.
For the meatballs:
200 g ground chicken
1 tbsp minced onion
1/4 tsp salt
1/4 tsp pepper
1/2 c melting cheese, grated
1/3 c oil, for frying
Combine all ingredients.
Get 1 tbsp of the mixture and form into a ball. Do the same with the rest of the mixture.
Pan-fry meatballs, and then set aside.
For the sauce:
1/2 tbsp oil for sautéing
1/2 tbsp minced garlic
1 tbsp minced white onion
1/8 c red bell pepper, sliced into 1/8-inch strips
1/8 c green bell pepper, sliced into
1/8-inch strips
1 pouch 250 g Del Monte Filipino Style Spaghetti Sauce
1 c water
In a casserole, sauté garlic for 2 minutes. Add onion and bell pepper, and sauté for another 3 minutes.
Pour in spaghetti sauce and water, then simmer for 5 minutes.
Add meatballs and simmer for another 5 minutes.
To assemble:
1 pack (175 g) Del Monte Spaghetti, cooked
1/2 c grated cheese
Arrange cooked pasta on dish.
Pour a generous amount of sauce over the pasta, and garnish with grated cheese.
CARROT PINEAPPLE CAKE WITH CREAM CHEESE FROSTING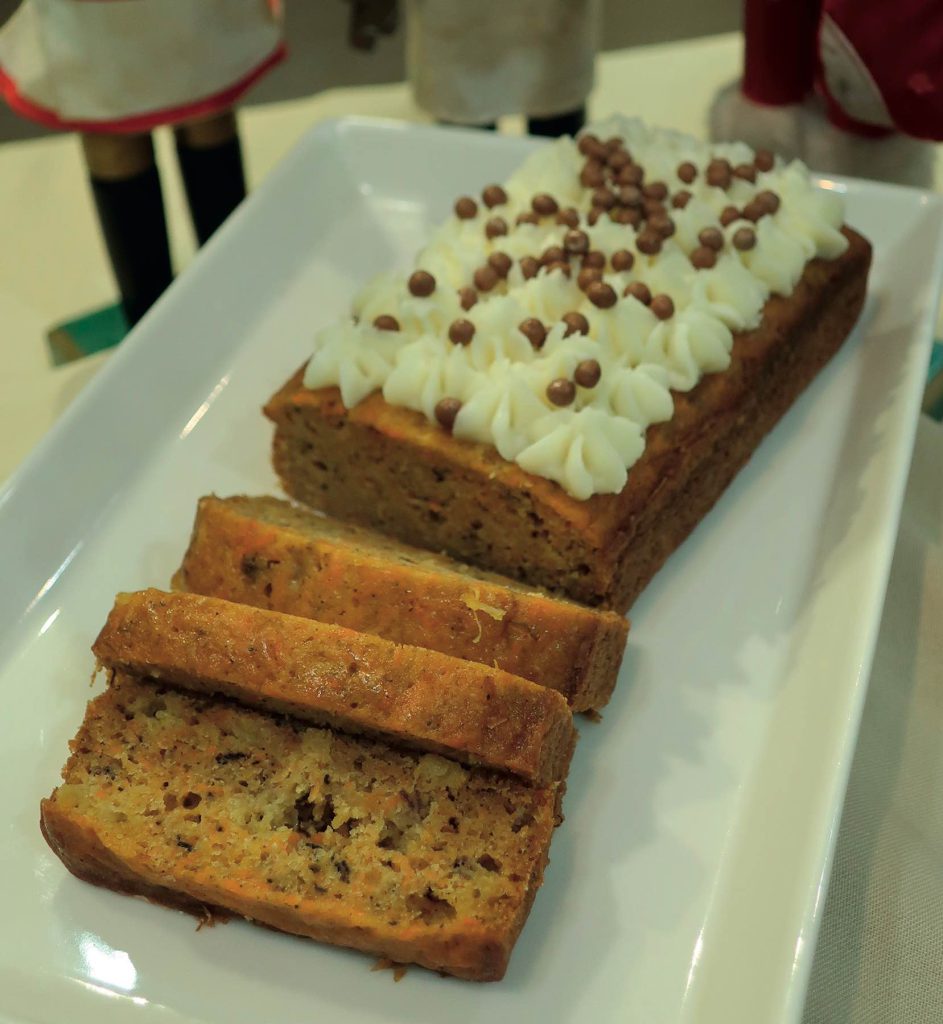 A moist carrot cake that is good with or without cream cheese frosting, as whipped up by Chef Jackie.
For the carrot cake:
200 g Sugarlyte (*sugar and Stevia blend)
85 g butter, melted
1/4 c corn oil
2 eggs
125 g all-purpose flour
1/2 tsp cinnamon
1/4 tsp nutmeg
1/2 tsp Ferna Iodized Salt
1 tsp Ferna Baking Soda
175 g grated carrots
1 pc banana, mashed
110 g crushed pineapple
Mix together all dry ingredients—Sugarlyte, flour, cinnamon, nutmeg, salt, and baking soda. Set aside.
Mix together all wet ingredients—butter, corn oil, and eggs. Set aside.
Combine dry and wet ingredients. Then add carrots, banana, and pineapple.
Bake in a preheated 350˚F oven for 20 to 25 minutes.
For the frosting:
50 g butter
225 g cream cheese
125 g powdered sugar
1 tsp vanilla
Cream together butter and cream cheese.
Add powdered sugar and vanilla. Beat.
Chill and use to ice the cake.
Food photos and photograph of the Pos by Rafael R. Zulueta