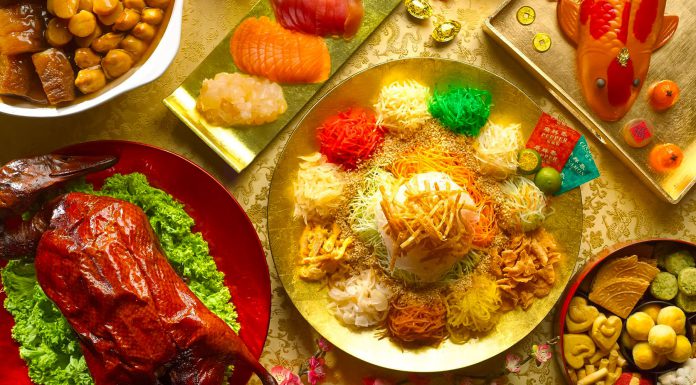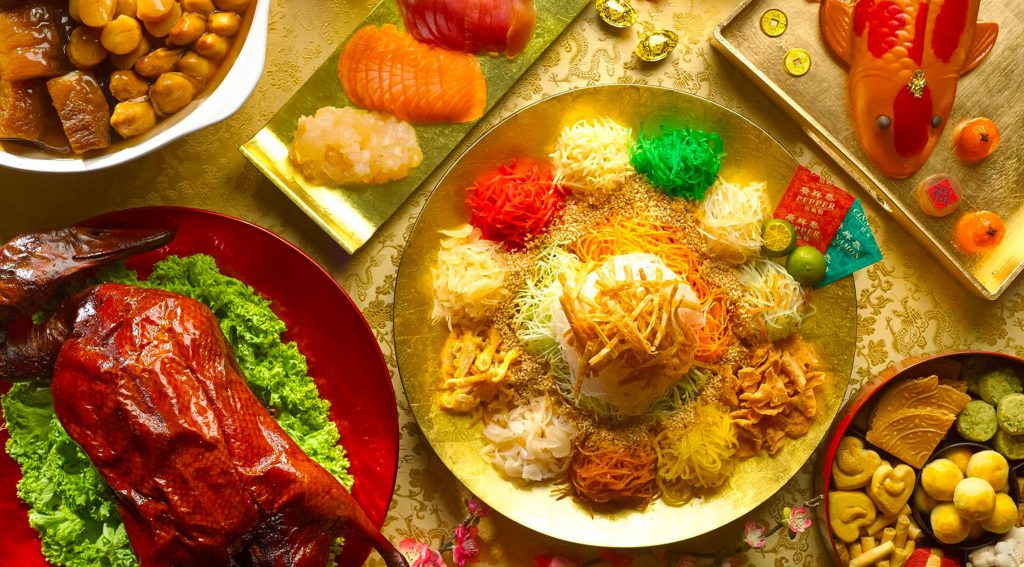 With traditions that date back thousands of years ago, Chinese New Year, also known as Spring Festival, is one of the most celebrated holidays around the globe. This is the time when we welcome the planting season or spring, and the abundance of harvest, the perspective of clean hands and fresh beginnings.
In Chinese legend, it is believed that a mythical creature called the "Year" or "Nian" comes out on New Year's Eve to destroy animals, people, and their surroundings. Villagers then discovered that it is afraid of loud sounds, fire, and the color red. Thus, lighting of firecrackers and display of red during Chinese New Year became a tradition.
It is also a day of invocation to ancestors who have guided and brought prosperity to their lineage.
Where to best commemorate this occasion than in places where you don't have to worry about preparations and completely relax to start the New Year in peace?
Here, we have listed the grandest feasts and venues to best cater to your needs and whims:
1. MARCO POLO ORTIGAS MANILA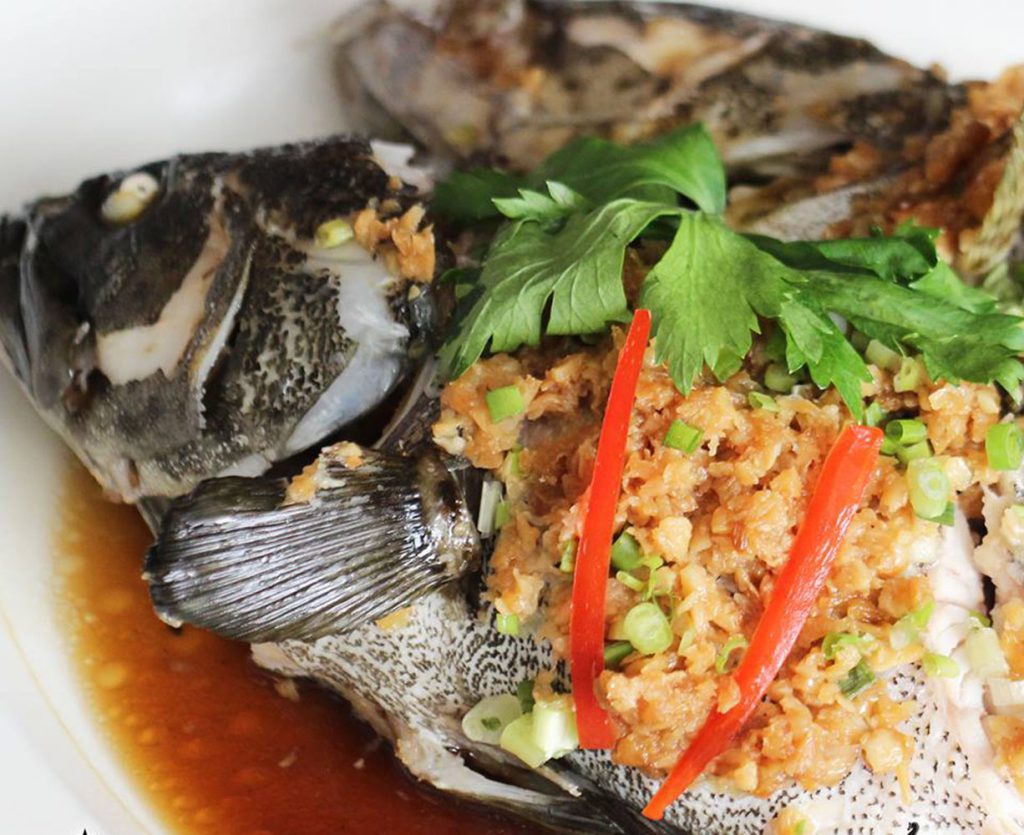 Feast over festive dishes that bring abundance and the promise of all good things to come with two special authentic Cantonese set menus by Lung Hin's Chinese Executive Chef Terry Lai.
Witness and receive good luck with the presence of Feng Shui Master Chau Kam Shing with the ceremonial blessing ritual, followed by the dragon and lion dance on February 5 at 11 a.m. at the hotel's Ground Level.
For more information, call (02) 720-7720 or e-mail restaurant.mnl@marcopolohotels.com.
2. NEW WORLD MAKATI HOTEL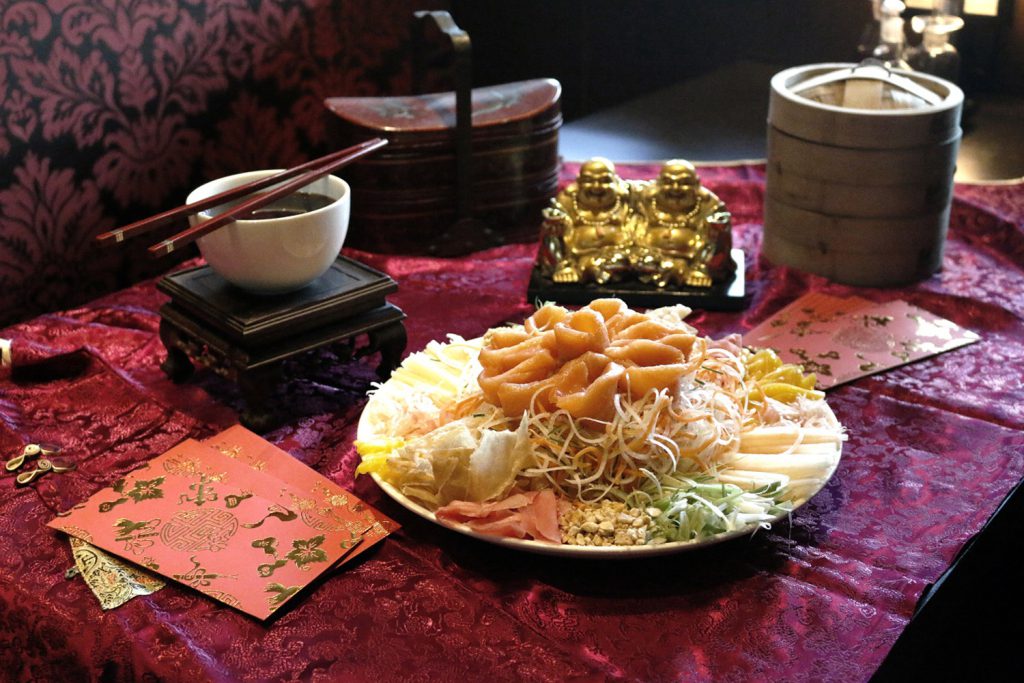 Anticipate New World Makati Hotel's special gifts over a Chinese New Year kit with a feng shui diary from Yin and Yang Shop of Harmony, and ang pao with The Shop voucher worth P888.
They are also offering their exclusive rooms starting at P6,488 with breakfast spread for two at Café 1228.
Feast on traditional Chinese New Year favorites prepared by award-winning Jasmine's Chinese executive chef Wong Kam On. Complete the Chinese New Year feast with a Salmon Fish Yu Sheng and a big bowl of Poon Choi for good luck.
For more information, call (02) 811-6888 ext. 3700 or 3387.
3. DIAMOND HOTEL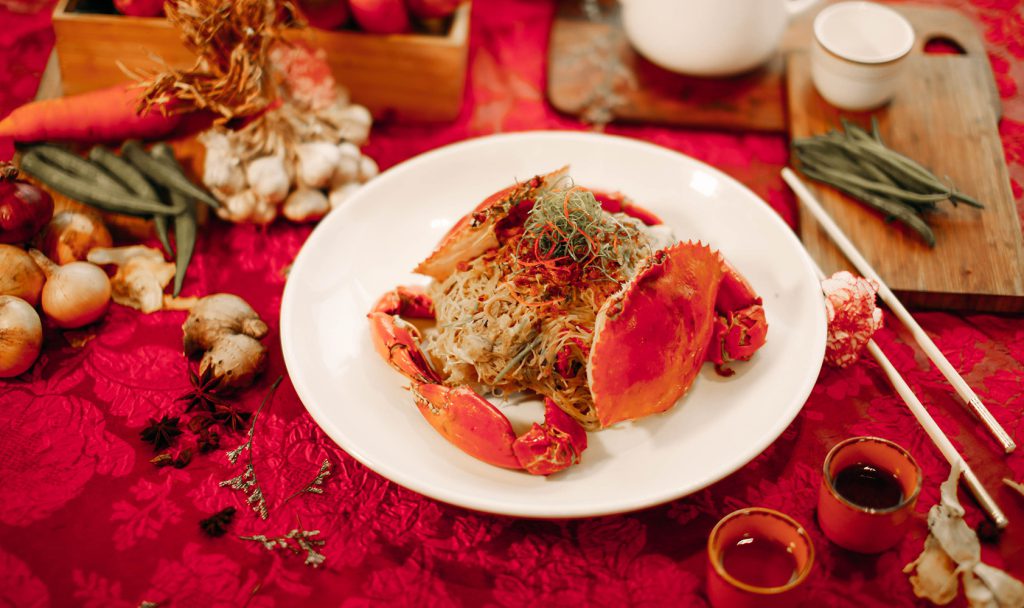 Feast your eyes with Diamond Hotel's Dragon and Lion dance by the Philippine Ling Nam Athletic Federation and the performance of Chinese instrumental music by Kim Hwa Ensemble for the grand celebration of hope and prosperity.
Experience the aromatic flavors of Chinese cuisine at Corniche for only P2,880 per person. Guests of Corniche with a minimum spend of P5,000 are entitled to Pick-A-Prize for a chance to win gift certificates from the hotel and more.
Get a free 10-minute Feng Shui consultation by Angel Macalino for the minimum spend at the Corniche lunch buffet and partner it by attracting wealth and positive energy with lucky charms available for sale at the hotel lobby.
Make the celebrations more exciting for the family with the Chinese New Year Staycation promo at P8,000 per night in a Premier Room or with a shou sui "we time" overnight stay that includes buffet breakfast for two.
For more information, call (02) 528-3000 ext. 1121 or book online at onlineshopping.diamonhotel.com.
4. MARRIOTT HOTEL MANILA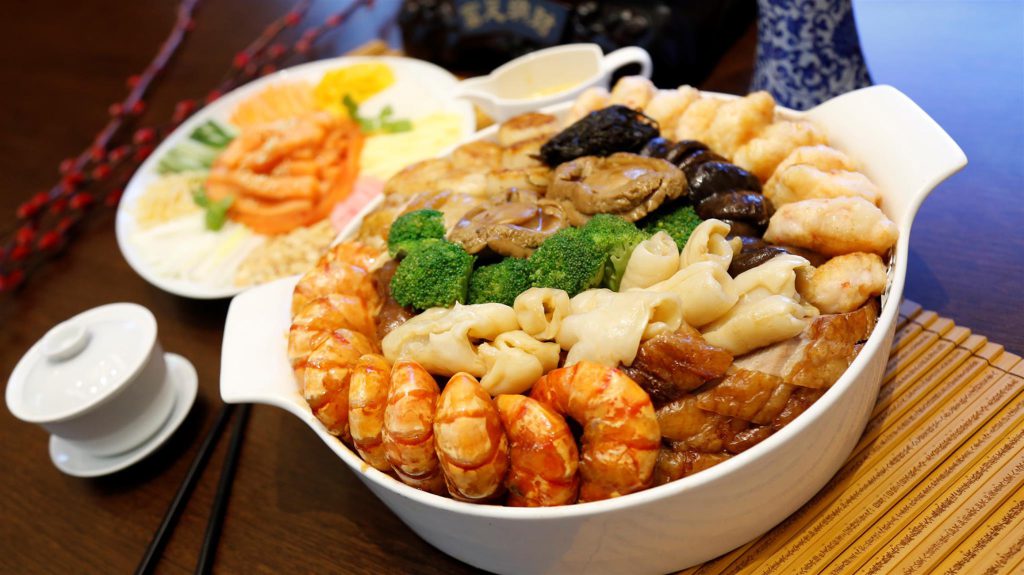 Look forward to the two luxurious dishes that Man Ho adds to their menu: a Lunar New Year trademark, Poon Choi which literally means "Chinese casserole in basin" to signify affluence and prosperity. This meticulously layered bowl is filled with the most-priced ingredients varying from seafood, meat, and vegetables. This one-pot communal dish is priced at P18,880 already good for 8 to 12 persons.
In addition to the feast is Man Ho's signature stuffed chicken filled with sticky rice and lotus seed that signifies happiness, prosperity, and a good beginning until the end of the year. This dish is good for 6 to 12 persons and is only P3,188.
Marriott Manila is offering a special Gatherings Room package from February 3 to 7, 2019. Enjoy an overnight stay at the Premium room for only P14,388 with inclusions of P3,000 food and beverage credits per day of stay that can be used in any restaurant outlets of Marriott Manila, and a box of tikoy to welcome you during your stay and wish you prosperity for the whole year.
Join the celebration to attract good spirits and push negative energies away through a ceremonial dragon and lion dance on February 5, at 5 p.m.
For more information, call (02) 988-9999.
5. MAKATI SHANGRI-LA, MANILA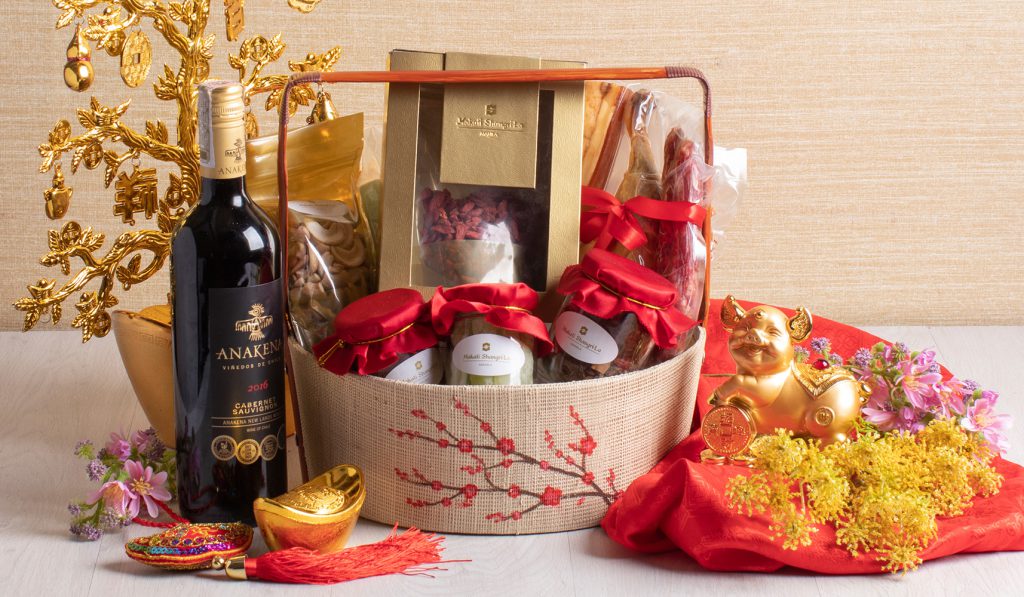 Bring home classic treats and sweets, such as the 8-piece Longevity Cookies at P988, available in walnut and ube flavor. They can send their warm wishes in a basket full of goodies and add a personal touch by choosing the contents from an array of items available at Shang Palace's boutique. The Ring in the festive season at Makati Shangri-La, Manila with a roaring lion and dragon dance and firecracker ceremony on Chinese New Year Day, at 12:30 p.m.
Celebrate with the whole family at Shang Palace and experience authentic Cantonese dining. There will be a Festive Dim Sum Plus feast that will run from February 4 and 5.
For more information, call (02) 814-2580 or e-mail rric.slm@shangri-la.com.
6. AG NEW WORLD MANILA BAY HOTEL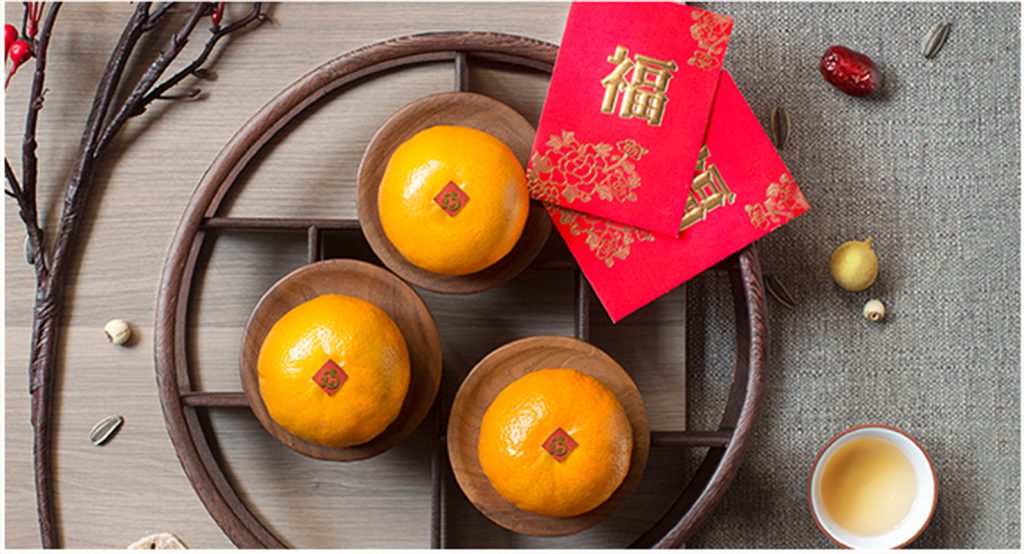 Get a taste of classic Chinese dishes along with a sumptuous spread of international delights at Li Li. Feast on Cantonese noodles, authentic dim sum, sizzling Szechuan specialties, BBQ favorites, and traditional Chinese desserts in this bountiful holiday buffet priced at P2,800 including free flow sodas, iced tea, chilled juices, local beer, coffee, and tea.
For more information, call (02) 252-6888 or e-mail dining.manilabay@newworldhotel.com.
7. CRIMSON HOTEL FILINVEST CITY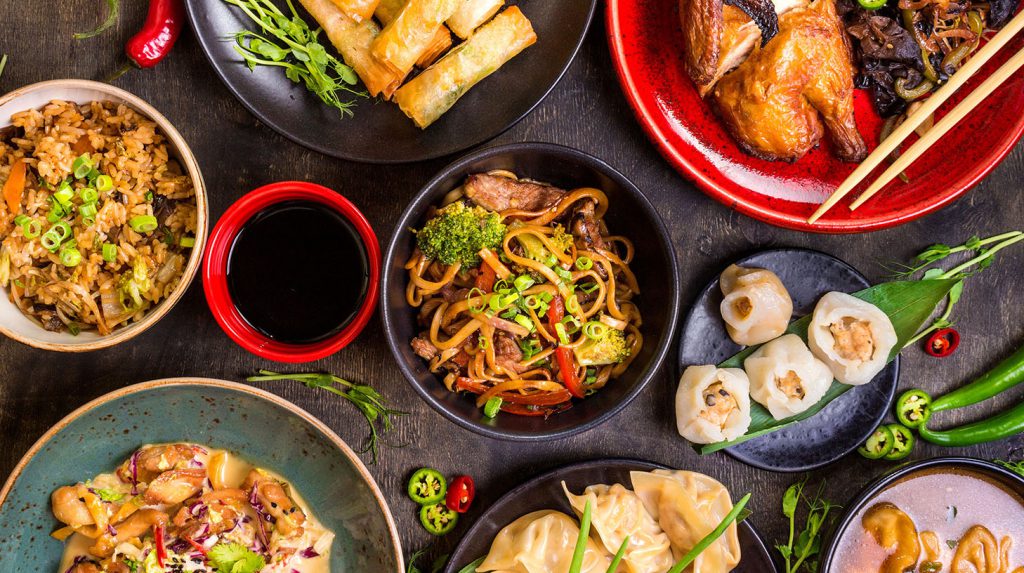 Crimson Hotel's, Café Eight opens their doors and presents A Feast for Prosperity buffet that promises to serve a great selection of Chinese cuisine.
Brace yourselves as the café will also showcase a Dumpling Festival that will be available in both the buffet's dumpling station and a la carte menu.
Discover how the Year of the Earth Pig attracts luck and fortune as Feng Shui Master Joseph Chau, the most-sought-after Chinese geomancy conducts the welcome ceremony and shares the 2019 predictions on February 10. Those who will avail of the Sunday brunch buffet at Café Eight will have a chance to attend Master Chau's 2019 Chinese forecast.
They also offer their lucky P8,888 for The Red Fortune room package which includes an overnight stay in a Deluxe Room, buffet breakfast and lunch or dinner at Café Eight for two persons, and a Chinese New Year surprise!
For more information, call (02) 863-2222 or e-mail events@crimsonhotel.com.