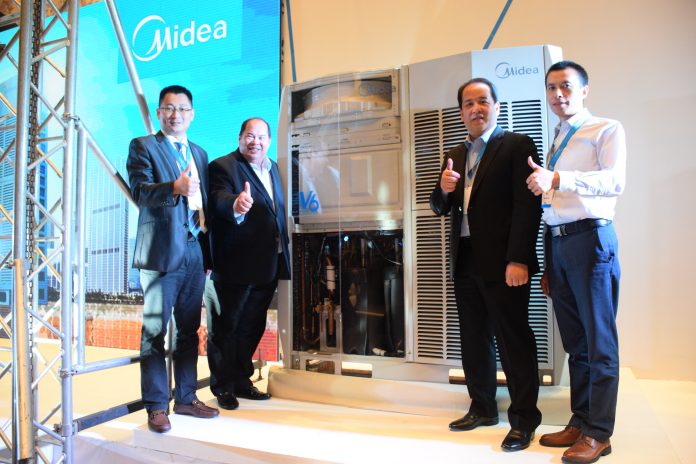 Midea has finally unveiled the perfect combination of technology and innovation— the next-generation VRF system, the Midea V6.
Held at the Shangri-La at The Fort, Manila last August 2, 2017, more than 150 strategic partners and aficionados witnessed the most innovative and advanced line of consumer appliances, Heating, Ventilation and Air-Conditioning (HVAC) systems products.
Midea's V6 VRF technology is the future air conditioning. It offers larger capacity and provides a 40% reduction in footprint. With the integration of energy management system (EMS), V6 would be able to adjust evaporating and cooling temperatures to maximize the comfort and energy efficiency automatically.
Furthermore, V6 is also able to work within a wide operation range from -5℃ to 54℃, which offers constant comfort even in extreme conditions. The other features include high efficiency, high reliability, an intelligent control system that connects with any intelligent building system using the new IMM pro platform, and a Mr. Doctor functionality that allows the V6 system to automatically test, self-diagnose, and display error codes.
Guided by the commitment to quality, Midea makes it possible to offer the local market a higher level of satisfaction with any of their product offerings. Testament to this is its monumental partnership with Concepcion Midea Inc. Philippines (CMIP), a subsidiary of Concepcion Industrial Corporation (CIC).
CMIP General Manager, Mr. Phillip F. Trapaga, shares that they are working hard to continuously succeed and penetrate the growing VRF market.
"As Midea continues to develop new product technologies along with highly advanced manufacturing capabilities, and coupled with Concepcion's local distribution and after market strength, we have no doubt that the Midea brand will be a major player in the local AC market," he said.
The partnership was formed in 2013, and since then, it has grown tremendously by successfully establishing sales distribution in the country, and expanded sales through the Concepcion Midea organization.
For more details, visit midea.com.ph or call 850 9888.