Portraits: Patrick Uy
In the heart of Quezon City lies the neighborhood of New Manila, long known as a prestigious residential district, and here SkyVillas at One Balete has risen to keep up to par with its gated mansions and ancestral homes.
Developed by Philippine Realty & Holdings Corporation, SkyVillas at One Balete, New Manila's most elegant address boasts of some of the largest units in the real estate industry today. High floor-to-ceiling glass and steel windows, fitted with best of class brands, landscaped gardens, and easy access to business and lifestyle hubs are some of the compelling reasons that attracted its current residents.
With only three to eight apartments per floor, clients can choose from a variety of spacious villas. These include one and two bedroom Club Suites, the three-bedroom villas, and 13 specialty units. The complex comes with all the luxury amenities and conveniences the discerning residents couldn't do without.
SkyVillas was turned over last December 2016 and currently houses several residents who are enjoying their new homes.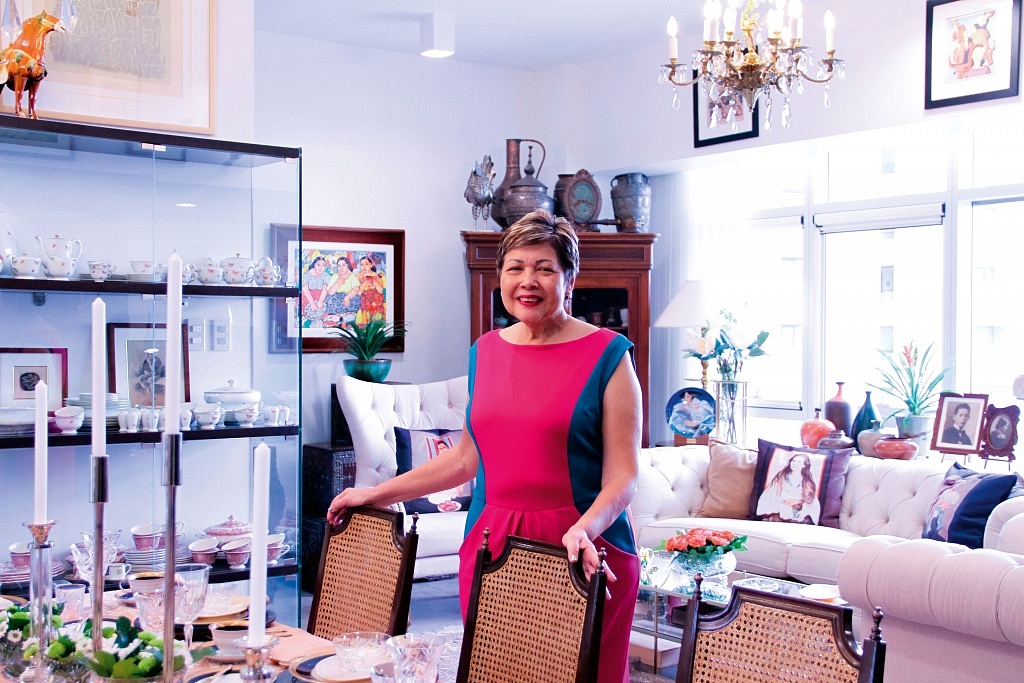 Among the new residents is Maria Elena Soriano-Mercado, who shares her villa with her daughter and grandchild. After being widowed, Mrs. Mercado put her house in New Manila on the market. With her five sons now living on their own, her nest at 4th Street felt somewhat empty and too large, so she started shopping for a new home. She had criteria, and the most important one is location. The new residence still had to be located in New Manila, and it had to be in a high-rise condominium.
She explained, "I grew up in this place, after World War II, when the district was recognized as the Forbes Park of the north. When I married, my husband built our house near the home of my parents. New Manila is a very convenient location; it's near the church, the hospital, and the school. It's also sort of a hub because of its proximity to Manila, Quezon City, and San Juan."
She opted for a high-rise condo because most condo units come in just a single level. "I don't want to have to climb any stairs, especially when I get older," she said. "My sons wanted me to move to a townhouse because it was supposed to be cheaper and more spacious, but I said townhouses are multi-leveled, so they have too many stairs."
She toured the various high-rise condominium projects being built in New Manila. When she checked out SkyVillas at One Balete, she declared, "This is where I want to live!"
What sold her to SkyVillas was the space each suite offers. With this kind of room, she explained, one can create a place that can feel like a real home. Thus, even if this was her first time to live in a high-rise building, she adjusted well and quickly. She noted how the other condos she had checked out tended to be tiny. People who live in much smaller condos have no choice but to use minimalist styles in their décor so as not to make the place look and feel even smaller, she pointed out.
"I could never take to the minimalist look because it's not me. But with this suite I have, I was able to create something similar to what I had at 4th Street. Even my sons who visited from the U.S. were surprised by the generous space I have," she said.
Furthermore, she managed to keep most of her favorite furniture, and she now entertains friends at home more often than she goes out. "I attend private ballroom dancing classes with five other ladies. After the class, we chill out at Tomas Morato, yet the ladies prefer to visit me here because they just love the view from this suite!"
Unlike Mrs. Mercado, Vincent Fischer, a financial officer, is accustomed to living in high-rise buildings. He had been working in a bank in Singapore for years, and when one lives in Singapore, one most certainly lives in a high-rise.
When the extremely tall and genial Fischer was offered a new job in Manila, he immediately accepted. The new job meant moving his small family to a new country and a new residence. This time, he had a chance to live in an actual house or a large townhouse. Still, he went for high-rise living because he just couldn't resist the suites at SkyVillas. He was impressed with what this complex has to offer.
"It's a perfectly safe environment for my family. The security is excellent, and the suite is large so my child doesn't feel confined. In the afternoon, I take my little son to the open playground where he'd play until sunset. We're expecting the arrival of our second child in a few months. So I'm glad my wife and I chose to live here. It's an ideal place to raise children," he said.
One would think that Metro Manila's heavy traffic may cause severe trauma to somebody who was raised in a much less crowded country like Switzerland, and who had worked in a less chaotic city like Singapore. On the contrary, Fischer says SkyVillas' strategic location has in a way spared him from going through the daily ordeal. He says it's just a short drive to his office at Ortigas Center. During his free time, the family drives to the malls in Ortigas and even Makati. "That's how convenient this place is. It's near everything," he said.
He also likes the fact that in the Philippines, he can afford to have a full household staff, which he never had in Europe or Singapore. "The fact that our suite is large enough to accommodate our staff is enough reason to choose to live at SkyVillas. So moving to the Philippines was a major step up for us. We're now living in a style that, for us, was previously unattainable," he said.
"And the view! It's spectacular! We celebrated our very first New Year here at home and it was amazing. We could see the fireworks displays from various parts of the city, and the firecrackers were creating what seemed like countless tiny sparks from up here. It seemed to go on for a very long time. We look forward to seeing that again next New Year's Eve!"
SkyVillas is about making a home, not just a place to live, but a place to raise a family and create a community.
To know more about spacious living within an intimate community, visit www.skyvillas.com.ph or call (02) 416-8686 to schedule a viewing of your SkyVillas home at 1 Balete Drive cor. N. Domingo St., New Manila, Quezon City.